Guwahati, the capital of Assam welcomes you! The natural beauty of Guwahati matches up perfectly with all the activities going around. And you will have quite a pleasant time exploring the city. You can spend your vacation exploring all the places to visit in Guwahati, indulge in all the fun activities organized here, and dig into the delicious local food. But to make sure your time is fully spent, you'll need the right accommodations. Resorts in Guwahati.
And when it comes to accommodation, Guwahati has a lot of options for you. There are many luxurious and budget hotels in the city. But to have the best time on your next trip to Guwahati, we suggest you book a stay at one of the resorts. There are many beautiful resorts committed to giving visitors the most beautiful time. And among all the resorts, we have made a list of 5 top resorts in Guwahati. Take a look at this list, choose the one you prefer and then fly to Guwahati for your trip!
5 Resorts in Guwahati for a Fun Stay
Brahmaputra Jungle Resort
This Brahmaputra Jungle Resort is situated on top of a hill surrounded by Panna tea plantations. The natural beauty surrounding the resort makes the resort a magical place to stay. What makes the resort even more amazing is the Amichang Wildlife Sanctuary in the background and the nearby waterfall. As soon as you come here, you will feel like stepping into the paradise of nature. Now, enter the resort, settle in one of the rooms. For that, you'll have tons of options including deluxe rooms, exclusive cottages, and a treehouse!
What else has to be offered at the resort! There is a swimming pool where you can go for a relaxing swim or you can opt for a message. If you want to indulge in some adventurous activities, then the resort has got you covered! Because it organizes rock climbing, rappelling, ziplining, trekking, boating, and valley crossing. You can also go on elephant rides and horse rides. After a fun-filled day, the in-house restaurant will serve you delicious Indian cuisine!
Dichang Resort & Hotel
Why Dichang? Because Dichang Resort & Hotel awaits you with a perfect stay away from the hustle and bustle of city life. Once your flight to Guwahati, you can come to this resort, and thanks to its location in the heart of the city, it is quite convenient to locate it. You will have several options in terms of rooms. Suites, Deluxe Rooms, Supreme Rooms, Executive Rooms, Cottages, the list goes on! Choose one of these as per your budget and preference. And when you get hungry, head to the resort's restaurant, which serves food made with fresh ingredients. There is also an open bar with a lawn where you can spend some time.
What else? To make sure you have a fun time here, the resort also organizes nature walks, fishing, and a boat ride on the Brahmaputra River. You can also witness tribal dance performances or opt for tribal home visits organized here to get acquainted with the tribal heritage of the city!
Greenwood Resort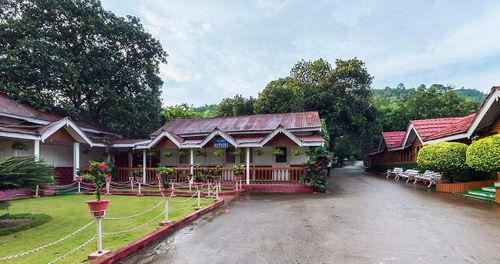 Beautifully located at the foothills of the Shillong Plateau, Guwahati is the next name on our resort list. While the lush greenery all around provides serene natural beauty, the many cottages give a rustic vibe to the Greenwood resort which is loved by most of the visitors! You can book any room here and be ready for a memorable stay. When you are not relaxing in your room, you can take a swim in the swimming pool or you can take a tour of the colorful orchid garden. And for foodies, Greenwood Restaurant, Mega Restaurant, and Greenwood Bar are at your service!
The resort is also a great destination for weddings and other family events. This is a good option even if you are on a business trip. The conference room is perfect for holding business meetings and events. And if you are looking for the best resorts in Guwahati for couples, then Greenwood Resort will be the perfect place for you as well thanks to its romantic setting.
The Residency Tourist Resort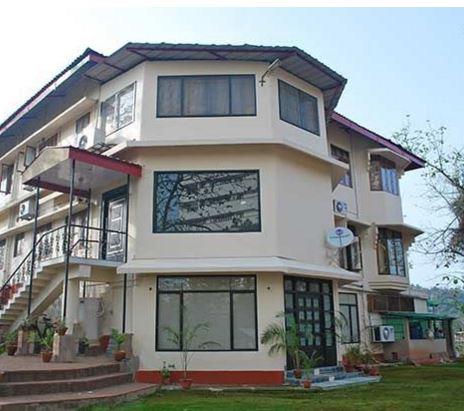 The reason we have The Residency Tourist Resort in our list of best resorts in Guwahati is because of its charm and elegance. However, this is not the only reason. If you want to spend your vacation in a peaceful environment then this resort is the perfect place. Let's talk about the other details. There are 10 different room types available which include Executive Room, Executive Club Room, Corporate Suite, and Residency Suite. All rooms are equipped with the necessary facilities.
Mosaic Bar and Restaurant is here where you can go for your meal. It will take you on a delicious culinary experience with a range of Indian and global cuisines. Overall, the resort is a perfect place for a relaxing holiday as well as for conferences, meetings, seminars, weddings, and parties.
Panacea Resort
Consider a small village with an amusement park with a bucket full of adventure activities. But before we embark on the adventure, let's see what else the resort has to offer. The rooms here have all the amenities you could need. There are also buffet facilities for breakfast, lunch, and dinner. You will be served dishes of Indian and international cuisines. The buffet options here certainly make it one of the best resorts in Guwahati for lunch as well as dinner.
And now, we can start our adventure! Start with ziplining or wall climbing. The resort also organizes various ropes activities. Plus, you can play a round of table tennis or try archery. Sling walks and fishing are your other options! With lots of fun activities. This resort can be perfect for a family weekend getaway or a friend's outing!
All these resorts are very wonderful and can give you a wonderful stay. Next time you make a travel guide to Guwahati, you can choose any of these accommodations for your stay and you will return with a happy heart!
Similar Articles