The glitzy and glamorous Dubai is one exotic location that proudly showcases its beautiful amalgamation of tradition and ambition through its bold architectural skyscrapers, which look like they came straight out of a sci-fi movie, magnificent historical structures that showcase their long-held traditions, and souks that will take you back in time to when they were the only alternative to a shopping center! What strikes through the most about Dubai is its ability to let modernity shine without dimming the glow of its traditions! Dubai is a fascinating travel destination that will surely surpass all your expectations with its long list of fun-filled things to do and spectacular places to see. This city will surely not disappoint! But before we jump into the juicy details about all things touristy, let's address a few important questions. Dubai – Tales from the Arabian city –
Best Time to Visit Dubai?
The best time to visit Dubai would be during the city's winter which extends from mid-October to mid-May. Rest of the year, the temperature averages at around 45ºC along with humidity, making it quite unpleasant to head outdoors during the day. Also, try not to visit Dubai during Ramadan as many bars, restaurants, and shops would remain closed during this period.
How big of a budget would you need?
Dubai is known for being a luxury travel destination, and we all know that luxury comes with a price tag. Dubai is not exactly a budget-friendly country, so the best way to reduce your costs would be to opt for an all-inclusive tour package! Another alternative to save some pennies on plane tickets would be to book a flight with a long layover in Dubai. There's a lot that you can explore in a 24 or 48-hour layover in this stunning city!
Now that the whens and hows have been answered, let's get started with the Ultimate Dubai Travel guide-You can easily explore all the major attractions and cover all the activities in Dubai on a 5-day trip which can be extended to an even more relaxed 8-day vacation!
Start your first day in Dubai with an introduction to all the glitz and glamour of the city! Grab a scrumptious breakfast and head over to Dubai Mall. This mall is not like your everyday ordinary mall; it is the size of at least 50 football pitches and is an attraction in itself! The mall houses stores of more designers than you can name, an ice skating rink, an indoor theme park, souk style villages, and an aquarium as well! When walking around tires you, fuel up by grabbing lunch from one of the restaurants in the mall, possibly overlooking the fountain!
Your trip to Dubai would be incomplete without heading to one of Burj Khalifa's viewing decks! The entrance to the tallest building in the world can be accessed from within the Dubai Mall itself. We recommend that you buy your tickets in advance to visit the 124th, 125th, and even the 148th floor, to avoid wasting time waiting in the long queue! The view from the top is absolutely phenomenal! You can see all of Dubai, stretched out far and wide underneath you!
After you enjoy the spectacular view of the city's skyline from high up in the sky, head over to watch the Dubai Fountain Show! The show runs once every 30 minutes, however, the best time to see the show would be after sunset, when the fountain is all lit up! You can even book a 30-minute cruise in Burj Lake to enjoy the fountain show from the water!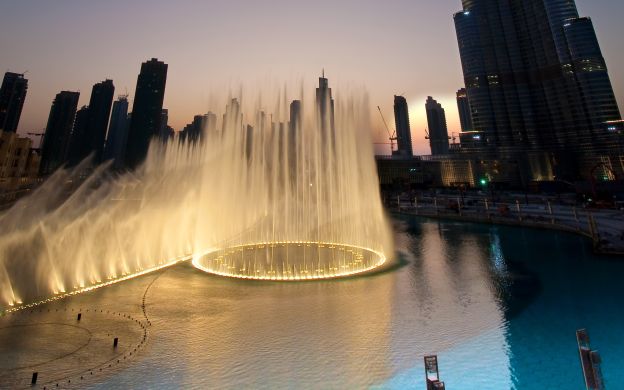 The following day get set to explore the 'other side of Dubai'. Dubai Creek which flows between Deira and Bur Dubai is one of the few remaining areas that have retained its original charm. You can easily spend an entire day here, wandering through the lanes and meeting people who are not ex-pats! Spend your morning wandering through the lanes of the charming Al Bastakiya neighborhood which has structures that were established by Iranian pearl traders who settled here long before the land came to be called Dubai. Stroll along the creek, visit the fragrant Spice Souk and shop for cheap at Karama, and later walk through the Gold Souk. Apart from this, you can also visit the Sheikh Mohammed Centre for cultural understanding. In the evening, around sunset time, ride the traditional Abra in Dubai Creek and end your day with some mouthwatering street food!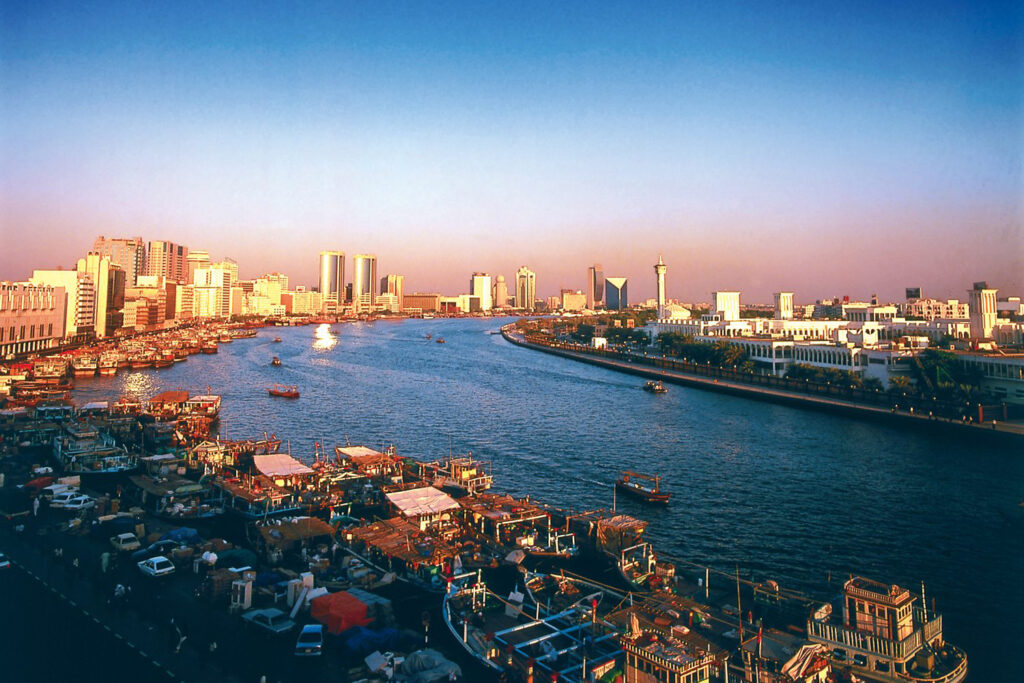 Beach Day
After all the sightseeing done in the past 2 days, it is time to unwind and go Beach hopping. You can lounge around at Kite Beach, which is also a good place to go kite surfing. From here you can head over to Sunset Beach for an Instagram photoshoot at this white sand beach with the luxurious Burj Al Arab as a backdrop! From here, head over to La Mer and then to the JBR beach around Jumeirah Beach Residence to enjoy the sunset and end the day with a scrumptious meal from one of the elegant restaurants and buzzing bars that line the beach! There are several watersports that you can indulge in while you spend your time on the beach such as speedboat tours, flyboarding, kayaking, paddle boarding, jet skiing, parasailing, and even scuba diving!
Explore the Desert!
Your Dubai trip would be incomplete if you did not head over to explore the desert! There is a lot that you can do in the deserts of Dubai. Ride a camel, hop on a quad bike and ride the sand dunes, or book a desert safari for a thrilling ride on the dunes. You can sandboard and later camp under the stars in a traditional Bedouin Camp, complete with a belly dancing show and a scrumptious meal!
Other Adventures
The adventure doesn't end with an exciting night out in the desert. There's a lot more that Dubai has to offer, that will surely get your adrenaline pumping! Zipline across the Marina or Helicopter Ride Dubai. If having a meal on the ground is not enough for you, book a table at High Tea in the Sky, where the table is suspended 50 meters in the air, serving stunning views of the city along with their delicious meals! But before you get your bellies filled, enjoy the view of the Arabian Desert from a hot air balloon along with an intriguing falconry show!
Explore Souk Madinat
Souk Madinat is a part of a 5-star resort wherein you can walk around, and explore the souks, and gorgeous canals all with boats floating in them! While it is a resort, the area around it is made to walk around and soak in the Arabian-inspired architecture.
Party in Palm Jumeirah
Palm Jumeirah is a man-made island that is in the shape of a tree. The island is known for its glitzy hotels, posh restaurants, spas, and beach clubs which turn into happening nightclubs once the sun goes down! So head over to Palm Jumeirah to party the night away!
Spa and Splash
Dubai is a luxury vacation destination and one thing that widely resonates with luxury is a relaxing day spent in a spa, and Dubai has no shortage of luxurious spas! Book a day at one of the many spas in the city and most likely even in the hotel that you're staying at, and come out feeling refreshed and well-rested!
If it is a fun-filled day at an amusement park that you're after, fret not, Dubai has made ample provisions for that as well! Wild Wadi, Atlantis Adventure, Laguna Waterpark, Legoland, and Motiongate Dubai are a few among many others!
All the details about
Frequently Asked Questions About Dubai
Q. Is Dubai a safe country?
A – Generally, it is safe to go to Dubai. Being a heavily monitored city in Dubai, person-to-person crime is not of much concern to the travelers here. Petty crime is a concern, particularly pickpocketing, scams, and sexual harassment, although weapons are almost never involved.
Q. Is Dubai rich or poor?
A – The UAE is one of the top ten richest countries in the world, and yet a large proportion of the population lives in poverty – an estimated 19.5 percent. This percentage is worrisome because the nation is still considered rich on the whole, even though it does not have about a fifth of its people.
Q. Can you drink alcohol in Dubai?
A – Liquor licenses are not available to non-residents in the second emirate, but it is possible for tourists and visitors to buy and drink alcohol in licensed places such as hotels, restaurants, and clubs. In Dubai and in all other emirates other than Sharjah, the drinking age is 21. Drinking alcohol is illegal in Sharjah.
Q. What is banned in Dubai?
A – Banned Items in Dubai Airport
Narcotic drugs (all kinds including poppy seeds, cocaine, hashish, heroin, hallucination pills, etc.)
Goods from boycotted countries brought with the intention to sell.
Israeli goods or goods bearing Israeli logos and/or trademarks.
Gambling machinery and tools.
Inlaid, used, and reconditioned tires.
Q. Is everyone rich in Dubai?
A – Not everyone in Dubai is rich. You forget that there are rich Arabs here, ranging from the rich to the upper-middle class. And here there are expanses ranging from very well-closed dirt to the poor. And here are the non-Amiri gulf creeks, which fill the entire range.
Q. Is it expensive in Dubai?
A – In general, Dubai prices are comparable to other major cities in the world. Accommodation and tourism can be quite expensive, but there is so much choice that you can make it more budget-friendly. Restaurant prices are comparable to those in Western European cities.
Q. Can you wear shorts in Dubai?
A – You can wear casual as long as you want, as long as it is appropriate. You can wear shorts in Dubai. Even skirts, if they are at knee length.
Q. Can unmarried couples live in Dubai?
A – According to the laws in Dubai, it is illegal for unmarried couples to share private rooms or accommodation. By law, if you are caught in such circumstances, you may face punishment under Article 356 of the UAE Penal Code.
Q. What language is spoken in Dubai?
A – Arabic Language
Q. Which is the coldest month in Dubai?
A – Dubai weather in January: Although the month of January is the coldest month in Dubai, for many people, it will feel like a hot summer day at home, with temperatures ranging from 19 ° C to 20 ° C and High temperatures in the afternoon with occasional 23 ° C.
Q. Which is the best month to visit Dubai?
A – With an average temperature of 21 ° C, December is our favorite as the maximum temperature does not exceed 26 ° C and rain increases to 20 mm over four days at the end of the month.
Q. What are the hottest months in Dubai?
A – Dubai is extremely hot and humid during the months of July and August, with temperatures around 45 ° C (113 ° F), and at least 30 ° C (86 ° F), making The temperature rises. Most unpleasant time to visit Dubai.
Q. Is food expensive in Dubai?
A – While the price of food in Dubai may vary, the average cost of a meal in Dubai is AED164 per day. When in Dubai, the average meal in Dubai should cost AED 65 per person, based on the spending habits of previous travelers. Breakfast prices are usually slightly cheaper than lunch or dinner.
Q. Which is the cheapest month to visit Dubai?
A – The high season is considered January, November and December. The cheapest month to visit Dubai is September. Enter your preferred departure airport and fill in the travel dates in the search form above to open Dubai's latest flight deals.
Q. When should you not go to Dubai?
A – Dubai has very hot temperatures during the months of June, July, and August. Think on average 41 degrees Celsius daily, with temperatures not falling below 30 overnight. Temperatures can reach 47 degrees Celsius in these months.
Q. Is shopping in Dubai cheap?
A – Dubai is a bargain for bargains. There are many places for cheap shopping in Dubai. From daily essentials to high-end products, you can sell products at a reasonable price in many stores and online platforms.
Q. Is alcohol cheap in Dubai?
A – Bonus point, the cheapest you will ever find in the United Arab Emirates is the cheapest! We are introducing AED 15 and similar vodka bottles. Cheaper than duty-free! There are many offers and promotions to take full advantage of them.
Q. Is Dubai expensive for tourists?
A – When compared to other major cities around the world, Dubai is not really so expensive. For example, take New York or London, hotel prices, an evening outing, or the price of a ticket to see a tourist will be the same and in many cases much higher than in Dubai.
For The Love of Music – Best Travel Songs