Halong Bay is a must-visit destination for anyone looking to explore the natural beauty of Vietnam. Located in the northern part of the country, it's renowned for its stunning landscapes, fascinating caves, and unique karst formations.
A World Heritage Site
In 1994, Halong Bay was recognized as a UNESCO World Heritage Site. This designation was due to its outstanding natural beauty and the unique geological and geomorphological features found in the area.
Cruising the Calm Waters
One of the best ways to experience Halong Bay is by taking a cruise. Many companies offer tours that range from day trips to multiple days, allowing you to immerse yourself in the serene surroundings and explore hidden caves and grottoes.
Floating Villages and Fresh Seafood
During your visit to Halong Bay, don't miss the opportunity to visit the floating villages. These communities live entirely on the water, and you can witness their daily life and even try some of the freshest seafood you've ever tasted.
Adventure Activities in Halong Bay
For the more adventurous traveler, Halong Bay offers a range of activities. Kayaking, rock climbing, and trekking are just a few of the options available for those looking to add some excitement to their trip.
Spectacular Views from Cat Ba Island
If you have some extra time, take a trip to Cat Ba Island. It's the largest island in Halong Bay and offers some of the most spectacular views of the surrounding area. It's also home to the Cat Ba National Park, a haven for nature enthusiasts.
Preserving the Natural Beauty
As one of Vietnam's most popular tourist destinations, efforts are being made to preserve the natural beauty of Halong Bay. This includes regulations to limit the impact of tourism and initiatives to protect the local environment and wildlife.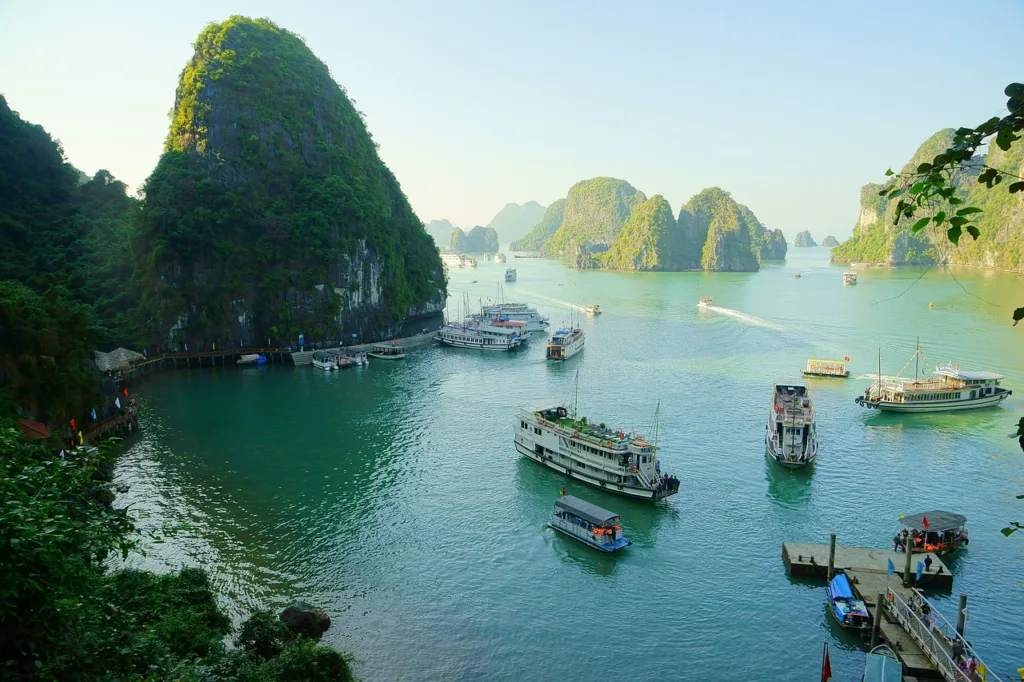 Conclusion: A Must-Visit Destination
In conclusion, Halong Bay is a destination that should be on every traveler's bucket list. Whether you're looking to relax on a cruise, explore hidden caves, or engage in some adventure activities, Halong Bay has something for everyone. So, what are you waiting for? Plan your trip today and discover the enchanting beauty of Halong Bay!
Similar Article – Best Time to Visit Vietnam
FAQs about Halong Bay
What is Halong Bay known for?
Halong Bay is famous for its stunning karst limestone formations, emerald green waters, and its designation as a UNESCO World Heritage Site. It is also known for its picturesque scenery, unique caves and grottoes, floating villages, and the opportunities it provides for various adventure activities.
Where is Halong Bay located?
Halong Bay is located in the northeastern part of Vietnam, in Quang Ninh Province. It is situated about 165 kilometers (103 miles) east of Hanoi, the capital city of Vietnam.
How do I get to Halong Bay from Hanoi?
The most common way to get to Halong Bay from Hanoi is by bus or private car. The journey takes approximately 2.5 to 3 hours, depending on traffic and the mode of transport. Some tour operators also offer shuttle services as part of their tour packages.
What is the best time to visit Halong Bay?
The best time to visit Halong Bay is during the spring (April to June) and fall (September to November) when the weather is mild and dry. However, Halong Bay can be visited year-round, as each season has its own charm.
How long should I stay in Halong Bay?
The duration of your stay in Halong Bay depends on your preferences and schedule. A day cruise is suitable for those with limited time, while overnight cruises offer a more immersive experience and the chance to explore more of the bay.
Are there any must-see attractions in Halong Bay?
Some must-see attractions in Halong Bay include Sung Sot Cave (Surprise Cave), Titop Island, Luon Cave, and the floating fishing villages. Additionally, Cat Ba Island is also worth a visit for its stunning views and Cat Ba National Park.
Can I swim in Halong Bay?
Yes, swimming is allowed in designated safe areas in Halong Bay. Many cruise tours also include swimming stops where you can enjoy a refreshing dip in the emerald waters.
What kind of activities can I do in Halong Bay?
Halong Bay offers a variety of activities including cruising, kayaking, trekking, rock climbing, and exploring caves and grottoes. You can also visit floating villages, enjoy cooking classes on some cruises, and relax on the beaches of some of the islands.
Is it safe to visit Halong Bay?
Yes, Halong Bay is generally safe for tourists. However, it's essential to follow safety guidelines, especially when engaging in water activities. Make sure to book tours with reputable operators who prioritize safety.
What should I pack for a trip to Halong Bay?
When visiting Halong Bay, pack light and comfortable clothing, swimwear, sunglasses, sunscreen, and a hat for sun protection. Also, bring insect repellent, a camera, and any necessary medication. If you plan to do trekking or other adventure activities, consider packing suitable footwear and gear.