Phan Thiet, a picturesque coastal town in Vietnam, is a destination that often flies under the radar for many travelers. Yet, it boasts a unique charm that captivates visitors from the moment they arrive. In this article, we'll explore the hidden treasures of Phan Thiet and uncover why it's a must-visit destination for anyone seeking a tranquil escape from the hustle and bustle of daily life.
Discovering the Fishing Village
For a genuine taste of local life, head to the bustling fishing village of Phan Thiet. Here, you'll find vibrant markets, friendly locals, and a lively atmosphere that offers a glimpse into the heart of Vietnamese culture. As you stroll through the village, you'll encounter fishermen returning from the sea with their fresh catch, creating an unforgettable experience that showcases the town's maritime heritage.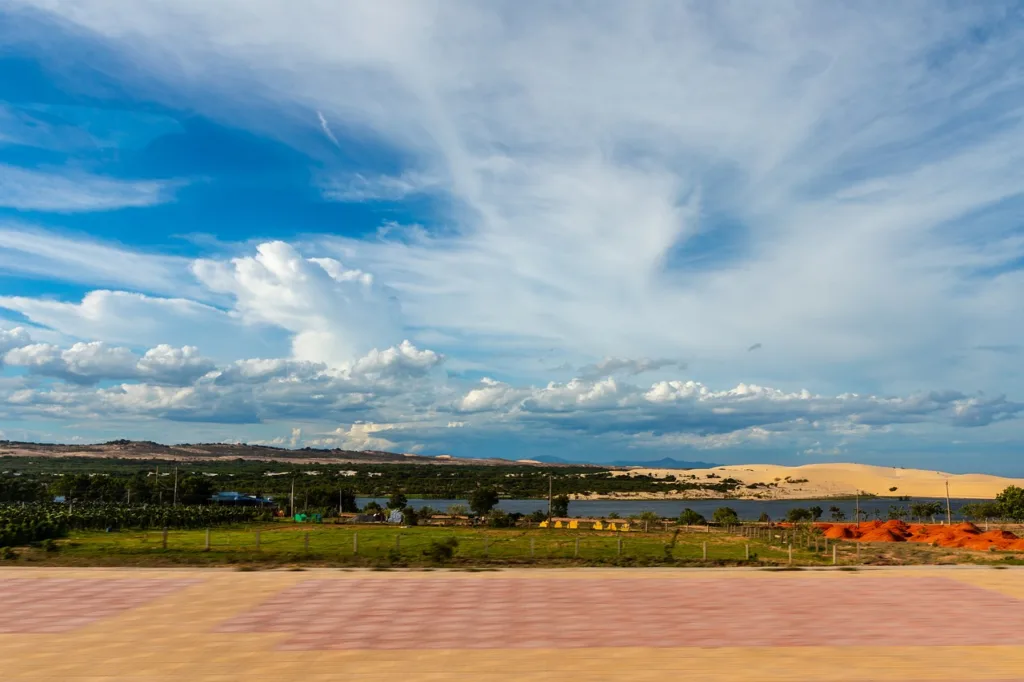 Spectacular Sand Dunes
Phan Thiet is home to some of Vietnam's most spectacular sand dunes, offering visitors a chance to experience the beauty of the desert landscape right by the sea. The White Sand Dunes, also known as Bau Trang, is a must-see attraction, featuring vast stretches of pristine sand that contrast strikingly with the azure waters of the nearby lakes. For an adrenaline-pumping adventure, try sandboarding down the dunes or take a thrilling jeep ride across the sandy expanse.
Mui Ne Beach: A Tropical Oasis
No visit to Phan Thiet would be complete without spending time at the stunning Mui Ne Beach. This tropical oasis is renowned for its golden sands, crystal-clear waters, and swaying palm trees, providing the perfect backdrop for relaxation and water sports. Whether you're into kitesurfing, windsurfing, or simply lounging by the shore, Mui Ne Beach offers something for everyone.
Delicious Seafood Delights
Phan Thiet's coastal location means you'll have access to an abundance of fresh seafood. Be sure to indulge in the local cuisine, which features an array of mouthwatering dishes prepared with the day's catch. From succulent grilled squid to flavorful fish soups, the culinary offerings in Phan Thiet are sure to tantalize your taste buds and leave you craving more.
Exploring the Red Sand Dunes
Another natural wonder that awaits you in Phan Thiet is the Red Sand Dunes, located just a short drive from Mui Ne Beach. These dunes boast a unique reddish hue, creating a stunning visual contrast against the blue sky. Visitors can explore the dunes on foot, by jeep, or even by renting a quad bike for an exhilarating ride across the sands.
Cultural Attractions: Po Shanu Cham Towers
For those interested in history and culture, a visit to the Po Shanu Cham Towers is a must. These ancient towers, which date back to the 8th century, offer a fascinating glimpse into the Cham civilization that once thrived in the region. The towers are perched atop a hill, providing stunning panoramic views of Phan Thiet and the surrounding landscape.
Conclusion: Uncover the Magic of Phan Thiet
In conclusion, Phan Thiet is a hidden gem that offers a unique blend of natural beauty, cultural heritage, and culinary delights. From the bustling fishing village to the stunning sand dunes and serene beaches, there's something for everyone in this charming coastal town. So why wait? Plan your trip to Phan Thiet and uncover the magic of this Vietnamese paradise for yourself.
Similar Articles
Frequently Asked Questions (FAQs) About Phan Thiet
Q1: Where is Phan Thiet located?
A1: Phan Thiet is a coastal city located in the Binh Thuan Province of Vietnam. It is situated approximately 200 kilometers northeast of Ho Chi Minh City.
Q2: What is the best time to visit Phan Thiet?
A2: The best time to visit Phan Thiet is during the dry season, which runs from November to April. During this time, the weather is typically sunny and warm, making it ideal for beach activities and exploring the sand dunes.
Q3: What are the main attractions in Phan Thiet?
A3: The main attractions in Phan Thiet include the White Sand Dunes (Bau Trang), the Red Sand Dunes, Mui Ne Beach, the fishing village, and the Po Shanu Cham Towers.
Q4: What activities can I do in Phan Thiet?
A4: Phan Thiet offers a variety of activities for visitors to enjoy. These include sandboarding and jeep rides on the sand dunes, kitesurfing and windsurfing at Mui Ne Beach, exploring the fishing village, and visiting historical and cultural sites such as the Po Shanu Cham Towers.
Q5: What is the local cuisine like in Phan Thiet?
A5: Phan Thiet is known for its delicious seafood, which is often prepared fresh from the daily catch. Some popular dishes include grilled squid, fish soups, and seafood hotpots. Additionally, visitors can enjoy traditional Vietnamese dishes such as pho and banh mi.
Q6: How do I get to Phan Thiet?
A6: Phan Thiet can be reached by bus or train from Ho Chi Minh City. There are also private car services and taxis available for a more comfortable and convenient journey.
Q7: Is Phan Thiet suitable for families with children?
A7: Yes, Phan Thiet is a family-friendly destination with plenty of activities and attractions suitable for children. The beaches are great for swimming and playing in the sand, and there are also many kid-friendly restaurants and resorts in the area.
Q8: What should I pack for my trip to Phan Thiet?
A8: When visiting Phan Thiet, it's a good idea to pack lightweight and comfortable clothing for the warm weather. Be sure to bring sunscreen, sunglasses, and a hat to protect yourself from the sun. If you plan on spending time at the beach or sand dunes, pack a swimsuit and beach towel as well.
Q9: Is it safe to travel to Phan Thiet?
A9: Phan Thiet is generally considered to be a safe destination for travelers. However, it's always a good idea to take standard safety precautions, such as keeping an eye on your belongings and being aware of your surroundings.
Q10: Can I find accommodations easily in Phan Thiet?
A10: Yes, Phan Thiet offers a wide range of accommodations to suit all budgets and preferences, from luxury resorts and hotels to budget guesthouses and hostels. It's advisable to book your accommodation in advance, especially during peak travel seasons.