Austria, with its stunning landscapes and rich cultural heritage, transforms into a vibrant and electric hub as the sun sets. Nightlife in Austria offers a delightful blend of traditional and modern experiences. In this article, we will explore the exciting nightlife activities that Austria has to offer.
Viennese Charm: The Imperial Nightlife
In Vienna, the capital city, one can experience an imperial touch to nightlife. The city boasts a wide array of sophisticated bars, clubs, and music venues.
The Jewel of Innsbruck: Nightlife in the Alps
Innsbruck, known for its stunning alpine setting, offers a unique nightlife experience. From cozy mountain huts to lively bars, the city is a treasure trove for those seeking an alpine adventure.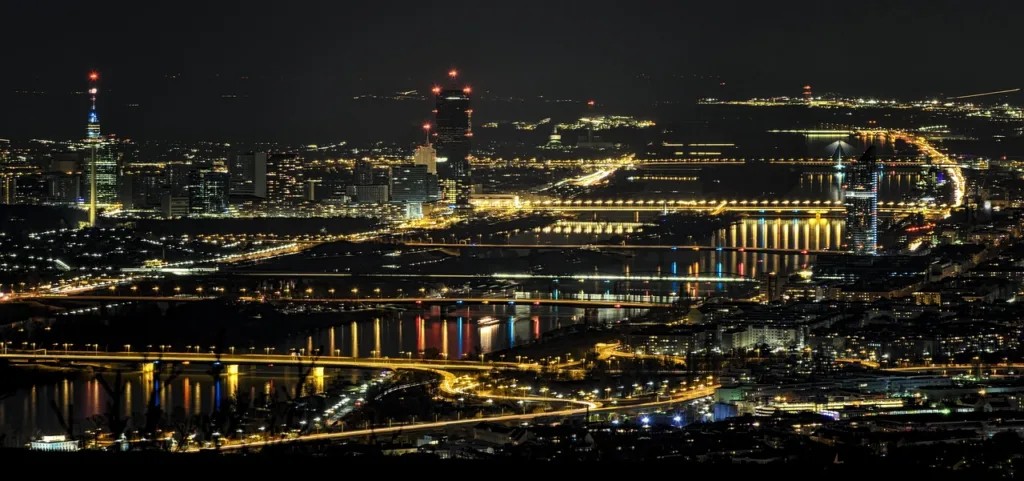 Salzburg After Dark: The Melodic Nightlife
The city of Salzburg, the birthplace of Mozart, offers a musical treat to nightlife enthusiasts. The city comes alive with the sounds of classical music and jazz.
Graz Nightlife: The Styrian Beat
Graz, the capital of Styria, is known for its young and energetic vibe. The city offers an eclectic mix of bars, clubs, and cultural events that cater to a diverse audience.
Linz Nightlife: A Fusion of Culture and Fun
Linz, the third-largest city in Austria, offers a harmonious blend of culture and entertainment. From avant-garde art spaces to vibrant nightclubs, Linz has something for everyone.
The Wonders of Austrian Nightlife: Conclusion
Nightlife in Austria is a blend of tradition, culture, and modernity. Whether you're seeking a sophisticated evening in Vienna or a lively night in Graz, Austria has something for everyone. So, pack your bags and get ready to uncover the magic of Austria's nightlife.
Similar Articles
Frequently Asked Questions about Nightlife in Austria
Q1: What is the nightlife like in Vienna?
Vienna's nightlife is diverse and sophisticated, with numerous bars, clubs, and music venues. You can find everything from traditional Austrian pubs to trendy cocktail bars, and the city is known for its classical music scene and opera houses.
Q2: Can I find live music in Innsbruck?
Yes, Innsbruck offers a variety of live music venues, including cozy mountain huts, jazz bars, and live music clubs. The city's alpine setting provides a unique backdrop for music events.
Q3: Salzburg's nightlife focuses on both classical music and rock music.
While Salzburg is known for its classical music heritage, the city's nightlife is diverse and caters to different tastes. In addition to classical music concerts, you can find jazz clubs, pop music venues, and lively bars in the city.
Q4: What is the nightlife like in Graz?
Graz has a young and energetic nightlife scene, with a mix of bars, clubs, and cultural events. The city's student population contributes to its vibrant atmosphere, and you can find everything from laid-back pubs to techno clubs in Graz.
Q5: Are there cultural events in Linz's nightlife?
Yes, Linz offers a variety of cultural events as part of its nightlife, including avant-garde art exhibitions, theater performances, and film screenings. The city's cultural scene is innovative and diverse, making it an exciting destination for art and culture enthusiasts.
Q6: What is the legal drinking age in Austria?
The legal drinking age in Austria is 18 years old for most alcoholic beverages, including beer, wine, and spirits. Some non-distilled alcoholic beverages, such as cider and fortified wines, can be purchased and consumed by individuals aged 16 and older.
Q7: Are there any safety tips for experiencing nightlife in Austria?
When experiencing nightlife in Austria, it's important to be aware of your surroundings and take necessary precautions. Stick to well-lit areas, avoid excessive alcohol consumption, and keep your belongings secure. Additionally, it's a good idea to familiarize yourself with local transportation options, such as taxis and public transit, to ensure a safe return to your accommodation.