If you just saw the rocks and boulders at Badami and wondered why anyone would come here and in fact set up a seat of power, you would be twice mistaken. The Krishna basin is a vast area in North Karnataka and numerous are the smaller rivers that make it mighty, causing a degree of fertility most people cannot imagine. And the rocks, well, people visit Badami for that very reason! We have listed the places to visit in Badami. Badami, together with Pattadakal – a UNESCO designated World Heritage Site of India – and Aihole, situated in Bagalkot district, Karnataka form the famous triumvirate of Chalukyan temple architecture.
Badami Caves
Badami's claim to fame is rooted in its cave temples; however, they are only part of the total sensual experience. You can relish some clean air, greenery, and peace. There is simple wholesome food to be had and village folk to rub shoulders with. It is a laidback life steeped in history and is to be enjoyed at leisure, similar to recouping at a hill station – only the weather is warm and languid here! So at some point, you might even feel you have discovered the 'Ramgarh' of 'Sholay!'
Bhootanatha Temple Complex
The Bhootanatha Temple Complex is situated on the eastern edge of Agasthya Tirtha and it is a much-photographed feature of Badami, owing to its picturesque location as well as the symmetries that abound here. Besides, it is equally significant historically.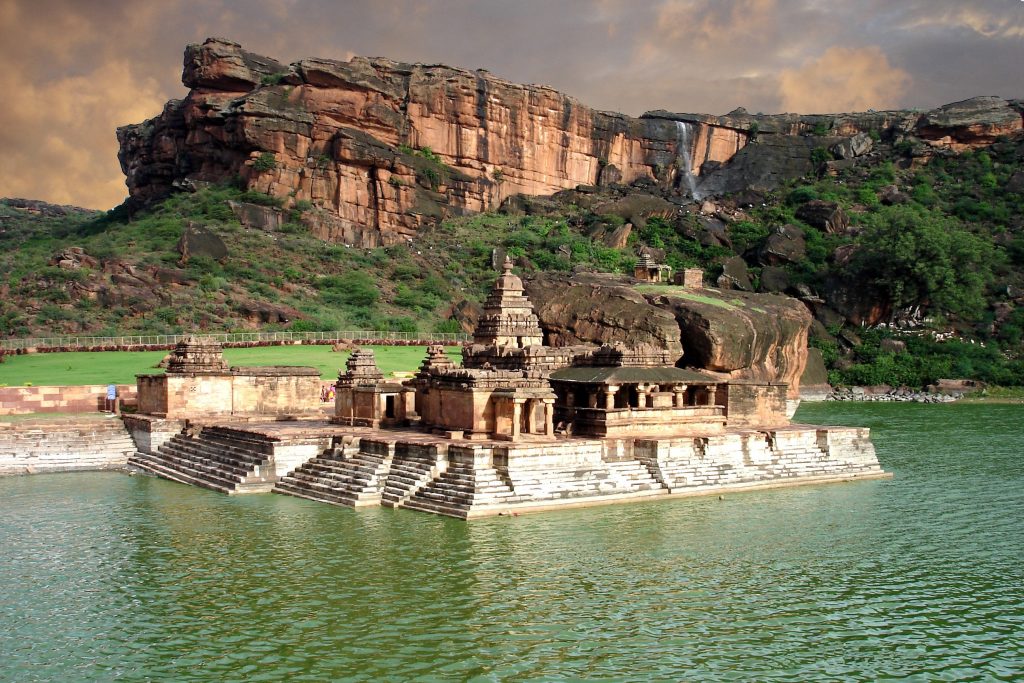 Badami Fort and Archeological Museum
A visit to Badami comprises several impressions. The walk-through in medieval India at one extreme and the present-day life in a semi-rural setting at the other end form an impressive continuum in time, as though, nothing has really changed. This timelessness is ideal for tourists to lose themselves and savor history without a hurry. To this end, exploring the Fort is a luxury that every committed traveler must indulge in. A visit to the Archeological Museum succinctly sums up the experience by adding facts to the impressions you have already gathered.
Pattadakal
Pattadakal means 'Coronation Stone' in Kannada, marking this place as the location where successive Chalukya kings were crowned and celebrated their ascension to the throne. Malaprabha flows right behind the monuments and adds to the beauty of Pattadakal. In the present day, the manicured lawns and clean surroundings make a visit seem like a picnic, very much similar to what the subjects may have felt during Chalukyan reign. The highlight of this location is the orderly array of temples of different styles at one place, facilitating the study and comparison of the same.
Aihole
The origin of the name 'Aihole' is explained in many ways and one version relates to this place being home of many learned men. The genesis of Chalukyan temple building activities seems to have occurred here because it was the earlier capital and Aihole later developed into an important center of education in general and architecture in particular. Hence it presents a unique facet to the visitor – approaching from Badami, the tourist can see countless temples of varied sizes in all kinds of locations on either side of the road before reaching the protected area amongst these monuments!
Mahakoota
Mahakuta translates as 'The Great Assembly' and refers to the group of temples that were constructed during the late 6th century by King Mangalesha after a series of victories in war. Looking at the blending of styles attempted here, experts have opined that Mahakuta is a contemporary of Aihole. Today there is a Shiva monastery here, the Mahakuteshwara Temple and others are in use even today, pilgrims visit this holy place regularly and free meals are served to visitors every day. Besides being a religious center, Mahakuta has also contributed significantly through inscriptions and structure of the temples to catalog the historical events surrounding Badami Chalukyan's reign.
Related Post – HAMPI
Frequently Asked Questions About Places To Visit In Badami
Q. What is the best season to visit Badami?
A. The ideal time to visit is post-monsoon and winter i.e. from July to March. This place receives heavy to average rain showers. Also, the winters are mild and there are variations of temperature throughout the year.
Q. How many days are required to visit Badami?
A. One to two days are required to explore the tourist places of Badami. Apart from this, you can also visit nearby fabulous destinations like Hampi, Aihole, and Pattadakal.
Q.What are some must-visit places & things to do while visiting Badami?
A. Badami is home to several historic places like Boothanatha Temple, Banashankari Temple, Mallikarjuna Temples, Badami Fort, Cave 1, Cave 2 and Cave 3. If you are planning to visit, make sure you add all these places to your checklist.
Q.Why is Badami famous?
A. Badami being the capital of Badami Chalukyas from 540 AD to 757 AD is famous for its archaeological monuments. Moreover, these magnificent structures represent Dravidian architectural styles.
Q. Is Badami worth visiting?
A. If you truly want to explore the beauty of Indian architecture, then this is worth visiting. The miniature carvings and the elegance of the temples will definitely impress you. Also, the view of the famous lake is totally fascinating. There is no dearth of places to visit in Badami, so make a proper checklist and make sure you explore all of them.
Q. Who built Badami?
A. Pulakeshin I established Badami and the architecture was observed by the Chalukyas. Also, this place is acknowledged for being the ancient kingdom of the Chalukyas.
Q. Who built Badami caves?
A. Pulakeshin I of the Chalukya dynasty founded this city in the year 540 AD and made his capital. Kirtivarman, the son of Pulakeshin I succeeded him and built the cave temples.
Q. How many caves are there in Badami?
A. The cave temple is the finest example of the Chalukyan style of architecture. Carved out of sandstone, this temple boasts fabulous rock-cut architecture. Moreover, there are a total of four cave temples with excellent carvings and sculptures.
Q. What is another name of Badami?
A. Badami is an excellent tourist destination that has great historical importance. The mythological name of this place is Vatapi. Moreover, it is the regal capital of Badami Chalukyas and is famous for rock-cut temples.