Assam is on most of our travel wishlist. And why not! A trip to Assam will be filled with natural beauty! But today we will have a different tour in Assam! While the lush tea plantations and wildlife of Assam are always attractive, today we will go on a culinary journey to Assam! Here are 5 Authentic Dishes of Assam.
From low-spiced dishes to flavor-rich items, from vegetarian dishes to non-vegetarian curries, there are plenty of Assamese dishes that have pleased the taste buds of both natives and tourists of the state. So, when you visit Assam, don't miss the chance to taste some unique flavors that Assamese dishes bring.
While you chalk out your Assam travel guide for your next trip, let us tell you about 5 famous and authentic dishes of Assam that you must try once you are there.
Khaar
If we discuss the traditional food of Assam, we just can't do it without mentioning Khaar. To prepare it, one has to filter ingredients like papaya, pulses, and taro through charred banana leaves. The unique taste of the alkaline Khaar liquid is simply unmatchable. You can also opt for the non-vegetarian option prepared using fish or meat. Whatever is your choice!
You can guess from the ingredients that it provides the necessary proteins and minerals. But what's even more beneficial is that locals believe Khaar to have digestive properties. Due to such all-around benefits, you will find Khaar as a key element in all Assamese thalis. Pair it with hot rice and get mesmerized by its flavors. You can order Khaar in restaurants. But, if you get invited by an Assamese family for lunch or dinner, you will get the authentic taste of this most famous food of Assam on the plate.
Masor Tenga
The famous food of Assam with the name Masor Tenga is a mouth-watering Assamese delicacy that is loved by all, especially fish lovers. The dish is basically a tangy fish curry that is flavored with some spices. To your knowledge, the word 'Tenga' means sour or tangy. It explains why the dish is sour! The locals bring the sourness by adding ingredients like tomatoes, lemon, dried mangosteen, elephant apple, and raw mango. Spices like mustard seeds and panch phoron (five mixed spices) further elevate the taste of this curry.
You will get this flavorsome Assamese dish in some restaurants in Assam. But it is best to have it cooked by an Assamese family. You will simply love it when served with rice. Besides its taste, the dish is also rich in nutrition. From protein and vitamins to minerals, you will be enriched with all these essential nutrients when you eat a bowl of Masor Tenga. Especially during summer, this dish can be light on the stomach but extremely tasty and healthy.
Aloo Pitika
You must have heard of mashed potatoes. Now, aloo pitika is a mashed potato with a unique Assamese twist. Take boiled mashed potatoes, cook it in mustard oil with chopped onions, coriander leaves, salt and chopped ginger and aloo pitika is ready to serve. It is that easy! The softness of mashed potatoes and the pungent flavour of raw mustard oil creates a soothing taste to appeal to your taste bud. It is surely a great vegetarian side dish in Assam. But if you like non-vegetarian food, you can also make a fish pitika to suit your desire.
Being so easy-to-make and easy-to-digest, aloo pitika is considered comfort food by the Assamese people and they include it in most of their thalis. So, now you know what to look for when you are craving some comfort food in Assam. As it has a well-balanced taste, you can start exploring Assamese dishes with this one if you are not comfortable experimenting much with flavours. If you are wondering where you will get to taste aloo pitika, let us tell you that it is mostly available in a household kitchen. Restaurants, even in Assam, usually don't serve this dish. So, you can either learn the recipe from the locals and try it at home or just befriend a local and treat yourself to this pitika at their residence.
Duck Meat Curry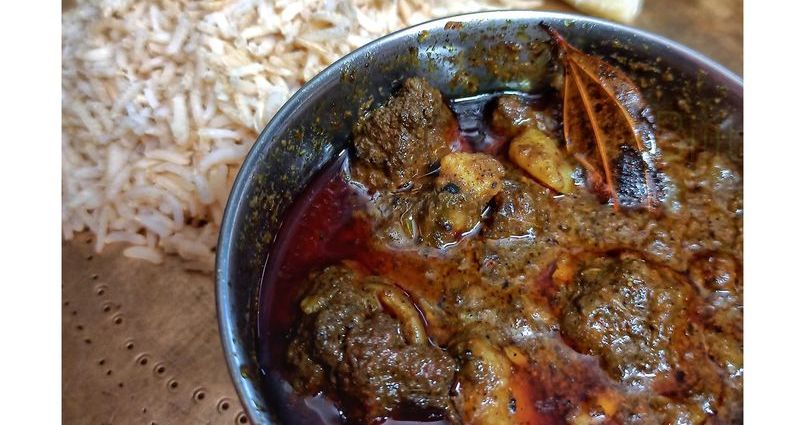 Have you ever tried duck meat? If not, then Assam is the place where you should definitely try it. Usually cooked with ash ground, Duck meat curry offers rich flavours. You will be blown away by the delicious taste of it once you have it. To bring varieties, this curry is also cooked with other ingredients like lentils, sesame and pumpkin. Duck meat along with vegetables will fuel your body with essential nutrients like proteins, vitamins and fat. Here's a quick trivia! This flavour-rich delicacy is mostly made on special occasions. Because on a regular basis, this rich duck meat curry might be a little heavy for your tummy.
Where to try this Assam famous food name? You can get the recipe of this dish from a native to cook your own Assamese-style duck meat curry. Make sure you marinate the meat well to get the perfect tenderness of the meat. If you don't want to cook, here's some good news! This Assamese speciality dish is also served in some restaurants in the state. You might find this preparation being served in a restaurant outside Assam as well, but the authentic taste found in Assam can't be matched for sure.
Spiced Silkworm
When we think Assam is famous for which food, silkworms also pop in our mind. Wondering how these silk-producing moths can be edible? Here's how. The worms in its pupa stage are extracted from the cocoon and then stir-fried to give a crunchy texture. Various Indian spices are then added to it to impart some lip-smacking flavours. The gooeyness of the inside as well as the crunchiness of the outer layer of the fried silkworm is just irresistible.
If you plan to make spiced silkworm, you can add spices of your choice to bring the taste that suits your palette. You can devour this crispy delicacy as it is like a snack or you may team it up with a bowl of rice. It is a good evening snack to have when you are feeling like eating something crunchy. Being one of the famous food items of Assam, you will get it in a number of local food stalls in the state, in case you are not in the mood for cooking!
You must be intrigued by now to taste these amazing dishes of Assam. So why not go to Assam and along with exploring the places to visit in Assam, explore these delicacies as well. And we suggest you try all the above-mentioned dishes as each of these have a unique flavour that can't be compared to the other. Happy dining!
Read More About Assam