Ajmer Sharif Dargah is the most iconic site in Ajmer which attracts devotees from different corners of the world. It may be a Muslim shrine, but it has a secular appeal and people of all faiths come here to pay respects. Urs Festival is the best time to visit this temple. Though it gets overcrowded during the festival, and hotels in Ajmer are fully booked, the eclectic celebration of worship and tributes to Saint Moinuddin Chishti makes the crowd well worth it.
For those who are not religiously inclined, this dargah is an architectural and historical attraction steeped in interesting stories. While religious stories and spiritual legends of the place abound, here are some interesting facts about the Ajmer Sharif Dargah that relates to its architectural puzzle.
Ajmer Sharif Dargah: Interesting Facts
Akbar and Jahangir presented two cauldrons in the dargah
When you enter the dargah, you see two large iron cauldrons (popularly called degh) in the ground in front of the Saham Chirag (courtyard lamp). During the Urs festival, a mixture of rice, sugar, ghee, and dry fruits is cooked in these cauldrons to be distributed as tabruk (blessings) to the public. One skillet cooks 70 mounds (31.8 kg) of rice while the other cooks 28 mounds (12.7 kg). The larger kadhai was presented by Akbar in the dargah in 1567 while the smaller kadhai was presented by Jahangir in 1631.
Pillars & Ceilings of Begami Daalaan were Embellished with Gold
Inside the dargah, you see a beautiful porch called Begami Dalan. It was built in 1643 by Princess Jahan Ara Begum, the favorite daughter of Emperor Shah Jahan. Interestingly, the walls and marble pillars of Begmi Dalan were decorated with gold in 1888. Later, the ceiling was also decorated with gold with money donated by a Muslim merchant from Bombay.
The begum or women of the Mughal harem used this beautiful portico during their frequent visits to the temple. In addition, the two entrances to the temple through Begmi Dalan are placed together with a heavy silver plate carved with ornamental details.
Names of Allah & Quran Verses Are Inscribed in Shah Jahani Mosque
Jama Masjid or Shahjahani Masjid is at the southern end of Ajmer Sharif Dargah. You can see all 99 holy names of Allah along with 33 Quranic verses beautifully carved in the mosque. It is an example of artistic skill and is also a valuable sight for religiously inclined tourists or pilgrims.
The city is well connected by a railway network to Delhi, Agra, Jaipur, Jodhpur, and Mumbai. The nearest airport is in Jaipur, approx. a distance of 130 km; Whereas buses keep running from Ajmer to and from neighboring cities.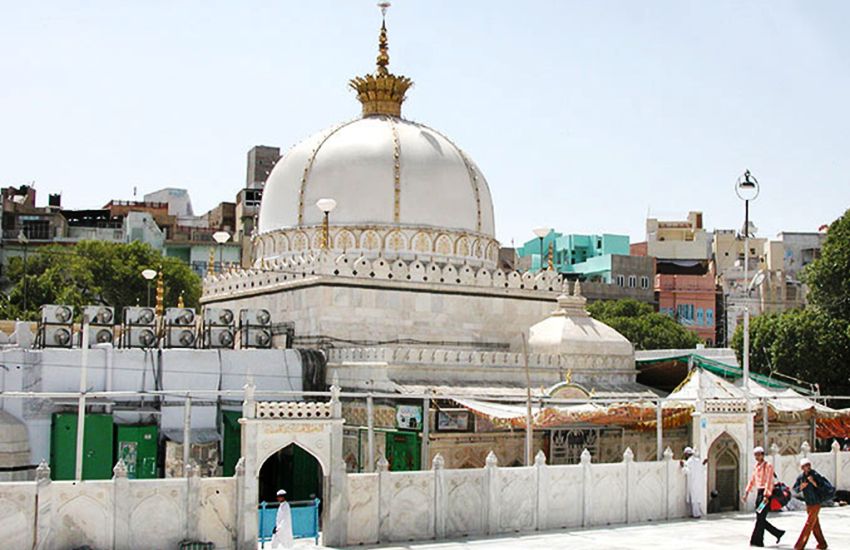 Ajmer Dargah
One of the most visited places of Ajmer; the Ajmer Dargah is a Sufi shrine that is believed to be one of the holiest places in Rajasthan. Khwaja Moinuddin Chishti, who was a Persian Sufi saint, is enshrined in this place owing to his secular preaching. He is believed to be the descendant of Muhammad, and it is on his request that he came to India. It is believed that if you pray for anything with a pure heart at the Ajmer Dargah, it is bound to be fulfilled.

Location of Ajmer Dargah
Address: Ajmer Dargah, Ajmer, Rajasthan 305001
Hours:
During winters, gates are open from 5 AM to 9 PM
During summers, gates are open from 4 AM to 10 PM.
Time Required: 2 to 3 hours
Entry Fees: No Entry Fee
Dress Code: Head Covered. Modestly Covered Attire.
Established in: 1236 (AD)
Constructed By: Muhammad bin Tughluq
Nearest Bus Stand: Ajmer Sharif Dargah Bus Stand (Diggi Bazaar)

Highlights of Ajmer Dargah
This prestigious shrine built by the Mughal Emperor Humayun features a series of huge doors boasting beautiful carvings while you enter the dargah. All these doors are made of pure silver, and the intricate carvings are a treat to watch. Once you reach the courtyard, you can get a glimpse of the tomb of the pious saint, Moinuddin Chishti which is carved out of marble. On the top of the dargah, there is gold plating, guarded by a railing that is made out of pure silver and marble. There is a sense of peace and serenity inside the premises of dargah that you would not find anywhere else!

Recommended for
The Ajmer Dargah is recommended for people of all age groups, as it provides ultimate peace and solitude.

How to Reach Ajmer Dargah
Ajmer in Rajasthan is a well-connected city. It is connected to almost many famous cities in the country either by rail, road or air.
By Air: The Jaipur airport is the closest to the city of Ajmer. From the airport, you can either hire a taxi or take a bus to reach Ajmer Sharif Dargah.
By Rail: The Indian Railway Network is one of the most well-connected services in India. There would be regular trains from essential places in the country to Ajmer, either directly or by a change in two trains to help you reach the city. From the station, you can book a cab or take a local bus to reach Ajmer Sharif Dargah.
By Road: Though hiring a cab is an option, it would be advised to take regular buses that ply between important cities to Ajmer regularly. There would be direct buses to Ajmer from Delhi, Jaipur, Jodhpur, and Jaisalmer that will help you reach the destination. From the bus stop, you can take a taxi or another local bus to reach Ajmer Dargah.
Similar Articles
Frequently Asked Questions About Ajmer Sharif Dargah
Q. Why is Ajmer Sharif Dargah famous?
A – Ajmer Sharif Dargah of Khwaja Moinuddin Chishti is famous all over the world for attracting lakhs of devotees who seek the blessings of the Sufi saint. Hazrat Khwaja Moinuddin Hasan Chishti holds a prominent position among the spiritual Healers of the world.
Q. What is special in Ajmer Sharif?
A – One of the most visited places in Ajmer; Ajmer Dargah is a Sufi shrine that is considered as one of the holiest places in Rajasthan. Khwaja Moinuddin Chishti, who was a Persian Sufi saint, is seated at this place because of his secular teachings.
Q. Can Hindus go to Ajmer Sharif?
A – The dargah has been a site for pilgrims revered by the followers of Hinduism and Islam since medieval times and also attracts Jains and Sikhs. Pilgrims come here from all over the world and offer chadar in the temple.
Q. Are women allowed in Ajmer Sharif?
A – It shows how in the memory of one of the most revered Sufi saints, women are given free access to the sanctum sanctorum in the temple. Moini says, "Ajmer Sharif is the biggest dargah in India. Hindus, Shias, Sikhs, everyone is allowed here." No one was pushed and there was no threat of harassment to women.
Q. What is the old name of Ajmer?
A – Ajmer was originally known as Ajayameru. The city was founded by the Chahamana king Ajayadeva of the 11th century.
Q. Who built Ajmer Dargah?
A – It was the residence of Sufi saint Khwaja Moinuddin Chishti between 1192 and 1236 AD and houses his tomb. The temple was built by the Mughal emperor Humayun, while later rulers such as Akbar and Shah Jahan also built mosques in the complex.
Q. What is inside the Dargah?
A – Dargahs are often associated with Sufi dining and meeting rooms and hostels, called khanqahs or Dharamsala. They usually include a mosque, meeting rooms, Islamic religious school (madrasa), housing for a teacher or caretaker, hospital, and other buildings for community purposes.
Q. Are wishes fulfilled at Ajmer Sharif Dargah?
A – This is the temple of a saint Moinuddin Chishti who migrated to India and settled in Ajmer. He embraced the poor and downtrodden with an open heart. It is believed that all the wishes made sincerely here are always fulfilled. Emperor Akbar was given a son after his visit when all else failed.
Q. What were the main beliefs of Khwaja Moinuddin Chishti?
A – His major teachings include charity and compassion for the poor and helpless, living a pure life of devotion to God, and achieving unity with God in the service of his creations.