When we told our friend that let's plan a trip for a couple to Jordan, the first reaction from everyone was, "Are you guys serious?", "Is it safe to travel to Jordan?" "What will we guys do there? It has no nightlife, no beaches – there's the only history associated with it!" Others were worried about petty issues like food, clothing, and people. But we were determined to explore this beautiful, ancient land. JORDAN – 7 days of couple treat.
Day 1: Checking In To Our Hotel and Exploring Petra by Night
We boarded our flight from New Delhi to Amman. There, we were met by our local representative, who assisted us with immigration and then we headed to Petra, which took us about three hours to reach. The zigzag drive within Petra was one of its kind as we soaked in the slow-paced life of the city. When we reached our hotel, Petra Guest House, we were offered the local tea as a welcome drink and were given a room preference between the new or old wings. We chose the old wing one because the city view from there was very soothing. We were staying in Petra for two nights and didn't want to waste any time, so we decided to do the Petra by Night tour on our first day. The pick-up for the tour was right next to our hotel, so we left for the last tour of the day, around 7 pm. The pathway was lit with candles and guided us to the main entrance of Petra, known as "Siq". Petra by Night is a guided tour, where the guide explains how this route was used by nomads in ancient times in search of trade to travel from one part of the world to another. It was mainly used to connect Europe to the Middle East.
After passing through Siq, we ended up at Treasury, the center point of Petra Valley, where mats were placed for us to sit and see the show. It started off with a man playing something like a bagpiper and then another one describing the era of nomads in the local language with the Treasury in the background. Both the acts were very fascinating and calming. We just wanted to lie under the stars, but time was nearing to go back to the hotel as the wind was becoming cooler and the stars were becoming brighter with each passing minute. We came back and enjoyed our dinner at the hotel
Day 2: The Gorgeous Views of the Valley
The next morning at 10 am, after breakfast, we headed for the Petra City Tour. The ticket cost included a pony/mule ride for a certain distance – it was the most thrilling ride ever! We were zipping through air as our driver was controlling the mule. They dropped us at the beginning of the Siq and from there we decided to walk to Treasury. We were surrounded by a canyon from all sides and appeared like dwarfs in Petra. After walking for about half an hour, we reached the magnificent Treasury. Even though we had seen it the previous night, the view was marvelous as it stood tall in front of us. The man-made wonder is awe-inspiring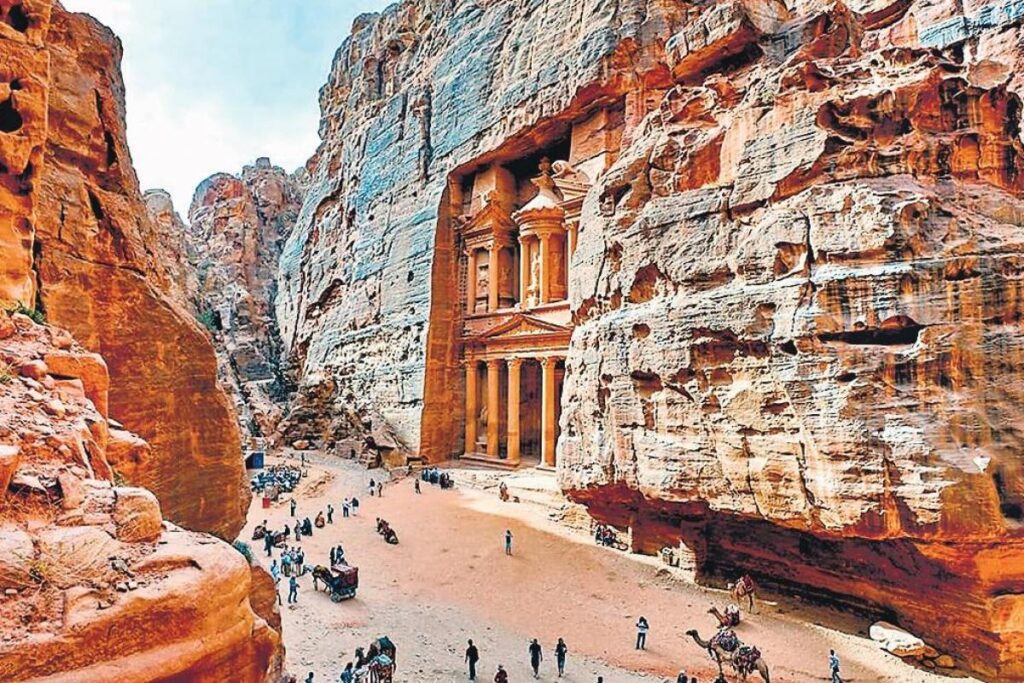 After clicking pictures for a while, we decided to move further to see what all this great canyon has to offer. We walked towards another viewpoint from where we could see the rest of Petra and got to know that the best view is from the Monastery, which is the last or endpoint of Petra. So we decided to take on this challenge and head towards the Monastery. One can ride a mule or camel to reach the last point as it's quite a long and uphill journey. On our way, we were stopped by locals and tourists, who were curious about the henna applied on my friend's hands and asking if we would like to sell her bangles as they all liked them a lot. When we finally reached, the view was truly breathtaking. You can see the whole of Petra Canyon from there. By the time we ended our day, we were dead tired as we had walked close to 30 kilometers, and it was already 5 pm.
Day 3: From A Desert Safari to A Stroll on the Beach
On the third day of our trip to Jordan, we preceded to Aqaba with a desert safari at Wadi Rum. An enthralling experience, Wadi Rum is part desert and part rocks. Our driver knew each and every part of the desert and drove like Schumi on the wild tracks. Our safari lasted for two hours and after that, he took us to see desert camps in the middle of the desert. We had sheesha along with local Boduwien cuisine for lunch and then headed for Aqaba. We then checked in to our hotel and were greeted with a pleasant surprise as we were upgraded to a junior suite. Since it was a weekend in Jordan, the city was bustling with both locals and foreigners. We headed for an evening stroll on the beach enjoyed coffee at the promenade and went to see the local market popular with "genuine fake" perfumes and watches. Being a duty-free zone, people were buying goods in bulk. We had Falafel from the local vendor and enjoyed it with buttermilk, it was not exactly like our local Chaach, but it was thirst quencher.
Day 4: Watersports and Karaoke
After breakfast, we headed to Bernie's beach, which is a private beach where you have to pay for the entrance. It offers beach and water activities such as snorkeling, sunbathing, and speedboat ride. We returned in the evening and then headed for shopping. Evenings are very pleasant and we really enjoyed the nightlife with some Karaoke thrown in at a place near our hotel.
Day 5: A Dip in the Dead Sea
We were up for yet another unique experience on this day as we headed out on a four-hour-long drive to the Dead Sea. The journey itself was a lot of fun as we met locals and chatted with them. It was very heartwarming to see that Indians are much respected there. Wherever we stopped, people were so humble and ready to help and guide us. Most of them initially started talking to us in Arabic presuming that we too belong from the region, and we were quite excited when we told them that we are from India. When we arrived at our Dead Sea hotel, the weather changed completely and it suddenly became cold. We were disappointed because we thought we would miss the opportunity to take a dip in the famous Dead Sea, which is at the border of Israel and Jordan. It is from here that the Jordan River emerges and is popular for baptism. Fortunately, after an hour, the weather was back to normal and we headed for the Dead Sea.
Our hotel had a free shuttle service and offered a Dead Sea mud pack, along with towels. The water has such high salt concentration that one can never drown in it but you have to float on your back, so that water does not enter your eyes, nose, or mouth. I went about 500 meters inside the lake. The best part is that you are surrounded by hills from all sides, and you are just floating. Another interesting thing we found was that the Dead Sea is actually a lake, and is known as the sea because of its huge size. After our great floating experience, we came back to the hotel for an amazing dinner buffet serving all the cuisines from the Middle East.
Day 6: Mt. Nebo and Madaba
The next day we headed out to Amman and en route took a tour of Mt. Nebo and Madaba. Mt. Nebo is the famous place that is mentioned in the Bible as the spot from where Moses was granted the view of the Promised Land. The view from here is overwhelming. Later, we went to Madaba, the town popular for its Mosaic art, and Madaba Church, which has the map of the Promised Land in mosaic art on its ground floor. Later in the evening, we arrived at Amman and after freshening up we headed to Diamond Street to enjoy the nightlife. We were there till midnight and enjoyed sheesha with a live band performing on the street.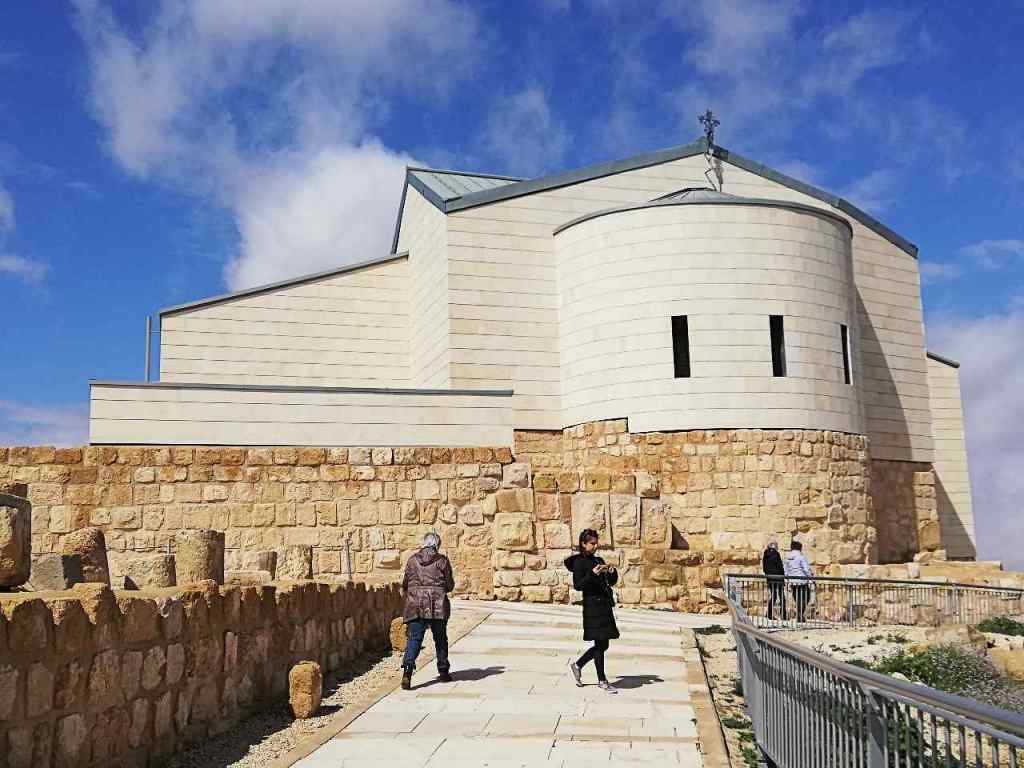 Day 7: Roman History In Jerash
Jerash looks so much like Rome, On our last day, we went to Jerash, which looks like Rome away from Rome. As we entered, we saw a chariot race and then moved on to a colonnaded street to reach the Roman Theatre and see various temples in the proximity. It's a must-visit for history lovers and people who can't make it to Rome as one gets a complete glimpse of Roman history here.
We came back to our hotel in the evening and headed to the local market to buy Dead Sea products and some local confectionery which is popular, especially cookies and khataies. Our trip finally came to an end and we were back in Delhi. But the memories that we gathered here will last us a lifetime and we were so glad that despite all the doubts people put up in front of us, we stuck to Jordan our choice of destination.
More from the Author – AN UNFORGETTABLE HOLIDAY – CAPE TOWN
Frequently Asked Question About Jordan
Q. Why is Jordan called the Star in the middle east?
A. Jordan is dotted with a number of World Heritage Sites including some iconic landmarks like Petra and Amman. Hence, the country is often referred to as the star of the Middle East.
Q. Which is the best time to visit Jordan?
A. Spring and Autumn are without a doubt the best time to plan a holiday in Jordan. However, this is also the peak season so planning ahead is essential. For spring, the weather is pleasant during the months of March, April, and May while during the fall any time between October and November is a great time. If you wish to avoid the crows you can plan around the end of August or the end of February.
Q. Why is Petra worth visiting?
A. Petra is certainly one of the best places to visit in Jordan and a place you just cannot miss. However, there are a number of neighboring cities that are worth a visit. For a unique and desert camp experiences, there is no place better than the Wadi Rum. And how about a visit to the Dead Sea with a stop at the capital city.
Q. What to wear in Jordan?
A. Jordan clothing is a little more conservative than western countries however in the cities, you will find people in shorts, pants, and skirts as well.
Q. Where to stay in Jordan?
A. Amman is a great place to look for hostels, BNBs, and hotels. Where to stay in Jordan on a budget is a question that crosses the minds of many backpackers but it no hassle finding budget properties in the cities. Petra is also dotted with a number of choices like the Petra Palace Hotel and Petra Moon Hotel that offer great deals.
Q. What are the modes of transportation available in Jordan?
A. One of the best ways to get around Jordan is to hire a car, besides driving around the cities is an experience of its own. You can also opt for public transport like buses and taxis, however, if you have a number of places on your itinerary, then hiring a car is a good call.
Q. How to say 'hello' in Jordan?
A. In the cities and tourist areas, you will definitely come across English speaking folk. But it is advisable to know the basic phrases to avoid any confusion.
1. Hello – Salaam
2. Sorry – Aasif
3. Toilet – Hammam
4. Hotel – Fondoq
5. Yes – Na'am
6. No – La'a