On a recent holiday, I embarked on an African experience to the 'rainbow nation' of Cape Town. With its unique culture, experiences, cuisine, people, and energy, it is one of the most iconic cities in the world. The energy level of people here is unmatchable! On my South African tour, I covered the stretch from Stellenbosch to Franschoek, with the perfect ending in Cape Town. With so many amazing experiences to recount, it's hard to find a good starting point. Read on, and you'd agree that even a week ain't enough!
An unforgettable Holiday – Cape Town
Stellenbosch, a wine village in Western Cape
It all started when my friends and I decided to set off on a road trip to Stellenbosch, a wine village in Western Cape. We drove for close to an hour on the roads of Cape Town to reach our destination, 1692 Spier. This wine farm has enjoyed a long history that dates back to 1692 and is renowned for its architecture, in particular. It is hard to miss the sculpture of "The Dying Slave" installed at Spier wine farm. A unique piece of art, it consists of nine columns at a height of 13 feet and about 225,000 pieces of stone that come together to form the image.
I had a gala time exploring the massive vineyard, enjoying tours of one of the oldest farms in the region and relishing the exotic food. When I say 'exotic', I mean everything from different kinds of fish to Impala meat; I tasted and loved it all! A great accompaniment to this soft meat was the cheese and red wine. I went on three different tours here; an early morning cycling tour to the vineyard – just me and my cycle – exploring the vineyard and soaking in the beauty of the countryside; on the next tour, my friends and I drove to the vineyard in our hired SUV; and on the last tour, we enjoyed wine tasting as we dug into local food. But that's not all; we also learnt the process of making wine and it was interesting to see how every flavour has an important part to play in the colour, texture and pallet of the wine.
Other highlights
Other highlights of the trip were the quad biking tour and the picnic by the lake at Rhebokskloof. Sitting by the lake, I couldn't help but marvel at the sheer beauty of the surroundings, as we sipped on sparkling wine and enjoyed cheese, fresh from a dairy close by.
As the trip to Stellenbosch was drawing to a close, the excitement was only building up and we were all set for our next adventure. To our surprise, we had chauffeur driver World War II vintage bikes waiting for us to take us to our next wine destination, Franschoek. The journey took close to two hours and was a scenic one.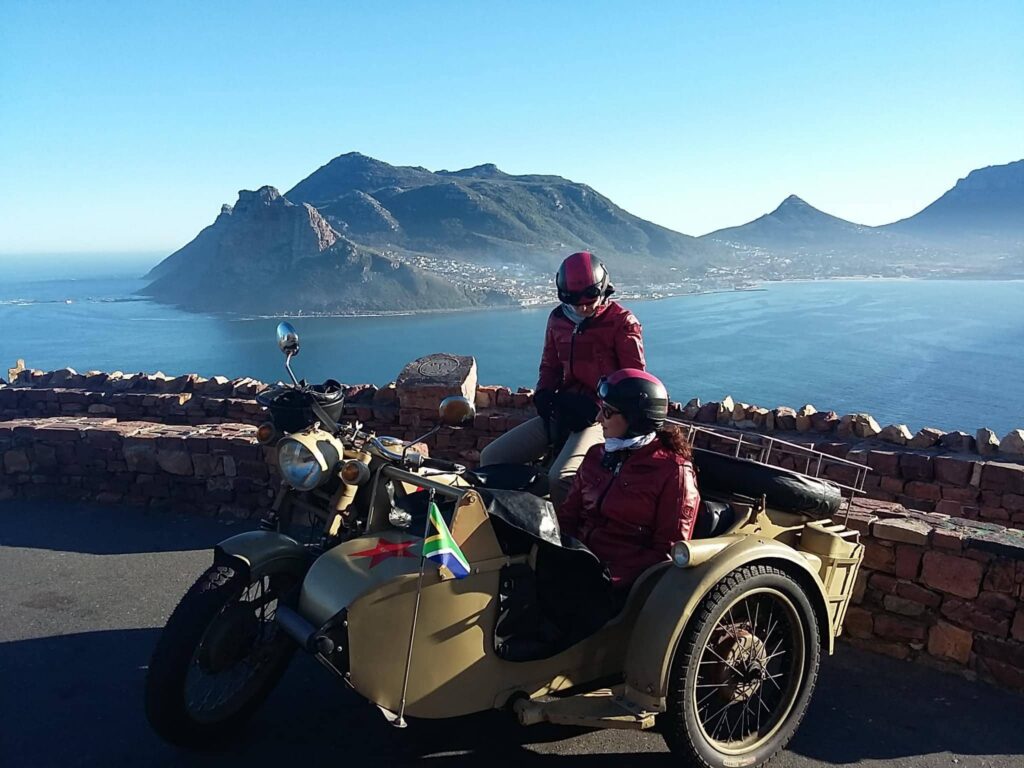 Franschoek
Upon arriving at our destination, we freshened up and set out to explore the beautiful property. From the many different restaurants and the art and craft centre, to the wine cellar and individually themed rooms; the hotel exuded a charm unlike any other I had ever been to. We later went to a café for coffee and enjoyed the sight of the sun setting in the backdrop.
For dinner, we were invited by the owner of the property for a lavish 11-course French meal. The night was still young, so we put on our dancing shoes and headed out to explore Franschhoek's nightlife. A number of clubs, bars, live music venues and other entertaining avenues make this an enthralling place for the party-goers. Some of the places worth visiting are Elephant and Barrel Village Pub, Vineyard Brasserie, the Franschhoek Cellar, among others.
Cape Town
The next day, we drove to Cape Town, the city that has so much to offer. Upon arrival, we directly went for a city tour and took a cable car to Table Mountain for awe-inspiring views of the city! Standing true to its name, this iconic landmark is shaped like a table and has various points from where you can get clear views of the city and the ocean.

After a cup of coffee, we headed for the highlight of the tour – a helicopter ride. It took us about 20 minutes to reach the helipad, from where we boarded our flight. I was the lucky one to play the part of the co-pilot; a little nervous, I took on this challenge and followed the instructions of the pilot. In no time we were cruising high above the clouds.
Visiting the 12 Apostles
After this exhilarating experience, we headed to our hotel which was located amidst the woods but not before stopping at Hudson Bay on the way. The 12 Apostles guarding the Mother City like a wall and protecting it from the strong waves and wind was a sight to behold.
Upon reaching the hotel, we freshened up and headed to Long Street to experience Cape Town's vibrant nightlife, considered to be the best in Africa. There were numerous clubs, lounges, pubs, bars and discotheques not only of African origin but from across the globe. Our first stop was a Canadian club that played classic hits. But this was just the beginning; Irish, English and European, we explored all kinds of clubs, ending our night in a true African fashion, with reggae music. (show in restaurant image) We came back to the hotel in the wee hours of the morning to collect our luggage and headed to the airport on a high (quite literally!).
The perfect end to our Africa trip; this was a holiday that will remain etched in my memory forever.
More from Author – Turkey
Frequently Asked Questions About Things To Do In Cape Town
Q. What can you do in Cape Town for free?
A. Some of the best things to do in Cape Town without paying any penny includes visiting the Aquarium, explore the hidden gems of the city, take a full moon hike up Lion's head, swing on the Sea Point Promenade and also enjoy a drink in nature in Cecilia Forest.
Q. What can you do in Cape Town for cheap?
A. Some of the best things to do in Cape Town for cheap includes exploring the neighbourhoods, go hippo spotting and bird watching at Rondevlei Nature Reserve, explore the Newlands Forest. And also take a tour of the Muizenberg.
Q. What is Cape Town best known for?
A. Cape Town is famous for its enigmatic harbour and natural setting within the Cape Floristic Region. Alongside that there are landmarks such as Table Mountain and Cape Point.
Q. What can you do in town with no money?
A. For the people who have run out of money and still want to explore Cape Town can indulge into some activities like going on a picnic, go geocaching, take a historical tour of the city and also go camping.
Q. Is it safe in Cape Town?
A. Cape Town is quite a safe place which ensures that the travelers are safe and secure. But despite that people might face petty crimes like theft and treachery which is common at every place.
Q. Where can I take my girlfriend in Cape Town?
A. For the people who are traveling with their partner can enjoy things like horse-riding on Noordhoek Beach, Cable Car trip, Bay Harbour market and also one can enjoy a picnic at Kirstenbosch Gardens.
Q. Are taxis safe in Cape Town?
A. Cape Town is a small city which is very less prone to crime and considered to be quite safe than any other city. Here all the taxis are metered which makes it safe to travel, efficient and budget-friendly.