Traveling by train through Asia may sound old-fashioned or like something out of a novel from the past, but it is actually one of the best ways to visit some of the most spectacular, mysterious, historical, and colorful corners of our planet. 5 incredible train trips in Asia
Yes, a train is not as fast as a plane, but here the journey is as important as the destination and the route can be accompanied by good food (some trains are famous for their gastronomy), views that leave you speechless and tours of some points that otherwise you could never know. Plus it's a lot more comfortable than riding in a can thousands of miles off the ground, where you can't stretch your legs or trust that the person in front isn't going to take even more space from you by reclining their seat.
On the other hand, trains also offer us a more sustainable travel alternative, plus there's a certain nostalgia and romance associated with the experience (it's not for nothing that Wes Anderson has a movie that takes place almost entirely on board a train).
According to the 2021 Global Travel Trends survey conducted by American Express, 68% of travelers are interested in traveling more sustainably; 78% seek experiences that reduce stress, and 61% said they want slower and longer trips and train routes meet all of those points.
There are them all over the world and for all budgets, but the Asian routes are among the most special that exist, some have all the luxuries and all of them take travelers to travel through territories that seem to be taken from a dream or a movie, from impossible mountains to areas full of nature, and that is why it is worth having them on your Travel Bucket List.
5 incredible train trips in Asia
Belmond Eastern and Oriental Express, Bangkok to Singapore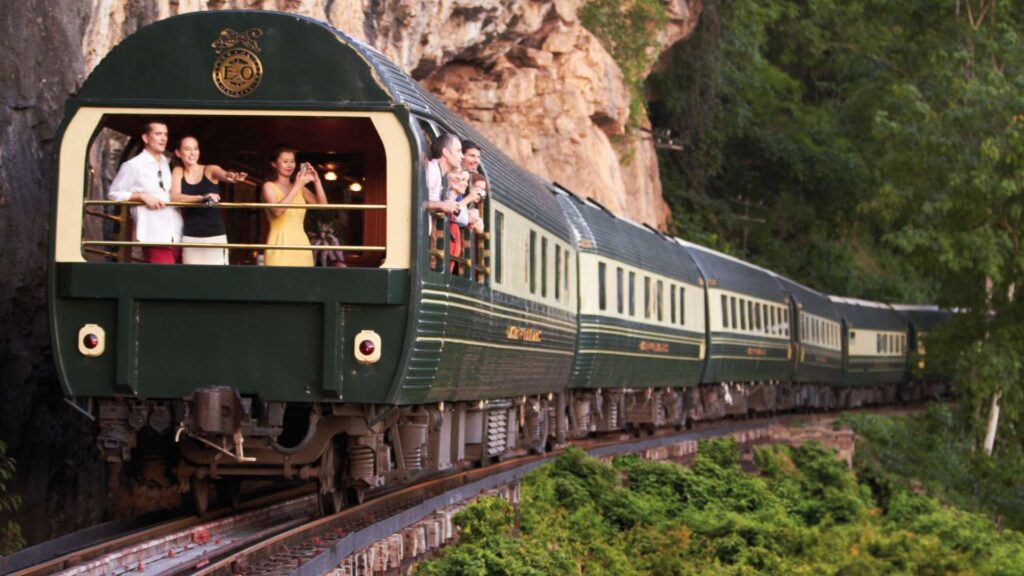 This route came about thanks to the legendary Orient Express. When the famous Paris Istanbul route stopped operating, Belmondo bought the train and created his own collection of trains and routes around the world.
This route is a 4-day trip that starts from Bangkok and goes through famous areas such as the River Kwai (which was a key point during World War II ), Kanchanaburi, and Kuala Lumpur, ending in Singapore. The train has a Fine Dining experience and has panoramic windows so you don't miss a single detail of the landscape, there is even a kind of "terrace" at the back of the train, where you can have a cocktail while enjoying the view.
Sri Lanka Main Line, Kandy to Ella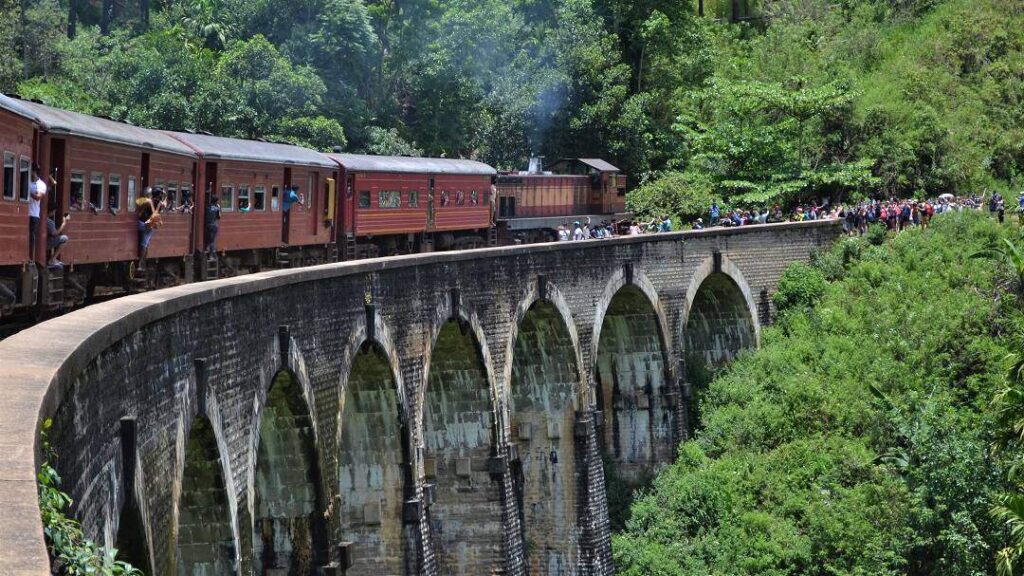 The ancient kingdom of Kandy and the mountainous town of Ella are connected through this route in Sir Lanka. It is not the most luxurious train, but it is comfortable and first-class, it has large windows from where you can see green landscapes, mountains, and historical sites.
The second and third classes are for adventurers since that is where you run into open doors and passengers who lean out to cool off with the outside air, as well as vendors carrying traditional snacks, typical desserts, and tea. The trip takes about 8 hours, and the cost of the ticket does not exceed 20 dollars.
Palace on Wheels, Rajasthan, India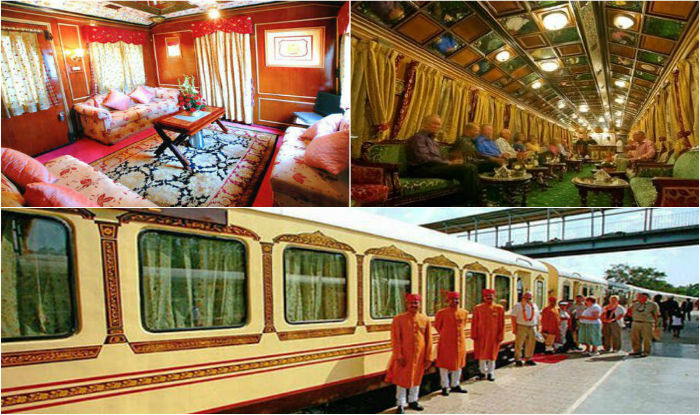 The Palace on Wheels train, which operates between September and April, makes a tour of North India. The train debuted in the early '80s and features carriages, renovated in 2009, that used to be used by royals before independence, so it's really looking to recreate that experience of luxury and palaces, with silks, wood, and decorations full of details.
The train has dining cars, a Spa, bar, common areas, and a lounge area where passengers can relax. Each carriage was named after a prince and the journey takes around 8 days, starting from Delhi and passing through UNESCO protected sites, forests and palaces, plus there are stops in some cities so you can learn about their history (there is a stop in Agra, where you find the Taj Mahal ).
Alishan Forest Railway, Taiwan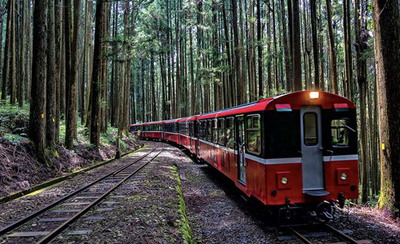 From this route, which has been a tourist attraction since the 1930s, you can see rivers, waterfalls, forests, and mountains, starting from central Taiwan and passing through the Alishan Mountains in a tour that lasts 3 days.
The route is recognized because it goes up the mountain almost in a zig-zag, and the great advantage is that passengers can get on and off at different points to do a bit of hiking, tours, and all kinds of activities.
Mongolia to Beijing, China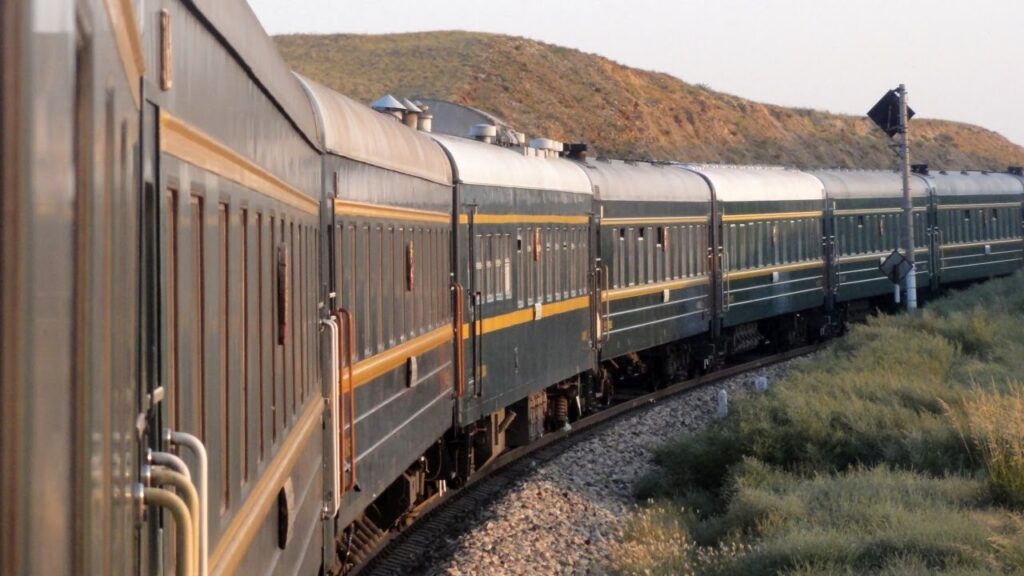 The Trans-Siberian is one of the most famous trains, but there is another one that also has views that leave you speechless, the Trans-Mongolian Express, which passes through Ulaanbaatar until it reaches China. This train is not exactly secret, it is considered the Godfather of trains, but it is often forgotten.
This has some of the best views in the world, taking a tour through rivers, dunes, and lakes, also, when arriving in China, passengers can see the Great Wall from a different angle, before approaching different villages where they still live. fishermen who continue to use traditional techniques.
Similar Articles