Diving in the lakes of Austria: The most striking property of fitness tourism is to open seemingly familiar directions from a new, unexpected side. In Austria, it works one hundred percent. Here you can not only explore the mountain slopes, be impressed by the architecture and visit museums with treasures of art from Western Europe. Austria is also a great place to go scuba diving, get an adrenaline rush and get in shape after the local strudel and marzipan candy.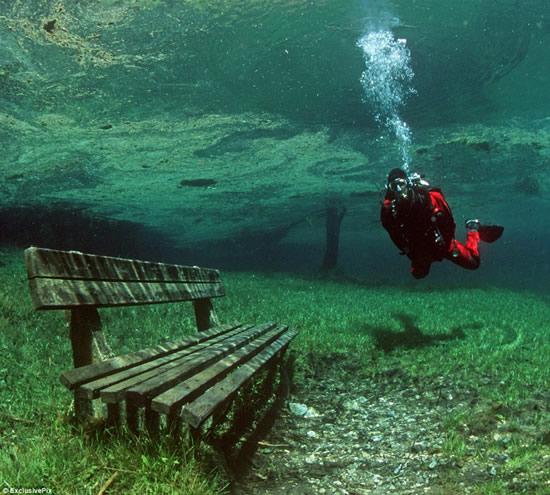 One of the regions where you can go for freshwater diving is Salkammergut, located just 30 km from the popular Salzburg among travelers. The largest local lakes are Wolfgang See , Mond See , Traun See, Atter See and Hallstatter See. Their depth reaches 200 m, while the water there warms up in the summer to +25 .. + 27 ° С. Small towns with ancient history and architectural monuments are scattered along the shores of the lakes.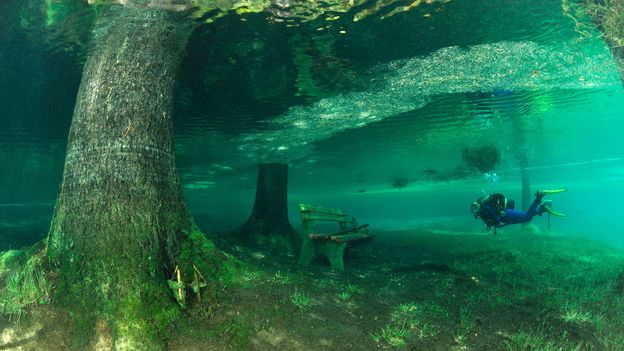 The diving season begins here in March, with a smooth transition in November to the ice diving season. There are periods of limited diving due to spawning in different places: these are always indicated in the descriptions of the dive programs. The program itself, as a rule, contains 1-2 dives per day, and its complexity is determined on the spot by choosing dive points on the lakes – after registering the documents confirming the level of the diver's skill.
For absolute beginners in the exploration of the underwater world, dive sites are selected specifically for the purpose of learning and practice. Fortunately, freshwater lakes are very good for this.
Several options for the duration and configuration of programs are offered. A full tour package may include all the necessary components: international flight, accommodation, transfers, meals, work of an English and Russian-speaking instructor, equipment rental, visa support. Or it is possible to organize only a sports-active part with dives for 2-3 days as part of an excursion, health-improving or business trip.
Using the example of one of the Austrian lakes, Atter See , we will tell you in more detail about the local diving sites. The Surfplatz is ideal for learning to dive thanks to its shallow depth and level ground. The bottom there is completely overgrown with charovy algae, which prevent the water from becoming cloudy. Many eels, perches and pikes can be found in this area during night diving.
The Aleksenau spot, where there are many large trees under the water, is no worse for training. Between them every now and then come across large rocks. Rare plants are found up to a depth of eight meters.
Twin Towers are good for both learning and practice. These are two large upright standing trees growing from 18 meters deep to five meters under water. The trees are densely overgrown with bryozoans; pikes are sometimes found nearby. In the shallower surrounding waters, there are many stones, plants and branches that form a kind of landscape.
The "Black Bridge" of Schwarze-Brücke is marked on the map with crosses, indicating that many divers there never came to the surface. Therefore, only experienced, confident athletes who are able to adequately assess the risk when diving along a stone wall can dive there. Even at a depth of 10 m, there are impressive massive rocks, but you need to swim for a few minutes to reach the wall. The wall goes down beautifully for more than a hundred meters in several steps.
But we must remember: diving up to thirty meters is enough!
Kolbauernaufsatz
Kolbauernaufsatz is a steep seamount slope. An underwater rope leads to the local Titanic, the size of a rowboat. If you swim further along the wall, you can see how it smoothly turns into a slope covered with silt and mud. In this place, an underwater meadow is spread against a steep wall. The bottom is quite flat there, so it is good for beginner divers. During the day, a huge number of fish "graze" on this meadow: perch, roach, pike. And at night there are a lot of eels.
Similar Articles