Unknown Italy: Rome, Milan, and Venice – this is how the typical tourist presents Italy. In fact, 90% of the country is small and very colorful cities that have not yet been occupied by lovers of Italian pasta, gelato and amaretto. In the first part of the review of unknown Italy, we talk about Bergamo, Bologna, Perugia and other reasons to turn off the usual tourist routes in order to feel the real Italian life. Moreover, getting to them will not be difficult.
Bologna
Why Bologna?
Because one cannot but visit the homeland of the Bolognese sauce and the University of Bologna, the oldest in Europe.
How to get to Bologna?
It has its own airport named after Guglielmo Marconi, where Ryanair flies from Warsaw (for € 48 you can go there and back), and if you like to fly from the airport in your city – try to search for tickets on aviasales.ru. If you are already in Italy, then getting to Bologna is as easy as shelling pears: you can do it by train from Florence or Siena, or vice versa, heading towards Florence from Verona or Venice.
What to do in Bologna?
Bologna gives the impression of a city that is one hundred percent suitable for everyday life and almost devoid of tourists, unlike most Italian towns. Already at the exit from the station, you will most likely be greeted by a flea market, or even more than one: records, old photographs, and books of all stripes, among which you can even find Tolstoy and Tsvetaeva in Italian. Bologna is easily recognizable by its characteristic architecture: there are a lot of buildings, the first floor of which is designed as a gallery with large arches. Similar architecture can be found in Padua, but there the arches are not so majestic.
We can say that the city has two central squares that are next to each other: Neptune square (Piazza Nettuno) and Maggiore square (Piazza Maggiore), where several palaces are located (palazzo di Re Enzo, Palazzo del Podestà, Palazzo dei Notai, Palazzo dei Banchi, palazzo Comunale) and the building of the main cathedral of Bologna with an unfinished facade – the Basilica of San Petronio.
Among all the must-see places in Bologna, it is worth highlighting the Basilica of San Petronio. Be sure to look into it in the evening, just before closing, to feel the contrast of the external evening bustle and the tranquility that envelops within the walls of the cathedral. This is the fifth largest church in the world, as guidebooks and the Internet helpfully suggest, although, being inside it, one can readily believe that it is the very first, not the fifth.
If you turn a little to the side from the main squares, you will immediately find yourself on the street market, which stretches right on the central streets of the city. Here you can find fruits and vegetables, cheese, and smoked meats, but it is especially curious to watch how Italians buy fresh fish in such an impromptu market.
And you can eat fish, seafood and much more at a place called Osteria al 15. In Alce Nero Berbere you will find one of the best pizzas in the city, but you can simply eat tasty and inexpensive food in Antica Trattoria Fantoni, beloved by many Italians. If in the evening you want not only to have dinner but also to relax with live music, then you are on the right path to Acca Vineria. Here, with equal probability, you can find light jazz and pleasant mixes from local DJs.

When walking around Bologna, do not forget to walk to the area of ​​the University of Bologna; life rages throughout the city, but only here it is so distinctly young and disorderly. You can hardly find a larger crowd of young people anywhere else: teenagers sit on the sidewalks, eat on the run between lectures, mark their exams, play the guitar and just chat lively. And if you are very lucky, then you can catch the graduation ceremony and see how the students in laurel wreaths are poured with champagne. If you are not lucky this time, go to the library with chic interiors – you can always do it.
Perugia
Why Perugia?
You need to go to Perugia to make sure that Tuscany and Sicily are not the whole of Italy, and there are completely different regions that are not like them. Perugia is the administrative center of the Umbria region, a striking representative of this region.
How to get to Perugia?
The easiest way is to take a train from Rome (most likely, you will have to change in the town of Foligno, but the time allotted for a change can be spent usefully – 40 minutes will be enough to see Foligno), and there are daily buses from Siena to Perugia, which depart from Siena train station. From Perugia station to the city itself, a mini-metro will take you, and this is a separate pleasure: small cabins without a driver and a narrow-gauge railway that glows purple at nightfall (and therefore, be sure to take a metro ride in the evening).
What to do in Perugia?
Perugia will definitely be remembered for its special architecture: the city is located on a hill and all consists of stairs, arch-bridges, and multi-tiered streets, and while walking along with it you will not leave them feeling that you are walking along the corridors of a solid building, with passages and halls carved into it.
In Perugia, of course, there is the main square – Piazza IV Novembre, which houses the Maggiore fountain and the Pallazzo dei Priori palace . All major events of the city usually take place here. For example, every October, Perugia hosts a chocolate festival, which attracts Italians from neighboring regions. To choose the right time for your trip, you need to decide what you like more: chocolate or the absence of people, and if chocolate loses in this battle, it is better to plan other months for visiting Perugia.
Since Perugia is located in a very picturesque region, not only city buildings but also the surrounding area are an attraction here. Absolutely unforgettable views open up from Perugia in the morning: for this, you can walk along the perimeter of the city at sunrise, for this, it is worth getting up early. Or you can admire the hills surrounding Perugia from observation platforms, one of which is located next to the Kennedy Gallery. You can also grab a bite to eat at the excellent Caffe Corretto nearby.
In Perugia, be sure to visit the street that used to serve as an aqueduct supplying water to the Maggiore Fountain ( Via dell'Acquedotto ), which starts near Via Cesare Battisti. To diversify your impressions of Perugia, go to the area located in the northeastern part of the city: there are small workshops and galleries, and often paintings are hung right on the street. Many walls of the local buildings are painted, and installations are found literally at every step. One of the streets in the district is especially curious: next to the entrance to any establishment on this street, there is a photograph of its owner and a short story about each of them.
From a gastronomic point of view, Perugia, like the rest of Umbria, is quite unpretentious: they like simple and inexpensive food – all kinds of sandwiches, rolls with whipped cream and other not the most sophisticated dishes. But what is definitely worth trying while there is rum babu (they are, without exaggeration, amazing), and it is best to do it in the oldest pastry shop in Perugia, Sandri dal 1860. For dinner, Alphaville Cafe Perugia is perfect – here you can drown yourself in soft armchairs all evening, gazing at contemporary art around with a glass of wine (especially considering that from 19.00 to 22.00 there is usually a happy hour and glass will cost only € 2). Unknown Italy
Lucca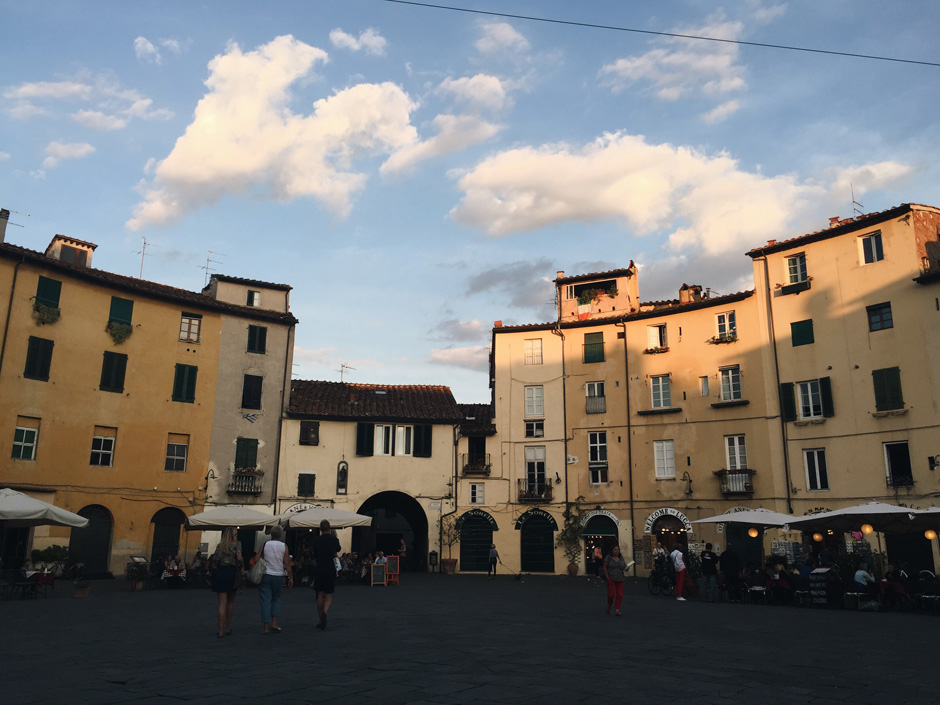 Why Lucca?
Lucca is worth a visit if you feel tired of noisy cities and have long wanted a cozy and very Tuscan Italy and Italians to spend a couple of days there leisurely, walking along the cobblestone streets and looking at the locals.
How to get to Lucca?
You can get to Lucca either by car or by train – from the direction of Pisa or Viareggio, or from the direction of Florence.
What to do in Lucca?
The best thing to do in Lucca is to just walk. Lucca is a surprisingly cozy town with all the Tuscan warmth and intimacy, but also the colorfulness of the locals.
The old town of Lucca is surrounded by a wide fortress wall, on which you can walk (preferably at dawn or during sunset) and which has been perfectly preserved to our times. On this wall, the locals walk with their dogs and make their morning and evening run.
The peculiarity of Lucca is that almost every turn there will necessarily be some kind of square with a basilica or a courtyard with a fountain or sculpture, and often the squares simply turn into one another.
On one of the main squares of the city, Piazza San Martino, there is a traditional duomo for Italian cities – Duomo San Martino, and on the Piazza Antelminelli, which is connected with it, there is a fountain, favored by local pigeons. Another famous Lucca square is Piazza Anfiteatro, a rounded shape surrounded by houses in yellow tones, which can be accessed through 4 entrance arches located crosswise. In the evenings, Piazza Anfiteatro traditionally turns into a gathering place for tourists and locals: restaurants and cafes surround the square around the entire perimeter. And even if you don't like places full of tourists, be sure to come to this square late in the evening – and you will inevitably fall in love with it.
You should definitely visit at least two more squares of the city: Napoleon Square, surrounded on all sides by plane trees, next to which is the Ducale Palace, and San Michele Square with the San Michele in Foro church in the center.
The story about Lucca could endlessly continue with the listing of squares and courtyards with churches, but you will surely come across all this on your way if you decide to go to this city and walk around it. By the way, it is worth walking through the same places in Lucca at least twice: in the early evening, because in the sunset light this city is especially beautiful, and after dark, when the street lights are lit on the streets, and Lucca becomes somehow very Tuscan cozy …
You can have a snack and drink wine in Lucca in a place called La Tana del Boia, famous for its panini. For something more serious, go to Vecchia Trattoria Buralli.
And finally, you can look at the whole city from above by climbing the Guinigi tower and spending only € 4 on it. Unknown Italy
Portofino
Why Portofino?
If you are going to the Cinque Terre National Park, popular with tourists, it is simply unacceptable not to look into Portofino: it is very close, and the impressions of the town itself and the road to it are definitely worth the effort and time spent.
How to get to Portofino?
You can get to Portofino by car, but if you don't have a car, you will have to get to the S. Margherita Ligure-Portofino station by train (for example, from Genoa – 45 minutes), after which you can buy a ticket for bus number 82 from the cafe at the station. The bus runs daily from 6 am to midnight on weekends and until 2 am on weekdays. An alternative way to visit Portofino is by ferry. Ferries run from nearby cities, but the easiest way to do this is from Genoa.
What to do in Portofino?
Of course, in an ideal world in Portofino you need to live and admire the parked yachts, sipping cocktails and eating ice cream, but if you do not have such an opportunity or time, you can first go to Brown Castle, the entrance to which will cost € 5 and from which there are beautiful views of the sea and the very bay of Portofino.
Along the path from the castle, you can reach the observation deck next to the Church of St. George, from where you can see not only the bay but also the open sea on the other side of the peninsula.
In Portofino, you can endlessly walk along the narrow streets, look into the Church of St. Martin, but if time permits, it is better to stay there longer to wander through the Portofino National Park. This park is quite large and is dotted with pedestrian routes, some of which are 13 km long. The paths lead past empty churches and ecological farms, through olive orchards and hills, with breathtaking views.
If you decide to stay in Portofino for at least a few days, then you should definitely visit the Puny restaurant, so beloved by the Italians themselves, and try one of the fish dishes that this place is famous for. The restaurant is very popular, so it is better to book a table in advance. Another great place to eat fish or pasta with seafood is Tavern del Marinaio.
On the way back from Portofino, you can get off the bus a couple of stops to the station and walk, because looking at such a stunningly beautiful road from the bus window is completely unforgivable.
Bergamo
Why Bergamo?
Surely Bergamo (in whose name Italians, as a rule, emphasize the first syllable) is known to many from the Soviet film Truffaldino from Bergamo, based on Goldoni's play Servant of Two Masters. This alone is worth a glimpse into it while traveling in Italy.
How to get to Bergamo?
The easiest way to get to Bergamo by Wizzair is from Warsaw (if you choose the dates, you can go there and back for € 30). If you are traveling around Italy, you can get there by train from Milan (or by train on the way to Milan from Brescia) or by car: Bergamo is located in Lombardy northeast of Milan.
What to do in Bergamo?
The same as in any other small Italian town: walking, drinking wine, eating, and watching Italians. By the way, some of the most cordial and welcoming Italians live in Bergamo, who, even with complete ignorance of English, will do their best to help you.
Bergamo consists of two parts: the upper (old) and lower, more modern city located on the plain. You can get to the upper town by funicular, which runs several times an hour, and there you can walk along with Piazza del Duomo and Piazza Vecchia, look at the Colleoni Chapel, the Bergama Duomo, at the buildings of the city palace, the city library, the tower, and numerous basilicas.
In Bergamo, it is pleasant to walk through the small shops where Italians sell everything in the world: from cheeses and Jamon to hand-painted dishes, and often the workshops are located right in the store: in the back room, craftsmen paint dishes and make toys, and in the front room for all this you can admire and buy if you wish.
We recommend trying the best in town in Grom. For example, take pistachio – it is not so bright light green, but brownish, because it is completely natural. If your stomach demands something more substantial, stop by La Zuppa di Sigi for soup or pasta: despite the unassuming interior and plastic dishes, the food here is simply superb. For brunch, we recommend stopping by Schiaccia for excellent paninis and fresh coffee.
But, to be honest, Bergamo is a vivid representative of that breed of Italian cities, which it is useless to talk about because you need to look at it, you want to walk around it and it is impossible not to enjoy it. Unknown Italy
Read More About Italy