Whether it's from high up on a blufftop or just down from the edge of sandy water, we love a dramatic ocean view. As travelers, we are all looking for places that make you "ooh" and "aah" as the beauty of a place manifests itself. And wouldn't you know it, we're here to help you with ten must-be-abandoned coastal vantage points and where to find them on our adventures. Let's head to coastlines around the world and see what comes out! Here are 10 Dramatic Coastal Views.
View 1: Side-by-side beaches in Manuel Antonio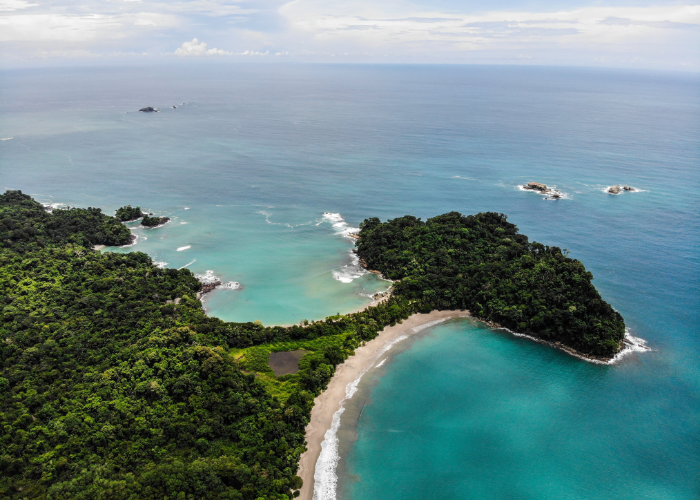 All that separates one beach scene from another is a sandy land bridge. Both are perfect for swimming, snorkeling, and hanging out with playful capuchins in the surrounding jungle canopy.
View 2: Pebbled cliffside beaches of Loutro, Greece
With free time in Lutro, you can pull up a lounger on the pebble beaches with clear blue waters such as Marmara and Glyka Nera. Rent a kayak or take a dip for the view from the ocean!
View 3: Kicker Rock off of San Cristóbal Island
Sea lions deserve your attention, but Kicker Rock is an impressive volcanic rock in the Galapagos Islands. Grab a snorkel mask because the wildlife is just below the surface!
View 4: Limestone karsts jutting from Ha Long Bay
Whether from afar or traveling by traditional junk boat, thousands of rock pillars and cliffs topped with greenery are a must-see in Vietnam's gorgeous Ha Long Bay.
View 5: Terracotta rooftops of seaside Cefalù
Often cited as one of Italy's prettiest townships, we suggest grabbing an aperitivo and parking yourself in front of the incredible view of Cephala's crescent-shaped beach.
View 6: Overlooking turquoise pools near Trapani
With your free time in southern Sicily, you can choose to hike the Riserva Naturale dello Zingaro. Nature trails overlook glistening coves on the Mediterranean and a cool dip awaits.
View 7: Beach huts and swaying palms of Tayrona
Northern Colombia awaits with open arms to show you its rich natural diversity in Tayrona National Park… unless it's February when the park is well-rested from visitors.
View 8: Before you crest the Tottori sand dunes
Near the seaside town of Tottori, you can walk up and down Arabian-looking sand dunes, some of which reach 50 meters (164 feet) in height. your bonus? The sea of Japan!
View 9: Volcanic black sands of Reynisfjara beach
On Iceland's southern coast, you'll stop at Vik to set foot on the onyx sands, tuck into sea caves and explore the long ago forged hexagonal basalt columns formed when lava met the sea.
View 10: Basalt columns of Giant's Causeway
Not to be overtaken by Iceland, Emerald Island has its own set of volcanic pillars. Legend tells that he was built by Irish legend Finn McCool as a crossing to face his Scottish rival.
Read More About Islands