Winter Honeymoon Destinations in India: It is universally accepted that a newlywed couple should be on the lookout for a sweet and sensual escape to enjoy the moments of being together. Everything seems wonderful and blissful in the time of love.
To match the romantic vibes of your heart, India is dotted with stunning landscapes to set your romantic mood right. Every season in India has its own charm, but winters bring awesome weather for sightseeing, the best opportunities for adventure activities, and the best views to capture in your idyllic lens.
That's why winter is the most preferred season for romantic trips in India. From surreal landscapes to panoramic city views, from picturesque lakes and waterfalls to dazzling mountains, from exquisite heritage monuments to enchanting hill stations – you name it and you will find it in India. You will always find a sight where harmony in solidarity can be felt.
This blog is all about taking you on a visual tour of some of the most gorgeous winter honeymoon destinations in India as the excruciating summer temperatures can't beat the soothing and cool breeze of the mesmerizing winters.
Goa – Relax and Rejuvenate
On the west coast of India, Goa is one of the most idyllic and romantic destinations to visit in India. Dotted with pristine beaches and 300 years old Portuguese architectural heritage will never make your trip a monotonous one. Fantastic weather, colorful houses, sandy beaches filled with thrilling water adventures and relaxing vibes, and unique culture, music, and dance forms are some of the reasons why couples should visit Goa.
There is so much to see in Goa, it never stops partying. In fact, Goa is a destination for all seasons and each season has its own charm. If you visit Goa during the Goa Carnival festival, you will be mesmerized by the vibrancy and vibrancy of this colorful state.
Best Time to Visit – November to February is the best time to visit Goa.
Best Things to Do for a Couple in Goa –
Romantic Sunset Dinner and drinks
Couple Massage
Romantic houseboat Cruise
Sightseeing of pristine Beach
Dolphin Watching
Water Adventure Sports
Sun Bathing
Best Honeymoon Places to Stay in Goa
Grand Hyatt Goa
Marriott resort & Spa
ITC Grand Goa
Alila Diwa Goa
The Leela
Taj Exotica
Taj Resort & Convention Center
Munnar – Love is in the Air
Imagine yourself in the midst of hills and greenery, emerald green spice and coffee plantations, beautiful waterfalls and national parks, and wildlife sanctuaries! – You will feel the romantic vibes as the romance in the air and the beauty of the picturesque surroundings will touch your soul. You will wake up to the mind-blowing views of the hills and lush greenery.
Isn't it a better place to enjoy some precious moments of being together? The abundant natural beauty is the reason why Munnar is the top honeymoon destination in India for romantic trips during the winter season.
Best Time to Visit – December to February is the best time to visit Munnar
Best Things to Do for a Couple in Munnar –
Witness the stunning beauty of Western Ghats
Ayurvedic Spa
Camping
Mountain Biking
Munnar City Tour
Adventures at Forest
Adventure Park
Shikara Boat Riding at Kundala Lake
Hiking to Anamudi Peak
Best Honeymoon Hotels & Resorts to Stay in Munnar
Camelot Resort
Ragamaya Resort & Spa
The Fog Resort
Golden Ridge Mountain Resort
Tall Trees Resort
Aranyaka Resorts
Ambady Estate Resort
Udaipur – Romantic Paradise
It would not be an exaggeration to call Udaipur the land of romance. Udaipur is a paradise of lakes and in its serene charm, you will surely rediscover your love and enjoy the ecstasy of romance. If you are looking for beautiful honeymoon places to visit in India then Udaipur is the best option for a great honeymoon tour.
Blissful temples to seek the blessings of unity, fairytale-like palaces, narrow streets with colorful bazaars, sunrise, and sunset reflecting in the calm waters of dense forests and beautiful lakes will make your honeymoon a romantic movie that you will want to watch again and again. Coming here, the beauty of Udaipur is made upon seeing.
Best Time to Visit – October, November, and February are the best months to visit Udaipur but in December and January, the cold waves will be more delightful.
Best Things to Do for a Couple in Udaipur –
Beautiful Sunset at Sunset Terrace
Romantic Boat Ride at Lake Pichola
Romantic Day at Ambrai Ghat
Camel Safari
Paragliding
Udaipur City Tour
Jagmandir Romantic Stay
Palace Garage to watch Vintage Cars
Temple Tour
Best Honeymoon Hotels & Resorts to Stay in Udaipur–
Radisson Blu Udaipur Palace Resort & Spa
The Ananta Udaipur
Ramada Udaipur Resort & Spa
Taj Lake Palace
Jaisamand Island Resort
Taj Aravali Resort & Spa Udaipur
Fateh Garh
Andaman and Nicobar – Scenic beaches for lovely couples
The tropical paradise of Andaman and Nicobar is one of the top places for couples to enjoy a vacation. If you want a relaxing beach vacation then you can enjoy the amazing spa, if you want to enjoy adventurous activities, Andaman and Nicobar offer many water sports to enjoy, if you want to enjoy the picturesque scenery. I am looking for solitude So the sights of pristine beaches, national parks, and wildlife sanctuaries, and gorgeous islands will compel you to be a performer and sing songs for your beloved. It is a land where you can do whatever you want and it has all the attractions that a tourist needs.
Be its serene surroundings, wonderful landscapes, adventurous activities, and gorgeous places for relaxation. Isn't this a great place for the best beach winter holidays? If you are planning to visit here in January, then you can also enjoy the 15-day Island Tourism Festival.
Best Time to Visit – October to May is the best time to visit Andaman and Nicobar.
Best Things to Do for a Couple in Andaman and Nicobar-
Water Adventure sports
Volcano of Barren Island
Light and Sound Show of Cellular Jail
Romantic Day at Chidiya TapuIsland Trekking
Dolphin Watching
Visit Rubber Plantations
Helicopter City Tour
Best Places to Stay in Andaman–
Sea Shell, Havelock
Reef Valley Resort, Neil Island
Fortune Resort Bay Island, Port Blair
Virgin Beach Resort, Havelock
Taj Exotica Resort & Spa
Tango Beach Resort, Neil Island
Darjeeling – Heart Touching Serenity
It is said that sometimes reality is no better than dreams but you can be wrong as there are many places in India that make reality a delightful sight to behold. Darjeeling is a place made up of dreamy landscapes. Beautiful emerald-green tea plantations, colonial bungalows and buildings, gorgeous sunsets, and steep mountain ridges to watch from Mount Kangchenjunga make for a romantic picture with your loved ones and cherish it forever.
Apart from this, the most interesting thing about Darjeeling is its 140 years old Darjeeling Himalayan Railway. If you are looking for a beautiful honeymoon winter destination then do not miss riding this wonderful romantic destination.
Best Time to Visit – October to December is the best time for a honeymoon vacation in Darjeeling.
Best Things to Do for a Couple in Darjeeling –
Batasia Loop Ride
Temple Tour
Walking at Rock Garden
Romantic Picnic at Nightingale Park
Shopping at Chowk Bazaar
Wildlife of Padmaja Naidu Zoological Park
Tea Estates Nature Walk
Cable Car Ride at Darjeeling Ropeway
Rafting at Teesta River
Best Places to Stay in Darjeeling
Mayfair Darjeeling
The Elgin
Cedar Inn
Little Tibet
Khush Alaya
Central Nirvana Resort
RJ Resort
Pine Tree Spa & Resort
Jaisalmer – Love in the Golden Haze
You know that the best thing in life is to hold each other's hand in a place like Jaisalmer. It is one of the best honeymoon destinations in India. Situated in the heart of the Golden Thar Desert, the legacy of Rawal Jaiswal, Jaisalmer has been wooing tourists for centuries with its age-old valor and mesmerizing charm. The hill fort of Jaisal surrounded by golden sand is the center of attraction.
You will see that camels are in abundance and there are houses made of yellow Jaisalmer stone. You will also come across beautiful architectural marvels adorned with vibrant shades of gold and if you are a curious soul you can trace the geological history that took place 180 million years ago in the Thar Desert at Wood Fossil Park. The most romantic and best part is to gaze at the star-lit sky amidst the golden Thar Desert at night in the desert camps of Jaisalmer.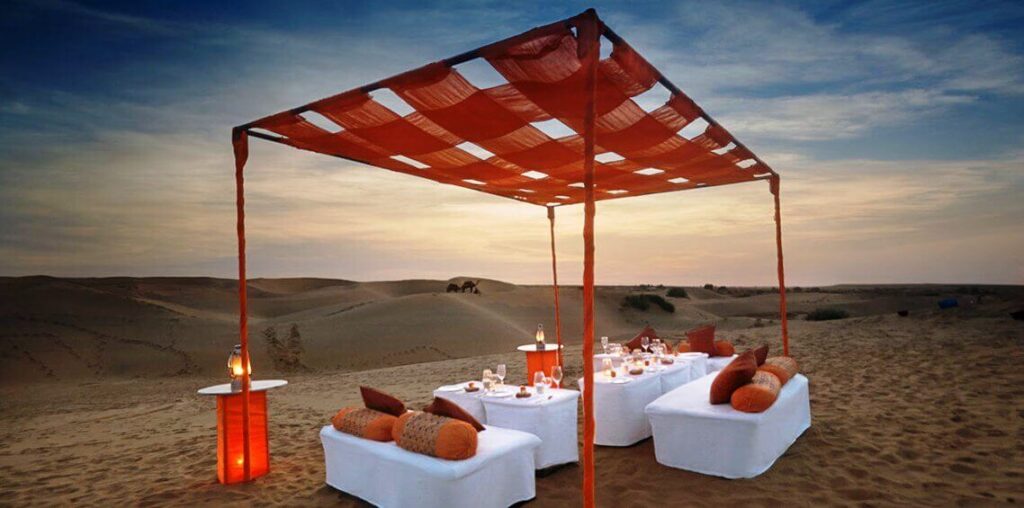 Best Time to Visit – November to March is the best time to visit Jaisalmer
Best Things to Do for a Couple in Jaisalmer –
Jaisalmer City Tour
Shopping at the Colorful Bazaars
Parasailing
Paramotoring
Quad Biking at Sam Sand Dunes
Dune Bashing at the Thar Desert
Desert Safari and Camping
Desert Jeep Safari
Camel Safari
Try Bhang Lassi
Best Places to Stay in Jaisalmer
Suryagarh palace
Sand Dunes Resort
Sunshine Desert Camp and Resort
Devi Desert Resort and Retreat
The Mama's Resort and Camp
Desert Tulip Hotel and Resort
Shillong – Galaxies Will Collide in Front of Its Beauty
Shillong is one of the best romantic winter honeymoon destinations in North East India. If your heart wants to beat faster than the speed of light, then choose Shillong for your honeymoon trip. It is an abode of clouds and mesmerizing landscapes. Surrounded by lush green hills and valleys, enchanting waterfalls and scenic lakes, pine trees, this 'Scotland of the East will give you all the reasons to call this place closer to heaven.
It is one of the perfect winter honeymoon getaways to get away from the chaos of the world and enjoy the bliss of romance amidst the drop-dead gorgeous landscape.
Best Time to Visit – Throughout the Year
Best Things to Do for a Couple in Shillong –
Romantic Day at Ward's Lake
Visit Shillong Peak
Trekking – David Scott Trail
Kayaking at Umiam Lake
Rafting at Dawki River
Camping – Umiam Lake Island
Mountain Biking
Best Places to Stay in Shillong
Ri Kynjai
Sunshine Farms and Resort
Nalari Resort
Resort Roinam Retreat
Hotel Polo Towers
The Habitat Shillong
Auli – Skiing Paradise
How can we forget the glorious pride of North India-Auli? Not only is it one of the top winter destinations to visit in India, but it is also the best budget honeymoon destination to enjoy the most romantic trip of your life.
Couples can enjoy the most famous adventure activity – skiing. You can also capture the amazing views of Nanda Devi which is the second-highest peak in India. If this is not enough. The beautiful valley of Flower National Park and amazing trekking destinations like Gorsan Bugyal, Pangarchulla Summit, and Tapovan will blow your heart away.
Best Time to Visit – November to January is the best time to visit the amazing winter destination called Auli.
Best Things to Do for a Couple in Auli –
Skiing
Camping
Auli Gorson Trek
Cable Car Ride
Witness the beauty of Chattrakund Lake
Visit to Stunning Trishul Peak
A day with Nature and love at Nanda Devi National Park
Kuari Pass Trek
Shopping
Blissful Day at Auli Artificial Lake
Best Places to Stay in Auli
Xra Cottage
Mountain Rover
Eco Nature Resort
Manik Resort
The Tattva Resort
The Royal Village
Shimla – Enjoy Crisp Mountain Air with Your Beloved
Your soul and the soul of your beloved will be forever entangled with the beauty of this wonderful hill station, popularly known as Shimla. If you are planning a romantic trip then Shimla is the best hill station for a romantic holiday this winter. Shimla is delightfully chaotic and mesmerizing at the same time.
If you want to see the soul of Shimla come alive in its colorful bazaars, if you want to seek eternal peace and divine grace then the serene temples of Shimla are a must-visit for the blessings of hundred years of unity and If you are a thrill-seeker and a nature lover then skiing, paragliding, and ice skating trekking up the hill surrounded by deodar and oak forests will make your honeymoon tour the best trip ever.
Best Time to Visit – October to February is the best time to visit Shimla for a romantic holiday
Best Things to Do for a Couple in Shimla –
Stunning Views of Naldehra Peak
Skiing and Horse Riding at Kufri
Seek Divine blessings at Chail
Amazing Nightlife of Scandal Point
Seek bliss in Jakhoo Hills
Mall Road for fun
Sunrise at Chadwick Waterfalls
Romantic Day at Green Valley
Best Places to Stay in Shimla
Taj Theog Resort & Spa Shimla
Wildflower Hall, an Oberoi Resort, Shimla
Fortune Select Cedar Trail
Woodays Resort
Sterling Kufri
Woodsmoke Resort & Spa
Koti Resort
Coorg – Place for True Love Stories
This enchanting hill station in Coorg is one of the best places for a honeymoon in South India. Coorg is very popular for its stunning coffee plantations, fog-capped mountains, beautiful manors, and waterways islands. Isn't it amazing and soul-soothing to hold the hand of your loved ones and take a stroll through the beautiful coffee plantations?
Posing for romantic pictures in the natural landscape and experiencing the freshness of the green trees and dazzling waterfalls? This is the place to always feel better in the harmony of nature.
Best Time to Visit – December to February is the best time to visit Coorg
Best Things to Do for a Couple in Coorg –
Elephant Camp in Dubare
Seek Divine grace at Golden Temple
Visit the Gorgeous Western Ghats
Visit Spice and Coffee Plantations
Camping at Riverside and Jungles
River Rafting at Barapole
Jeep Safari for Coorg City Tour
Wildlife of Nagarhole National Park
Quad Biking
Thrilling Night Mountain Drive in Coorg
Best Places to Stay in Coorg
The Ibnii, Coorg
Tamara Resort, Coorg
Old Kent Estates & Spa Resort
Coorg Cliff Resort
Heritage Resort
Amanvana Spa Resort
The Wildflowers Resort
Read More About Honeymoon and Ideas