Travel to Doha as soon as possible: Doha is now one of the most prosperous and modern capitals in the world. A super-tech metro is being opened here, new stadiums are being built and sights are being renovated. And all this for the sake of the 2022 FIFA World Cup. Then Doha will face a large-scale influx of travelers, and it is not known when it will subside, because many tourists will definitely want to return here. But for now, it is calm here, so you have two years to explore Qatar at your own pace.
How to get there
You have probably been to Qatar before. Only in transit. Doha has a huge Hamad airport with a passenger traffic of about 30 million people a year. Tourists from all over the world come here to make a transfer to Sydney, Denpasar, Singapore, but tourists do not stay in Doha itself. But in vain. You do not need a visa to Qatar, and getting to Doha is as easy as shelling pears. Direct flights of Qatar Airways fly here from All the major cities (Delhi, Mumbai, Hyderabad & Kolkata).
Where to live?
This is a truly fabulous hotel. And not only in terms of the level of service. Designer Marcel Wanders was inspired by Alice in Wonderland when creating the hotel. So don't be too surprised to see surreal sculptures, gilded elevators, and stained glass ceiling in the pool all over the place.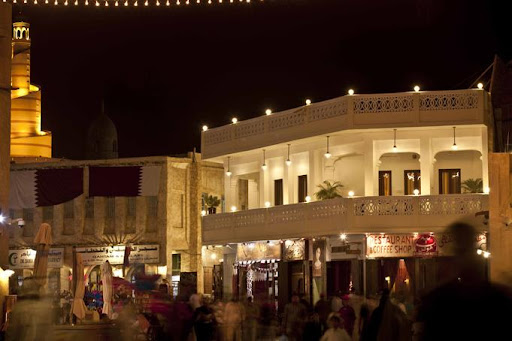 In some places, Doha, like any prosperous capital in the Middle East, looks like a city from the future. It looks amazing, but there is little local flavor in the skyscrapers. Another thing is the building of the Bismillah Hotel. This is the oldest hotel in Doha, which, as the status requires, honors its history. Traditional design elements like mosaics and colorful textiles are proof of this.
Choosing which hotel to stay at can be very difficult. In such cases, hotels of international chains with a reliable reputation come to the rescue. Such as the Ritz-Carlton. In Doha, this network is also represented, and in all its glory. The Ritz-Carlton is a 27-story complex with indoor tennis and squash courts, spa and many restaurants.
Where to go?
Corniche promenade
It stretches along the bay for several kilometers and has become a place of attraction not only for tourists, but also for locals. The most popular hotels and expensive restaurants in the city are located along the waterfront. In the evening there is generally beauty here: lights from dozens of skyscrapers are reflected in the water.
Aspire Park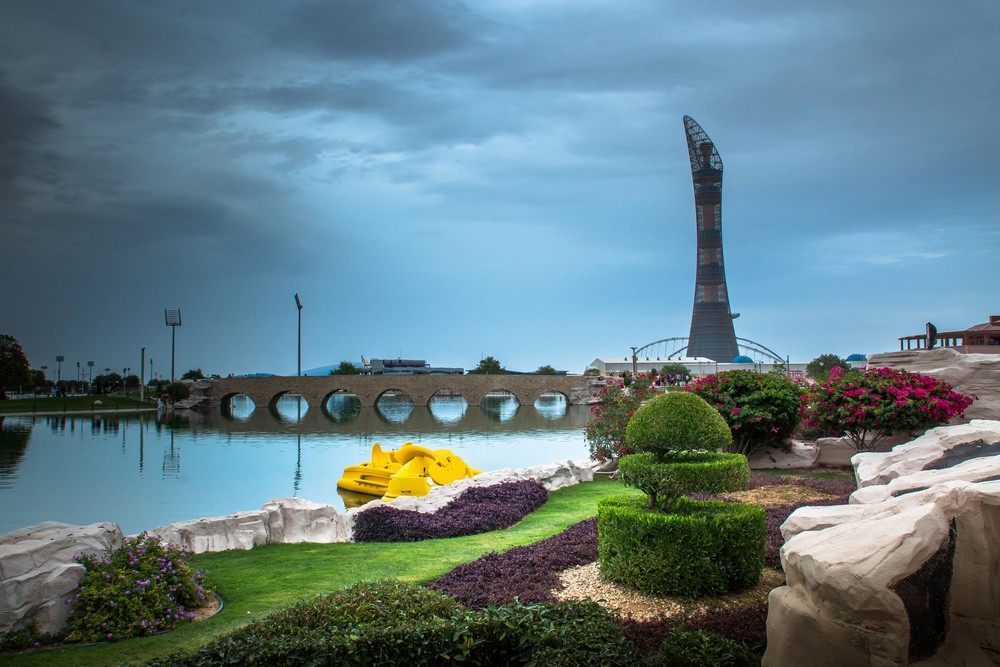 In Doha, it's no wonder to miss the greenery, because there is very little of it in the city. But for those who like to lie on fresh grass in the capital of Qatar, there is Espire Park. It covers an area of ​​88 hectares and is the perfect contrast to the bustling city streets. 37 species of trees were planted on the territory, brought from Argentina, Malaysia, Australia and China. Choose any and sit in its shade.
Khor al-Adaid
Doha is a marvel of technological progress. In literally 50 years, the Arabs managed to build a modern city on the wasteland. However, in Qatar, you can see the creations of not only man, but also nature. About 60 kilometers from Doha, in the southeastern part of the country, lies the Khor al-Adaid inland sea. It is a nature reserve with its own ecosystem, protected by UNESCO. You can get there only through the sand dunes, so take a look at the desert along with the sea.
"Pearl of Qatar"
Qatar is a small state on the shores of the Persian Gulf. But who knows, maybe in a couple of years it will stop being so tiny. And this can happen thanks to artificial islands. In the Middle East, building them is common practice. First, such appeared in the UAE, and now in Qatar. Here, the artificial island is called the "Pearl of Qatar", and more than 40 thousand people live on it. The main attraction of this place is the three and a half kilometers long pedestrian embankment. Here are the shops of the world's leading brands and luxury restaurants. Why isn't Monaco for you?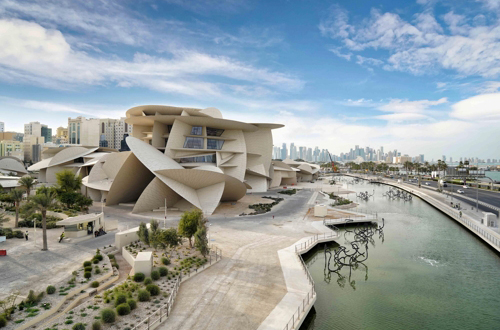 If you like books on anthropology, the first place to go is the Qatar National Museum. Here you can trace the development of not only the country and the culture of Islam, but of all mankind. The oldest exhibit is a fossilized fish, which is 400 million years old. The exposition, divided into 11 rooms, begins with it. To get around everything, you have to overcome three kilometers. We hope that after such an excursion you will have the strength to walk around the territory around the museum. Admire a building unlike any, even the most futuristic building in the world.
Where to eat?
Damasca one
Walking around Doha, sooner or later you will reach the Souk Waqif market. And it would be better for you to wander there at lunchtime, so that, having satiated with the local flavor, you can get enough of it yourself. Damasca One restaurant is located by the walls of the market and serves Middle Eastern cuisine. Ordering a Fattoush bread salad or grilled lamb here will definitely make you feel like a local. Just do not expect to wash down all this magnificence with wine. Alcohol is not served here.
This is another oriental restaurant. And if in Damasca One we advise you to take a table on the street, then in Walima it is better to sit inside. The interior here is very specific, at first it will seem to you that you are in a chandelier store – dozens of multi-colored lamps hang from the ceiling. But no, this is the author's idea. The restaurant serves Bedouin cuisine. It sounds exotic, but in reality everything is quite simple. Bedouins are mainly prepared with three ingredients: meat, dates and camel milk. It is unlikely that gourmets will like this, but it is still worth trying the local cuisine.
There is an abundance of Middle Eastern restaurants in Doha, so we decided to take care of those who might not like it. Sasso is an Italian restaurant whose owners love the Mediterranean. They make excellent pasta here and, what's great, they serve it in very nice dishes. You will definitely want the same home for yourself.
Opal
It is enough to know one thing about this establishment – this is the restaurant of Gordon Ramsay. More eloquent than this fact, perhaps, only the reviews of visitors. They are more than enthusiastic. International, Asian and European cuisines are prepared here. A pleasant bonus is also available to visitors in the form of a specialized menu. It features vegetarian, gluten-free and halal options.
June Café
This is not the cheapest place, so we recommend stopping by for some Arabic coffee or karak with some local dessert. For example, with Arabic cheesecake or mahalabia – a sweet starch with milk, flower water, pistachios and cinnamon. And it's best to do it in the evening. The cafe offers a beautiful view of the skyscrapers and the bay, which is especially mesmerizing at night.
Good Reads