Thailand with family: Traveling with children is very different from the usual travel of adults. Alone, you can ride in the Americas, and with the birth of a child, even a small hour trip by car will turn into a separate event. And nevertheless, while passing the winter and going for the sun to the land of eternal summer – Thailand – will be a great idea for a family vacation. Together with the Tourism Authority of Thailand, we tell all the details: what season to go, where to look for accommodation and entertainment, and what life hacks you need to know.
Best Time To go Thailand with family
Thailand is located in a tropical climate zone, so it is mostly hot here with relatively high humidity. The seasons can be divided into three main ones.
March-May is the hottest time when the air temperature can reach + 40 ° С.
June-October is the so-called rainy season, characterized by high humidity. Despite the name, it does not rain around the clock, and usually does not last longer than three hours in the evening or at night. The air temperature ranges from + 25 ° C to + 32 ° C. The period from March to October is considered the low season, when there are fewer tourists, respectively, during this period the prices are the lowest.
November-February is the most comfortable time of the year, when the temperature ranges from + 20 ° С to + 32 ° С. And although the northern territories are climatically different from the southern ones, the weather in general throughout the Kingdom is dry and warm. At this time, the largest number of tourists come to Thailand and it is this time that is the high season, when prices for housing and services are also rising.
Where to go in Thailand with family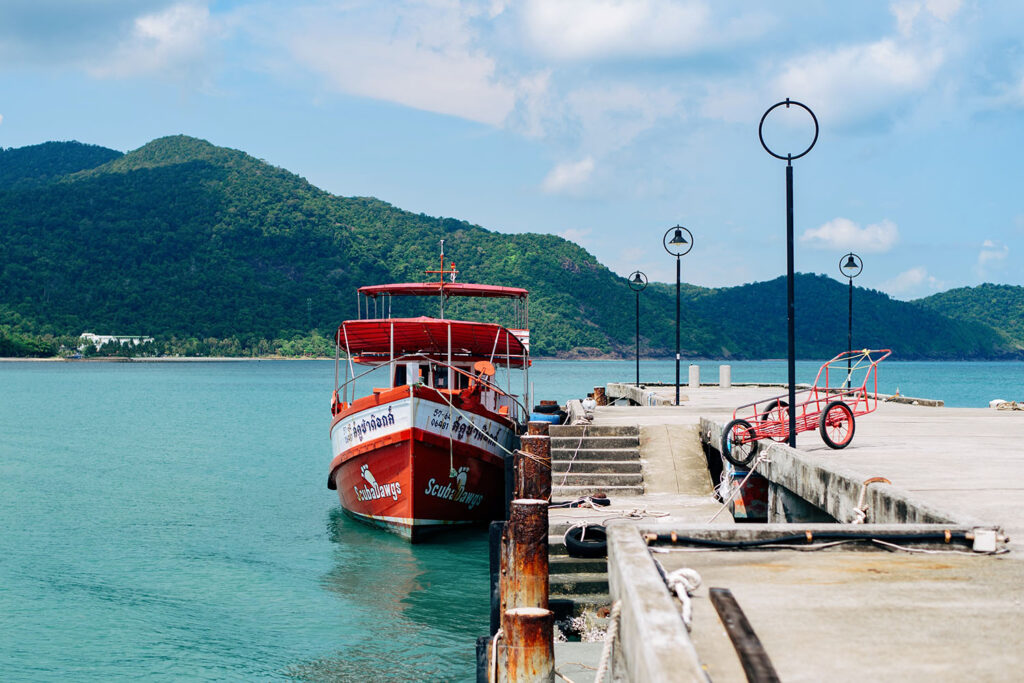 Thailand is a contented big country where everyone can find their favorite place. Someone goes to the mecca of all digital nomads – surrounded by the mountains of Chiang Mai, someone to urban Bangkok, but when you have a little child in your arms who is just learning to walk, the solution is simple – sea, sun and sand. Thailand has a choice: from the west it is washed by the Andamand Sea, from the east by the Gulf of Thailand. You can visit both there and there, and for your vacation you can choose two islands on different sides of the Malacca Peninsula: the quiet island of Payam near the border with Burma and the local "Goa" – the island of Phangan.
Ko Phayam – a very small (5 by 10 km) calm island on the western coast of Southern Thailand, not far from the border with Burma. Beautiful white beaches and cashew hazel jungles captivate with their simplicity and tranquility. There are no cars on the island, however, as well as pedestrians – only motorbikes, bicycles and an ideal concrete road. The island is positioned as a reggae-island, a kind of Asian Jamaica, so you won't hear any techno, hip-hop or, God forbid, goa-trance here, only Bob Marley and Lee Scratch Perry. The regulars of the island are French and German aged hippies and party-goers with children. Accommodation – a variety of beachfront bungalows without a kitchen. There are no exchangers with ATMs on the island, so you should definitely take a pack of local currency with you. The rest is mainly on the beach, but it will be enough for you with your head: here on the beach your child will go on their own for the first time, try mango, papaya, passion fruit and dragon fruit. Not long ago there was no permanent electricity or internet on the island, but today this is in the past: uninterrupted electricity, 4g mobile internet.
Koh Phangan (Ko Pha-ngan) – quite famous rave island near Koh Samui. It is not as calm as Ko Paiam, here you can already find wide roads full of cars and bikers who sailed to the largest Asian disco FullmoonParty, huge food courts and parties for every taste. But even here you can have a good time with your children. To do this, you can rent a nice house with a kitchen and air conditioning near one of the many beaches. In the high season, which is true, it is quite difficult to find accommodation, experienced travelers look for and book it in advance at least six months in advance. If you arrive on the island out of season, then it is easier to look for housing on your own. You rent a bungalow for the first time, rent a bike and drive through numerous condominiums in search of housing. Good luck will definitely smile at you.
Life hack. You can search for accommodation through Airbnb or Booking, and then go and talk and bargain directly with the owner and get a house at a more affordable price.
Tourists with families who are interested in infrastructure and amusement parks should choose Pattaya , Phuket , Koh Samui and Hua Hin . Another island for a relaxing holiday is Koh Chang . And for those who love uncrowded beaches, you can choose provinces that have not yet been affected by mass tourism – Ranong, Trang and Satun.
Accommodation in Thailand
For short trips, it is most convenient to choose a comfortable house, a hotel room or a bungalow in a resort as close to the beach as possible – so that you do not have to walk every day or, what is worse, travel with your child to the sea. If the period of stay is from a month or more, then it is advisable to rent a house with a kitchen where you can cook on your own. Remember that renting a house is much cheaper than renting a house.
If the children are small, then it would be a great idea to remove a wooden house: in it, unlike a concrete one, it is easier to breathe and the floor is wooden, which means that each fall of the child on his knees or other parts of the body will be less painful. Also, if the children are small, then you should pay attention that the veranda, which is located quite high above the ground, is tightly fenced and has a wicket at the exit to the stairs. Then you can safely let the child out into the fresh air, without fear that he will inadvertently fall from a height. In addition to the danger, the height above the ground has its advantages: it will be more difficult for local monitor lizards and other tropical animals to get to you.
Gen. Street laundries are very common in Thailand. There are washing machines and dryers right on the street, where for an amount of $ 0.5-2 you can wash up to 10 kg of linen. Mobile Internet is almost everywhere 4G, a local SIM card with unlimited Internet costs about $ 10, each cafe has good wi-fi, there will be no problems with communication.
Security in Thailand
Thailand is a safe country, and the Thais themselves are one of the friendliest and most peaceful peoples in the world. Here you can safely walk both in the capital and in remote villages. But there are still things worth paying attention to.
The king and the royal family. In Thailand, they are highly revered, and for insult they face criminal punishment.
Do not take photographs in places marked with the "crossed-out camera or camcorder" sign. These are usually military installations.
No smoking on the beach and in public places. For violation, the fine is 100,000 baht (about $ 3,000).
You cannot visit Buddhist temples in shorts, short skirts, with bare shoulders and legs. Also, women should not touch the monks in any way, take from them or transfer any things.
And most importantly, when communicating with Thais, it is important not to lose face. This means a quiet, calm conversation with a smile on your face without raising your voice. If in a critical situation you decide to yell at a Thai, you will cease to exist for him forever and you are unlikely to solve your problem now.
The emergency phone number is 191 or 123.
Tourist Police – 1155 (helps when locals try to trick you).
Ambulance – 1554.
Transport options in Thailand
In Thailand, driving on the left, hence a few simple rules. When crossing the road, you must first look to the right. At the crossroads, the one who has no obstacle on the left is right. If you decide to rent a scooter, remember that under you is not just a moped, but a full-fledged motorcycle (engine capacity from 125 cm3), and if you have no experience in driving a motorcycle, first you need to learn how to ride it.
The country is quite large, and children usually do not like long journeys, so when traveling long distances, it is advisable to use local airlines: AirAsia , Nok Air , Nok Mini , Bangkok Airways , Thai Airways , THAI Smile , Lion Air , Kan Air .
There is also a convenient aggregator of public transport across the country, where you can find the flight you want and buy tickets right away.
Attitude towards children
There is hardly a country where children are treated better than in Thailand. Children in Thailand are a religion and a cult. It all starts with arriving at Bangkok airport, where special airport staff look for and send tourists with children to a separate checkpoint. This allows you not to stand in huge queues and go through all border formalities as quickly as possible.
Next, you need to get ready for constant, uninterrupted attention to the kids from the Thais. Even without that smiling, locals at the sight of a child become like enlightened buddhas. They will never raise their voices to the child, much less raise their hand, at every opportunity they will treat them to a banana, they can even give the child a trinket they like. There is only one specific point that is not easy to get used to – Thais try to gently touch the child and the younger the child, the more often. There is a belief that a child under two years old is pure, like an angel, and if you touch him, then you yourself become cleaner. They can touch the arms and legs, cheeks and chin. It is difficult for parents at first to look at it, but later you get used to it.
The attitude towards children sometimes comes to ridiculous. The minibus can be stopped at the checkpoint to check documents, but when a military armed with a machine gun looks into the cabin and sees a child, he will start smiling, talking and joking with the child. After him, the whole minibus will smile.
There are no pensions we are accustomed to in Thailand, and adult children must support elderly parents. This is probably why parents treat their children with such love – after all, it is the children who will take care of them in old age.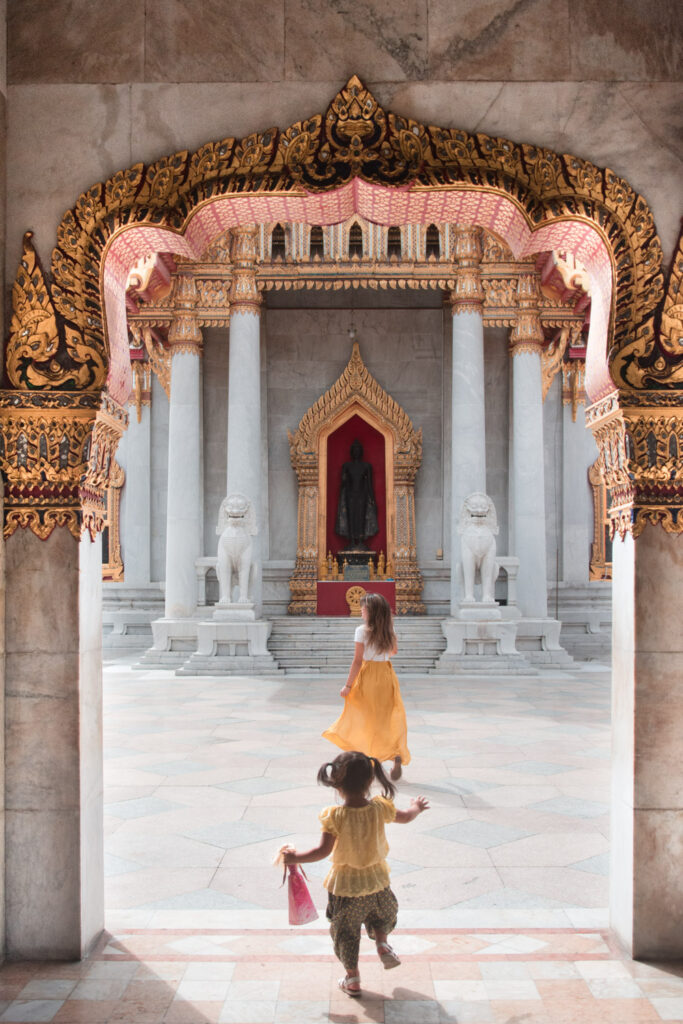 It is useful to remember when walking that cities in Southeast Asia are not meant for pedestrians, and accordingly, there are no sidewalks. You can walk on foot or with a stroller only along the beach and special parks.
Medicine and health
Be sure to make insurance for yourself and the whole family when you travel to Thailand. And although it seems that nothing can happen to you, there is always enough adventure with children. Medicine in Thailand is considered one of the best in Asia. And these are not empty words. If something happens to the child, for example, the temperature suddenly rises, immediately go to the hospital, already from there debiting with the insurance company. First, smiling nurses take standard measurements: weight, height, temperature, pressure. And then you get to the doctor's office and do the necessary tests. While waiting for the results, the child rides around the hospital in special baby carriages in the form of toy cars. The doctor will prescribe the necessary medications, but you do not need to go to the pharmacy for them, they are given immediately on the spot in the hospital.
To visit Thailand, you do not need to do special vaccinations for either the parents or the child, but you must definitely pay attention to the observance of certain safety measures.
The region is rich in mosquitoes, so you need to stock up on repellent in advance, and choose a house, hotel room or bungalow with mosquito nets on the windows. It will not be superfluous to buy an electronic fumigator in the premises. Poisonous jellyfish can be found in the sea: vinegar is salvation here, which is placed on the shore in a special container with a mark. Not far from the coast you can find a sea urchin, you need to be careful not to step on its sharp needles.
Going to Thailand with children, you need to prepare for acclimatization and time zone change. On average, acclimatization lasts 5-7 days, especially if you are traveling with an infant, this should be taken into account when planning your vacation.
In Thailand, there is no problem to find familiar European food, including children's food. All resorts have restaurants of European cuisine, and in supermarkets Big C, Tesco Lotus, Macro you can buy baby food of common brands. You can feed your child and local cuisine, warning in advance that the dish should be for children, without spices and monosodium glutamate – it is put here in almost everything. You can read more about the peculiarities of Thai cuisine here .
Never drink raw water, buy bottled water.
The sun. Be sure to use a barrier cream to avoid getting burned.
And remember that you are in the tropics – wash your hands carefully, especially before eating.
Entertainment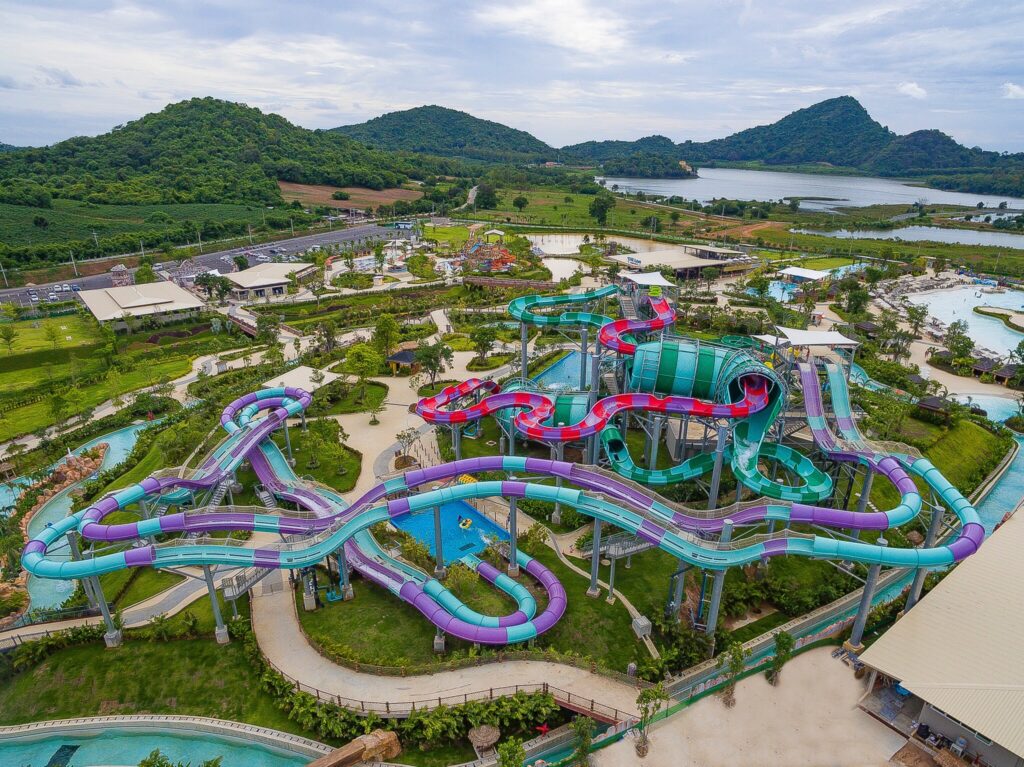 Water parks. It's hard to find a seaside resort without a water park. One of the most impressive water parks in Thailand is Ramayana (9 Moo 7, Ban Yen Rd., Na Chom-Thian, Sattahip Chon Buri) in Pattaya: there are about 50 attractions here.
Not far from Pattaya in Bangsaray, there is Cartoon-Network Amazone (888 Moo 8 Najomtien Chonburi) , which includes 10 themed entertainment zones with more than 25 attractions.
Bangkok is home to Thailand's largest amusement park Dream-World (203 Suan SiamRd., Kannayao, Bangkok) , Siam Park City , Kidzania , a children's city of professions and many playgrounds.
In Pattaya there is also a large indoor complex for active games Harborland (190/25 Moo 9, Central Pattaya Rd. | Harbor Pattaya) .
Nong Nooch Botanical Garden (34/1 Tambon Na Chom Thian, Amphoe Sattahip, Chang Wat Chon Buri) . Located near Pattaya. Nong Nooch is the largest botanical garden in Southeast Asia, where there are many exotic plants from giant palms to tiny bonsai, and more than half a thousand species of orchids are collected in the greenhouse. There is also a Stonehenge on the territory of the garden.
You can watch animals without any zoos. Monkeys, for example, live on the territory of Buddhist temples and just in the jungle. There are pet farms in almost every large resort. Here you can watch cute pets in a relaxed atmosphere.
All large resorts have family hotels with play rooms and playgrounds, mini clubs and pools for children. Animators work there and while the child is in the club, the adults have time for themselves.
useful links
Tourist Office of Thailand – all the details about the rest in Thailand.
Read More About Thailand