If Bangkok as a business capital can be compared with Delhi, then Chiang Mai will undoubtedly be Thai Kolkata, the cultural capital. By the way, Chiang Mai is located 696 km from Bangkok, that is, at the same distance as our two capitals. Founded 5 centuries earlier than Bangkok, it is a city of artists, writers, monks, and students. There are over 300 monasteries in Chiang Mai and the surrounding area.
Ram Poeng Monastery is home to the North Meditation Center, where you can take free courses lasting from 10 to 26 days. Monks teach in Thai and English.
Places to Visit in Chiang Mai
This majestic old monastery is an important spiritual center for the entire country. Located on Mount Doi Suthep, you can climb to the temple either by stairs decorated with dragons or by a small funicular. There is an observation deck upstairs, restaurants are located next to the parking lot.
You can get from the city from the northern gate by red Songthaews (route pickups with side seats for 12-14 people in the back) with the Doi Suthep sign. The fare is 40 baht.
For environmental and responsible travel – WSE Travel
In Chiang Mai there are "places of power", and there are "places of beauty". These include the Winter Royal Palace (or Bhubing Palace), located 4 km north of the Doi Suthep Temple. The palace has recently been open to visitors every day. It is only when members of the royal family are resting at their residence (usually from mid-January to March) that tourist access stops. The palace park is famous for its collection of rare flowers.
Outerwear should cover the shoulders and trousers should cover the ankles. Renting "decent" clothes costs 15 baht.
by the way, According to legend, part of the Buddha's ashes were hoisted on a white elephant and released into "free swimming." After long wandering, the elephant reached Siam and on Mount Doi Suthep finished his earthly wanderings. A temple was erected where he died, and Buddha's relics were placed in a golden stupa.
The most famous temple in Chiang Mai was founded on the site of the death of the Thai king from a lightning strike. Wat Chedi Luang is known not only for this significant fact but also for the "chedi" stupa on its territory. Built-in 1481, it was the tallest in all of Thailand (90 meters), but the earthquake of 1545 shortened it by exactly one-third.
Another famous temple, Wat Lak Muak, is located within the walls of the temple complex. It stands next to a huge eucalyptus tree, which is associated with many local urban legends. According to one of them, the main spirit of Chiang Mai named Lak Muak lives in the tree. And if the eucalyptus is cut down, the city will suffer a series of misfortunes.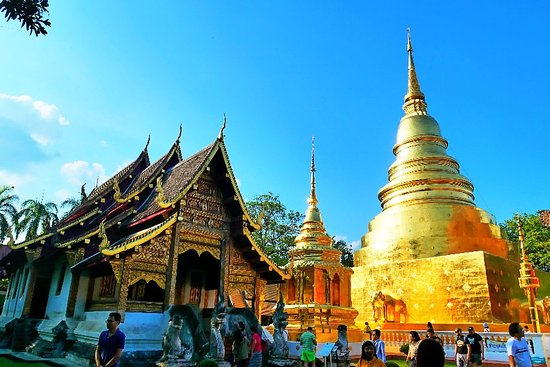 The architecture of all buildings of the Wat Phra Singh temple complex is a classic example of the building art of the ancient Thai principality of Lanna. The finest wood carvings and exquisite inlays and paintings have all come down to our time thanks to regular and accurate restorations.
One of the pavilions of the temple complex conceals one of the most revered Buddha statues in all of Chiang Mai – Pra Singh, the "Sighing Buddha."
The Doi Inthanon summit with a height of 2565 meters is located 100 kilometers from Chiang Mai. Dozens of trekking routes are laid on the slopes of the mountain covered with evergreen forests. The beautiful stupas built in honor of the current king of Thailand offer a photogenic view of the misty valleys below.
There are several beautiful mountain waterfalls on the way to the park. Mountain tribes live in the territory of the national park – you can visit their villages for a cup of excellent coffee grown here.
Doi Inthanon National Park is the only place in all of Thailand where it snows occasionally. The average temperature here in the winter months is about +12, and in January it sometimes drops to +5. You can get to the Doiinthanon Nature Reserve either by buying an organized tour or by yourself by bus to the town of Chom Thong and then by special minibusses of the park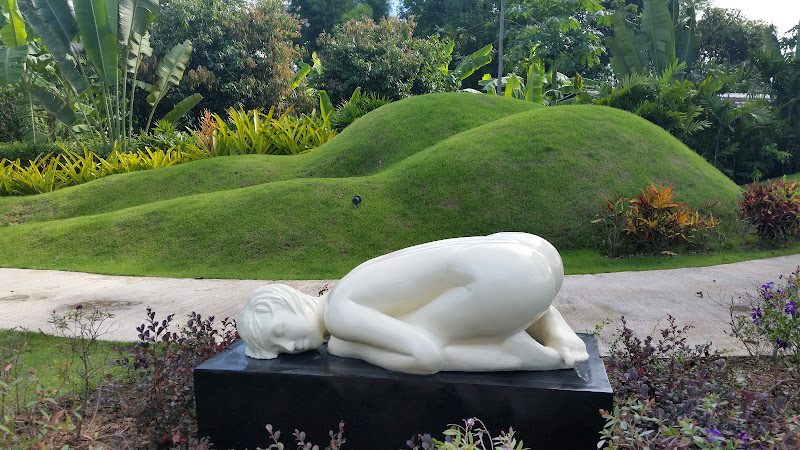 After the information about this teahouse appeared on the Internet in January 2015, the police raided it with a search. But the law enforcement officers did not see anything illegal in the art objects located in the courtyard of the institution: huge parts of the human body, made of a wide variety of materials.
The city zoo is located halfway between the city and Mount Doi Suthep. Pandas adored by Thais of all ages, funny herbivorous bears live here. You can also drive through the park on the monorail, see giraffes and white tigers, penguins, and koalas, visit the aquarium and watch a show with fur seals. Only here Thai children can see a real miracle – an imitation of winter with snow. According to Chinese legislation, all giant pandas (and they are found only in China), regardless of the place of birth, are the national treasure of the PRC. Other countries can rent pandas, but each costs a million dollars a year. Several years ago, the Chiang Mai Zoo rented a couple of pandas for a period of two years, then extended the lease. And more than a year and a half ago, the couple had a cub, which was an unexpected gift for all Thais.
A ride on a monorail road costs 150 baht ($ 5), and on a shuttle bus – 20 baht (60 cents). Aquarium visit – 520 baht ($ 17) for adults and 390 baht ($ 13) for children.
This nature reserve, located 20 minutes from Chiang Mai, is considered the largest in Northern Thailand. 78 animals live on the territory of the villa – you have the opportunity to observe them in the natural environment. Here you can see how they take "morning baths", have breakfast, or relax in the afternoon. Other activities include jungle elephant trekking and daily shows. At Maesa Elephant Camp, elephants can dance, play football, and even massage their trunk. But the most popular of all is the presentation of the elephants-artists. Eight animals (Kongkum, Wanpen, Kamsan, Lankam, Duanpen, Songpun, Punpetch, and Pu Ood) create real masterpieces, especially for the audience – you can also see their work at the Maesa Elephant Camp.
by the way, In 2005, the creation of these artists, 2.4 meters high and 6 meters long, even got into the Guinness Book of Records as "the largest painting created by elephants."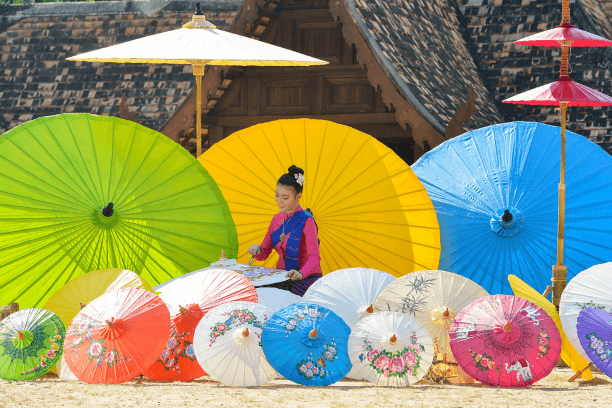 The once small village of Bo Sang was no different from hundreds of other settlements in Thailand. Is that during the time free from the cultivation of harvest and rice, the local population was fond of creating umbrellas. Legend has it that two hundred years ago a local monk began to make them from bamboo, silk, and paper "sa". He gradually passed on his skills to the locals.
The umbrellas were incredibly beautiful and durable – their fame spread throughout Thailand. Very soon, those wishing to purchase such a miracle flocked to the unremarkable village of Bo Sang. In 1941, the locals even formed the Bo Sang Umbrella Making Cooperative Ltd, which is still flourishing today.
Here and now you can not only buy but also see how umbrellas are painted by hand. However, they paint in the village on everything that comes to hand: they will paint you anything, from a T-shirt to a mobile phone.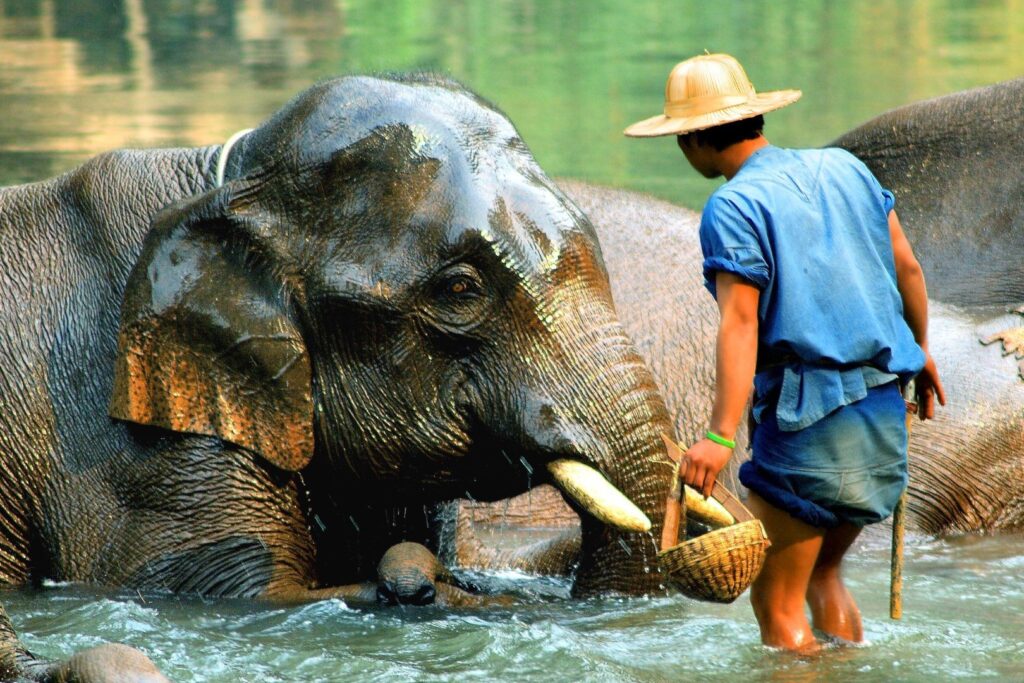 Elephants in Thailand have long been true pets and have been used for heavy work in agriculture and construction. They dragged logs, transported loads that were too heavy for horses and oxen, and served as an indispensable and safe means of transportation in the wild jungle.
Nowadays, cars and cheap agricultural equipment have practically pushed elephants out of the Thai countryside, but thanks to the development of the tourism industry, they have found new uses. The elephant is a fairly intelligent animal and is easy to train. Throughout Thailand, there are several special training centers for elephants, where they are taught the basics of their future "profession". One of these schools is located in the suburbs of Chiang Mai.
"Lessons" at the school are held daily in the morning. At this time, you can watch how elephants are taught to walk in processions, kneel and kneel, collect small things with their trunk and work with logs. After lessons, everyone can take an elephant ride through the jungle.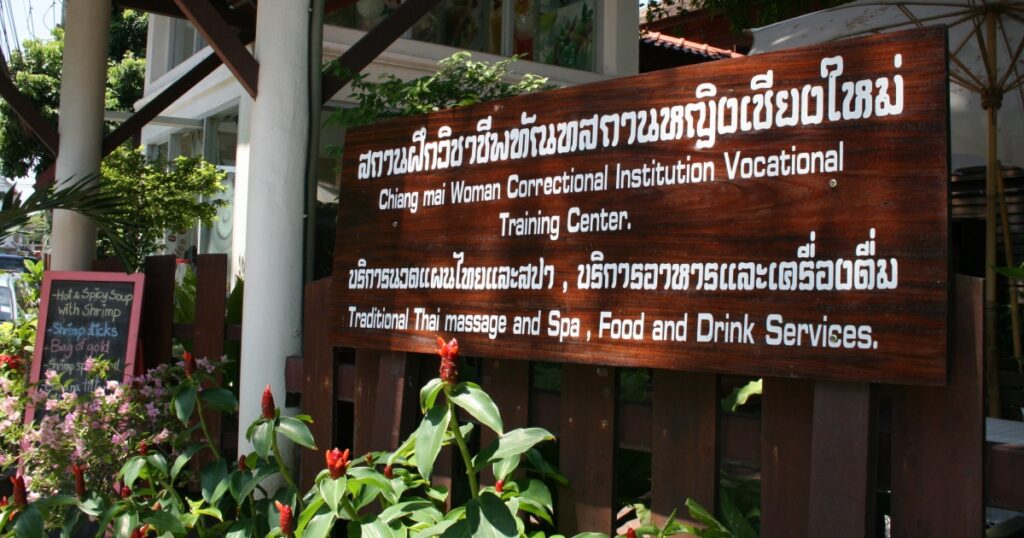 In the very center of the old city, there is a correctional institute for women who have committed not too serious crimes, simply – a women's prison, in which enterprising managers have organized a real spa center, teaching newcomers the art of Thai massage. There was a positive result from all sides: the girls feel good – they got a new profession, and the visitor's double pleasure – relaxation plus extreme, and the treasury is of help.
In fact, there is no feeling that you are in places not so remote: massage rooms are light, spacious, very comfortable (those old photographs that "walk" on the Internet have long had nothing to do with reality), prisoners know their business: the massage here is of the highest level (two hundred hours of preliminary training – there is no doubt about the quality of the services), and the girls-masters are very friendly, smiling, speak English (they are also taught this here) and are not dressed in a robe, and in pretty robes. Plus, there is a cute restaurant of European and Thai cuisine with a garden and a completely non-prison design, where the same reforming criminals cook, and also a shop with wonderful handmade things.
by the way, All the money and tips earned for the massage remain in the custody of the prison accounting until the date of the girls' release, so they are released not only professionally, but also financially secure. So, enjoying the massage of the local craftsmen, you at the same time bring great benefit to the society of Thailand.
Read More About Thailand
Frequently Asked Questions About Chiang Mai
Q. What is Chiang Mai known for?
A – Chiang Mai Hill is the largest city in northern Thailand. Chiang Mai is most famous for its beautiful ancient temples, although there is much more to see and do. The charming hilly landscape that surrounds the city offers a lot of amazing natural attractions and is home to two tribal villages.
Q. Is Chiang Mai safe for tourists?
A – Chiang Mai is particularly safe compared to other tourist centers. Apart from bustling tourist markets, banging girls at bars, or annoying tuk-tuk drivers, you can enjoy a hassle-free vacation here. Security is good in Chiang Mai; It is a quiet provincial town with few incidents of violence, theft, or harassment.
Q. Is Chiang Mai the largest city in Thailand?
A – Chiang Mai also spelled Chiangmai, is the largest city in northern Thailand, and the country's third-largest after metropolitan Bangkok and Nakhon Ratchasima.
Q. Is Chiang Mai Cheap?
A – Chiang Mai can be as cheap or as expensive as you want (like most of Thailand). But if you stick to the local markets; Avoid the fancy organic, healthy restaurants that have popped up; And live in the old city, you can easily save money!
Q. Are there beaches in Chiang Mai?
A – Chiang Mai doesn't have beaches, but there are lots of other activities and tours. Below are some ideas of things to do in beautiful Chiang Mai.
Q. Can you drink tap water in Chiang Mai?
A – Chiang Mai drinking water purification is possible. However, the lengthy and tedious chlorination process is not an option for most individuals. Therefore residents of Chiang Mai are required to purchase "first drink" water filters before they are allowed to drink from tap water.
Q. Is Chiang Mai worth visiting?
A – Yes – Chiang Mai is worth visiting if you get the chance! Chiang Mai is an ancient city with a modern twist and has all the amenities and activities you would expect in any travel destination.
Q. How many days do you need in Chiang Mai?
A – Chiang Mai was founded in the 13th century and a day or two will not do this wonderful city justice. Ideally, four nights and five days will give you enough time to explore and truly understand Chiang Mai. Chiang Mai was founded in 1296 and is located in the region of the majestic mountains.
Q. Is English spoken in Chiang Mai?
A – English is widely spoken in Chiang Mai and many Thais understand it, but do not speak much.
Q. Is Bangkok more expensive than Chiang Mai?
A – Bangkok is less expensive than Chiang Mai, but not by much. The most notable difference is the accommodation prices, with Chiang Mai being roughly 20% cheaper than its rival.