Koh Phangan is a party island. It doesn't matter who you are – a frequenter of techno clubs or mindfulness retreats – everyone has something to do here. According to the legend of local centenarians, Phangan is located on a deposit of rose quartz and therefore has a special power to uncompromisingly fall in love with itself. Do you see a point on the map just above Koh Samui? This is where we will go now.
The tourist season in Phangan lasts from late December to late March, but experienced travelers in Asia go there in June-July. Let's explain why. The rainy season in Phangan is not in summer, but in autumn – from mid-September to mid-December. Winter in Koh Phangan is hot and dry, and hotel and food prices are skyrocketing due to the New Year and Christmas holidays and holidays. In the summer, the island is not so stuffy, and from the end of May, another season begins Latin Americans (at this time they have winter and it is quite cold) and the French (due to the long-standing friendly interstate relations between Thailand and France, they were the first to begin the development of the island and for sorted out the weather for several decades). Prices for hotels and houses for rent in summer-fall significantly and the fruit season begins – absolutely all fruits from bananas to mango and papaya are sweeter and cheaper in summer.
Transport In Koh Phangan island
There are no direct flights to Koh Phangan for the simple reason that there is no airport. But that's okay, there are tons of ways to get to the island without stress or, conversely, with adventure.
The fastest (and, of course, the most expensive) option is to fly to Koh Samui, from which the ferry will take you to Koh Phangan in just 30 minutes. True, on this route you will have to make at least two changes. From Minsk, you can fly via Paris and Singapore. Such a ticket will cost $ 700 round-trip, or via Istanbul and Bangkok for $ 850 – a little more expensive, but much faster. For about the same money, with two transfers, you can get to Koh Samui from Kiev – via Doha and Bangkok. Look for tickets on aggregators like Aviasales. A tuk-tuk will take you from Samui airport to the pier for $ 5, the cost of a ferry to Koh Phangan is $ 10.
The best option is to fly to Bangkok. How to get there, you can read here. Well, then take an internal flight to Surat Thani – a port city from where ferries go to Phangan. Domestic flights in Asia are inexpensive and cost less than $ 40 one way. The Surat Thani-Phangan ferry takes 3 hours and costs $ 20.
You can travel from Bangkok to Surat Thani by train. This option will hardly be cheaper than the previous one – a ticket for a comfortable night train in a 2A class car with air conditioning will cost the same $ 30-40 as an airplane. However, a fun night with a crowd of Englishmen, Spaniards, Italians, Frenchmen, Israelis, and Germans (and, accordingly, new acquaintances) is guaranteed for you.
The most economical option is to get to Surrat Thani from Bangkok by night bus. The ticket costs $ 17-20.
There are three ways to move around Koh Phangan. The first is a motorbike. It is quite easy to drive, the main thing is to drive slowly and does not forget the helmet. The bike costs an average of $ 7 per day or $ 100 per month. The second is a car for rent. This pleasure will cost $ 150 a week, but you will not be afraid of abrasions from falling and dogs at night on the roads. The third option is a knock-knock. The maximum price for a route from north to south of the island is $ 12 per person. The most desperate athletes manage to cycle around the island, but given the mountainous terrain, heat, and traffic, we do not recommend considering cycling as a full-fledged form of transport in Phangan.
Accommodation in Koh Phangan island
First, decide what you expect from the trip. New acquaintances – to your hostel. Beach and comfort – bungalow in a resort. Well, if you are traveling for a long time and are planning, if not wintering, then something similar, then look for a house with a kitchen and a veranda for rent.
Echo Beach Backpackers (30 Moo 1, Baan Tai Beach, Koh Phangan, Suratthani, 84280 Baan Tai) is a 10-minute drive from the pier in the busiest part of the island. $ 5 for a bed in a dormitory room with six bunk beds and air conditioning. If you want a little more air, $ 9 – a place in a room for three. A special feature of the hostel is the daily free excursions around the island. It can be very useful if you are on Phangan for the first time.
Roadtrip Phangan (Moo 6 / 130/37, 84280 Haad Rin) is the Hadrin district, the venue for the Foolmoon party, the epicenter of the young backpackers of various nationalities. If you like noisy companies, this is the place for you. Nice hostel with creative graffiti walls. Room space varies from $ 8 to $ 11 depending on the number of beds in the dorm.
Phangan Cove Beach Resort ( 17/14 Moo 8 Koh Phangan, Suratthani, 84280 Sritanu) is a very cozy resort right on the beach in the mecca of yogis, healthy people, and enlightened people – Sritanu. The owner of Yiwu Resort is a very cute Thai woman. The inside of the bungalow is tastefully furnished and a crisp white cotton hammock hangs on your veranda. The restaurant overlooking the ocean is so delicious that even those who have lived in Phangan for a long time often come here for dinner. For more than reasonable money – excellent quality food served as in a Michelin-starred restaurant. Bungalows cost $ 30 in high season.
Bottle Beach 2 Bungalows (Ko Phangan, 84280 Bottle Beach) is an introvert hideout. Bungalows are scattered on the white sand of Koh Phangan's most remote beach. You can get here (or from here to the center of the island) only by boat for $ 5. On the plus side, there is an ideal beach, sand-flour, ocean tears, and a minimum of people. The cost of this paradise is $ 15 for a fan bungalow.
Panviman Koh Phangan (22/1 Moo 5 Bantai, Koh Phangan, Suratthani) – for luxury introverts. Located on one of the most beautiful and secluded beaches of the island – Thong Nai Pan. The resort has a 5-star rating with sunrise views over the ocean and a pool with a jacuzzi. Room prices start at $ 150 per night.
For longsteyers (those who came for a month or more) and those who do not like hotels and prefer to cook on their own, private houses and whole villas are rented in Phangan. You need to search in a group on Facebook, on Airbnb, or in the telegram channel "Phangan Phangan Housing". There are different options for every budget: from $ 180 per month to infinity. Daily rentals are also possible. Now decide on the area.
Hadrin is the southern part of the island. In the 1970s, Khadrin was the most beautiful beach in Phangan, so the development of the island of hippies began from here. In 1983, the first Fullmoon Party was held on a paradise beach on a full moon, attended by no more than 30 party-goers. Since then, parties on Hadrin have been held once a month. Today Fullmoon is more of a promoted brand than a really worthwhile event, but once you look at the crowd of not very sober people painted with neon colors. However, thanks to the Fullmoon Party, Hadrin is a center of attraction for the young and hot.
Ban Tai – now we are moving northwest on the map. Convenient location: quite close to everything – the secluded beaches of Tan Sadet and Thong Nai Pan in the east of the island; the noisy party scene of Khadrin in the south; food court and pier shops in Thongsala and cozy restaurants in Sritana in the west. But to live here, you definitely need a bike or a car.
Thongsala – in this area there is a pier and the main business artery of the island: food court, markets and shops, post office, car service, and the largest shopping centers in Phangan: Macro and Tesco. It's cheap to live here, but not very comfortable.
Hin Kong – a long strip of "technical" beach stretches for a couple of kilometers in the southwestern part of Koh Phangan. Technically, because you can't swim here (shallow, wild bottom), but watching the sunsets is ideal. At 18.30 the sky over Hin Kong is of such color and texture that one wants to eat it with a spoon. And, yes – the most famous sunset photos on a palm tree hanging in the water were taken on Hin Kong.
Sritanu – if the words "awareness", "enlightenment" and "acceptance" do not break your teeth, you are here. There are more yoga centers than people. At every step – organic, raw, sugar-free, gluten-free. In the evenings, barefoot hippies flock to the beach to "plant the sun". Fire show, playing hang, chanting mantras. Houses are expensive here. The whole secret is a good beach and transport accessibility to the center of the island.
Haad Yao and Haad Salad are diving spots as far as possible in Phangan. Rocks, corals, and fish. The coastline is occupied by resorts, but across the road, you can rent a house overlooking the ocean and sunset.
Chaloklum is a traditional area for families with small children. The sand is white and gentle, the sea is calm and gentle. Due to the remoteness from the main part of the island, over time, Chaloklum acquired its own infrastructure – restaurants and shops appeared.
Tan Sadet and Thong Nai Pan – these two beaches are located in the eastern part of the island and are considered the best in the whole of Phangan. The only nuance of life here is real privacy: there are several expensive resorts, a couple of restaurants, and shops. After 22 hours it is dark and quiet.
Places to Visit in Koh Phangan island
The Tan Sadet National Park is a huge green area that occupies the entire northeastern part of the island. The park has several trekking routes for hiking, waterfalls (much less picturesque than in Bali, but it's still nice to relax near the cool water after hiking), and observation platforms. You can rent an ATV for $ 16 per day and ride it through the jungle. The entrance to the park is free. Mount Khao Ra is the highest point of Koh Phangan, 630 meters above sea level. You cannot get there, this is entertainment for those who love hiking. Somewhere they write that the ascent on foot takes an hour and a half – show us these athletes! Lay all three and come out before dawn. Particularly fanatical nature lovers come to the mountain in the evening, settle there for the night, and meet the dawn. We will not write about the crazy energy of this place – and so everything is clear.
Yang Na is the oldest tree in Phangan. It is more than five hundred years old, and it remembers how only monkeys meditated on this island. Located in the Ban Tai area. You can find it by asking the locals about Yang Na.
Apichada View Point (2 Moo 104, Baan Tai, Ko Phangan, Surat Thani) – people go here for sunset. Previously, few people knew the place, but since the Russian guy Sasha took up the promotion, things have started. At 17 o'clock a DJ begins to play here, who literally "sets the sun" to his sets: staring intently at the orange disc hissing in the sea, he twists the controller knobs, changing the tempo and volume of the music. It turns out very atmospheric. Come to the beginning of the dj-set, because at 18.00 there will be no "front row" seats left to watch the sunset.
Sauna The Dome (Unnamed Rd, Tambon Ko Phangan, Amphoe Ko Phangan, Chang Wat Surat Thani 84280)– this is such a psychedelic bath. The place opens at 18.00 and is open until midnight. Two domes-steam rooms with a temperature of 70-80C, inside there are stone benches, on which people sit close to each other, and you cannot see a single one. To avoid that awkward moment when in the dark you accidentally sit down on someone's lap, go inside, timidly ask about the empty seats, and ask them to give you a hand – they will help you, sit down, laugh together. Even more interesting is the outside of the domes – the space is covered with mats, bonfires are burning, and video projections of psychedelic fractals are dancing on large boulders. All this is accompanied by meditative music and under a black starry sky. American Dave built a bathhouse with his own hands. It costs $ 6 to enter, for a fee, herbal tea and treats will be offered.
Jam Bar (Moo 6, Ko Phangan, Surat Thani) – no, we were not mistaken in the section, and do not be confused by the name "bar", because "Jam bar" is not a bar at all, but a whole (albeit small) cultural an event that takes place every Thursday and Sunday from 21.00 to 01.00. In a small clearing on the Hin Kong beach, amateur musicians (sometimes professionals come) gather on an impromptu stage to play music – to jam. More often they play rock, sometimes reggae or ethnic. Cheap wine and beer are sold nearby.
Snacks & Fastfood
Phantip Food Market– the legend of Phangan. Nobody knows exactly how long this place has existed, but more than 30 years for sure. Located near the pier in Thongsala, open from noon to midnight. It is easy to find it – go to Tonsala and ask "Pantip" – every taxi driver and almost every tourist knows him. As soon as you enter the market, go straight into the depths of it under the roof – all the most delicious food is there. In the carts from the Thais, you can take fresh juice from any set of fruits to your taste. One fruit – $ 1. The best spot for Thai food lovers is the second roof tent from the right – Cha-Cha. The pad thai (rice noodles) and fried rice (fried rice) are so delicious there that it is impossible to become until you eat a huge serving, which costs only $ 1.5. Well, if Thai food is not yours, feel free to go to the far wall of the market – there you will find hummus and falafel from the Israelis; pizza, padina (pita with vegetables) and pasta from Italians; organic food and fresh seafood. Price for the non-Thai dish – $ 7. Delicious Italian wine is poured for $ 5 per glass filled to the brim.
Cafes/Restaurants in Koh Phangan island
Phangan is a unique multinational place where there seem to be more foreigners than the local population. There is everything here – French, Italian, Russian, German, English, Greek, Israeli, Indian, Japanese cuisine, and even Uzbek "Chaikhona". A gastronomic paradise!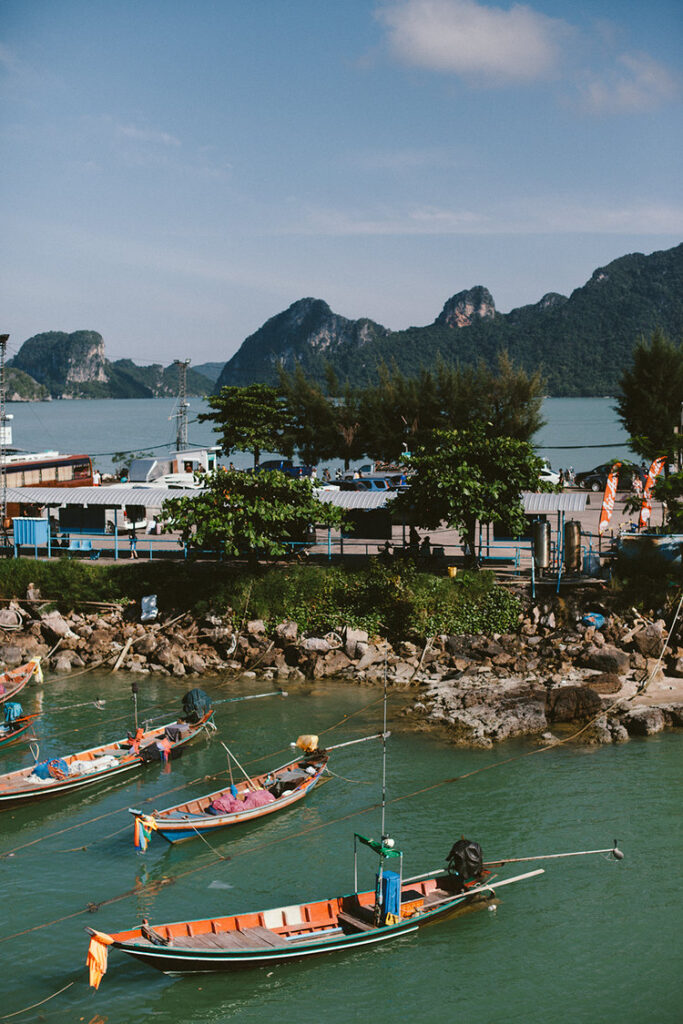 Breakfast in Koh Phangan island
Nira's Home Bakery (74/10 Moo 1 Thong Sala, Koh Phangan, Amphoe Ko Pha-ngan, Chang Wat Surat Thani) – directly opposite the pier. The perfect place to get off the morning ferry, sit down with your suitcase, connect to Wi-Fi and have a cup of real (non-Thai) coffee. A large breakfast menu: English with sausages, French with croissants, and so on, starting at $ 7. You can put together your own version, and by the way, it is often cheaper. Always fresh baked goods and vegan desserts.
Bubba's Coffee (59 4, Tambon Ban Tai, Koh Phangan, Chang Wat Surat Thani) is an absolute favorite among breakfast spots. The guys have been working for over 10 years and carry coffee beans from the best farmers in Thailand. They love coffee here and know how to brew it correctly. The interior and serving of the dishes are hipster, the prices are European: breakfast with coffee will cost $ 15. But here you can easily make a matcha latte with soy or coconut milk without sugar.
The Cup (29/10 Moo 6, Tambon, Koh Phangan, Chang Wat Surat Thani) – the matryoshka logo clearly hints that this place is Russian. Nevertheless, the breakfasts here are quite European: the menu includes toasts with an egg and avocado, green pancakes with salmon and Philadelphia cheese, oatmeal, croissants. If you live in Sritana and are looking for a breakfast spot that goes beyond the yoga menu, this is exactly what you need. Breakfast will cost $ 7.
Dinner Options in Koh Phangan island
Fisherman's (30/6 Moo1 Ban Tai (Baan Tai Pier), Ko Phangan, Surat Thani) – here you need to eat fresh seafood for $ 7 per serving and wash it down with a full-bodied "shiraz" for $ 5 per glass (with squid and mussels red wine you can and should drink). The owner of the restaurant Lek was born into a fisherman's family in the Ban Tai area (where the restaurant is located). With the support of his Irish wife Amanda, Lek opened Fishermen in 2007. A cozy place on the beach, tables are right in the fishing boats, candles are lit – the best place for a date.
L'Alcove (15/1 Moo 6, Hinkong Beach, Koh Phangan, Suratthani) is a French restaurant on the beach in Hin Kong with stunning sunsets and very friendly owners – Karin from Medoc and Melanie from Normandy. Every evening after six you can eat, drink wine, listen to live music, watch fire shows and national dances. Huge portions, which you fill up with one for two, cost an average of $ 11-12, wine – $ 6-7.
Cucina Elementare da Roberto (Moo 6, 56/3, Tambon Ko Pha-ngan, Amphoe Ko Pha-ngan, Chang Wat Surat Thani) – there is no better place on the island to not only taste real homemade Neapolitan pasta but also learn how to cook it … Roberto – the owner, aka the chef – basically does not buy pasta and seafood in the store. He makes the pasta himself, from flour and eggs, cutting the dough on tagliatelle and spaghettoni with an old machine inherited from his grandfather. And he also catches seafood himself. Every morning. Pasta costs $ 10, you need to drink it with a glass of homemade white, according to Italian tradition, filled to the brim, for $ 4.
Sirtaki Taverna (20/16 Moo 8, Ko Phangan, Surat Thani, Thailand) – if the words "moussaka", "tzatziki", "suvlaki" are a song for you, you are here. All this is prepared here by the cook (who is also the owner) Georgiy, the Greek. The muse of the tavern and her hostess are the fragile and affable wife of Georgy Nadia. Nadia will help you make your choice and honestly tell you which products are fresher than others today. Leave about $ 20 for dinner (with wine) for one person and you won't regret it.
The Masons Arms (145/5 Thongsala, Ko Phangan, Surat Thani, Thailand) – if you're not talking about wine, this pub is for you a good selection of beer, there is real English ale and cider. The food is English (fish and chips), there are many meat dishes on the menu, everything is inexpensive – for example, $ 6 for a burger. Owner Steve hails from London, there is no analog of his pub on the island.
Crave (17/11 Moo 8, Srithanu, Ko Phangan, Surat Thani) – the place is located in the Mecca of Yogis Srithanu and challenges vegans with an abundance of meat burgers. And there is also an excellent "Putin" (accent on the last syllable). Putin is a Canadian dish that consists of French fries with cheese and gravy. All meals are up to $ 10.
Baraka (61/121 Moo 1 Ko Phangan, Surat Thani) is a place for lovers of hummus, falafel, and shakshuka. Some say they have the best falafel and hummus on the island. The institution is open from 7 am to 11 pm. Shakshuka will cost $ 9. Delicious desserts and a large selection of homemade ice cream.
Chana Masala (7/22 Moo 6 Ko Phangan, Surat Thani) – palak paneer, chana masala, garlic naan and wash down all the mango lassi. A paradise for those who start their day with meditation and chanting. There are vegan options. Open daily from 8.00 to 22.30. In the evenings, all the Yogis of Sritanu gather here, it can be very atmospheric.
Orion Cafe (15/2 moo 8 Sri Thanu Koh Phangan, Surat Thani) is a deliciously healthy lifestyle. The best place for vegans and raw foodists. There is just a menu, and there is a detox menu. Meals range from $ 6 to $ 8. Good selection of smoothies for $ 4. Open daily from 7:30 am, breakfast is available.
Friend's Cafe (Unnamed Rd, Tambon Ban Tai, Amphoe Ko Phangan, Chang Wat Surat Thani). If you started dreaming about buckwheat, this is the place for you. The owners of the establishment are Anton and his Thai wife. It is Anton's mom who cooks – what is important. That is, "delicious, like mom's" is not just words. Potatoes with mushrooms, buckwheat with a cutlet, borsch, dumplings – everything is fine here. Especially moonshine, which Anton insists himself, but about that shhh. There are often promotions – soup for $ 3, the second for $ 5, Anton writes about them on Facebook every day. The cafe opens at 13 o'clock. Attention: the guys do not work on Mondays, so if you have a drunk weekend, you can go to the borscht at the latest on Sunday.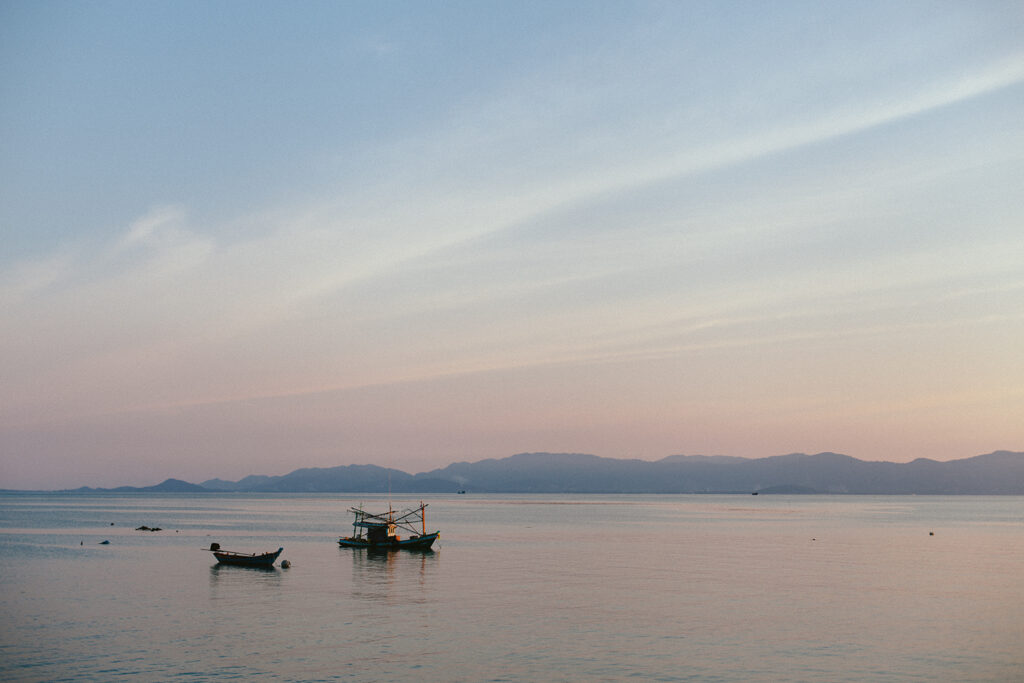 Bars/Clubs in Koh Phangan island
Amsterdam Bar (Tambon Ko Phangan, Amphoe Ko Phangan, Chang Wat Surat Thani) – the bar has countless advantages. First, the view is ideal to take photo panoramas of the island and set the sun at sunset. Secondly, the pool – you can come in the afternoon, sunbathe and chill with a cocktail. Third, the music is always good. Fourth, people – especially at sunset and in the evenings. Fifth, the place is open 24/7. What else do you need to be happy?
Three Sixty Bar (85/2 moo 7 kohphangan, Surat, Surat Thani) is a good place for a day party. On Tuesdays at sunset, it is crowded, a DJ is playing, good people are dancing, chatting, getting to know each other. Everyone is relaxed and in no hurry. Music deserves to be added to your playlist. Sometimes there is a paid entrance – $ 4. Beer costs $ 2, wine $ 4, cocktail $ 6.
Dudka Bar (77/1 Moo 8, Ko Phangan, Surat Thani) is a Russian bar on the mountain with a great view. Mom also cooks here, so everything is more than okay with food, however, the prices are Moscow – $ 11 for a Caesar salad with shrimps, $ 12 for a salmon steak, and $ 11 for a glass of wine. The kitchen is open until 3 am, which is a rarity in Phangan. On Wednesdays and Fridays, a DJ plays, and dinner smoothly turns into a party until 4 in the morning.
Up2U (130/15 Moo 6, Haad Rin KohPhangan, Tambon Ban Tai, Amphoe KoPha-ngan, Chang Wat Surat Thani) is a Russian dj bar. Excellent location overlooking Hadrian and the ocean with a pool under the stars. Often good Russian DJs like DJ List play. Sometimes they charge $ 4 for entry.
Rasta Home (58/24 m.8 Haad Yao, Koh Phangan, Surat Thani) is a place for reggae lovers, but with a Thai accent. In general, even if you do not like reggae, it is worth stopping by here once, if only to listen to how the songs of Bob Marley are sung by a Thai reggae group with a Thai accent and in an Asian manner. And the guys also have their own songs, in their native language – well, where else can you hear that? Only open on Fridays, every party is crowded and everyone is smiling. On the Friday closest to Bob Marley's birthday – a full house. Beer is $ 2, wine is $ 3, but it's better to drink beer here.
Green Gallery (22/1 moo8 Sri Thani Phangan, Tambon Ko Pha-ngan, Amphoe Ko Pha-ngan, Chang Wat Surat Thani) is a hangout of yogis. Located in Sritana. In the evenings, there is a bonfire, live music, and people dancing barefoot on mats. The bar has a sugar-free banana smoothie for $ 4 for diehard healthy people, and for those on the dark side, a beer for $ 2.5.
The Jungle Experience (1 km Behind 7/11 Baantai) is a jungle party held once a month the day before the FullMoon Party. It differs from "Fulmun" by bringing good DJs, a professional approach to the organization (tickets, parking, go-go), and a more decent audience. It starts at 22:00, entrance costs $ 22.
Shiva Moon (1 km Behind 7/11 Baantai) is the only trance party on the island. Held twice a month, at about the same location as the Jungle Experience.
Guy's Bar and Eaden Garden (Tambon Ban Tai, Amphoe Ko Pha-ngan, Chang Wat Surat Thani)… This is what many people actually go to Koh Phangan for. As the organizers themselves describe their parties, "These parties are not like the rest, this is what Full Moon was when it just started." Imagine a wild remote beach, a black ocean crashing against rocks, happy people dancing on the sand under a starry sky. The party reaches its absolute peak at dawn when the sun rises directly over the sea. This is truly a paradise, and getting there is not so easy – there is no road. For $ 10 one way boats are taken there. If the sea is choppy, it is wet and scary to ride – the boat, like a toy, throws up and drops down with a crash, dousing the passengers with waves. The second and final way to get there (or get out of there at dawn) is by jeep through the jungle (also for $ 10). People are transported directly in an open trunk.
It is better not to look ahead – an SUV on huge wheels either climbs a steep mountain on boulders, then slides down at an angle of 45 degrees on the sand. Remember: your safety on the road is your responsibility. Your deal with the boat or jeep driver ends the moment you give him the fare. Everything. Hold on tight and survive as best you can. Of course, a road to the bars could have been built long ago, but who needs it when such an adventure attracts so many people and … money ($ 20 for the round trip). Guy's Bar is open on Fridays only, Eaden on Saturdays. Admission until midnight is free, then they charge $ 4 for admission. Water costs like beer – $ 4, but no one checks the backpacks at the entrance, so you can bring your own. Also, take a mat to relax on the beach
Shopping in Koh Phangan island
Passara Spa & Herb is a Thai traditional beauty and health cosmetics store. Buy the famous coconut oil here and only here. There are also essential oils and aromatic body milk, dietary supplements, soap, toothpaste, lip balm, and everything, everything, everything. Not cheap by local standards, but high quality – 300 ml of coconut oil will cost $ 20. The store is located in Tongsala next to the Pantip food court.
Bang Bang is a clothing store located on the so-called Chinese street in Tongsal. Here you can buy tribal clothes for a party or boho for a mantra session at sunset.
Flip Flop Culture (30/4 Moo 8 Sri Thanu Koh Phangan, Tambon Ko Pha-ngan, Amphoe Ko Pha-ngan, Chang Wat Surat Thani) – slippers of all possible styles and colors. There is even a Thai brand HippoBloo, whose creators care about the environment, make 100% biodegradable slippers, and invest money from the sale in the fight against environmental problems.
Hammock Lovers (36 หมู่ 3, Tambon Ban Tai, Amphoe Ko Pha-ngan, Chang Wat Surat Thani) is a great gift for yourself and your friend – a hammock. Here you can find all kinds of hammocks, from factory ones for $ 20 to handmade hammocks for $ 150.
Garlands for the house, incense sticks, and candles are sold on almost every corner in Phangan. Two or even three times cheaper than hand-held, all this can be bought at the HomeMart store (2/16 หมู่ 1, เกาะพะงัน, Chang Wat Surat Thani) in Tongsal on the second floor. Open every day except Sundays from 8 am to 5 pm.
Lekshop Organic (39 Moo 8, Tambon Ko Pha-ngan, Amphoe Ko Pha-ngan, Chang Wat Surat Thani) – Ayurveda, tea, healthy sweets, and vegan ice cream with coconut sugar.
If you want to bring a dreamcatcher as a gift, there is a chic choice in a shop in Tongsala next to the La Casa Tropicana beach bar.
Life Hacks & Info About Koh Phangan island
When renting any vehicle in Phangan, your passport will be taken away from you as a deposit (therefore, choose verified offices according to reviews). You do not need a motorbike driving license.
If you decide to take a bike, keep in mind that Thais have different driving rules. Leaving the courtyard or secondary road to the main one, they do not look back – their area of ​​responsibility is in front of them. Your area of ​​responsibility is ahead of you, including shoulders and adjacent roads. Therefore, be careful and do not get angry when a Thai "cuts you off" – they just have such rules.
For withdrawing money through an ATM, all banks charge a commission of $ 7. It can be avoided if you come to any bank with a passport and card and withdraw money through the operator. In this case, the card must be personalized and issued in your name.
Supermarkets and restaurants only accept cards for purchases over $ 10.
Do not forget to take out travel insurance – it is much more profitable than buying medicines at the pharmacy for your own money. The medicines in Koh Phangan are expensive.
In Phangan, as in all of Asia, there are a number of viruses that are transmitted by mosquitoes, among them dengue and chikungunya fever. This happens extremely rarely, but it is worth protecting yourself: do not neglect insect repellents, especially at sunset. They are sold in any supermarket and cost $ 2.5.
You can wash your clothes yourself: there are washing machines and dryers on almost every corner of the island. Throw in coins, load the laundry, pick it up in an hour. It costs $ 1 to wash, and $ 1.5 to dry. You can take things to the laundry, where Thais will do the same for you for $ 1 per kilogram of clothing. The machines on the island are old, they wash so-so and often spoil things, so it is better to take good things to the laundry (in "Pure Power", for example, they will take things themselves and bring them clean and dry).
There is good Wi-Fi almost everywhere in Koh Phangan. Also, in any 7-eleven supermarket you can buy a SIM card with good and inexpensive mobile internet. Keep in mind that only the AIS operator catches on the east coast of the island.
Just like in India, many Thai cafes and shops, even pharmacies have to be entered barefoot, leaving your shoes outside the door. The exceptions are banks, government agencies, hospitals and large chain supermarkets – Macro, Tesco, 7-eleven and FamilyMart.
Learn the two main Thai words: "Sawadi-kaaaa" ("Hello!") And "Kapun-kaaaaa" ("Thank you").
Look for all information about the life of the Russian-speaking community on the island in the Ko-Phangan telegram channel and in the Koh Phangan People Facebook group . English speaking group – Koh Phangan Conscious Community .
Information about parties is available on the Koh Phangan Night Life telegram channel . You can get acquainted not only in tinder, but also in the Free Chat Phangan telegram channel . For those who do not have time to restore beauty before vacation, there is a telegram channel Koh Phangan Beauty .
Read More About Thailand