Miles and miles of spectacular white sandy coastline, jagged limestone karsts rising out of crystal clear emerald waters, and lush hinterland, lays this postcard-worthy town of Thailand called Krabi! This serene and gorgeous island is fast becoming a well-known tourist hotspot, and rightly so as this island is the definition of an ideal, relaxing beach vacation! Krabi is a tropical destination, and hence the island experiences hot and humid weather all year round. However, November to March is the month when the humidity is the least! Krabi has so much to offer to its visitors that you'll fall in love with this paradise island in no time! Without further ado, let's get started with the top 10 places to visit in Krabi
KRABI | PLACES TO VISIT
1. Railay Beach
Railay is a small peninsula that is made up of four pristine, white sand beaches! Accessible only by long-tail boats, rowed through clear emerald waters, around soaring limestone karsts. The peninsula is so tiny that Railay can be covered from one end to the other by foot in 10 minutes! The most famous of the 4 beaches are Railay Beach and Phra Nang Beach. Spend your time lounging on the beach, snorkeling in the azure water, or going rock climbing! There are a number of restaurants in Railay that serve delicious Thai meals and if you wish to stay over, there are some fantastic hotels as well!
2. Wat Kaew Korawaram
A beautiful white temple, with ornate carvings and golden dragons, is the Wat Kaew Korawaram! The temple is situated in the center of Krabi Town and is also the biggest temple in Krabi! The temple is definitely a must-visit, especially during sunset when it feels like the temple is colored in gold!
3. Koh Lipe
Being the southernmost island of Thailand, Koh Lipe is a bit harder to get to than the other islands and hence is a bit under the tourist radar making it a perfect place to escape the crowd and enjoy a relaxing and quiet beach vacation! Koh Lipe has some spectacular pristine beaches such as Sunrise beach which as the name suggests is somewhere you should be to witness a refreshing sunrise, Sunset beach, Pitiusas beach, and Pattaya Beach! You can spend the day sunbathing or kayaking, diving or snorkeling in the clear water or take a day trip to Koh Adang, a neighboring island which apart from a small restaurant and resort, is uninhabited and perfect to spend a day visiting the viewpoint, beach, and small waterfall.
You can spend the evening exploring the town, shopping in the handicraft stores, or at one of the beach restaurants that serve delicious, fresh seafood!
4. Koh Hong
Another one of the many beautiful islands is that of Hong! Numerous long-tail boats cruise daily to Hong Island. Spend your day doing nothing but lazing on virgin sands, visiting its stunning lagoons, limestone cliffs, and glorious beaches. Moreover, Hong Island is far lesser known than the adjoining islands such as Koh Phi Phi and hence there are far lesser tourists on the island making it all the better!
5. Tiger Cave Temple
The tiger cave temple which is known as Wat Tham Sua in Thai sits on the peak of limestone rock, 1,237 steps high! According to folklore, the limestone rock had a cave at the bottom which was home to a tiger, hence the name. The temple is at such a height, and offers a breathtaking panoramic view of the Krabi Valley! The best time to visit the temple would surely be during sunrise or sunset so as to get absolutely amazing pictures!
6. Klong Thom Hot Springs
Ever wondered how a hot spring situated in the middle of a jungle would make you feel? Klong Thom is just that! Situated in the middle of a Thai rainforest are a set of hot tubs hollowed out from nature's stone, and continuously fed by mineral-rich warm water from the nearby thermal springs! Relax by taking a dip in the therapeutic and soothing hot springs all the while being surrounded by the lush greenery of the rainforest!
7. Emerald Pool
Around 70 km from Krabi town, in the Thung Teao Forest Natural Park, which is the same reserve where the Klong Thom is situated, lies the remarkable Emerald Pool! Krabi is well-known for areas of outstanding natural beauty and one place that should make it your must-see list is the Emerald Pool! A 3 km nature trail through the lush rainforest will bring you to the wonderfully warm and crystal clear emerald waters of the Emerald Pool! Take a swim and enjoy the surroundings and from here head over to Klong Thom Hot Springs.
8. Phi Phi Islands
Tropical paradise is what describes Phi Phi Islands the best! The beautiful island looks like you are living in a postcard with crystal clear turquoise and emerald waters and white sand beaches dotted with palm trees. Phi Phi Islands have some of the best diving sites in all of Thailand, lively nightlife and to top it all off, it is quite inexpensive to spend time on the island! The island is easily accessible by a ferry ride from Krabi and is definitely a place to spend at least a day in. Trek up the hills, walk or lounge on the beach, kayak, swim, snorkel, or dive during the day and feast on some delicious Thai food from one of the many restaurants on the island and end the day with a sunset on the beach and then heading over to dance the night away at the night clubs on the island!
9. Ao Luk Mangrove
Tall limestone karsts dot the hilly lush landscape, and along the coast, mangrove forests and limestone cliffs offer kayakers a beautiful view! Ao Luk mangroves and caves are great places to explore! You can hire a long-tail boat for a few hundred baht and discover three caves in the mangroves: Tham Phi Hua To, Tham Lod Neua, and Tham Lod Tai. The latter is a long narrow limestone tunnel with stalactites and stalagmites and is best visited by long-tail boats at low tide.
10. Krabi Night Market
One thing that you absolutely cannot miss when in Krabi is to visit its night market. The market is held every Friday, Saturday, and Sunday from 5 pm onwards and here you can have some mouthwatering Thai street food and enjoy a delectable meal with live music!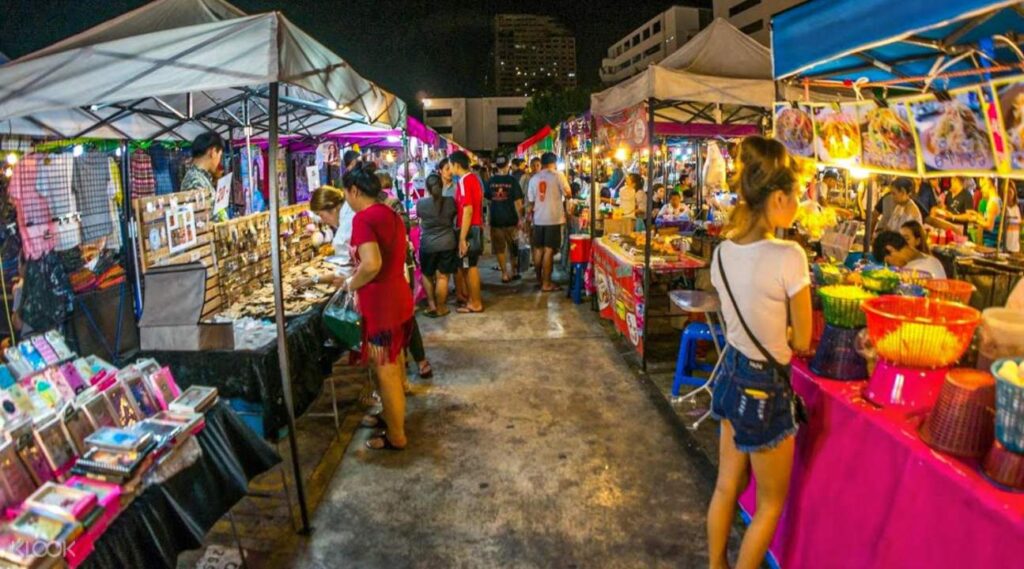 Read More About Thailand
Frequently Asked Questions About Krabi
Q. Is Krabi or Phuket better?
A – If you are looking for a well-developed place with all the facilities then Phuket is the place to be. On the other hand, if you want to enjoy the bucolic nature and laze around in the natural setting then Krabi is the best choice.
Q. Is Krabi town worth visiting?
A – As for Krabi town, it is a relaxed place with great food. People do treat it as a staging point. There is nothing much to keep you there but it is pleasant and a good place to visit.
Q. Is 3 days enough in Krabi?
A – Krabi Town often gets overlooked, and for good reason—well, good reason for the town itself, even if you don't want to spend all 3 days in Town. Within the parameters of this itinerary, inland province, on the other hand, is definitely worth a day of your time.
Q. Is Krabi Thailand safe?
A – Krabi Thailand is safe in terms of low crime rate; however, like in all other famous destinations, one should be vigilant, too, from pickpockets. One can always avoid this problem by acting sensibly and exercising caution. The province has nearly 80 islands.
Q. Is Krabi Thailand expensive?
A – You should plan to spend around ฿1,486 ($48) per day on your vacation in Krabi, which is the average daily price based on the expenses of other visitors. Also, the average hotel price for a couple is ฿1,854 ($59). So, a trip for two people for one-week costs on average ฿20,808 ($667).
Q. How many days are enough to see Krabi?
A – Krabi island hopping is an absolute must while you're in the area and will take up most of your day. There are plenty of islands to go hopping on, the four-island tour in Krabi is, you guessed it, a day of visiting four islands around.
Q. Is Krabi better than Phi Phi?
A – Well Railay/Ton Sai is visually more spectacular and has fewer hassles than Phi Phi. But snorkeling off the beach is not as good (although your Phi Phi day trip from Krabi will take in the good snorkeling spots and visually spectacular areas).
Q. Is Krabi or Koh Samui better?
A – Koh Samui is one of the most expensive destinations in Thailand and is ideal if you have a higher budget and your trip falls between January and August. If you have a standard budget and are going between November and April, Krabi is a better bet.
Q. How far is Krabi from Bangkok?
A – The distance between Bangkok and Krabi is around 800 km by road and 650 km – by air. Air service within Thailand is well-developed. That's why it is recommended to get there by plane.
Q. Is there a grab in Krabi?
A – Save money by booking your Krabi journey with Grab; the ride-sharing app offers cheaper prices than regular taxis and you'll have an estimate of the fare before your trip even starts.
Q. How big is Krabi?
A – 4,709 km²
Q. How long is a boat ride from Phuket to Krabi?
A – The regular ferry trip takes about 90 minutes, with 2 services running daily – year-round. (Schedules are organized so you can travel from Phuket to Phi Phi to Krabi in one day).
Q. Is Krabi good for families?
A – Krabi Province is a destination made in heaven for families. There is so much to do and see that you'll never have a dull moment as the province has at least 154 islands to explore, jungle elephant paths to trek along, exotic waterfalls, and emerald-green ponds.
Q. How much is a taxi from Krabi to Phuket?
A – The Phuket-Krabi bus is cheaper ($4.3) and its journey time is also 2.5 hours. A taxi will cost $83 for a trip that lasts 1 hour and 45 minutes. The Phuket to Krabi distance is 180 km by land, and three times less – by water.
Q. Does Krabi have good nightlife?
A – Krabi nightlife offers vacationers a good choice of entertainment opportunities after dark. Krabi, while not in the same league as Patong or Bangkok, has its own distinctive nightlife. you have an idea of what an evening out in Koh Lanta, Krabi Town, and Ao Nang is like.
Q. How do you travel around Krabi?
A – The price from Ao Nang to Krabi Town one way is 50 baht per person and you can flag down the bus anywhere along the main road through the village and at the beach. The journey time can be anywhere from 20 to 45 minutes. Motorcycle taxis can also be found in Krabi Town and are a fast if hair-raising, way to get around.
Q. Is Krabi nice?
A – Krabi is the most relaxing part to be in all of Thailand, it is a province that has the most stunning scenery imaginable, beautiful white beaches that stretch on for miles, a jungle, and over 200 islands just off the coast.