Tel Aviv food guide: Israel is one of those countries where street food is a national sport. The dependence on the variety of tastes and shades of local cuisine develops instantly, so be careful: here you will get used to overeating against your will.
The most interesting thing is that Israeli cuisine does not exist as such. Everything that is served on the holy land is the traditional food of different peoples who have lived here for centuries. The Moroccans brought Khrame, the Druze – the labane, the Arabs – the shawarma (in the Russian version it is known as "shawarma"), the Turks – the burekas. The result is a large hodgepodge of the best dishes collected from almost all over the world. Perhaps that is why the editor of the popular American guide to restaurants, wine, and fine dining, culinary expert Will Blunt, included Israel in the guide to world culinary, calling it one of the most interesting culinary countries in the world. The most developed in the gastronomic sense region of the country is the center of Israel, with Tel Aviv and the surrounding area. Now in more detail about.
Everything for people
The first thing that catches your eye in an Israeli city, and especially in Tel Aviv, is the availability of the simplest human joys. The enticing smell of fresh baked goods and good coffee haunt you everywhere, and you can buy them right from the sidewalk. It is these little things that make the city closer to people: no special rooms and special furniture. A typical Israeli eatery looks like a regular dining room with plastic tables and chairs, paper tablecloths, and ragged walls. Nobody bothers with the interior and show-off: the main thing is that the food is tasty. You just walk in from the street and eat whatever you reach out to.
You have almost no chance of placing an order in an average Israeli restaurant or cafe and leaving hungry. What is considered a standard portion here is not always within the power of even a large man with an excellent appetite to finish eating. Therefore, immediately advise: you order one dish, and then you see if you have enough for an addition.
Hummus first
Almost no dish from those that will be discussed further is complete without a signature Israeli delicacy – hummus. They grease tortillas and pita bread, which is used as a sauce for meat or put on the table as an independent dish, supplemented with olive oil and herbs. In fact, this is boiled chickpeas, mashed to a paste state, but depending on what spices are added to the finished mixture, the maximum variety of tastes and shades of the Israeli table is achieved.
Since hummus is a visiting card of Israel, you can find it in any eatery without much difficulty in finding proven places: it will be decent almost everywhere. The situation is more complicated with delicious shawarma and falafel. These two dishes are best tasted at non-tourist spots.
Hatikva market
South Tel Aviv is home to one of the most hardcore Israeli markets ( HaTikva Market ), where street food is cooked "like for their own." You will quickly feel all the authenticity of this place, pushing through the crowds of locals who shout with or without reason, and stumbling over boxes, discarded vegetables, and other trash. Hold your bag tightly, because this area is not famous for respectability.
Not the most presentable view of the place is compensated by inexpensive prices for the freshest vegetables, fruits, and fish, as well as the opportunity to dine on the right shawarma or falafel. For shawarma, first, you choose a "plate": you will be offered lafa (lavash) or pita. For decency, they will ask whether to add hummus. The most important thing, of course, is the meat that is cooked right here, with you: usually, it is chicken or turkey, less often veal and lamb. A dozen different fillings go to it, and this is not counting the fact that such a street meal already includes plates of chips (french fries) and several types of vegetables and pickles, which you can pick up unlimitedly in a salad bar.
A meal looks about the same when ordering falafel – crispy balls fried in oil made from chickpeas, herbs, and spices. Falafel is usually eaten in pita and is extremely popular with vegetarians. Moreover, it is very satisfying.
The best shawarma is served in Shemesh, which is located a few kilometers from Tel Aviv, in the city of Ramat Gan. But you don't have to go far to get the right falafel: on Dizengoff St 77, Tel Aviv-Yafo, look for Hatuka. When you cognize and taste these elementary symbols of Israel, you can move on to a more complex level of the Israeli table.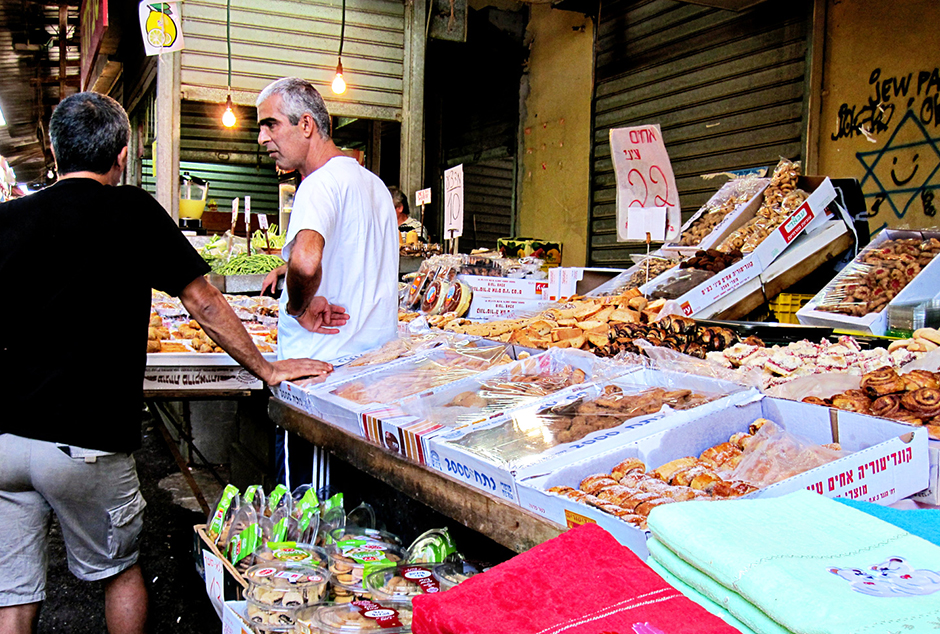 Carmel Market
Yes, all the tastiest things in Israel are concentrated in the markets. This is the East! Another must-see on Tel Aviv's culinary map, the Carmel Market is replete with vegetable stalls, food stands, and colorful bistros. It is here that you feel all the taste and all the power of a typical oriental bazaar. If you have a fondness for seafood, be sure to try hraime – fish in a spicy sauce made from tomatoes, peppers, garlic, spices, and herbs, which has become popular in Israel after the large-scale Moroccan aliyah.
Neve Tzedek District
Neve Tzedek is a small town within a city located in the coastal region of Tel Aviv Jaffa. It is notable for its old two-storey buildings of the 19th century, restored to the delight of Israelis and tourists. Today it is a bohemian area where painters, sculptors, musicians, and actors constantly gather. Once you've visited the local art galleries, jewelery shops, and craft shops, walk into any eatery and ask for sabih, an Israeli pita sandwich with fried eggplant and hard-boiled egg. It was originally an Iraqi snack, to which Jews added pita and began to sell it as fast food.
Despite the difficult relations with the Arabs, many traditional dishes migrated to Israel from Iraq, Lebanon, Syria, and Jordan. Among them is labane – an unleavened flatbread smeared with soft goat cheese and poured with freshly pressed olive oil. An excellent pre-dinner snack, which may well become an independent dish.
Turkish burekas are no less interesting from a culinary point of view – large envelopes made of puff pastry with all kinds of fillings imaginable: salted cheeses, potatoes, eggplants, mushrooms, eggs, etc. Take it in any bakery, you can't go wrong.
Israeli breakfast
Just as in every family, we cook borscht differently, so in Israel, there are thousands of options for the most popular morning dish – shakshuka. Eggs fried in a sauce of tomatoes, hot peppers, onions, and spices are best eaten straight from the pan, eating the spiciness with fresh bread or pita bread. In different establishments, they add something of their own to the shakshuka, only scrambled eggs remain unchanged: olives and feta cheese in the Balkan, and eggplants in the Greek. If you don't feel like experimenting, try the popular Israeli breakfast at the Doctor Shakshuka Restaurant. It is located in Jaffa near a flea market and is famous not only for its authentic cuisine but also for its atmospheric interior. While you look at all the antique little things that adorn the ceiling and walls of the establishment, you will definitely not get bored while waiting for an order.
What drink?
"You can find everything in Israel, but they don't know how to drink here," complains a local bartender who has worked at the bar for several years. "They drink beer all evening, but they wanted to spit on fine cocktails." Indeed, you will not find a special bar culture here, and it is not very customary to get drunk here. In addition, the sale of alcoholic beverages in stores after 23.00 is prohibited in Israel. This, however, does not prevent the cunning Tel Aviv merchants from selling whiskey, tequila, rum, and other spirits on tap in their kiosks at any time of the day or night.
The best view of the city with a glass of sherry opens at night from the secret Suramar bar, where a table can only be booked through the institution's Facebook page by writing a private message. Cocktails cost an average of $ 15-20, and for a snack – a rich selection of vegetable chips and even pizza.
If you can't find this secret place in the stone jungle, head to Via Florentin: there is an endless stream of pubs and bars, open from early evening until morning. Before your trip, check out the Russian-language site beinisrael.com, which reviews the best entertainment in the center of the country.
Local beer will not win you over with its exquisite taste, but it is still worth trying. Remember two brands: dark Goldstar and light Maccabee. Arak vodka, which is considered a national drink among many eastern peoples, will delight you much more. Rice or grape base with a strength of at least 50%, mixed with anise, "takes away" no worse than Belarusian moonshine and in an extremely hot Israeli climate will make you sweat great.
And yet the best thing about Israeli bars is the audience. Always relaxed, as friendly as possible, and open to dating. Even if you are a lonely girl who decides to have a glass in a good establishment, no one will look at you askance or, conversely, too intrusive. Only if you yourself want it. Do not be surprised if in the morning you find yourself in the company of Americans or French, who come here to rest in droves to their Jewish relatives and are glad to anyone who can support a conversation in English. After a night of libations, do not forget to cheer up with lemonade (a refreshing drink with mint) or iced ice coffee. And then you just need to decide where to go: relax on the beach or continue your hike through trendy bars.
Read More About Israel