There are not many places in the globe where you can enjoy nature in the purest form in Croatia. Historical cities here are the biggest attraction for tourists coming from all over the world. Hence since the fight for independence, Croatia has become one of the most visited countries in Europe. Popular tourist destinations in Croatia.
Creating a list of top attractions for tourists in Croatia is almost impossible but we have arranged these tourist destinations based on various review sites and annual visitor data on these places.
The most amazing and magical place, Dubrovnik is the crown jewel of Croatia and a trip to Croatia is almost incomplete without exploring the city and walking within the city walls. During summer, Dubrovnik is usually crowded due to the arrival of passengers on cruise ships. The diversity of tourists around the world spends every day in Dubrovnik, worth it.
If you want to get away from the crowded city life, the small islands around provide an ideal place to escape. You can a trip to Dubrovnik it will be perfect in every aspect.
Many tourists recommend visiting Plitvice Lake National Park during your trip to Croatia. Have you ever seen sixteen interconnecting natural springs? Well, Plitvice Lake National Park is a unique experience that you are going to remember for the rest of your life. Are you a big fan of the trails and want some peaceful time for inner peace? Hiking in a peaceful environment and if you feel tired, you can use the shuttle service to get back. It can be very amazing.
Millions of tourists visit this top destination in Croatia so that it attracts large crowds. The best suggestion is to visit the Plitvice lakes in winter so that you can also enjoy the snow and less crowded places.
It seems impossible to get a complete package with countless attractions in one place, but you will be amazed to see what Istria has to offer for you. The area was considered safe during the war, since then, visitors and tourism were actually uprooted in the Istria region.
Istria is also a real treat for history as Roman architecture is preserved here and millions of art lovers are specially paired for these amazing sites.
Split is the second-largest city in Croatia and is located on the Dalmatian coast. You may have seen these orange-roofed houses in the movies, but experiencing these masterpieces in real life is another vivacity. From nightlife to impressive food and magical sights, Split has everything any tourist could imagine.
Foodie people should travel to Hvar as it is home to the best restaurants and seafood hotels in Croatia. With a hilltop fort and fishing harbor, Hvar offers an ancient sense of old times. Most celebrities choose Hvar to spend their holidays and Hvar is also the main attraction for the people of the boats. Spend some time here and experience the most daring watersheds and beaches in Hvar.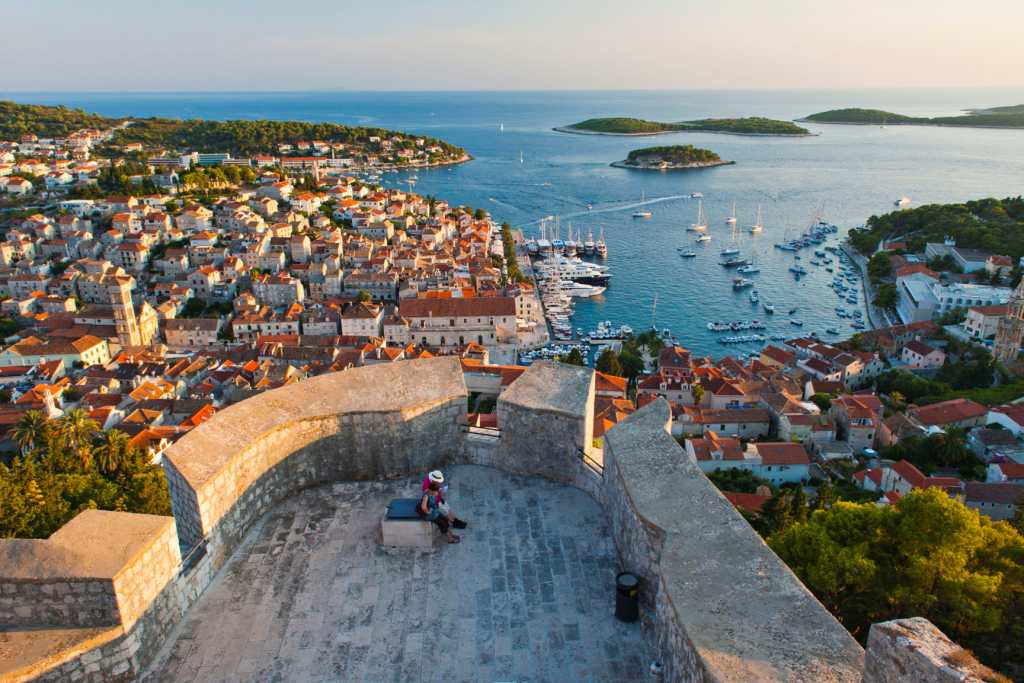 Frequently Asked Questions About Croatia
Q. How to pronounce Croatia?
Q. Is Croatia a safe country?
A – Statistically, Croatia is one of the safest countries in the world. The statistics don't lie: Croatia is the 19th safest country in the world! This means that Croatia is statistically safer than both the UK and the US. The only security problem you will face will involve pickpockets and scammers.
Q. Do they speak English in Croatia?
A – Most Croatians speak at least one other language. According to surveys, 80% of Croatians are multilingual. Within that high percentage of multilingual Croatians, a whopping 81% speak English.
Q. Is Croatia good for tourists?
A – With charming old cities and towns, gorgeous beaches and creeks, distinctive foods and incredible cultural wealth, Croatia is a beautiful place to visit.
Q. Where is Croatia?
A – Croatia is in Central and Southeast Europe on the coast of the Adriatic Sea. It is bordered by Hungary to the northeast, Serbia to the east, Bosnia and Herzegovina and Montenegro to the southeast, and Slovenia to the northwest.
Q. Croatia in which continent?
A – Europe
Q. Who is the president of Croatia?
A – Zoran Milanović is a Croatian politician serving as President of Croatia since 19 February 2020
Q. What is the capital city of croatia
A – Zagreb , Croatia's northwestern capital, Zagreb, is distinguished by its 18th- and 19th-century Austro-Hungarian architecture.