Whether you want to enjoy the sun, cafes, and scenery in the spring, or to enjoy the beaches and sea in the summer, it is highly recommended to visit the Italian towns that are always full of good food and scenery. Here are 12 Most Beautiful Beach Towns in Italy.
Camogli
This small Italian fishing town is not only beautiful but also home to many events. Enjoy watching the happenings while sipping your coffee in this town with its colorful houses lined up next to each other and its small harbor full of restaurants and shopping shops.
Cefalu
Nestled between the mountains and the coastline, Cefalu is an hour's drive east of Palermo. Although the idyllic town is small, it is quite popular. This town, with its magnificent beaches, great restaurants, and quality nightlife, doubles its population in the summer months.
Manarola
One of the oldest towns of Cinque Terre, Manarola is undoubtedly one of the most beautiful. Don't forget to take a walk on the famous Via dell'Amore, which means "Lovers' Way" in the town, which has made a name for itself with its fishing, winemaking, and mountains suitable for climbing.
Polignano a Mare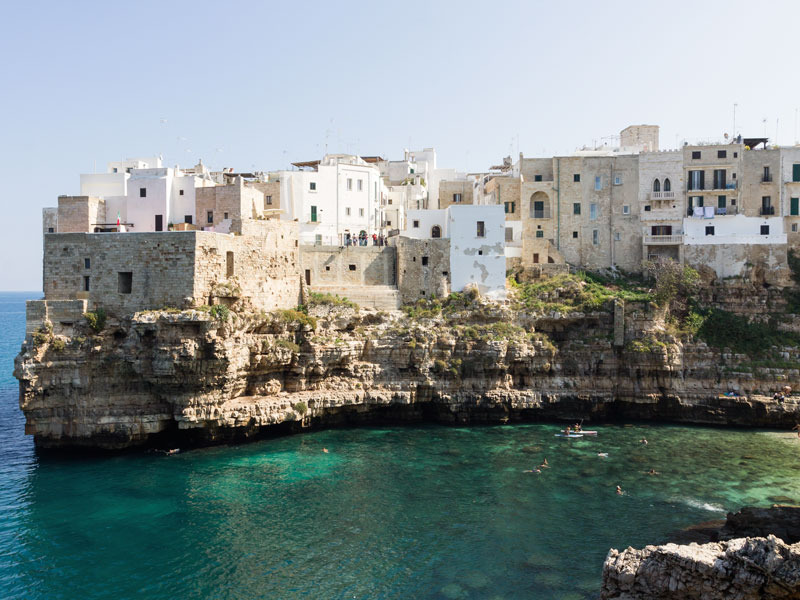 Polignano a Mare rises on the shore of the Adriatic Sea. Offering breathtaking views of the Adriatic, the town is also famous for its white streets, charming churches, and breathtaking beach with turquoise waters.
Portofino
Portofino, one of the most beautiful towns in Europe for sailing, impresses with its hotels like Hotel Splendido and Grand Hotel Miramare, shopping opportunities, and coastline.
Positano
Located on the Amalfi Coast, Positano attracts the attention of stars such as Denzel Washington, Tom Cruise, and Mick Jagger with its stylish Moroccan-style architecture and picturesque harbor.
Praiano
Praiano, another town on the Amalfi Coast, is famous for its beaches such as Marina di Praia and Gavitella.
Ravello
Located about 5 kilometers from Amalfi, Ravello hosts musical events throughout the year.
Sorrento
Despite the scarcity of beaches, tourists love Sorrento, located on the cliffs overlooking the ocean!
Bitter Trezza
This small fishing town in Sicily is most famous for its cliffs called isole dei ciclopi, mentioned in Homer's Odysseus. Be sure to try Il Covo Marino restaurant, which offers a delicious menu with fresh seafood.
Castelsardo
Restaurants located near the town of Castelsardo make a name for themselves with their restaurants offering unforgettable tastes. The history of the town goes back 4000 years.
Levanzo
With a population of just 450 people, Levanzo is the smallest of the Aegadian Islands. It is a must-try place for those who want to escape from the noise of modern life.
Read More About Italy