What to see and do in Jordan: Jordan, with Amman as its capital, is a country with some of the best-preserved archaeological sites of the Roman Empire, as well as a thriving economy.
Jordan is considered one of the most liberal countries in the Arab world and is an exceptionally safe place to visit compared to many of its neighbors in the Middle East.
With a small population of just 10 million people, Jordan is a destination for nature lovers and botanical historians.
You will visit world-famous biblical sites and lush nature reserves, where you will be greeted by the generous spirit of the Jordanians. Social entertainment plays a big role in everyday life, so if you are lucky, you can expect an invitation to dinner or drop in for tea or coffee, experiencing the unique hospitality of the country.
Here's everything you need to know to plan your trip.
Where is the best place to visit in Jordan?
Explore Petra, one of the seven wonders of the world
You can't travel to Jordan and not visit the unusual archaeological site of Petra in the southwestern desert. Its construction dates back to 300 BC. and once it was the capital of the Nabataean kingdom.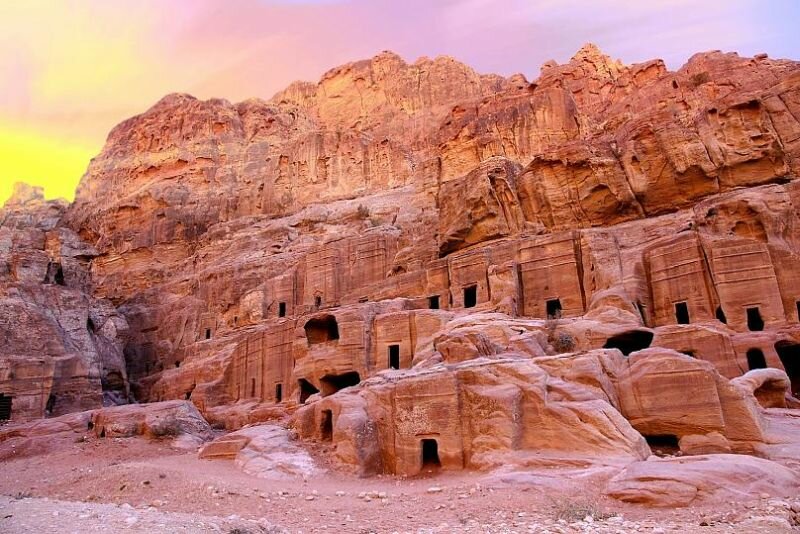 Petra is carved into pink sandstone rocks and as a result, has become known as the "City of Roses". It is half-built, half-carved into the rocks, and surrounded by mountains pierced by passages and gorges.
This ancient city is listed as a UNESCO World Heritage Site and is recognized as one of the New Seven Wonders of the World.
Swim in the Dead Sea
Part of Jordan's western border is bordered by the famous Dead Sea, a place where you can swim on your back and rock up and down peacefully.
The concentration of salt in the Dead Sea is 34%, which is nine times saltier than the ocean. Sealife cannot survive in this body of water, hence the name, but you can swim smoothly on the surface in complete safety.
You will notice your ability to swim as soon as you enter the water. However, it is impossible to swim, so do not try – and try not to get water in your eyes (they will burn).
Amman beach is the best place to take a swim if you don't want to pay an entrance fee. It's easily accessible, there are free sun loungers and you can rent a towel and a locker for the day.
Otherwise, OH Beach is an expensive option if you're looking for a more luxurious day out. With immaculate sandy beaches, sun loungers, a pool, and enough bars and restaurants to keep you entertained until the evening.
Travel to the desert of Wadi Araba
The Wadi Araba Desert is a vast arid expanse full of canyons, dunes, and rocky landscapes. It stretches from Aqaba to the Dead Sea and is part of the Great Rift Valley, which meanders from the Middle East to Southeast Africa.
You can go sightseeing on foot if you're feeling brave, or there are jeep and even camel tours. Most guided tours give you the option to spend the night at a desert campsite and visit a Bedouin camp. While you're there, you may have the opportunity to sample traditional Bedouin food slowly cooked over hot coals under the sand (usually meat and grilled vegetables).
Go all the way from north to south Jordan
Put on your hiking boots and get ready for a 40-day expedition. The Jordan Trail passes through 75 towns and villages, connecting Jordan from Umm Qais in the north to Aqaba in the south.
The route is not for beginners – it passes through hills, sheer cliffs, and majestic mountains for 675 kilometers. But it's the perfect way to see the country and immerse yourself in its rich history, spanning ancient trails and various civilizations along the way.
Similar Articles