Ooty – the land of magnificent hills, lush valleys, glittering lakes, and an abundance of nature! It is undoubtedly one of the most beautiful places to visit in Chennai, actually, in the whole country! Referred to as the 'Queen of Hills', Ooty is nothing less than a remedy for weary minds and tired souls. Wonderfully combining nature's serenity, adventure, spirituality, and vibrant culture, Ooty has so much to offer that you will not have any dull moments during your trip. Here is a perfect Travel Guide to Ooty.
If you are planning a holiday in Ooty, go through this Ooty Tourist Guide and it will answer all your questions about Ooty season time, best places to visit, things to do, and much more!
Best time to visit Ooty
The hill station's pristine beauty and charming landscapes make it a spectacular destination all around the year. So any time can be a good time to visit Ooty. The summer months (May to September) bring long, bright and sunny days with temperatures around 25 degrees celsius. So, these months are ideal for sightseeing and nature walks. The arrival of the monsoon between June and September adds a mystic charm to this place, making it an excellent time to visit Ooty.
Besides the summer days, winter months in Ooty can be mesmerizing as well. The temperature may range between 16 degrees Celsius to 3 degrees celsius. So, if you love the morning fog and chilly nights, winter can also be the best time to visit Ooty for you.
How to reach Ooty?
You will be delighted to know that this pristine hill station in the Nilgiris district is easily accessible via airways, railways, and roadways from different parts of the country.
By Air
If you plan to reach Ooty via air, you will have to take a flight to Coimbatore International Airport. From here, you can book a taxi to reach your destination, which is around 100 km away.
By Train
You can reach Ooty via railways, with Coimbatore being the nearest railway station. But, the Nilgiri Toy Train is another excellent option to frequent the hill station. You can hop on this train from the Mettupalayam station and enjoy the picturesque surroundings on your way.
By Road
You can commute to Ooty via state buses or private taxis from nearby cities, including Bengaluru and Kozhikode.
Places to visit in Ooty
Once you have reached Ooty, there are a lot of places to visit. Have a look at some of these popular attractions that you can add to your sightseeing plans.
Tucked away between the towering hills of Nilgiris, Emerald Lake is truly a sight to behold. The pristine natural beauty, faded sounds of water and fresh air are enough to soothe your soul. While you can just sit back and soak in the natural allure, enjoying a fun picnic with your family can be a great choice as well.
Situated at the height of 8606 feet, Doddabetta Peak is the highest peak in the Nilgiris. You can head to the telescope tower to catch Ooty's mesmerizing skyline and the surrounding area. The scenic beauty, clear sky, and peaceful vibes make it one of the most popular tourist attractions in Ooty.
Also declared as a tiger reserve, this national park is a paradise for every wildlife enthusiast. The region is home to several species, like Royal Bengal tigers, leopard cats, Indian leopard, sambar deer, vultures, and reptiles. Be attentive as you might catch a glimpse of these mighty species on your visit. Mudumalai National Park also supports a rich biodiversity of flora. You will get to see three different types of forests here!
A trip to Ooty without visiting the Tea Museum will be a trip incomplete. This unique museum will take you back in time, depicting the origin and evolution of tea in the Nilgiris. Once you have explored the museum, you can head to the souvenir shop from where you can buy different varieties of tea and teacups. You can also enjoy tea plantation tours here.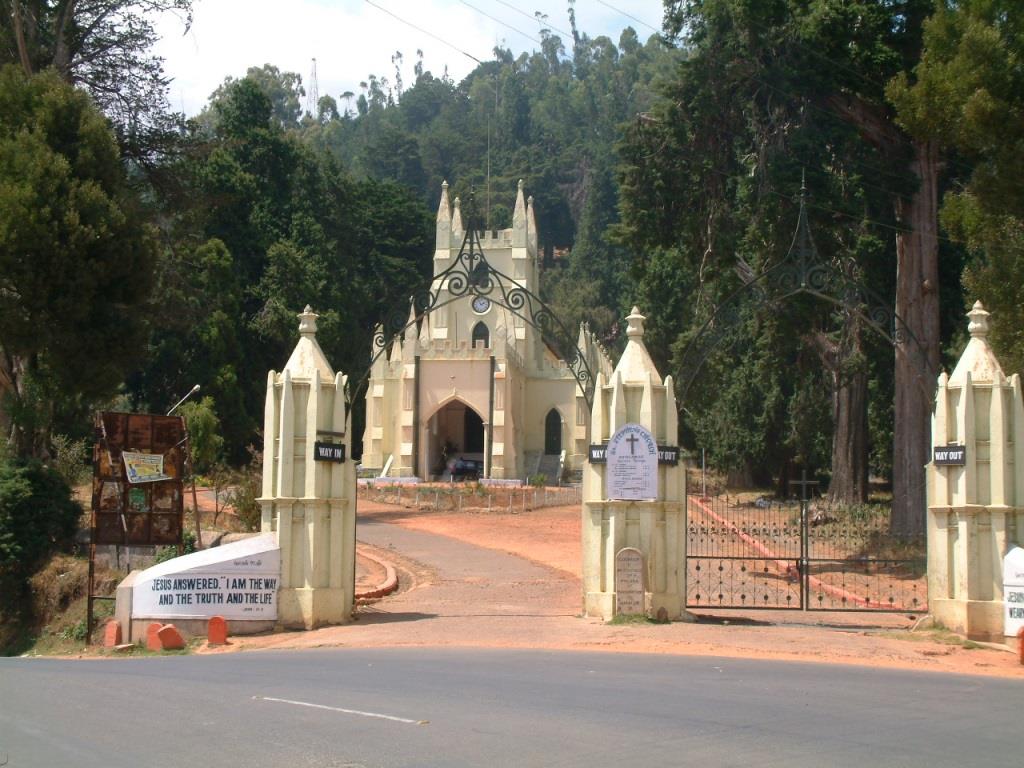 Another must-visit attraction in Ooty is the iconic St.Stephen's Church. Built by the British in 1830, this architectural marvel is visited by tourists in large numbers. The replica of the Last Supper and the glass windows depicting Christ's crucifixion remain the major draws of this church. During Christmas, the grandeur of this religious shrine is worth watching.
Things to do in Ooty
You will never be short of things to do in Ooty. Whatever your choice might be, there's something for everyone in this charming hill station.
Boating at Ooty Lake
There's no surprise that boating on the surreal Ooty Lake is one of the best things to do in Ooty. This man-made lake is a recreational hotspot for locals and tourists alike. You can choose from the motor, row, and paddle boats. And when you paddle through the clear water of Ooty Lake, the picturesque views and tranquil environment will allure your senses.
Camping near Avalanche Lake
Another natural wonder of this hill station, Avalanche Lake, will take you close to the splendid vistas of nature. The crystal-clear water, cloudy sky, and scenic environment make it an ideal spot for camping at night. Put up your tent under the starry sky for an experience like no other. What's more, you can also enjoy fishing and try your nerves by partaking in rafting. To put it simply, Avalanche Lake is a haven for both adventure junkies and nature lovers.
Nilgiri Toy Train Ride
There's no way you could miss the soul-soothing toy train ride between Mettupalayam and Ooty. The train will take you through gorgeous valleys, towering mountains, lush greenery, and a lot of steep curves and bridges – truly a magical experience! No wonder why this century-old railway is a crowd favorite and also, one of the UNESCO World Heritage Sites.
Enjoying Summer Festival of Ooty
Every May, an exquisite event is organized to promote Ooty's tourism, the Summer Festival! It is an artistic celebration that everyone must visit. That's the reason why summer is often considered the best season for Ooty vacation. From dance and music to flowers and fruits, this festival flaunts the natural charm of Ooty in the most beautiful ways. Rose Show, Fruit Show, Spice Show, and Flower Show are the top highlights of this extravagant event.
Enjoying Tea and Tourism Festival
Yet another festival that attracts tourists from across the country is the annual Tea and Tourism Festival. Organized by the Tourism Department of Tamil Nadu, this festival is celebrated during the months of January and February. During this event, visitors can learn about the different tea varieties, enjoy a tasting session and get their hands on their favorites. If you wish to become a part of this festival, make sure to consider winter as your Ooty visit time.
Don't wait any longer and head to Ooty for the much-needed break. Plan your itinerary, book your tickets and resorts in Ooty. And get ready to unwind in nature's arms!
Similar Articles