Seoul for kids: It is believed that the huge metropolis of Seoul is a stone jungle, crowds of people, and dullness that only boring adults can like. Petting a raccoon and feeding a meerkat, ziplining, and making the coolest slime – some kid-friendly activities can keep even the most serious of parents entertained.
Slime Cafe Ganni Ninni Theme Cafe Insadong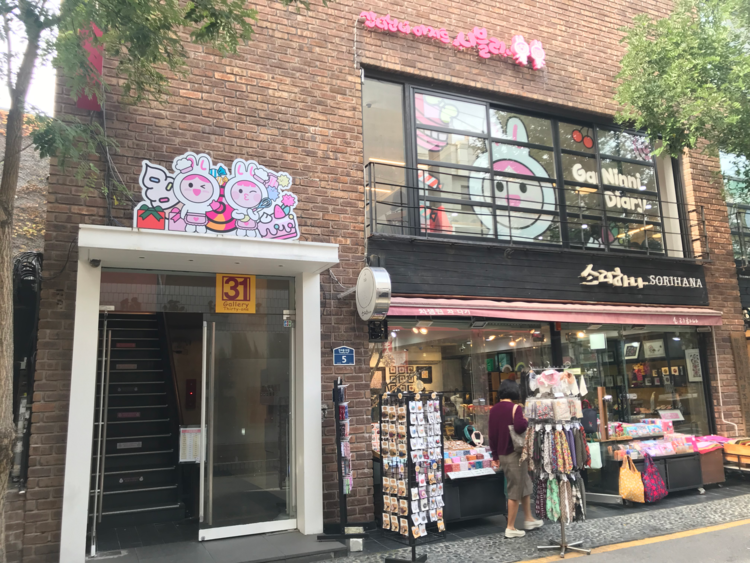 Haven't heard of slimes? Then, probably, for a long time did not communicate with children. Just in case: the slimes are bright and viscous and you can put anything in them – sparkles, beads, beads. Well, for parents with experience, Ganni Ninni Theme Cafe Insadong is a must-visit. The creators of the cafe claim that playing with slime is good for fine motor skills, but in any case, fun for children and quiet time for adults is guaranteed here.
You can make slime with your own hands, or you can make a hairpin, a phone case, an eco-bag, or a clutch. So it will be interesting for both daughters and sons, and mom and dad. The cafe occupies the top three floors of a building in the Insadong district, the historic center of Seoul. So after that, you can go explore the surroundings. The cafe is open on weekdays from 11:00 to 20:00. Saturday and Sunday – from 10:00 to 20:00. The last order is taken one hour before closing.
Seoul Grand Park Zoo
Zoos, of course, are in many cities, but Seoul is interesting because you can get there in the funicular. The funicular flies over the lake in the center of the park complex and over part of the zoo, so you can see the animals from a bird's eye view. In addition to fauna, Seoul Grand Park has a botanical garden with plants from all over the world. And in spring, lovers of cherry blossoms make pilgrimages to the park: everything is transformed and becomes pink from the petals. The zoo is open all year round. Opening hours: Mon-Sun 9:00-19:00 in summer, Mon-Sun 9:00-18:00 in winter KRW for an adult, 3000 KRW for a child
Seoul Land Amusement Park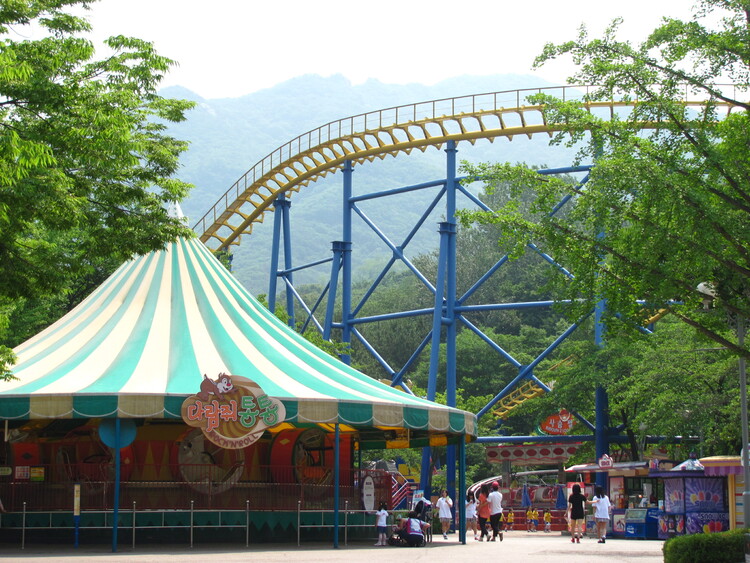 Love rides but don't like queues? That way. Unlike the two main parks, which are easy to find in guidebooks, Seoul Land is not as popular with tourists and is more famous among locals. Here, as in Lotte World, there are attractions for both the smallest children and adults. The park is smaller in area than Everland, but you do not need to wind up kilometers to get to the next slide. And, since the queues are not so long, it will be possible to ride on your favorite attraction a couple of times. Seoul Land is located far from the center, but it is easily accessible by subway. And next door is the Seoul Grand Park Zoo.
So feel free to organize a family outing for the whole day: morning at the zoo, and the rest of the day at the amusement park. Seoul Land and Seoul Grand Park are connected by a circular road, along which a bus train runs. A ticket for it costs 1500 KRW for an adult and 1000 KRW for a child. The park is open both in winter and summer. Opening Hours: Mon to Sun 9:30 am to 10:00 pm Admission Fee: All day ticket 46,000 KRW adult and 43,000 KRW child, evening ticket 39,000 KRW adult, 36,000 KRW child included in the ticket price: SKY X free fall, zorb Water Walk, swimming pool, snow slides.
Petting zoo Zoolungzoolung
The main thing for which it is worth going to Zoolungzoolung is the opportunity to see animals up close, and not through glass, as in other zoos. Here, under the supervision of trainers, they feed songbirds from their hands, shake the paw of an otter, comb a capybara. Animators in animal costumes entertain children and lead tours. But it is not necessary to go with a group: the inhabitants of the zoo can also be viewed by yourself, at a comfortable pace. Guides give seeds for feeding animals for free.
There are washbasins on every corner, so don't worry about hygiene. The zoo also has an aquarium with colorful fish, starfish, and sea anemones. Performances are shown on the stage according to the schedule. And you can refresh yourself in the cafe. Opening hours: Mon to Sun from 10:00 to 18:00 (last entry at 16:00) The first and third Mondays of the month are closed. Entrance ticket price: 24,000 KRW for an adult and 14,000 KRW for a child. The zoo is located in Khanam. The easiest way to get there is by bus 9302. Take the bus stop near the famous Lotte Tower and get off at Starfield Hanam. The fare is 2500 KRW one way.
Sports Monster Hanam Sports Complex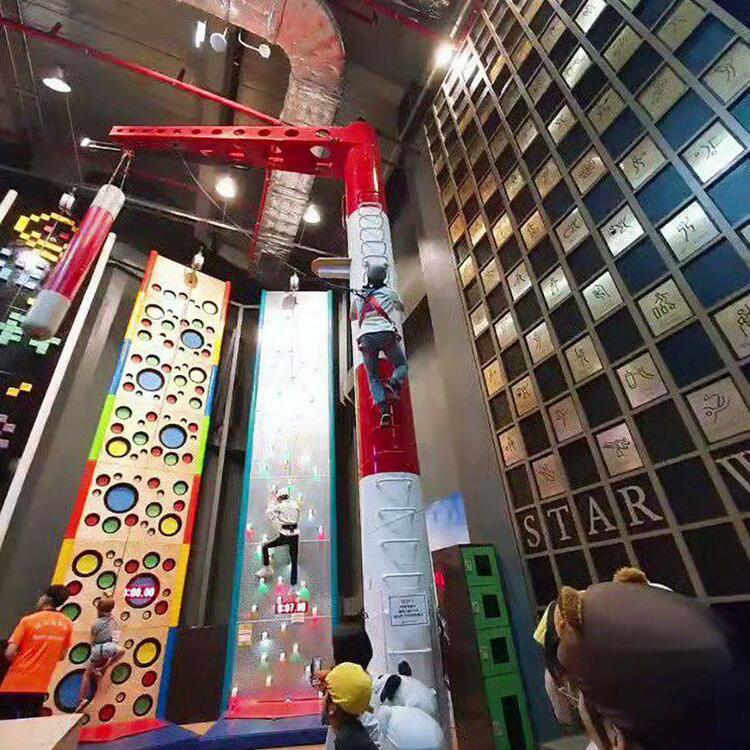 Sports Monster is located in Starfield Mall, across the street from Zoolungzoolung in Hanam. Here is a real paradise for active and full of energy "energizers" of all ages, so neither children nor parents will get bored. Trampolines, slides, a climbing wall, a rope park – the variety will turn your head in every sense. For adrenaline junkies, there is a free fall from a height of 130 meters. And for those who feel cramped in this reality, there is a digital zone with VR games.
It is better to come here with older children (from 8-10 years old) because there is no entertainment for the smallest ones. The main visitors of Sports Monster Hanam are noisy groups of friends or couples on a date. Entrance fee: 25,000 KRW for an adult, 20,000 KRW for a child. The fastest way to get to Khanam is by bus. Route 9302 departs from Lotte Tower, one of the main attractions in Seoul, and goes straight to the right stop – Starfield Hanam. A round-trip ticket costs 5000 KRW.
Blind Alley Raccoon Cafe
Cat cafes are popular in Russia, and in Seoul, you can drink coffee while scratching your dog's soft tummy. And this is not the limit: in Korea, the concept of a cafe with animals, both wild and domestic, is generally welcomed. For example, three raccoons, corgi, and mini-pigs live in Blind Alley. And at first, it was an ordinary cafe, the owner of which once decided to take raccoon cubs from a shelter.
But she was afraid to leave them alone at home without supervision, so she began to take raccoons to work. Over time, a room for raccoons was attached to the cafe, where they run on their own and do not interfere with visitors. You don't have to worry about the nerves and health of woolen "hostesses": the owners control the communication of guests with animals. Entrance to the cafe costs 6000 KRW, drinks and food are paid for separately. When buying a ticket to a room with raccoons, there is a discount on the entire menu. Average check – 6000 KRW
Cafe with meerkats, kangaroos, and foxes Meerkat Friends
Meerkat Friends is home to meerkats, foxes, a couple of kangaroos, and a raccoon. The cafe is located in the center of the lively Honda area, with a bunch of nightclubs popular with students. But during the day, when the party-goers sleep off and study, Honda turns into a respectable place where you can safely walk with the children. At the entrance, visitors are asked to change into rag slippers and take everything out of their pockets: meerkats boldly get on their knees and can drag something "for memory".
Meerkats are generally willing to make contact and frolic around. They explore everything new with curiosity, so both children and parents will have fun with them. The raccoon and kangaroo roam the room freely, while the foxes are only let out for performances with the trainer. Entrance – 12000 KRW, drinks, and food are paid separately. Average check – 6000 KRW
Cafe Rapture
The main dish of Cafe Rapture, to the delight of children, is fluffy soufflé pancakes that melt in your mouth. Seasonal berries and fruits are placed on top of the cream (in January, for example, it is a rose from fresh strawberries). Pancakes pair perfectly with unsweetened coffee or green tea lattes. Adult tourists will especially like the geolocation: the cafe is located in the very center of the city, near the palaces and the main square. Like many stand-alone cafes in Seoul, it is very small – just a few tables. You will have to wait 20 minutes for the order because the owner of the establishment is preparing it himself. But the taste of coffee and sweet fresh pancakes is worth a look here! Please note that the café is closed on Mondays. Average check – 12000 KRW
Zipline Gapyeong
The cable car is located in Gapen (80 kilometers from Seoul), and, unfortunately, it is impossible to get there by public transport. But for this it is worth renting a car‌: the Gapen zipline is the longest in Korea (2.4 km). In fact, these are several descents following one after another. First, the office gives out a helmet, belt, and carbines. Then visitors are taken to the top of the mountain, from where the descent begins. Start – from the simplest and shortest section to get used to the equipment.
And then – a flight over a mountain river, forest, and rocks. Well, the passage on the suspension bridge is part of the descent. To make guests feel comfortable, they are accompanied by two instructors: they cheer and help with equipment. There is a weight limit on the zipline: from 30 to 100 kg. Wear sportswear and don't forget comfortable shoes. Children over 14 years of age are allowed to descend. The cost is from 55000 KRW. Booking required at http://www.zip-line.co.kr/eng.index.php
Similar Articles