Most Exciting Things to do in Dubai: Dubai is very fascinating and alluring in every way. The wonderful city is renowned for providing travellers from all around the world with experiences they will never forget. There are many things to do and places to visit in this city because of the outstanding harmony between the old and the new. If you want to believe all that Dubai has to offer, you have to visit. There are many things to do in Dubai, including the world's tallest structure, man-made islands, record-breaking malls, traditional markets, adventure activities, and desert safaris. To experience the exhilarating adventure at the snow park with your loved ones, you may also purchase a Skidubai ticket. At Palm Jumeriah, you can experience skydiving and get the nicest views.
Skydiving in Palm Jumeirah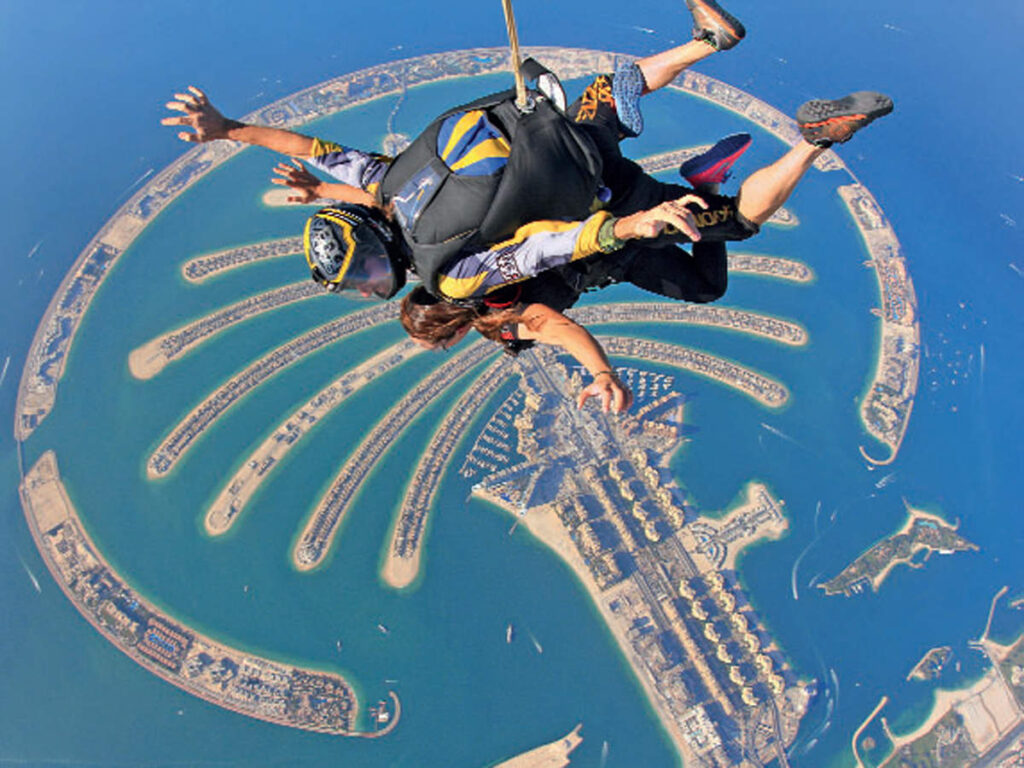 You've probably seen videos of skydivers in Dubai enjoying this exhilarating sport above the Palm Jumeirah. No surprise! For those with a spirit of adventure, it is among the most daring things to do in Dubai. Taking part in this activity during your vacation in Dubai will be an unforgettable experience. Each second of your descent to the earth from a height of 13,000 feet will be an experience unlike any other. Skydiving in Palm Jumeriah will always be at the top of any list of the best things to do for an adrenaline rush while visiting Dubai.
Ziplining in Aventura Park
Ever consider what it might be like to soar through the air like a bird? If so, ziplining at Aventura Park in Dubai makes this fantasy a reality. A total of 35,000 square metres make up this park. This park has a lovely Ghaf tree forest and is home to Dubai's biggest zip line as well as other entertaining programmes and activities. Along with engaging in fun activities with your friends and family, you can also learn about various flora and fauna species. Additionally, there are other activities that are appropriate for people of all ages and provide them with a memorable outdoor fun experience. Visit Aventura Park with your family to deepen the bonds and find activities to indulge in Dubai.
Stargazing at Al Thuraya Astronomy Center
Al Thuraya Astronomy Center is a must-see for anyone with an interest in astronomy, science, or outer space. One of the top tourist destinations in Dubai, it offers a variety of interactive space experiences. You can take in the planetarium show, Astro movie, and spectacular games that will bring out your inner child. In addition, there is a tonne of entertainment that will enlighten you about science and the universe. One of the most stunning activities to indulge in Dubai is to go here and experience everything with your curiosity. However, when you enjoy stargazing at night, the delight is multiplied. due to the fact that it is situated on the outskirts of Dubai.
The Desert Safari
Desert Safari in Dubai. One of the most well-liked activities in Dubai is a desert safari since it offers an exceptional experience. A desert safari is available from a number of businesses. After being picked up from your accommodation, take pleasure in the drive to the sand dunes. The full desert safari package consists of pick-up, about 20 minutes of dune bashing, sunset photography, belly dance and other acts, traditional costumes, souvenir shopping, and buffet dinner. Sand skiing and quad biking are further options. The entire picture appears to be taken from an Arabian Nights book. This can be done at a time by a minimum of one and a maximum of six individuals.
Know History at Dubai Museum
One of the most distinctive activities to indulge in Dubai is to visit the Dubai Museum, which will provide you with a magnificently vivid picture of the past. It is situated in Al Fahidi Fort, one of Dubai's historic treasures that have withstood the test of time. Through the remarkable objects at this museum, you can delve into a past that awes you. You may learn about Arabic culture and get a real flavour of Old Dubai by exploring this museum. Mosques, Galleries, souks, and a lot more objects exist that show how people lived in the past. In addition, you will be fascinated by the intriguing art of earlier Dubai.
Dubai Hot Air Balloon Flight
Hot air ballooning over the Dubai Desert Conservation Reserve is one of the top activities to indulge in Dubai. It's an incredible sensation as you soar in the air, about 1200 metres above the sand dunes. Tourists are picked up from their hotel in the early morning and taken outside of the city to the Conservation Reservation. Then, a stop occurs at the launch field, which is often at Margham. After receiving safety instructions, you board the balloon and are instructed to spend 45 to 60 minutes exploring the early-morning skies and the breathtaking desert panoramas. The maximum capacity for each hot air balloon is 24 passengers. Don't forget to take beautiful pictures of the desert scenery. The balloon descends to the ground after an hour. At the launch centre, one is then handed a personalised flight certificate and a refreshing beverage. A professional video of your trip is also available for purchase. After that, the travellers are delivered to the hotel.
Water adventure
One of the top attractions in Dubai for both kids and adults is Wild Wadi Water Park, which is spread across 12 acres of watery enjoyment. This enormous water resort features 40,000 plants, five kid-friendly restaurants, 30 adrenaline-pumping rides and attractions based on the Juha and Sinbad mythology. Every age group may have a special day here. FISHO, The Fish Spa, is this park's newest feature. You can also reserve a Wadi Cabana for additional VIP treatment.
Similar Articles