Clubs In Dubai: If we make a list of the most sensational and progressive cities in the world, then the name of Dubai will definitely top that list. From remarkable skyline and striking architecture to sprawling shopping malls and luxurious hotels, the city has built a lot in a short amount of time. Naturally, it has become one of the most desired destinations for many travelers. Travelers get to see a great example of a lavish lifestyle here and nightlife is a big part of that lifestyle.
The best way to enjoy the happening nightlife of Dubai is by visiting the clubs here. Now you must be wondering which club to go to as there are many clubs in the city. Worry not, as we have put together a list of the best 5 clubs in Dubai so that you can make the most of Dubai Nightlife 2022!
When you book your flight and hotel in Dubai, check out this list of top Dubai nightclubs and add them to your itinerary!
5 Best Clubs in Dubai for Nightlife Experiences
One of the most exclusive clubs in Dubai and no, we are not exaggerating! This place allows you to enjoy the best of Dubai nightlife. Away from the hustle and bustle of the city, White Dubai Meidan Racecourse is located on the roof of the Grandstand. But don't think that you will not find a huge crowd of party lovers here. You! In fact, this place fills up quickly, so be sure to arrive early. One piece of advice here, make prior reservations so you won't have any problems.
Once you reach the Rooftop Club, the first thing you will notice is the breathtaking views of the Dubai skyline. Another thing that makes it one of the best night out places in Dubai is that instead of being a like-minded place, it does not have any entry fee. Yes, you heard it right!
Don't hesitate to hit the dance floor while you are here as the DJs here are superb. And when you're thirsty or hungry, the long list of drinks and meals will take care of you. In terms of food, you will find delicious sushi, seafood dishes, salads, fruit platters, and cheesecakes.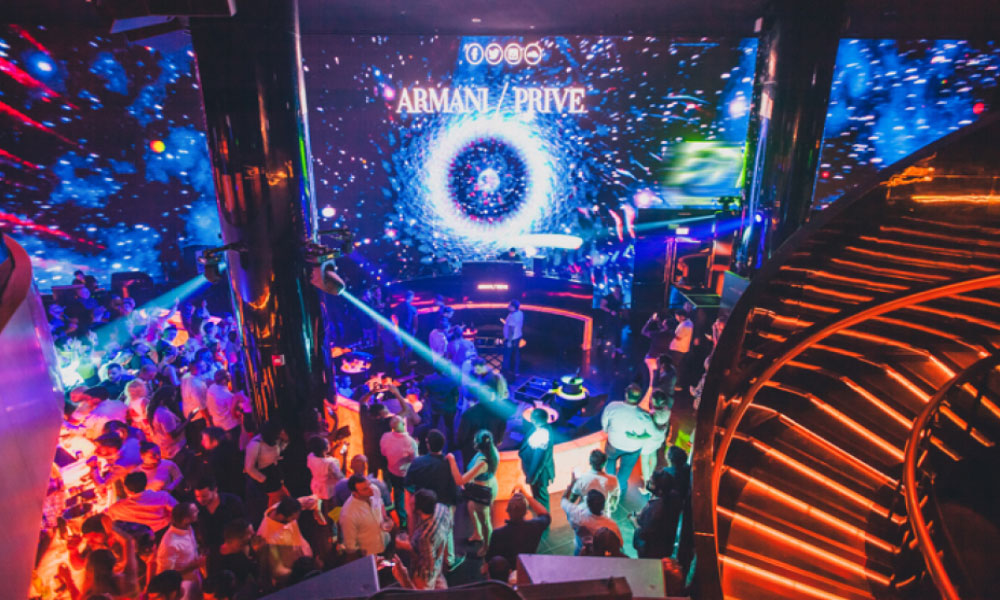 Step into the Armani/Privy inside the famous Burj Khalifa and sign up for Dubai's premium nightlife experience. As you guessed from the name, this is a nightclub brought to you by Armani. And that means you get to enjoy the signature Armani hospitality! You may already be getting excited, but wait a while because we have so much more to tell you about the Armani/Privy!
Those who have come here say that the atmosphere, music, and food are all great here. The ambiance here is quite classy and lively. Live performances and DJ shows are perfect for your night out. And the food is very tasty. Caviar, oysters, cheese platters, green falafel, jalapeno poppers, and mini samosas are the ones you must try, and the extensive list of drinks is worth a try too!
The billionaire mansion opened a few years back but has become a nightlife hotspot in Dubai. And that's why this one is on our list. What this nightclub has to offer is an evening of complete escapism. Every night, this nightclub mixes excellent elements of entertainment and food. It has gathered talented singers, dancers, and acrobats from all over the world to entertain you. And when it comes to the culinary experience, the nightclub lives up to all the expectations by serving delicious cuisines from Italian and New Asian cuisines.
When you are in Dubai and looking for a place to party, come here. Enjoy live performances, go crazy on the dance floor and order some delicious dishes in between. And try to book a table well in advance as this place is very crowded most of the time.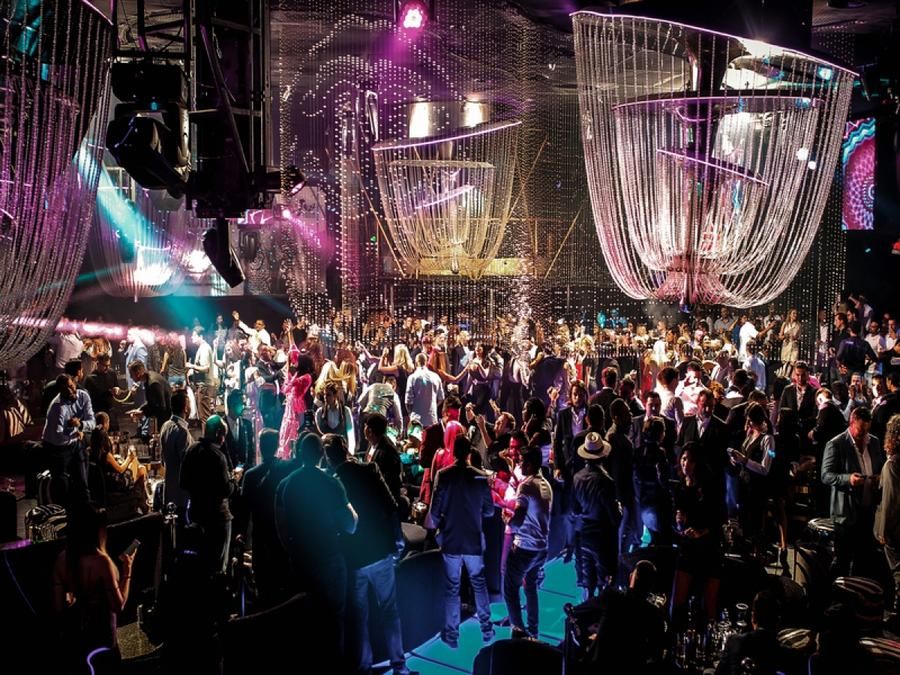 It is indeed one of the oldest and most well-known clubs in Dubai. This place served as a place to party before clubbing became a trend in the city. It was lead designer Roberto Cavalli who started this club that celebrated glamour, luxury, and indulgence. The black quartz floors, crystal walls, and low-hanging chandeliers of the place add to the extraordinary charm of Dubai.
Come here and enjoy the flavors of Dubai. And then, set your feet up to the tunes of the DJ. Or sit down, order some food and enjoy the live performance. Talking about food! You will be served succulent European cuisine. Be sure to try the dessert platters and exclusive cocktails!
A great location for a great clubbing experience, you will find this nightclub at The Fairmont Hotel. The clubbing scene here is quite hip and hop! What we are trying to say here is that Cirque Le Soire hosts one of the best hip-hop nights out there. In fact, Monday nights here are called hip-hop chic nights and the people of Dubai often go gaga over it. And even if you're not into hip-hop, trust us, your experience here will be something extraordinary.
You can come to this club on a Monday for a night out with hip-hop. During the rest of the week, the club hosts live performances and DJ shows. what else? The place is glamorous, grand, and extravagant. On Mondays as well as on other days the atmosphere is lively. And throughout the week, the club serves a wide range of drinks that you can try!
Like Dubai tourist destinations and Dubai shopping destinations, there are many places that offer a direct experience of Dubai's nightlife. When you are in Dubai, make sure to visit any of these clubs and enjoy the best nightlife in Dubai. Happy Clubbing!
Read More About Dubai