A trip to Jaipur is essentially about two things – exploring the magnificent palaces and forts, and digging into the gastronomical delights that the city has to offer. The food scene in Jaipur invites travelers from far and wide. From local cuisine to adapted ones with their roots in history that have taken on a local character, there are myriad dishes here to savor your taste buds. The food in Jaipur is usually spicy, tangy, ghee-dripping, and irresistible.
Pyaaz Kachori
Pyaaz Kachori is the staple breakfast of Jaipur. Hot, crunchy, with a flaky crust and a delicious stuffing of masala onions, this is one recipe that will make you crave more for once. Served with sweet and spicy chutney, Onion Kachori is available in almost every snack shop in Jaipur. However, according to locals, the best version is made at Rawat Mission Bhandar located on Station Road.
Dal Baati Churma
A dish that defines the culinary culture of Rajasthan, Dal Bati Churma has songs and folktales surrounding it. No quintessential local meal in Jaipur can be complete without Dal Bati Churma. Panchkuti is round batis with lentils that are filled and cooked over a charcoal fire. Churma is the sweet companion to the dish, usually made with jaggery and a hearty dose of ghee. You can try dal baati in any good hotel in Jaipur. For authentic local taste, Chokhi Dhani is the place to visit.
Laal Maas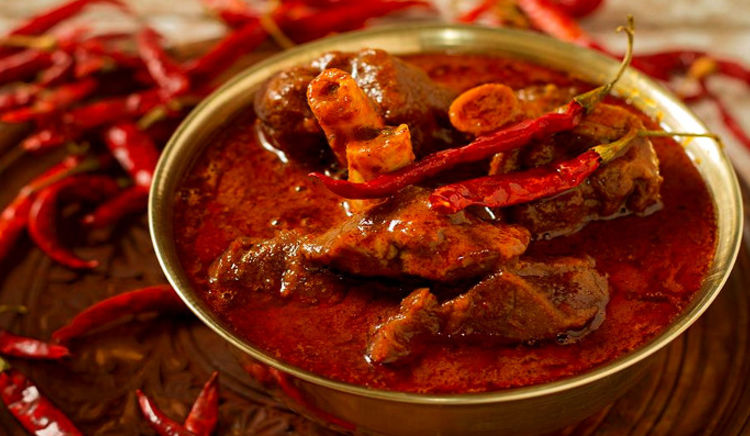 For those who love non-vegetarian food, Lal Maas is an essential dish in Jaipur. It is a traditional dish in which mutton is cooked in spicy red chilies which turns its red color and hence the name. Mostly cooked in desi ghee, it makes a rich dish to taste with rice or bajra rotis. You can enjoy one of the best Laal Maas at Spice Court restaurant in Jaipur.
Gatte ki Sabzi
Gattes are gram flour pakodas cooked in a curd-based gravy filled with thick spices. It makes a popular side dish in Rajasthani thali. You can also eat Gatte curry as a filling meal with poori or chapati. In Jaipur, there are various local restaurants where you can go to try this dish. Some of the famous ones include Natraj, Shree Thal Village Restaurant, and Laxmi Mitthan Bhandar.
Ghevar
An awesome treat for the taste buds, Ghevar Pink is a symbol of every celebration and celebration in the city. Made from flour, ghee, and milk with the help of a mould, this crispy and porous sweet is a very delicious dessert from Jaipur. Laxmi Mitthan Bhandar, Bombay Mitthan Bhandar, Rawat Mitthan Bhandar, and Sodhani Sweets are some of the shops where you can try this traditional Rajasthani sweet in Jaipur.
The vibrant city of Jaipur has a lot to offer to foodies. The unforgettable taste and aroma of its dishes not only delight your taste buds but also leave an indelible mark on your memory. So, when you are planning to visit Jaipur next time, make sure to explore its local eateries and try its traditional cuisines. So go ahead and book your Jaipur hotel now and get ready for yet another gastronomical adventure!
Read More About Jaipur