Characterized by a remarkable blend of rich tradition and modernism, Patna, formerly known as Pataliputra, is regarded as one of the ancient continuously inhabited cities of the world. The city is steeped in cultural heritage which has developed continuously in the last 2500 years of its existence. It has endured the growth of various religions such as Sikhism, Buddhism, and Jainism, shaping this culturally vibrant city.
Today, Patna is an important trade center, and more importantly, it is the gateway to the Buddhist and Jain pilgrimage centers of Nalanda, Bodh Gaya, Vaishali, Rajgir, and Pavapuri. Plan a trip and book a hotel stay near any place of interest in Patna to experience how the place captivates tourists from across the globe with its unique history and cultural extravaganza.
Earlier, here is information about the historical relevance of Patna.
Traditional dance and folk songs

The old-style dance forms and folk songs of Patna portray the emotional state and life-long experiences of the individuals of ancient times. They also express the traditions, values ​​, and beliefs of the common man. Bidesia is one of the most common folk dances in the region. Other types of folk dances include Jat Jatin, Paika, Kajri, Jhijhiyan, Jhumar, and Karma.
Folk songs also have a deep impact on the lives of Patnaites and other residents of Bihar. They are best experienced during special occasions like marriages, birth ceremonies, and festivals like Nagpanchami, Janmashtami, Teej, Chowk Chanda, Anath, Chhath, etc. Fagua songs are quite popular in the city. These are songs sung especially during the festival of Holi. Shobhanika is a popular folk song and is often sung during marriage ceremonies.
Exquisite handicrafts and artistry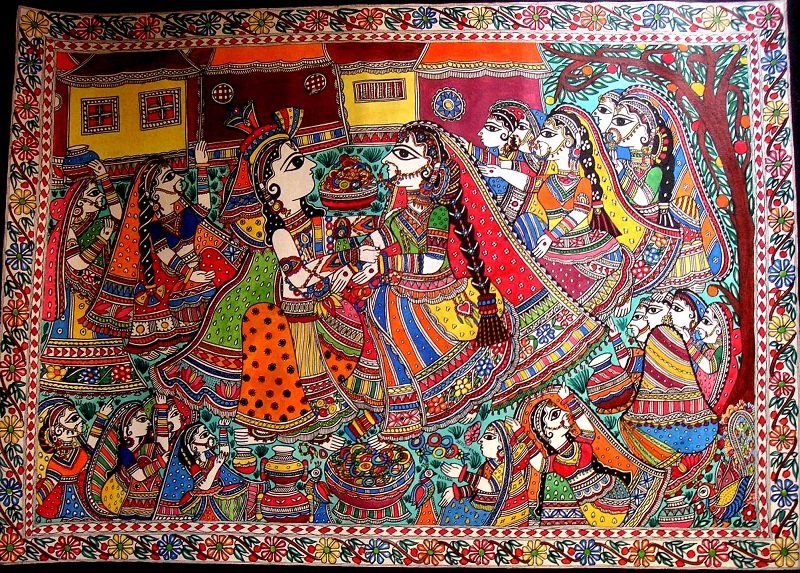 These handicrafts are the ultimate product to buy from Patna and can make great souvenirs. Sikki work is a popular craft in the city which involves making hand-woven grass mats and baskets. Muzaffarpur, Khatwa and Sujini embroidery bangles are also very popular. Madhubani apart from handicrafts
Painting, aka Mithila painting, is a special art form, made from powdered rice paste. Artists use fingers, brushes, matchsticks, twigs, and nib-pens to create interesting geometric patterns depicting various folktales in the paintings. This signature art form now adorns the gabled walls of Patna Junction. People can be seen walking to the railway junction only to have a glimpse of the artifacts.
Chhath and other festivals
Apart from Holi, Diwali, Dussehra, Eid, and Christmas, festivals like Ram Navami, Teej, Jitiya and Somwari are very important for the majority of the population of Patna. However, Chhath is the biggest of all the festivals of the city. It is a 4-day long festival dedicated to the reverence of the Sun God who sustains life on our planet. It is one of the harsh festivals that begins on the sixth day of Diwali. It is one of the strictest forms of worship which includes fasting, holy bath, and praying to the Sun God while standing in water during sunrise and sunset.
Trade fairs like Sonepur Mela in Patna are some of the largest cattle fairs in Asia. The fair is held at a distance of 25 km from the city and begins on the day of Kartik Purnima in November. The cattle fair not only attracts traders from across the country but also from Asia.
Individualistic clothing style
Patnaites love to wear hand-woven garments, with Tusar Resham being an absolute favorite. Women are usually seen in sarees worn in 'Sidha Aanchal Style' while men in shirts and trousers. However, during special occasions, men can be seen in elegant-looking sherwanis with churidar pajamas, and women wear weighty embroidered saris, which they usually save for special events. Women also wear heavy makeup and jewelery to mark the sign of prosperity.
Local cuisine is a gourmet's delight
Influenced by different dynasties over time, the local cuisine of Patna is largely vegetarian from ancient Hindu and Buddhist culture. While Mughals and Afghans influenced non-vegetarian cuisine, especially fish dishes are also popular, authentic Bihari cuisine is strictly vegetarian. Street food has a special place in Patna. These include the famous Litti Chokha, Phuchka, and Chaat. If you are in Patna, you must also try their dry sweets like Thekua, Parwal ka Mithai, Kesaria Peda, Tilkut, Khaja, Anarsa, Belgrami, and Amla murabba.
Modern Patna is a secular city where people of all religions such as Hinduism, Buddhism, Sikhism, Jainism, and Islam show tremendous religious tolerance towards each other and come together during festivals and occasions. If you are traveling during a major festival, it is advisable to book your Patna hotel well in advance as prices tend to go up during this time.
Read More About Bihar