While some people visit Bhutan to see the many monasteries and temples or to admire the painting-like landscapes, another great reason to visit here is to try the many delicious local cuisines of Bhutan. The food is unlike any other cuisine and will surely be on your mind long after you go back home. We have listed the best Local Dishes Of Bhutan.
If you are planning a trip here, the best time to visit Bhutan is during the spring months of February to April, and there are plenty of Bhutan tour packages available online to help you plan your trip. But whether to book a package or not, you need to know about the most delightful cuisines of Bhutan which are not only a hit among the locals but also loved by the visitors.
Some of the must-have local dishes when you are in Bhutan are:
Ema Datshi
Kicking off the list with possibly the most famous dish in Bhutan. Ema translates to chili, and datshi translates to cheese, and that's what this delicious dish is all about. This dish is eaten with red rice, which is another specialty of Bhutan. You will find two varieties of this dish – one thick and creamy and the other a bit watery, but we assure you that both are equally delicious.
Did you know that this dish is also known as the 'National Dish of Bhutan'?
Momos
How can one write articles on Bhutanese food and momos that are not mentioned in that list! The momos served in Bhutan are unlike any other momos you've had before. Served both steamed or deep-fried, they are filled with mouth-watering vegetarian or non-vegetarian fillings and are often made with cheese. These momos are accompanied by a bowl of special soup, which is delicious in itself and even more so with momos. It is the perfect breakfast and is available at almost every corner of Bhutan. Momos are served with Bhutanese Chili Sauce, EJ which gives a tangy taste to your breakfast.
For meat-eaters, the most delicious and easily available of all momos are pork momos.
Jasha Maroo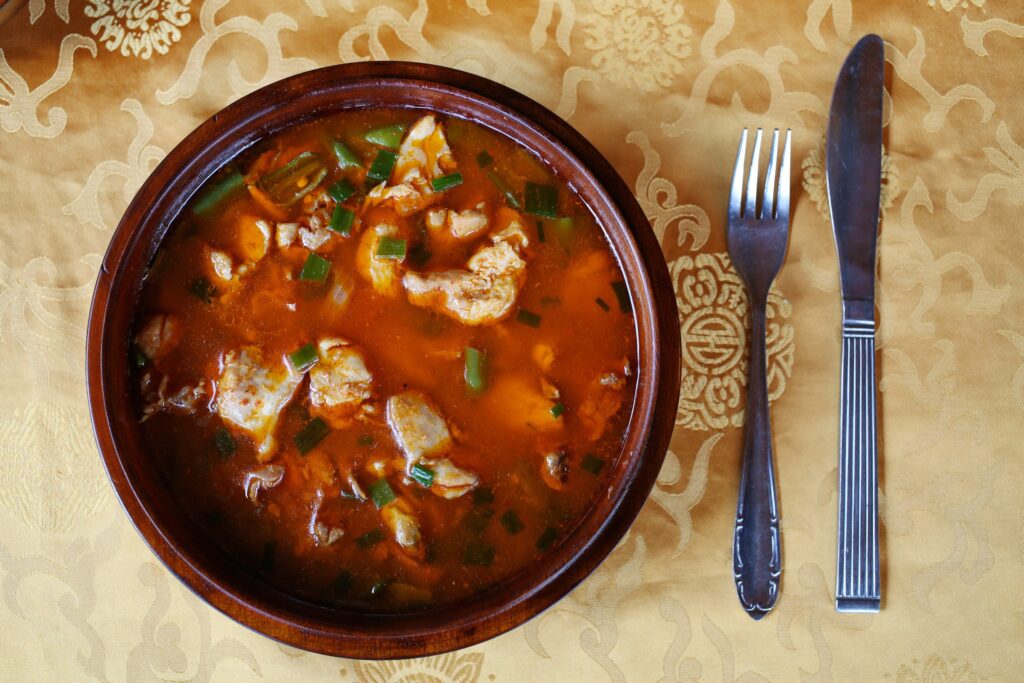 Jasha Maroo is a chicken stew, often also made as a curry, with a mixture of spices such as curry leaves, garlic, coriander, and some onions and tomatoes. The presence of ginger gives this stew a distinct, pleasant flavor. This dish is usually eaten with red rice, which is a staple food of Bhutan.
Phaksha paa
While it's no secret that beef and yak are a big part of the Bhutanese diet, pork is also a beloved ingredient in their dishes, like this one. Shredded pork is fried with a mixture of spices and later served with Hoentoe, a dumpling made from buckwheat, and some vegetables. The last and most important ingredient in this dish, and most other Bhutanese dishes, is cheese. This dish is eaten with red rice.
Goen Hogay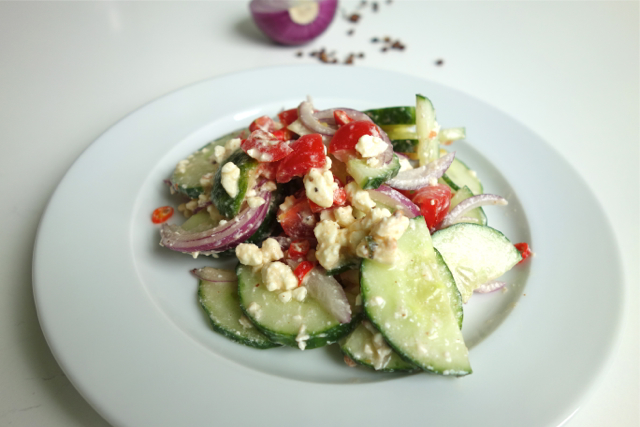 For those of you who are diet conscious but still want to taste the local flavors of Bhutan, we have found the perfect solution. It is a traditional Bhutanese salad made with cucumber as a base, and other vegetables such as onions and tomatoes are added. Other toppings such as cilantro, chili flakes, olive oil, or oregano can be added according to one's preference. The best part is that if you love this dish, it can be easily made at home if you ever crave a smidge of Bhutanese cuisine.
Best Restaurants in Bhutan for local food
If you ask us, there isn't a single restaurant that serves amazing. There is more than one and to save you the trouble of trying to figure it out, we are listing it down for you, in no particular order, for some of the amazing cuisines from the top restaurants in Bhutan.
Read More About Bhutan