Bhutan – The Land of the Thunder Dragon. Can you think of any other country in this world that has a more dramatic introduction? We guess not! To add on to the drama, Bhutan is a tiny country nestled high up in the Himalayas, providing breathtaking views of the majestic Mt. Everest. Fun fact about Bhutan – the country's development is measured not by Gross National Product but by Gross National Happiness Index, thus making Bhutan one of the happiest countries in the world! How utterly cool is that!! Bhutan is the world's last remaining Buddhist Kingdom! A visit to this mesmerizing land is sure to calm your mind and soothe your heart with its breathtaking views, stunning Dzongs (fortresses), vibrant culture and its famous chillies and cheese!
Here is our curated list of places to visit and experiences that one must have when you visit Bhutan –
KARBANDI MONASTERY, PHEUNTSHOLING
Pheuntsholing is a small town in the border of Bhutan with clean localities, warm people and a few attractions. Karbandi Monastery is the most popular attraction in this town as one can get a breathtaking view of the Bengal plains and the whole town of Pheuntsholing!

THIMPU
Thimpu, the capital of Bhutan, presents an ideal representation of the country. As you walk around the city, one can see the beautiful houses and buildings all built in the traditional Bhutanese architectural style. Hone the traditional Bhutanese outfit called "Kira" and pose in front of one of the many beautiful houses and feel like you're one with the locals. While you're in Thimpu give a visit to Trashi Chho Dzong – Bhutan's largest monastery, the local handicrafts shops and most importantly Thimpu is the best place to experience the Bhutanese nightlife and to also taste traditional Bhutanese dishes.
THIMPU TSHECHU FESTIVAL
This is the National festival of Bhutan and one of the most popular festivals in the country. Filled with vibrant traditional attires, colourful mask dances, activities, authentic Bhutanese food and a vibe that is highly infectious will surely make you want to dance your heart out with the locals! Definitely a spectacle that must not be missed! This 3 day long festival starts on the 10th day of the 8th month as per the lunar calendar!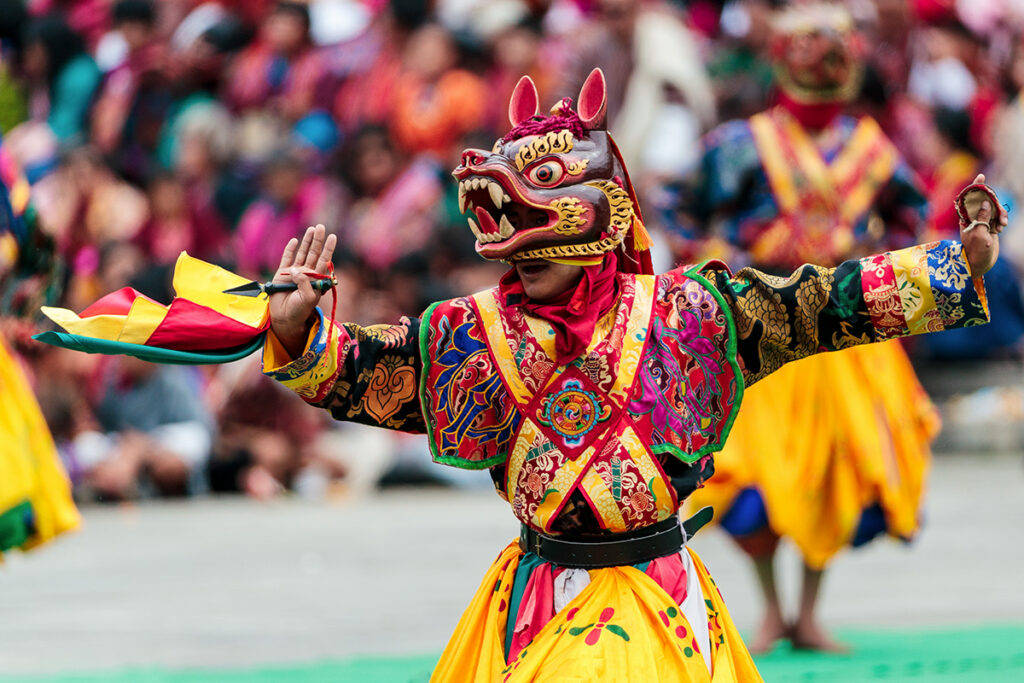 DOCHULA PASS
The beautiful Dochula Pass is a high mountain pass on the road between Thimpu and Punakha. This is the place to be to catch a sneak peak of the majestic snow-covered Himalayas! Your trip to Dochula Pass shall be incomplete without a walk among the 108 Chortens that serve as a memorial to Bhutanese soldiers killed in an uprising in 2003. To catch a fog free glimpse of the Himalayas visit Bhutan from October to February.
PUNAKHA
The beautiful valley town of Punakha, best known for the Punakha Dzong, is situated on the confluence of two popular rivers of Bhutan, Mo and Pho. All the adrenaline junkies can head out to raft in the Pho Chhu, a 16 km course with about 15 rapids of grade II-IV!
PARO
The picturesque Paro valley is sure to take a permanent place in your heart with its lush green rice fields, breathtaking views of the snow-capped Jomolhari ranges, sprinkled with traditional houses and monasteries. Paro is the perfect place for couples seeking peace and long romantic walks on paths nestled in nature. Adventure seekers, there is mountain biking, rafting and kayaking for you!
TAKTSANG LHAKHANG OR TIGER'S NEST
Perched precariously along the edge of a high cliff, the Tiger's Nest Monastery in Punakha undoubtedly offers its visitors a spectacular view of the sun kissed valley below. The Taktsang is considered to be one of the most sacred pilgrimage sites of Bhutan! 2 ways to get to get to this high point – take a pony or go all out and hike your way up!
SNOWMAN TREK
Last but not the least, the grand Snowman trek. You cannot talk about Bhutan and not mention this ultra-challenging, 25 day long trek, across 13 Himalayan mountains. This trek is considered to be the toughest trek in the world due to the high altitude and duration, but provides you with the most stunning views. Got some time to spare, take on the Snowman challenge!
Related Article – TOP 10 COUNTRIES TO VISIT IN ASIA
Frequently Asked Questions About Bhutan
Q. Is Bhutan safe for tourists?
A – Given this emphasis on people rather than profit, it would not surprise you that Bhutan has a very low crime rate. It is highly impossible to face any crime while you are traveling in Bhutan. Incidences of petty crime are rarely reported and violent crime is very uncommon.
Q. Is Bhutan controlled by India?
A – Bilateral relations between Bhutan and the Himalayan Empire of the Republic of India have traditionally been close and both countries make Bhutan a protected state, but not a protected state of India, but a protected state. India is influential on Bhutan's foreign policy, defense and commerce.
Q. Why is Bhutan poor?
A – It is also one of the poorest with a striking poverty rate of 12%. Factors such as the rugged landscape, lack of education and intangible government goals all contribute to answering the question: Why is Bhutan poor? Due to its location in the Himalayas, the region of Bhutan is extremely hilly and rugged.
Q. Can you drink alcohol in Bhutan?
A – Bhutan has a relatively relaxed attitude to smoking rather than alcohol. Wine and beer are available at reasonable prices in almost all hotels.
Q. Alcohol is banned in Bhutan?
A – Yes, you can take alcohol in Bhutan. It is not prohibited but you get any type of alcohol brand cheaper in Bhutan. Many Indians prefer to buy liquor in duty free shops including expensive brands in Bhutan as they are cheaper.
Q. In which language does Bhutan speak?
A – The national language is Dzong, the native language of the Nagalops of western Bhutan. Dzongkha literally means the language spoken in Dzongs, large-scale forts that serve as administrative centers and monasteries. The two other major languages ​​are Janglakh and Lomshamkha.
Q. Why is Bhutan so expensive?
A – The government has placed a minimum fee of about $ 200 per day per person in the low season and $ 250 USD per person during the high season for visitors to Bhutan. This is to help save Bhutan's culture and environment. Naturally, this makes your trip to Bhutan remarkably expensive.
Q. Can I marry a Bhutanese girl?
A – Polygamy is legal in Bhutan regarding the consent of future wives. No legal recognition is given to spouses marrying under Bhutan's civil law or customary law. Women in Bhutan can marry in many customs, although they are allowed only one legal husband.
Q. Does China recognize Bhutan?
A – The Kingdom of Bhutan and the People's Republic of China do not maintain official diplomatic relations, and relations are historically tense. The PRC has shared a 470-km border with Bhutan and its territorial disputes with Bhutan have been a source of potential conflict.
Q. Is Bhutan richer than India?
A – Now, everyone would agree that happiness is much higher than GDP. However, Bhutan's dirty secret is that it is the world champion in GDP growth. Today, Bhutan is almost twice as prosperous than India as it has been in a gallop in economic development for two decades: it had a per capita income of $ 1,900 in 2008, compared to $ 1,070 in India.
Q. Is Bhutan poor?
A – Bhutan has become a low-middle income country and poverty has been reduced by two-thirds in the last decade. The average annual growth of GDP has been 7.5 percent since the 1980s, making Bhutan one of the fastest growing economies in the world.
Q. Who is the richest man in Bhutan?
A – Dasho Tobgyal Dorji is one of Bhutan's most successful entrepreneurs and richest man. He currently owns Tashi Group of Companies, perhaps the largest private undertaking in this small Himalayan state in Bhutan. Also, Bhutan is among the top 10 richest man in the list, Dasho Tobyal Dorji.
Q. What do they eat in Bhutan?
A – Rice forms the main body of most Bhutanese food. It is accompanied by one or two side dishes consisting of meat or vegetables. Pork, beef and chicken are most commonly eaten. Commonly eaten vegetables include spinach, pumpkin, turnip, radish, tomato, river weed, onion and green beans.
Q. Can I wear shorts in Bhutan?
A – You cannot wear jeans, wrap your jacket around your waist, or unbutton or unzip your jacket. No hats, shorts, short skirts, flip-flops, or T-shirts may be worn inside. Travelers are not expected to wear a traditional kira, but you should make sure that your clothes cover your hands and feet.
Q. Can you smoke in Bhutan?
A – Bhutan is the only country in the world to completely ban the sale and production of tobacco – and in public, smoking is banned in public places. The tourist and Bhutanese elite can bring 200 cigarettes, but ask your guide to find a place of light.
Q. Bhutan is better than Nepal?
A – Nepal may be a more economical option with its cheap hostels, simple and inexpensive travel costs, low cost food and stunning Himalayan treks, but you cannot beat Bhutan for the quality of service that you need for your money. Get for When it comes to how much your "bang for the buck" is, Bhutan is definitely on top.
Q. Is Bhutan clean?
A – Bhutan is arguably the happiest country in the world. It is one of the greenest. This is not a coincidence. In fact, King Jigme Singye Wangchuk developed his signature Gross National Happiness Index based on four pillars: Sustainable Development, Environmental Protection, Cultural Protection and Good Governance.
Q. Are Bhutanese really happy?
A – According to Business Week, Bhutan has consistently been ranked as the happiest country in the whole of Asia and the eighth happiest country in the world. In 2007, Bhutan had the second fastest growing GDP in the world, while simultaneously maintaining its environmental and cultural identity.
Q. How much does it cost to visit Bhutan?
A – So how much does it actually cost to go to Bhutan? In the high season months (March, April, May, September, October and November), the cost of visiting Bhutan is US $ 250 per person per day. If you are traveling solo, you will unfortunately have to pay a surplus of $ 40 US a day, bringing your total to $ 290 US per day.
Q. Traveling to Bhutan is expensive?
A – Visiting Bhutan is not cheap – as long as you are from SAARC countries (India, Bangladesh and some other counties), you need to buy a trip to travel to Bhutan. The government has set a minimum daily fee for the tour – $ 200 during the low season and $ 250 during the high season.
Q. Which is the best time to travel Bhutan?
A – October to December is the ideal time to visit Bhutan as the air is clear and fresh with sunny skies. January and February are cold, but from then until April the climate remains dry and pleasant and in late spring the famous rhododendrons bloom brilliantly, filling the valleys with color.