Experience mindfulness in the Maldives: We talk about how you can unconventionally relax on these islands and enjoy your thoughts against the backdrop of modern art.
The Maldives, in the minds of many, is hardly associated with conscious tourism. Basically, people go there a little after the other – the warm sun, the azure coast and clean beaches where you can enjoy the eternal summer. But with the development of the trend towards awareness, many tourists wanted to try not only to relax in such an atmosphere but also to immerse themselves in reflection and reflection.
This opportunity appeared in the spring of 2021 after the opening of the Patina Maldives hotel. It was created in collaboration with The Artling, a Singapore-based contemporary art consulting agency. The Maldives has amassed a collection of exhibits aimed at socially and environmentally conscious tourists who seek conscious travel.
Guests of the hotel are welcomed by Home Deep Blue, a six-meter tapestry created by Hiroko Takeda, a New York-based artist who works in the traditional Japanese craft style. This canvas is inspired by the island's color palette and ecosystems, like a horizon between sky and ocean.
On the white sand, next to the palm trees, you can find a series of eight mirrored columns that immerse viewers in reflections of themselves and the surrounding space. The installation was designed by Chinese artist Hongze Yang from the Netherlands. It is made of ship-grade stainless steel and contrasts with rough volcanic rocks. There is a certain harmony in this.
Near the water is a series of stone sculptures Los Limites de lo Possible IX, created by sculptor José Davila. She explores the theme of contrasts through the interplay of ideal geometric shapes from volcanic rocks with the natural forms of rough sandstone boulders.
All the artistic features of Patina Maldives are combined with what the Maldives is simply impossible to imagine without – a secluded location and amazing nature. Images of these landscapes also decorate each of the villas, so that the nature of the Maldives will not let you go for a second. The pictures were taken by renowned Brazilian photographer Casio Vasconcellos.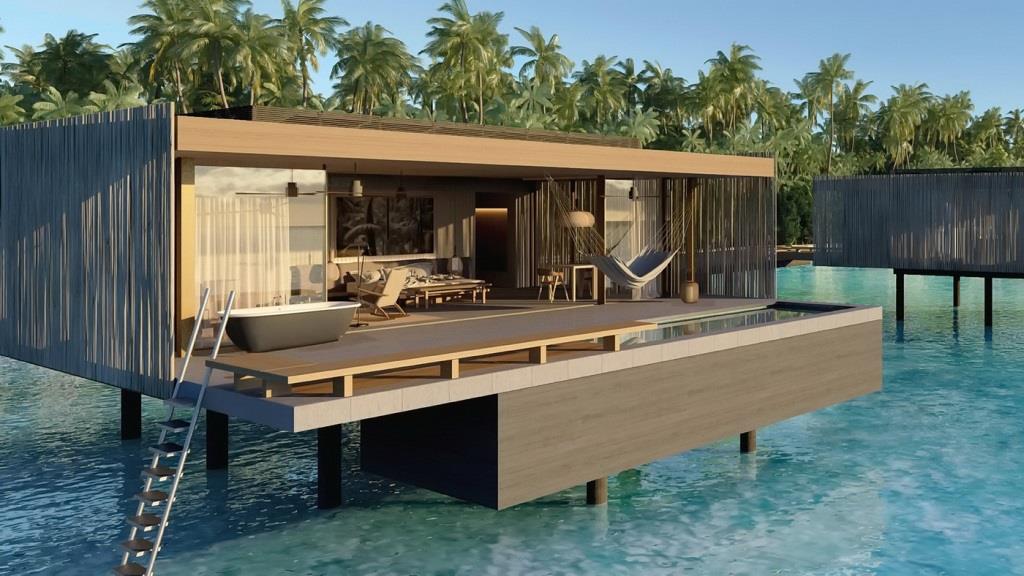 In the future, Patina Maldives will continue to develop in the direction of contemporary art. A special space will be opened on the territory of the hotel, where it is planned to continuously hold exhibitions, exclusive events, and meetings with invited artists. And, of course, special attention will be paid to awareness and environmental sustainability – the main principles of the concept of place.
More About Maldives