Lovely restaurants overlooking the Jagnivas Palace, standing in the middle of the lake, and narrow streets with painted elephants on the walls make the tourist part of the city a very romantic place. The beauty is added by the marble palaces of the Maharajas and colorful traditional houses – Havelis with carved patterned facades. You can even live in the Jagnivas Palace, now it has been turned into a hotel. On the shore of the lake, there is a whole complex of palaces of local rulers, where museums are open during the day, and interesting performances are held in the evenings. Here are Udaipur's 3 Must Visit Places.
Udaipur has both five-star hotels and cheap guesthouses with simple rooms in the very center of the old city. A few kilometers from the city there is the village of Shilpgram, where you can get acquainted with the life of different parts of Rajasthan and not only in demonstration houses. Even if you are the only visitor, traditional dances and songs of the Rajasthani tribes will be performed for you. This place is the main center of culture and color of the state, albeit in a demonstration "museum" form.
3 Must-visit Places
City Palace
The residence of the maharajas moved to Udaipur when the maharaja Udai Singh received the hermit's prediction that it was on this hill above Lake Pichola that he should build a palace. The construction took about 300 years, and during this time several rulers erected 11 palaces of the complex, in which the most diverse styles – Rajasthani, Mughal, medieval, European and Chinese – merged, forming a harmonious, single, impressive whole.
The palace was built like a fort – it is riddled with zigzag corridors to keep the enemy out. The palace complex is completely built of granite and marble, with carved balconies and towers, and a beautiful view of the city and the lake opens from its upper terrace. Some of the premises have been turned into a museum since 1974. On the territory of the palace, you can visit the arena where elephant fights were held.
In the footsteps of Bond
Within the walls of this palace were filmed some scenes from the 13th James Bond film, Octopussy.
Lake Pichola
Artificial Lake Pichola (one of the oldest and most beautiful bodies of water in the state of Rajasthan) is surrounded by a dense ring of palaces, temples, bathing ghats, and picturesque hills. Ghats are stone-stepped structures used for the ritual ablution of Hindus and as places for cremation. At sunset, just go out to the lake, sit on the steps and watch how women wash clothes here, old people talk, dogs sleep and children play. Real-life is "not for show".
In the middle of the island, the walls of the Lake Palace on Jag Niwas Island and the Jag Mandir Palace are whitewashed. The first of them houses the Lake Palace Hotel, where you can spend a night or just have lunch.
Do not miss
Be sure to take a boat trip from the dock behind the City Palace (half-hour rides start hourly: April – September 8:00 to 11:00 and 15:00 to 18:00, October – March from 10:00 to 12:00 and from 14:00 to 17:00; Rs 75) with a stop at Jag Mandir. You can rent a catamaran. Sunset walks are especially popular when the sun paints the walls of palaces in incredible colors.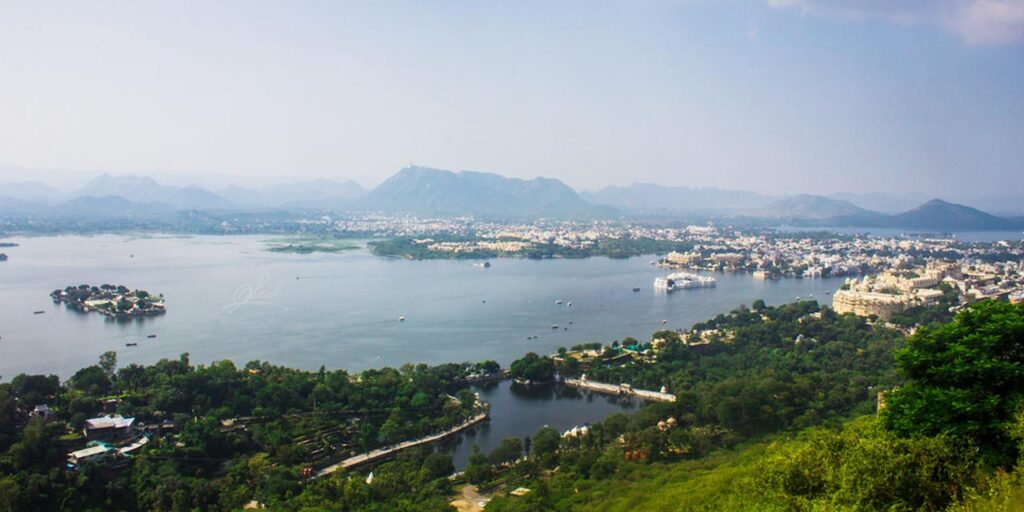 It is worth remembering that during the driest summer months, the lake becomes shallow. But even in this case, the locals will come up with something interesting, for example, they offer to ride on the bottom of the lake on elephants.
Lake Palace
The Lake Palace in Udaipur, which appears in the movie Octopus (1983), is rightfully considered one of the most exotic places in the history of Bond. James Bond sails into it to meet with a dangerous female group led by the beautiful Octopus. This gang, pretending to be a circus troupe, helps to transport the treasures of the USSR to the West, which are supplied to them by the Soviet traitor general Orlov.
Long-serving as a royal residence in the middle of Lake Pichola, this palace has functioned as a luxury hotel since 1971 and confidently holds first place among the most romantic honeymoon destinations in India.
Do not miss
Read about other places where Agent 007 has checked in in the "Bond. James Bond". In the footsteps of the movie hero
Read More About Udaipur
Frequently Asked Questions About Udaipur
Q. Where is Udaipur?
A – Udaipur, formerly the capital of the Kingdom of Mewar, is a city in the western Indian state of Rajasthan. Established in 1559 by Maharana Udai Singh II, it is situated around a series of artificial lakes and is known for its opulent royal residences.
Q. Who created Udaipur?
A – Established in 1559 by Maharana Udai Singh II.
Q. Udaipur in which state?
A – Udaipur is in Rajasthan.
Q. Udaipur what to see?
A – Below are the 8 best things to see in Udaipur
Udaipur City Palace
Lake Palace, Udaipur.
Jagmandir, Udaipur.
Jagdish Temple, Udaipur.
Saheliyon Ki Bari, Udaipur.
Sajjangarh Palace, Udaipur.
Fateh Sagar Lake, Udaipur.
Lake Pichola, Udaipur.
Q. How far is Udaipur from Jaipur?
A – Distance between Jaipur to Udaipur by Road is 417 kms
Q. Where is Udaipur on India's map?
A – Udaipur Location in Rajasthan, India Show map of Rajasthan
Coordinates:24.58°N 73.68°ECoordinates:24.58°N 73.68°E Udaipur Map
Q. How many lakes are there in Udaipur?
A – It has seven lakes surrounding the city. Five major lakes, Fateh Sagar Lake, Pichola Lake, Swaroop Sagar Lake, Rangsagar, and Doodh Talai Lake, have been included under the restoration project of the National Lake Conservation Plan (NLCP) of the Government of India.
Q. How to reach Udaipur from Delhi by Train?
A – The cheapest train from New Delhi to Udaipur is 09610 Ynrk Udz Spl. A. For traveling from New Delhi to Udaipur, the train takes 14 hrs 53 mins. The train departs from New Delhi NDLS at 01:00:00 and reaches Udaipur at 15:55:00. This train runs on Tuesday, Fri, Surya.
Q. How many days required to visit Udaipur and Mount Abu?
A – Mount Abu and Udaipur – 4 days are more than enough to cover all the must-visit places.
Q. Best Udaipur Hotels?
A – Below are the top 15 Hotels in Udaipur
Q. What is the Udaipur pin code?
A – Udaipur Pin Code is 230125.
Q. How old is the city palace Udaipur?
A – It was built over a period of about 400 years with the contribution of several rulers of the Mewar dynasty. Its construction began in 1553, initiated by Maharana Udai Singh II of the Sisodia Rajput family as he shifted his capital from the then Chittor to the new city of Udaipur.
Q. How is Udaipur weather?
A – Being located in the desert land of Rajasthan, the climate and weather of Udaipur is generally hot. The summer season runs from mid-March to June and touches a temperature of 38 °C.
Q. What is the average Udaipur temperature?
A – In Udaipur, the wet season is oppressive and mostly cloudy, the dry season mostly clear, and it is warm throughout the year. During the year, temperatures typically vary from 48 degrees Fahrenheit to 104 degrees Fahrenheit and rarely fall below 42 degrees Fahrenheit or above 109 degrees Fahrenheit.
Q. Which are the major Udaipur palaces?
A – There are two famous palaces in the Udaipur district of Rajasthan, India – Sajjangarh Palace and the City Palace of Udaipur.
Q. Udaipur places to visit?
A – Below are the 8 best Places to Visit in Udaipur
Udaipur City Palace
Lake Palace, Udaipur.
Jagmandir, Udaipur.
Jagdish Temple, Udaipur.
Saheliyon Ki Bari, Udaipur.
Sajjangarh Palace, Udaipur.
Fateh Sagar Lake, Udaipur.
Lake Pichola, Udaipur.
Q. Which are the most visited Udaipur tourist places?
A – Below are the most visited tourist places in Udaipur
Lake Pichola
City Palace Udaipur
Lake Palace Udaipur
Fateh Sagar Lake
Q. What is the Mumbai to Udaipur flight options?
A – Best Flight Options are available on Cleartrip.com
Q. What is the distance from Ahmedabad to Udaipur?
A – 265 Kms is the Distance Between Ahmedabad to Udaipur
Q. Udaipur distance from Delhi?
A – The distance between Udaipur and Delhi is 11 hr 43 min (658.1 km) via NH 48 and NH58.
Q. What is the distance of Udaipur to Mount Abu?
A – 163 km Distance Between Udaipur to Mount Abu
Q. How is Udaipur city?
A – Udaipur, the beautiful capital of Mewar, Rajasthan, is a royal tourist destination for travelers who love history, culture, and architecture. It is quite a famous destination due to its sprawling palaces, ancient forts, beautiful lakes, lush gardens, age-old temples, romantic backdrop, and much more.
Q. What is Jodhpur to Udaipur distance?
A – Distance between Jodhpur to Udaipur by road is 308KM. The air distance from Jodhpur to Udaipur is 196KM.
Q. What food is famous in Udaipur?
A – Best Street Food Places in Udaipur
Dal Poodi/Daal Baati at Manoj Prakash. Dal Bati.
Pav Bhaji at Pandit. Pav Bhaji.
Vada Pav and Dabeli at Shankar. Vada Pav.
Falooda at Sindhi Falooda. Falooda.
Bun Maska at Chaifeteria. Bun Maska is best enjoyed with tea.
Chai at Kamlesh Tea Stall.
Chow Mein at Pokahara.
Momos at Meals on Wheels.
Q. Is it expensive to live in Udaipur?
A – The estimated monthly cost for one person is 307$ (22,566₹) without rent. Udaipur is 77.20 percent cheaper than New York (without fares). Fares in Udaipur are on average 96.39% lower than in New York.
Q. Which city is better Jodhpur or Udaipur?
A – Udaipur has more to offer than Jodhpur on hilltop palaces, boating, lake view excursions, museums. It is also a day trip to the most famous Kumbhalgarh Fort. There are many affordable heritage hotels in Jodhpur. No matter which place you choose, you will get to see the view of the fort.
Q. What is the old name of Udaipur?
A – To protect Udaipur from external attacks, Rana Udai Singh built a six-kilometer-long city wall, which had seven gates, namely Surajpol, Chandpol, Udiyapol, Hathipol, Ambapole, Brahmpole, etc. The area within these walls and gates is still known as the old city or walled city.
Q. Is Udaipur safe?
A – Security: Udaipur is generally considered extremely safe. It is advisable to avoid dimly lit areas at night.
Q. Is Udaipur clean?
A – Rajasthan's Lake City, Udaipur has been ranked as the cleanest city in the state with a population of less than 10 lakh, under the Swachh Survekshan 2020, the central government's annual survey announced on Thursday.
Q. Is Udaipur worth visiting?
A – Udaipur is scenic and historical in itself but there are some places around it that are worth seeing. These off-road places are easily accessible from Udaipur and are great options for a day trip or for a weekend getaway.