Trip to Leh from Manali: Manali and Leh are two of the most famous hill stations in India and should be included on the bucket list of all avid travellers! If you are looking to plan a trip to Manali, we would say, go ahead as an amazing experience awaits you. We would say the same thing if you plan a trip to Leh. But if you have a trip in mind that includes both Manali and Leh, then the excitement will be on cloud nine! And for that extraordinary trip, may we suggest a road trip from Manali to Leh? The Manali to Leh route is simply breathtaking. It is such an amazing celebration of nature's charm that anyone would love to be a part of it! As you hike through the heights, take breaks to soak in the views, and camp under the skies, you'll be creating memories of a lifetime!
No wonder, this road trip in India creates a lot of buzzes. And we're guessing, you're already excited about the road trip. Let us help you channel your enthusiasm and plan the perfect Manali to Leh road trip guide!
Road Trip to Leh from Manali
The ideal time to plan a Manali to Leh road trip
Yes, this is the first step in planning a Manali to Leh road trip. Had it been under our control, we would have asked you to start immediately. But it's snow who has control! So you have to plan your trip accordingly. Basically, the road from Manali to Leh receives heavy snowfall and hence, remains inaccessible for a considerable period of time in a year. However, the snow clears in a few months, giving travelers a chance to plan their road trip. which month? from June to October. However, it is better to plan a trip towards the end of June (once the monsoon is gone), and the month of September till October may be a close call!
The ideal vehicle for a Manali to Leh road trip
We know, that Manali to Leh road trip by bike is a dream and you can definitely opt for a bike trip. But there are other options too! You can take a car, jeep or scooter. Also, fuel available on the way from Manali to Leh is good and you will find mechanics at select places. So, no worries there! Some people even go on bicycle tours. This is also an option if you wish! It is great when it comes to road conditions, so your journey will definitely be smooth!
The ideal duration for a Manali to Leh road trip
It's up to you, to be honest. But planning a road trip from Manali to Leh requires at least 2 days. You can extend the journey for a few more days. This way you will get to explore more places on the road and make the most of the journey.
The Manali to Leh road trip begins
As we just discussed, you will need at least 2 days for this road trip. Hence, we have prepared a 2 day-long road trip for you. Here are all the details!
The route to take: Manali-Leh Highway
You will have to take the Manali-Leh highway during your journey. It is 474 km long. And you won't need a permit to drive or ride this route.
Manali-Leh road trip: Day 1
Your journey from Manali will start from an altitude of 1900 meters, through deodar forests and beautiful views of the valley. From 1900m to 3978m, as you continue to travel, you will be near Rohtang Pass! The weather will suddenly change and you will see clouds wrapping the landscapes. The road here can be a bit rough so drive carefully and after some time you will reach Kokhsar! We suggest you take a break here. There are many dhabas in this area and delicious food is served in all of them! Dig some food here and then hit the streets! From here the condition of the roads is getting better.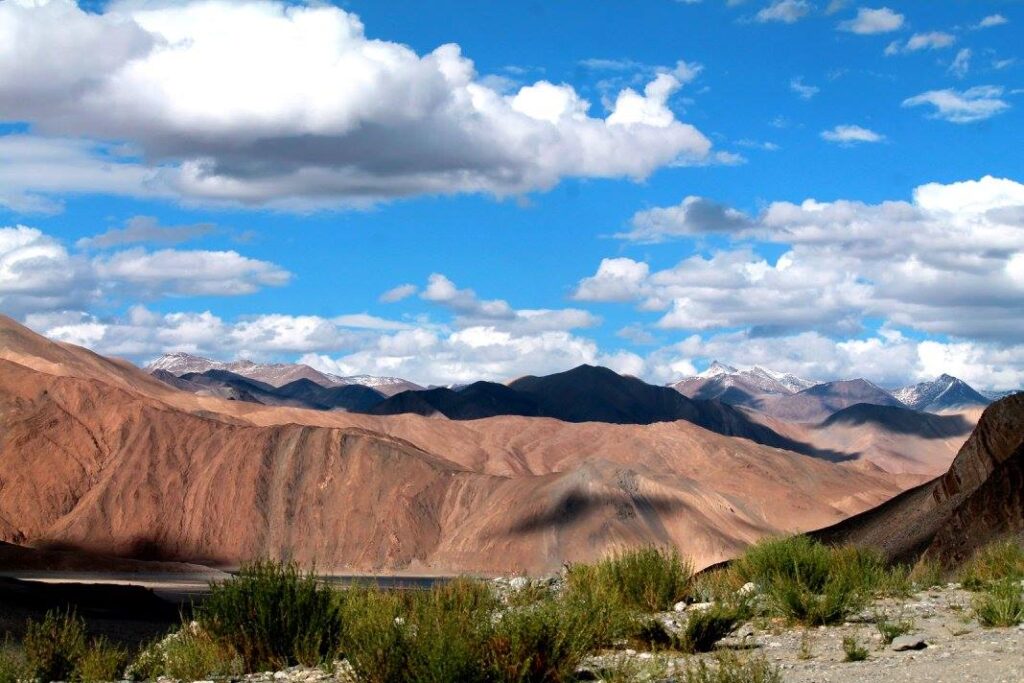 Next on your way will come the city of Keylong. Here you will see the deep influence of Buddhist culture which is quite famous in Leh. Proceed from Keylong and you will reach Jispa Village! It is situated on the banks of river Chanderi and has strong currents, exquisite valleys, and abundant greenery.
You can guess that there is a lot to see and explore in this village. So, do that and then spend the night here. There are many good accommodations available here. But a better option is camping. The village is dotted with great camping sites, so why not spend the night under the sky!
It was the first day of my journey from Manali to Leh on the road. Before we start Day 2, here's a recap of Day 1!
Start from Manali – Drive pass Rohtang – Meal break at Kokhsar – Pass-through Keylong – Night camp at Jispa!
Manali-Leh road trip: Day 2
There is a long road ahead of you, so get up and start driving as fast as you can. The first place that will welcome you on day 2 is Darcha. It is a picture-perfect Himalayan village. And many dhabas are located here. So, breakfast is a must in this beautiful village! Next on your way comes a place with a funny name, ZingZingbar. You can enjoy a cup of coffee with a clear view of the picturesque sky! From there, you will walk to Baralacha La where you can have a hearty lunch. Then, board your vehicle and get ready to drive through Sarchu, a colorful city called Bharatpur and a famous camping spot!
What else awaits you on the Manali-Leh Highway? A route with 21 curves called Gata Loops takes you first to Naki La and then to Lachulung La. Yes, both these mountain passes offer spectacular views! Another wonderful place where you will pass through some dramatic valleys is Pang. And then, one after the other, fascinating places like Tanglang La, Gaya, Upshi and Karu keep coming your way, until you finally reach your destination, Leh!
Waiting for a recap of day 2? Here you go!
Start the day with De Darcha – Enjoy clear skies at Zingjingbar with a cup of coffee – Have lunch at Baralacha La – Explore amazing places like Bharatpur, Sarchu, Naki La, and Lachulung La – Stand in Pang Drive through valleys – pass through Tanglang La, Gaya, Upshi and Karu – welcome to Leh!
Want to expand the Manali-Leh road trip to more than 2 days?
Plan the first day as we discussed and set up camp in Jispa. Then, split day 2 into several days! How? Drive through Darcha, Zingzingbar, and Bharatpur and plan to camp at Sarchu. Keep the rest of the distance from Naki La and Lachulung La to Leh for the third day! Also, if you want to extend the trip by 1 more day, there are many comfortable accommodations in Pang!
And so is your Manali-Leh road trip guide! Take the bag out of the cupboard and let the road trip begin. Hey, if you have a little more time on your hands and want to add to the fun, then opt for the Delhi to Manali road trip first, stay for a day in Manali and then take the roads towards Leh. You won't be disappointed!
Similar Articles