The name New Zealand inspires paintings of mountains, glaciers, forests, ancient lands, and lots and lots of sheep. The country is well known as the adventure capital of the world. Hiking, skydiving, caving, bungy jumping, skiing – everything here is geared towards getting you out and doing something incredible. Here are the top places to visit in New Zealand.
Backpacking New Zealand is one of the most popular activities in the world, with thousands of people traveling there on their round the world trips (backpackers completing those working holiday visas!). Whether you are a backpacker or just a budget traveler, New Zealand did not disappoint you.
1. Milford Sound
One of the most iconic images of New Zealand is the untamed mountains of its South Island Fjorlands submerged in the snowy depths of Milford Sound. For most of the year, their peaks have been capped with snow and ice, sliced ​​by ethereal lakes crossing from Antarctica. These stunning views are the main reason why thousands of tourists travel from the Fjordlands to Milford Sound and Doubtful Sound, although there is more to it than standing in awe.
Kayaking trips across the black waters provide a unique experience of getting up close and personal with the mountains – it is a more intimate venture than the ferry trips that ship most tourists around the Sound. Be sure to pay attention to weather warnings before starting your trip, though – when we visited in early October, the single winding road in Milford Sound was closed for three days due to the avalanche.
2. Tongariro Crossing
Although the South Island is generally regarded as having more dramatic, awe-inspiring views than the North, Tongariro National Park is a clear refutation of that generalization. This vast area of ​​stunning, isolated mountains and vast plains is a favorite of New Zealanders, overlooking the Desert Road of the interior of the North Island, beneath the impressive Lake Taupo. Many attempts to make the crossing – a 19 km trek into the heart of Tongariro – though this is not an easy day hike. Be sure to pack emergency equipment as weather conditions can change rapidly and unexpectedly.
3. The Coromandel Peninsula
Another lesser-known gemstone on the North Island is the Coromandel Peninsula, north of Rotorua. It is not advertised as a haven for mountain bikers or rock climbers, but the combination of stunning beaches and rolling hills would be the wander of any aspiring adventurer. It also includes a collection of free campgrounds for vanlifers, which are monitored and maintained at a high level by the local council; Not all 'facilities' are invited to New Zealand campgrounds.
4. Queenstown
Originally a mining town on the banks of Lake Wakatipu, Queenstown has developed into a shelter for outdoor adventurers of all stripes, ranging from powered hounds to casual trail runners. It is enlivened with outdoor shops, cafes that serve organic coffee, and lakeside bars, with cheap campgrounds on its outskirts. Riding the gondola to climbers will provide spectacular views in any season and no trip to Queenstown is complete without eating a Fergburger; He was voted 'Best Burger in the World' by the New York Times. If you're heading to Fjordlands or Mount Cook, be sure to drive through this bustling city.
5. Abel Tasman
Surrounded by native forest and with beautiful caves resting on the coastline, Abel Tasman is New Zealand's smallest national park, but no less impressive than its peers. As well as more than you can shake a booty at, it boasts kayaking trips, horseback riding treks, catamaran trips, and innumerable stunning vistas. Just a short drive from Picton-Wellington Ferry Crossing, Abel Island has either its first or last stop.
6. Bay of Islands
To the north of Auckland, lies the narrow peninsula consisting of the Bay of Islands, including the infamous 90-mile coastline. New Zealand is proud of its stunning natural beauty and this northernmost point is one of the best examples; It has stunning beaches and a warm climate with lush green hills and blue seas. For this reason, it is one of the busiest sky-diving spots in the country, although walking around in a campervan also offers stunning views. While you are there be sure to visit the world-famous Mangonui fish shop.
7. Lake Tekapo
To the southwest of Christchurch is Lake Tekapo Lake, which lies in a designated dark-sky region amidst the snow-capped mountains of the Southern Alps. To the Lord of the Rings nerds, to the summit of Mount John, or to the observatory of the meadows of Rohan, whether they are departing from the campground. You should save your time in New Zealand from chasing high octane adventures; Sometimes, a campfire under the star-studded sky is a better experience. And when you need that calm, there is no better place for it than Lake Tekapo.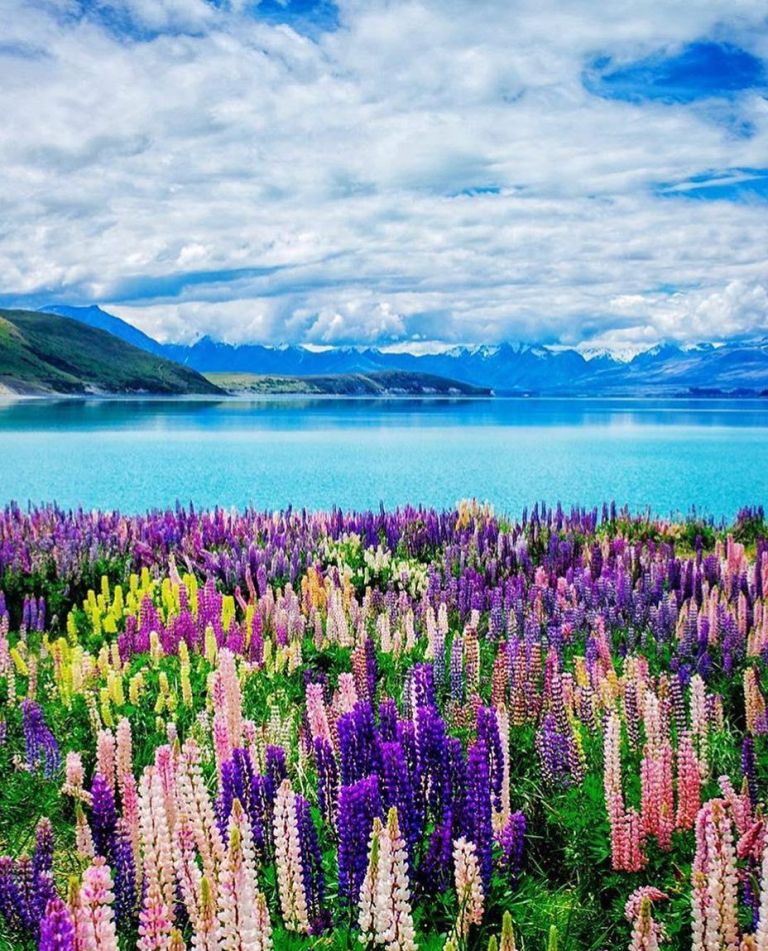 8. Auckland
Urban exploration may not be why you traveled to New Zealand, but Auckland is worth a while from trumping mountain biking, and your #onelife. Infamous with bars, street markets, and parks, NZ's busiest and most bustling city is a haven for the city's people, and no trip is complete without an effort to watch a rugby match at Eden Park. It is the largest sports stadium in the country, and for a rugby-obsessed nation, creates an environment that few can compare with. If the game is not for your thing, then Auckland will have one more trick up its sleeve – you just need to wander its streets.
9. Franz Josef Glacier
It is a strange experience, looking at a huge wall of ice that is thousands of years old and stretches for kilometers. No, it's not Game of Thrones – it's Franz Joseph and the Fox Glacier on the east coast of New Zealand's South Island. Some remnants of the last ice age have survived and locals here have made it a business to fly over people in helicopters, allowing you to walk on the glacier and see the incredible mountains surrounding it at the same time. If you are looking at your budget, there are also stations a short distance between the two glaciers.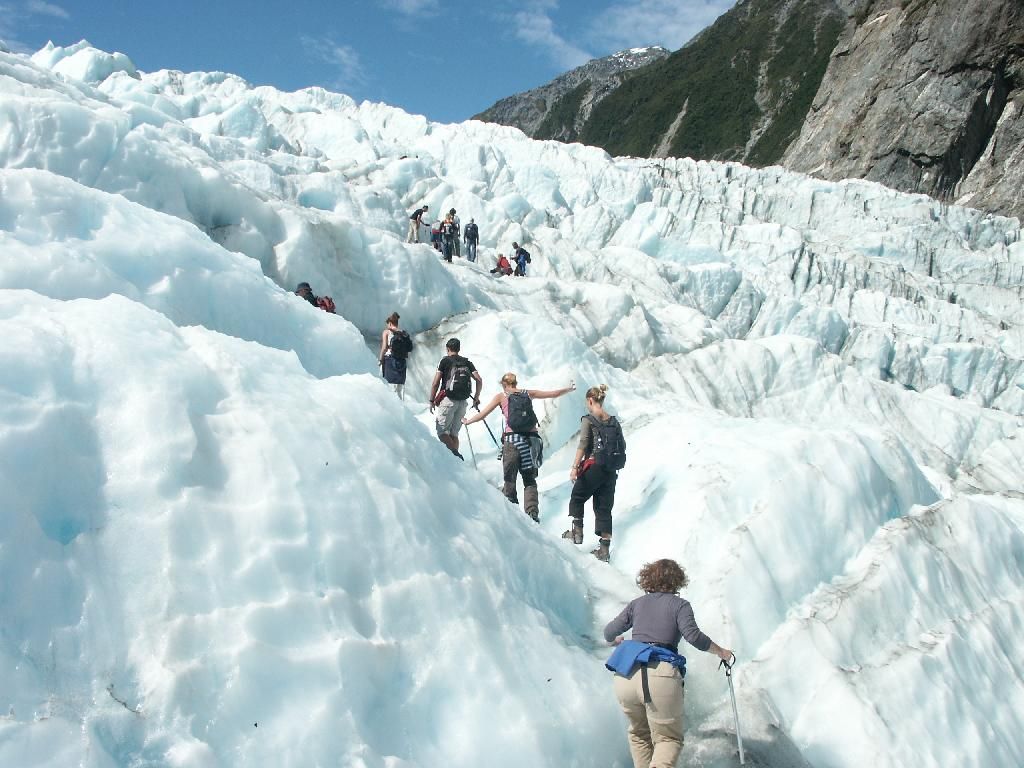 10. Dunedin Peninsula
This is not an area that is popular for tourists, the entire peninsula east of Dunedin is spectacularly beautiful, but be sure to take the coastal road to Harrington Point and the Albatross Center. The Tarmac is nothing but your skills behind a wheel a few feet and between your vehicle and the Pacific Ocean, but an incredible experience. After filtering the beach for the inimitable experience of an albatross in flight, return via the inner road from Portobello. Its route is just dramatic, but with hills and sheer to replace saltwater. As the sun sets, it is beyond compare to the awe-inspiring thoughts.
Frequently Asked Questions About New Zealand
Q. Is New Zealand a safe country?
A – New Zealand is the second safest country in the world. Like Iceland, New Zealand has a very low crime rate, especially violent crime. Theft, however, is a common occurrence, especially for tourists. Unlike its neighbor Australia, New Zealand has no lethal animals, which is known to have some dangerous wildlife.
Q. Is it expensive to live in New Zealand?
A – The average cost of living in New Zealand is not that attractive. In fact, a family of four spends around 6,000 NZD to 8,000 NZD (3,600 to 4,800 USD) per month. Why is it so expensive to live in New Zealand? The answer is simple.
Q. Which part of New Zealand is most beautiful?
A – The Most Beautiful Places to Visit in New Zealand
Aoraki/Mount Cook National Park.
Piha Beach.
Cape Reinga.
Lake Tekapo.
Milford Sound.
Coromandel peninsula.
Mount Taranaki.
Hokitika Gorge.
Q. What is the number 1 tourist attraction in New Zealand?
A – Milford Sound is one of New Zealand's most famous tourist attractions. Located at the northernmost and accessible end of Fiordland National Park, Milford Sound with its dramatic peaks and deep blue waters offers some of the most staggering coastal views in the world
Q. Is New Zealand Good For Honeymoon?
A – Top New Zealand honeymoon destinations. New Zealand is full of wonderful places for a romantic getaway or honeymoon. You can have fun exploring a city, go on an adventure exploring Hobbittown, relax on the beach or spend time exploring the many natural wonders that have inspired many.
Q. Where is the most romantic place in New Zealand?
A – The Most Romantic Destinations in New Zealand
Malrborough.
Waiheke Island.
Queenstown.
The Coromandel Peninsula.
Rotorua.
Aoraki/Mt Cook National Park.
Waitomo Caves.
Q. How much does a honeymoon in New Zealand cost?
A – On the top-end level, with business class airfare, multiple luxury lodge stays, and guided tours and activities, Geyser expects to cost anywhere from $20,000 to $35,000 for a two-week trip.
Q. What is the best time to visit New Zealand?
A – The best time to visit New Zealand is during the summer months of December to March. Expect long, bright, sunny days and temperatures between 61°F and 75°F. This is an ideal time to visit the beautiful beaches or enjoy the many outdoor activities available like hiking and mountain biking.
Q. What is North Island New Zealand known for?
A – Hawkes Bay, on New Zealand's North Island, is known for wine, sunshine, Art Deco architecture and Cape Kidnappers, home to the world's largest mainland colony of gannets.