The Ultimate Guide to the Albuquerque Balloon Fiesta: The Albuquerque International Balloon Fiesta is one of the most photographed events in the world. Take a look at the colorful, floating balloons against the backdrop of the Rio Grande Valley and you'll understand why! What's more, it is the biggest hot air ballooning event in the world, so you can expect nothing less than an enchanting experience.
The ballooning event has its roots in 1972 when local radio station 770 KOB Radio shot hot air balloons to celebrate the station's 50th birthday. Thirteen hot air balloons arrived that day, and the event has increased every year since then.
Today the event runs for nine days in October. During this, hot air balloons fill the city sky.
When is the balloon fiesta??
The ABQ Balloon Fiesta takes place in early October. This year, the event will take place on October 5-13, 2019. In 2020, it will take place on October 3-11, and in 2021, it will celebrate its 50th anniversary on October 2-10.
Things to Know
Dawn Patrol is usually the first event, and it starts at 6 am. During this event, a handful of hot air balloons rise before sunrise as pilots test sky conditions. On certain mornings, they head off to choreographed music, for a dramatic departure. For weekend events, it is recommended to arrive at the park by 4:30 a.m. before the first event and to be located. The fair usually ends after a few hours and re-opens at 3 pm in the afternoon. To catch the evening's events, try to arrive at the park by at least 4 p.m.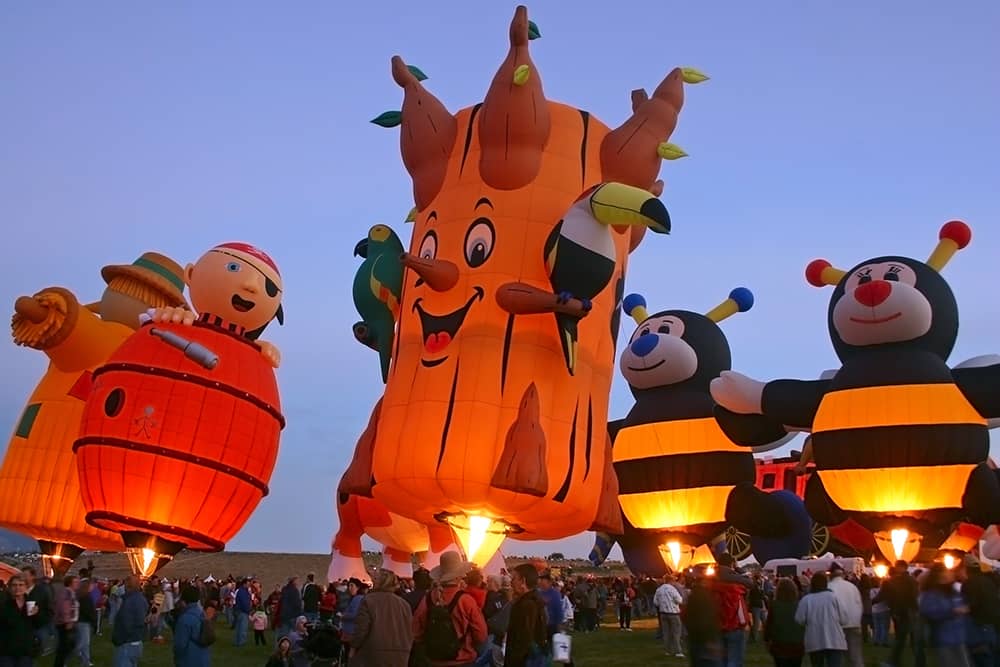 How is the weather?
You're probably wondering, what should I wear to the Albuquerque balloon festival? Keep in mind that although it's still early autumn, you don't want to underestimate the morning chill. Dress in layers, as morning temperatures are around 20-40 F, with temperatures as hot as 50-70 F during the day. The sun is strong, so be sure to pack plenty of sunscreens, sunglasses, and a hat.
Also, be aware that ballooning is very much dependent on the weather, especially the winds. Some pilots may decide not to go up due to circumstances; From time to time, entire programs may get canceled at the last minute. Many times the park will remain open on its own unless there is a safety risk, and some pilots may inflate their balloons just for show. For the most up-to-date information and details from the pilot briefing, follow the Balloon Fiesta Twitter account. If events are canceled, you may qualify for admission on another day, so put your tickets on hold.
How to get tickets to the Albuquerque balloon festival?
General tickets for the New Mexico Balloon Fiesta go on sale six months prior to the event. You can buy them over the phone, online, or in person. The local Balloon Fiesta's gift shop, Costco and 7-Eleven sell them as well. If you want to avoid standing in long lines at the event, we recommend that you buy your tickets in advance.
Want to upgrade? Several VIP experiences are available, including the Gondola Club and the Chaser Club, which include access to private parking, exclusive viewing areas, and a delicious buffet. There's also a concierge option, which will have your own personal concierge and golf cart transportation throughout the park.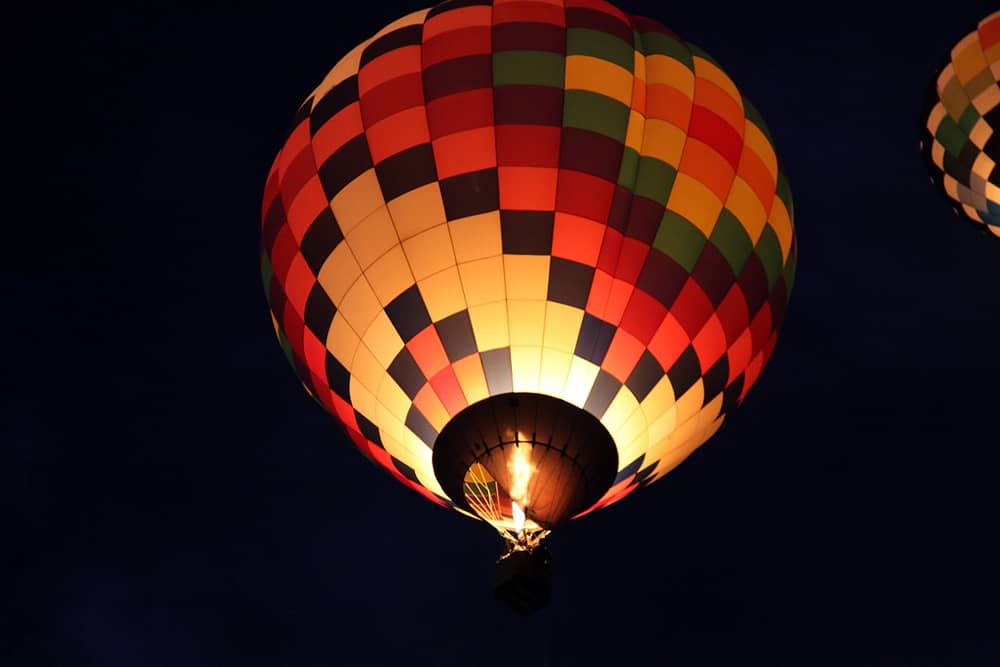 Food and drink
Guests are welcome to bring outside food and drink, but glass and alcohol are not allowed. You can also buy food from the many concession stands set up along Main Street.
Biggest event
There are events each day, but some of the most magical events include the Mass Ascension and the dawn/evening glow. Mass Ascension, perhaps the most anticipated event, raises more than 500 balloons over the course of two hours. Morning and evening flashes occur when the balloons float above the ground, although still tied, and pilots use their propane burners to light their balloons at dawn and dusk.
Balloon rides
You are probably wondering how you too can go to the skies. Rainbow Riders is the only hot air balloon company permitted to offer rides at the festival. They offer sunrise, sunset, and before and after event rides. Ticket prices vary depending on the time and date, but most cost a few hundred dollars. If you're interested in purchasing tickets, be sure to buy them in advance to secure a spot in your basket.
Other hot air balloon companies offer rides during the festival, but they have to be at least 5 miles from the park.
Other attractions
Want more balloons in your life? Check out gas balloon races and fly-in competitions. The event also features chainsaw carving and car shows. There is even live music and performances that are set up on three separate stages.
How to get to the Albuquerque balloon festival?
Closest Airport
Visiting out of town? Book one of our flights to Albuquerque and fly into Albuquerque International Sunport Airport. The main events take place at Balloon Fiesta Park, about 15 miles north of the airport terminal. Alternatively, if you're coming into town by train, the Amtrak Alvarado Transportation Center is just 11 miles south of the festival's location.
Transportation
Once you're already in town, you have plenty of ways to get into the event.
Driving – If you prefer to park, there are on-site parking lots at the north, east, and south ends of the park. Balloon Fiesta Parking costs $15, and each lot is color-coded with a gate number to help you remember where you parked. Keep in mind that weekends can be very crowded, which means a lot of traffic and lots of stuff fills up quickly. Arrive early for the best chances to snag a spot!
Park and Ride – To avoid overcrowding, take advantage of the park and ride services. You can park at one of the designated parking spots off-site and get to Shindig by the Balloon Fiesta Express Park and Ride Bus. For the 2019 event, off-site lots are located at Coronado Mall, Hoffmantown Church, Cottonwood Mall, and Intel. Before boarding the bus, you must have a Park & ​​Ride ticket, which you can buy online or at the Balloon Fiesta Gift Shop.
Biking – Want to go the eco-friendly route? Bike for business and event in four wheels for two. There is a convenient bike valet area located north of the Balloon Museum. The bike service is free.
Where to stay?
When it comes to finding hotels in Albuquerque, you have several neighborhoods to choose from, depending on your preferences.
Accommodation near Balloon Fiesta Park/North I-25 will keep you closest to the action of the event.
Hotels in Historic Old Town and Downtown put you right near other attractions, restaurants, and nightlife.
To the east of downtown and Old Town, you'll find Nob Hill, a trendy, artsy area lined with hip shops and galleries. Neighborhoods away from the epicenter are located closer to nature, including the Eastside, North Valley, and Westside.
No matter where you decide to stay, be sure to book in advance, as hotel rooms fill up quickly. Some hotels offer shuttles to the park, so check in advance to see if you can catch a convenient ride.
What to do in and around Albuquerque?
Even if you can't make it to the balloon festival, you're likely to see hot air balloons hitting the skies from just about anywhere in the city. Balloons usually float on I-25. Several local news stations also broadcast the event.
Regardless of whether you decide to attend the event or not, downtown Albuquerque is likely to be crowded. If you want to go out of town for a few days before, during, or after Balloon Fiesta, check out some of the cities and attractions nearby.
Santa Fe – About an hour northeast of Albuquerque, the capital of New Mexico. Santa Fe is an artsy city, and you'll find your fair share of turquoise jewelry and folk art. Home to the Georgia O'Keefe Museum, more than 200 art galleries, and some of the best Southwestern grub, Santa Fe is a real treat. Spend the afternoon roaming around the Canyon Road Arts District or walking around the Santa Fe National Forest.
Taos – Looking for a short road trip? Taos is about two-and-a-half hours northwest of Albuquerque, making it an easy escape from the festive hype. Perhaps the most popular attraction in the region is the Taos Pueblo, an ancient pueblo believed to be one of the oldest continuously inhabited communities in the country. It is believed that some of the structures were built in 1000 AD. Visitors are welcome to visit certain areas of the village but are asked to respect the community and not to photograph locals without permission.
Taos Ski Valley – The ski season won't start until November, but Taos Valley is still a great place to explore. Hike the trails, mountain bike, and play a round of disc golf. Better yet, take a hot air balloon ride to the gorge and marvel at the fall.
Whether you admire the event from afar or attend the entire nine days, you are in for a magical show at the Albuquerque Balloon Fiesta.
Similar Articles