Street Food in Pune, Once a city of Peshwas, now an industrial hub and a famous tourist destination, Pune has made its place in the bucket list of many travellers. While this city has many attractions, one popular element that adds to the vibrancy of this city is its delicious street food. From natives to tourists, everyone loves the variety of street food served in Pune. We know you will be no exception once you taste these street delicacies.
So, the next time you visit Pune, don't miss your chance to indulge in some flavourful street food at this street food paradise. At food stalls, mobile carts, or even a cafe in Pune, you can find street food of your choice.
And to help you with your street food journey in Pune, here is a list of 10 street food served in Pune that should be on your wish list during your trip to the city.
Vada Pav
Do you like Burgers? Well, we present to you the Indian Burger, Vada Pav! Two soft buns holding a crispy vegetable patty make this street food a delicious dish. The sweet and sour taste of the chutney inside along with the crunchiness of the patty will surely make you crave for more. You can find this popular street food in almost any food street in Pune, some of the famous shops are Garden Vada Pav Center, Joshi Wadewale, and Priyadarshan Snacks. Though the price varies from shop to shop, you can buy Vada Pav for around Rs. 20 to Rs. 60.
Pav Bhaji
Another delicious dish of Pav Bhaji is a popular street food not only in Pune but also in India. In Pune, you can get it at some of the famous street food joints like Siddharth Pav Bhaji, Rajendra Pav Bhaji, Supreme Corner, and Sapna Pav Bhaji. Let us now tell you what you will get in Pav Bhaji. You will be served spicy buns along with tangy and tangy vegetables. There will also be raw onion, a slice of lemon, and chili to enhance the taste. The spongy buns perfectly balance the rich flavor of the curry and will easily melt in your mouth.
Pani Puri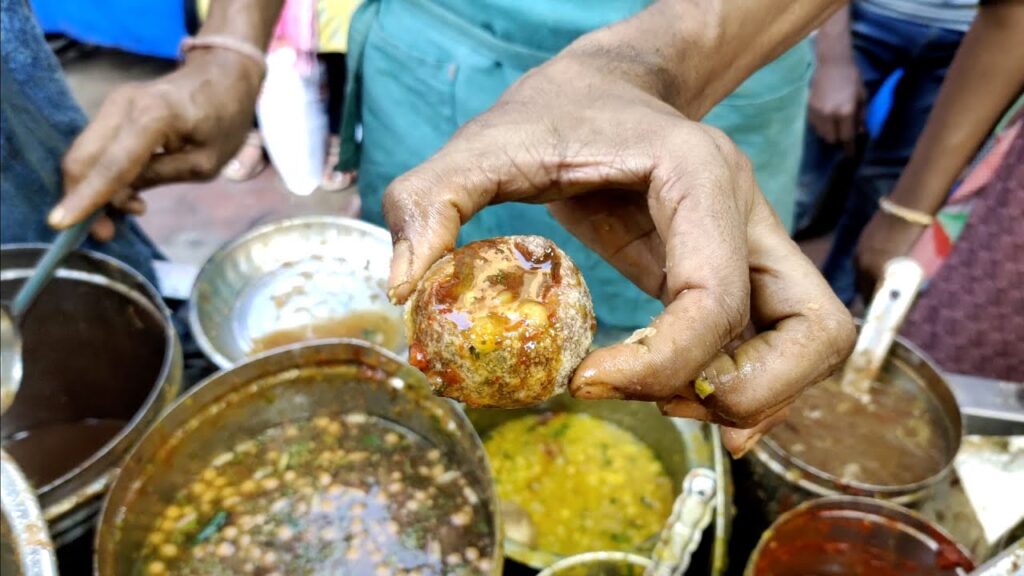 Puchka, gol gappe, pani batashe, or Pani puri, whatever you call it, its taste never fails to tempt foodies in India and even outside. At this street food wonder, you will find hollow ball-shaped, fried flatbread or puris filled with mashed potato mixture and dipped in hot and spicy water. You will be blown away by the crunchiness and filling of the puris and the taste of sour water. If you are wondering where is pani puri in Pune, you will find the best pani puri in Pune at some of the popular street food stalls like O Bhaiya, Hindavi Swaraj, A1 Pani Puri, and Om Jai Shankar Pani Puri.
Rolls
Street food and rolls go hand in hand. In Pune too, rolls are no stranger to foodies. From egg, chicken, mutton to paneer, rolls are served in delicious vegetarian and non-vegetarian forms. Fried vegetables and other fillings such as chicken chunks or cheese slices are placed in an egg-layered flatbread and then rolled to make a delicious roll. You can choose a roll variant from a wide range of rolls that suits your taste. As evening or late-night street food in Pune, these rolls often find a special place in the hearts of foodies. And for your information, Rolls Manis, Kapila Kathi Kebab, and Olympia Rolls are some of the places where you can do amazing rolls.
Meat Kebabs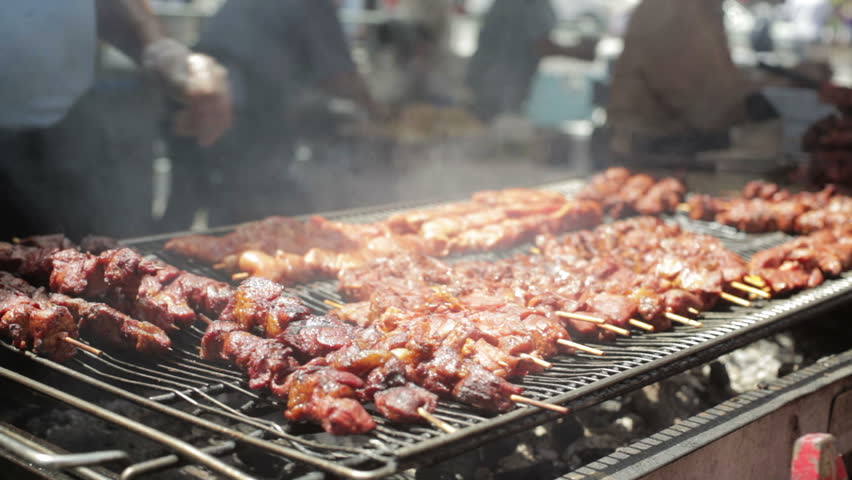 Mouthwatering Pune Camp street food, Meat Kebab is waiting for you! We are sure that you cannot resist the sharpness, chewiness, and pulpiness of these non-vegetarian kebabs. You will find a lot of variety of these kebabs in street food stalls, hawk carts, and food joints. Chicken Kebab, Tikka Kebab, Mutton Kebab Roll, Chicken Seek Kebab, or Beef Kebab, whatever suits your palette, just go for it! So, the next time your stomach craves for some protein and tongue craves for some rich flavors, head to Pune Camp and satisfy your craving.
Momos
These are softballs of joy for foodies across India! Pune serves these spongy momos in both vegetarian and non-vegetarian forms. Various spices and vegetables are mixed together and wrapped inside a dough ball which is then steamed to make this dish. Chicken is added to the filling to give it a non-vegetarian twist. Here is a fascinating fact about momos. You can even get it in a fried, steamed, or pan-fried version! So much variety isn't it! You must not miss tasting the tangy hot soup and tangy chutney served with momos. You can find this street food at shops like Momos Corner, Hot Momos, and Peter Momos Center.
Gola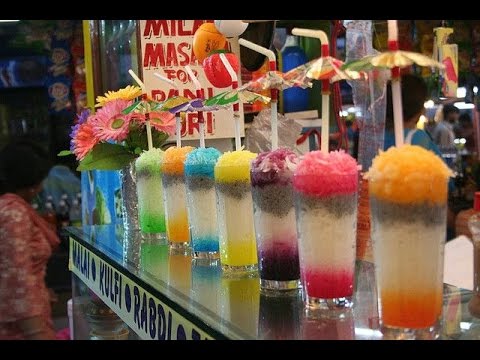 Here is a pleasing alternative to ice cream. Circle! Layered in various flavored syrups, this crushed ice cone is worth sipping at least once in a lifetime. Which is your favorite flavor? Strawberry, pineapple, mango, cola, whatever, you'll find your ball in your favorite flavor. So, stop by wherever you see gola stalls in Pune and ask the seller to customize your gola as per your wish! If you are lucky, you can also find gola stalls where gola is decorated with dry fruits, cream, and dry fruits. If you are asking us for recommendations, we suggest you try Manasi Malai Gola, Go Gola, and Gola Hut Se Gola.
Bhakarwadi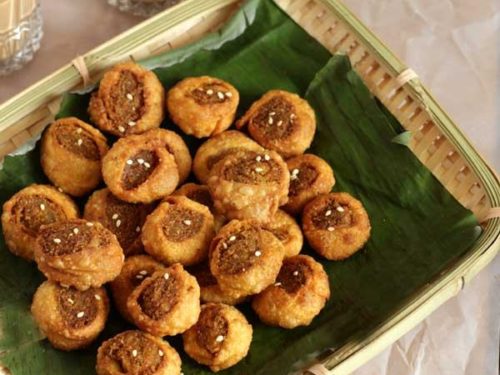 A common resident of most of the sweet shops in Pune, Bhakarwadi is next on our list. What makes it so popular? Well, you must try it and you will know how the sweet crunchy delicacy can please your taste buds. For now, here's a glimpse. Spicy flour dough is wrapped in small rings and deep-fried till golden brown to make a perfect bhakarwadi.
You can taste some added flavor of dates and dry fruits in it. Enjoy Bhakarwadi with your mates at the sweet shop or pack something to take back home. You can visit shops like Chitale Bandhu Mithaiwale, Ganesh Sweets, Chacha Halwai, and Pradeep Sweets to taste these sweets.
Dahi Papdi Chaat
Sold in most states of India, this street food chaat is a delicious part of Pune's street food culture. It consists of dough wafers with boiled potato pieces, onions, coriander leaves, chopped chilies, curd, and sev. You will love the crispness of the wafers and as soon as you taste the chaat, your mouth will smell of taste. It is absolutely lip-smacking! You can find many mobile vehicles selling this chaat in different streets and corners of Pune. Chaat Bazaar, Delhi Chaat Darbar, Ganesh Bhel and Chaat to name a few.
Poha
Who said street food can't be healthy? Pune brings to you this rice-based street food which is not only delicious but also healthy. Rice flakes are mixed with mustard, onion, turmeric, groundnut, tomato, coriander leaves, and Indian spices to make this street food. It is easy to make and quite easy on the pocket, which explains its popularity among professionals working in Pune. You can taste this low-on calorie street food at shops including Indore Foods and Poha shops.
We see you drooling! Don't keep your tongue and stomach waiting any longer. Plan a trip to Pune and while visiting places to visit in Pune, stop by the shops selling your favorite street food. enjoy the meal!
Similar Articles