Guide to the most interesting places in the second-largest city in Japan. Walking along the burning neon streets, going to the fish market, collecting your own ramen, buying sneakers that are not found anywhere else – Osaka will definitely not be boring!
District Namba
Let's start our journey with a trip to the heart of the city. Namba is the center of Osaka's entertainment, shopping, and nightlife. Shops in Namba are very different, for every taste and budget: from boutiques of famous clothing brands to souvenir shops. It is here that Dotonbori is located, one of the most popular streets in Osaka. Come here during the day to shop, and in the evening to enjoy the glow of the neon lights.
You won't be able to get lost: the closer you get to Dotonbori, the more and more lights around you. The street itself is just a sea of ​​light and color: lots of advertisements, continuous cafes, and restaurants. A must-eat takoyaki (scrambled eggs with a slice of octopus inside, sprinkled with tuna flakes). You don't have to look for them: from all sides, you will hear the cherished "Takoyaki, takoyaki" and smell it.
Kuromon Ichiba Market
What is Japan primarily associated with? With sushi and fresh fish. For all this, head to Kuromon Market. Freshly caught giant oysters, crabs, scallops are sold here, as well as sushi sets, marbled beef, and many other goodies (there are even separate stalls with spices and a large selection of seaweed).
Buy fish, meat, vegetables – and they will be cooked right here at no additional cost. The result can be eaten slowly at a table near the stall. It turns out that you yourself choose what to cook from, but at the same time do not stand at the stove – great! Of course, in order to snatch the best fish, it is better to come in the morning. But don't worry: this does not mean at all that by the evening on the market you will be sold stale.
Ando Instant Ramen Museum
You've definitely not been to the Japanese Instant Noodle Museum yet. Here you can see the history of the creation of Japanese noodles: how they looked before, what types and tastes there are. How do you like Japanese curry noodles, for example? Or with tomato soup? You can take a picture near the walls completely covered with noodles.
But the coolest part is the area where you can create your own cup of noodles from ready-made ingredients. Add crab, meat, kimchi, seaweed, and everything you see there – from eggs to wasabi. Take the noodles with you until better times, or prepare more of these cups and bring them as a gift to your friends. The entrance to the museum is free. One cooked noodle costs 300 yen.
Oceanarium Kaiyukan
The huge eight-story oceanarium, one of the largest in the world, is home to dolphins, sharks, penguins, seals, and other interesting marine life. Conditions in Kayukan are as close as possible to their natural environment, animals do not participate in the show, everyone is carefully looked after by specialists. Therefore, visitors do not suffer from pangs of conscience but simply enjoy new experiences.
Start your walk around Kayukan from the eighth floor and gradually sink to the bottom of the ocean. In the corridors of aquariums, where fish swim not just around, but even overhead, it is easy to feel yourself in a secret sea world. And the most interesting thing awaits at the end of the walk – a contact area where you can touch fish, rays, and sharks. It's a pity SpongeBob isn't found there. Entrance fee:
Tenjinbashisuji Shopping Street
The three-kilometer shopping street is the quintessence of Japanese atmosphere and culture. A variety of souvenirs are sold in small stalls: from painted fans and paintings to kimonos and those "Good Luck Cat" figurines. Be sure to buy something very Japanese here as a souvenir and as a gift to your loved ones. There are many Japanese food cafes in Tenjinbashisuji.
Do not be alarmed that the establishments are small and cramped: it is in such places that the most delicious and freshest food is, and the Japanese themselves often choose such traditional cafes instead of trendy restaurants. Don't forget to try gyudong (rice with meat), ramen (noodle soup), Japanese curry with rice, or something a little more unusual like mochi rice sweets.
Tennoji Mio Plaza Mall
Eleven storeys of shops are a true shopaholic's paradise. Clothes, shoes, Japanese cosmetics … Welcome to Osaka's largest shopping mall! There are often discounts and promotions in stores, so it will be very difficult to leave without shopping. There are local brands here with a wide variety of styles, from crazy youth to minimalist office workers. The Tennoji Mio Plaza Mall is sure to appeal to sneakerheads, as Japanese footwear offers exclusive sneaker models and colors that are not found in any other country.
If you are in the subject, be sure to check out ABC-mart. Do not forget that tourists can apply for tax-free in almost all stores when buying from 5,500 yen. Show your passport at the checkout – and you will immediately be deducted 10% of the purchase amount. The mall has many choices of cafes and restaurants, especially traditional Japanese food, therefore you will definitely not stay hungry. Take your pick: 500 yen ramen at the food court or sushi for 10,000 yen at the restaurant? If Japanese food is already boring, then appreciate the globalization and try the spaghetti at an Italian cafe or burger at McDonald's. Boutiques close at 9 pm and food courts are open until 10 pm and 11 pm.
Americamura district
You can see respectable men in the form of anime girls, look at the Japanese in crazy outfits and with unusual hairstyles in the most youthful area of ​​Osaka. Here restrained office workers express themselves to the fullest. And there are also clothing stores at every step – from familiar European brands to small local brands.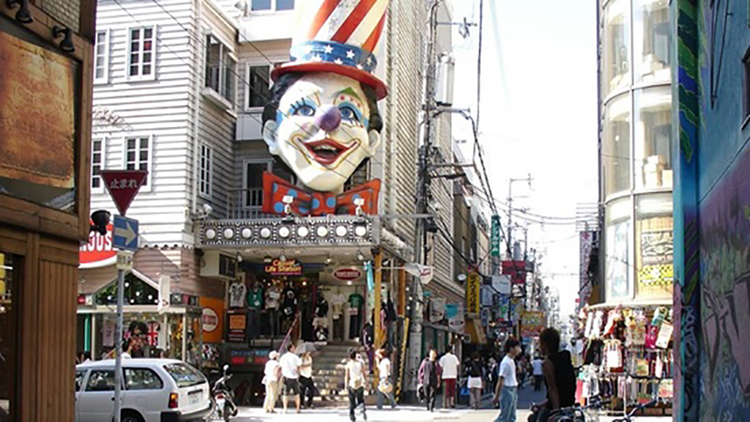 You will definitely find something interesting that is not sold anywhere else. Be prepared to spend all day in America, or maybe even the night. Enjoy breakfast with locally popular air pancakes at Eggs' n Things, dine on ramen at Mannen, and stop by a small bar for a concert in the evening. If you still have strength, be sure to go to the club: it is in this area that the most fashionable parties of the city take place.
Observation deck Umeda Sky Building
Want to see the city from above, consider how close the skyscrapers are to each other, and have a cocktail with a view? Then you are right here, in the most recognizable towers of Osaka. The two buildings of the Umeda Sky Building, as if composed of Lego pieces, are connected on the 40th floor by glass passages, so that it turned out to be an excellent observation deck.
If the heart does not go to the heels behind the glass and the head is not dizzy, go up one floor higher – to the open observation deck. And then you can go down to the 39th floor and reward yourself for your courage: go to the Stardust lounge bar or dine at a Chinese restaurant. Entrance fee: Children under 4 years old – free Children 4-12 years old – 700 yen Adults – 1500 yen
Universal Studios Amusement Park
See Sailor Moon singing and Harry Potter at the entrance. Meet your favorite characters and feel the atmosphere of famous films and cartoons. Find yourself in the place of a Hogwarts student or be in the place of the heroes of the movie "Jaws". Or maybe save the city like Spider-Man? Universal Studios will be interesting not only for children, but also for adults, and a one-time trip is definitely not enough. Still: here they professionally turn old dreams into reality!
It is best to plan a trip to the park on weekdays: on weekends, on holidays and during Japanese holidays, there are much more people here. To save even more time, you can buy the Express Pass, which allows you to skip the line to the rides. Ticket prices for one day: Children under 3 years old – free Children aged 4-11 years old – 5100 yen Adults (from 12 years old) – 7400 yen Cost of tickets for two days:
Spa complex SpaWorld
By the end of a busy day in Osaka, you will likely be so tired that you won't feel your legs. It's time for SpaWorld, especially since the pools and saunas are open almost around the clock: from 10:00 to 8:45 the next day. You can also spend the night here if you did not have time to book a hotel: sleep in a hotel right inside the complex – and in the morning, go to conquer the city again early. You've probably heard of the traditional Japanese hot springs. Or about barrels filled with hot aromatic water, after which the skin becomes velvety.
So, in the eight-story spa complex, you can not only relax in Japanese style but also travel around other countries: from the hot baths of Bali to the Cleopatra pools, from the Finnish baths to the Turkish one. If you get tired of basking in steam clubs and slowly moving from pool to pool, then there is a water park, massage rooms, food courts, shops, and even a gym.
Just do not forget about the visiting rules:
Entry is prohibited if there is a tattoo;
At the entrance you need to take off your shoes and leave your shoes in the locker;
In the area of ​​hot pools, you must not be in a swimsuit or in clothes – only naked. Don't worry, the pools are separate for men and women;
Before taking a bath, you need to take a shower;
If you have long hair, tie it up.
Read More About Japan