Wayanad is an exotic land, simply untouched, pristine, and far away from the tussles of the hectic life. This hill station of Kerala radiants with sparkling green emerald sprawled all over the Western Ghats. And lingers amongst the must-visit places in Kerala. This picturesque destination is one of the most beautiful places in Kerala. Wayanad is a hidden paradise with many treasures trove in its fold. The beautiful destination in Kerala is utterly serene, natural, and incomparably distant from the scraps of the city life. The hidden place is as pretty as a picture-perfect frame. The hill station appears to look like a sparkling green emerald sprawled all over the Western Ghats. Here, tourists can explore more vibrant shades of greens rather than dust. The land is a holistic confluence of wilderness, history, and culture. Must-visit places in Wayanad.
WAYANAD | MUST VISIT PLACES
1. Kalpetta
Set amidst coffee plantations, Kalpetta is a major tourist destination in Wayanad. Kalpetta is the district headquarters of Wayanad. The Kozhikode-Mysore National Highway 212 passes through the town of Kalpetta. It makes a good base to explore the places of interest in Wayanad. If you wish to see some of the oldest temples of this region, then a visit to Kalpetta is a must. There are quite a few temples that you can visit on your trip to Kalpetta. Just 2 kilometers from Kalpetta, on the Kozhikode-Mysore Highway, you can visit the ancient Madiyoor Sri Maha Vishnu Temple.
2. Ananthanatha Swami Temple
The 13th century Anantha Swami Temple is located atop a hill called Puliyarmala 6 kilometers from Kalpetta. This temple was built in old Kalpetta and was under the care of a Jain follower named Payappa Tharakan. After his death, the temple was passed on to Mandhappa Gowder, who eventually formed a temple trust. The temple was then shifted in 1933, to the current place, Puliyarmala, Ananthakrishnapuram, under the guidance of Krishna Gowder. The main deity at the Ananthanatha Swami Temple is the 14th Theerthankara – Ananda Natha Swami along with other divinities like Jwala Malini Devi, Padmavathi Devi, and other Theerthankaras. There is also a bust of Mahatma Gandhi that marks his momentous visit to Wayanad in 1934. This is where he rested at a Jain lodge, next to the temple, and has been converted into Gandhi Museum and library.
3. Sulthan Bathery (Sultan's Battery)
Originally known as Ganapathivattom, it came to be known as Sulthan Bathery, ever since Tipu Sultan of Mysore took over the town and built a fort in the area that was used as a battery to store ammunition during the 18th century. That's how this place came to be known as Sultan's Battery and Sulthan Bathery is the Malayalam version of the name. The main attraction of visiting this place is a 13th-century Jain temple. Though you can't see the fort anymore, Sulthan Bathery is famous for the temple and schools and colleges like St. Mary's College, St. Josephs English Medium school, and Sarvajana School.
4. Banasura Dam
At the north-western part of Kalpetta, the Banasura Sagar Dam is situated on the Karamanathodu tributary of the Kabini River. Also known as the Banasurasagar, this dam was a part of the 1979 Banasurasagar Project built with the aim that it would help the Kakkayam Hydroelectric power project and supply drinking water and irrigation in the area. Just 21 kilometers from Kalpetta, a visit to Banasura Dam is a must, as it is the largest earthen dam in India and the second largest in Asia.
5. Chembra Peak
One of the tallest peaks in the Western Ghats, Chembra Peak is 2100 meters above sea level. An 18 kilometers drive from Kalpetta will take you to Chembra Peak that borders the Niligiri Hills in Tamil Nadu and Vellarimala in Kozhikode. Popular trekking and picnic spots, you can get government-approved trekking gear and experienced guides from the District Tourism Promotion Council for a nominal fee. If you plan on a trek to the Chembra peak, you're required to take prior permission from the Forest Office at Meppady. The main attraction here is the heart shape perennial lake that you can see en route to your trek, which is known to have never gone dry even during the worst summers.
6. Edakkal Caves
Situated at a height of 1000 meters, just 3 kilometers from Ambukutty Mala, you can reach Edakkal Caves at a distance of 25 kilometers from Kalpetta. They are located on an old route in the mountains that connect Mysore with the Malabar Coast. Edakkal Caves is home to the art form of the Neolithic period that came into being with the fissures caused by the changing climate conditions that caused the rock to split 22 feet widthwise, 90 feet lengthwise with a 30 feet gap. The best time to visit Edakkal Caves is during the early morning hours. A popular trekking spot, at the foot of the Edakkal Caves there is a cozy restaurant in the Edakkal Hermitage resort. It is the only natural cave restaurant in India. The restaurant is located in a cavern – a natural cave that is part of the Edakkal Caves chain. At night, dinner is served inside the cave that's lit by hundreds of candles.
7. Kanthanpara, Soochipara and Meenmutty Falls
There are three prominent waterfalls in Wayanad – Kanthanpara, Soochipara, and Meenmutty – that are situated not very far from each other. Out of the three, Kanthanpara and Soochipara are close to each other. Even though Meenmutty is a little further away, these three waterfalls are in the same region. You need to get here from Meppadi.
Kanthanpara is a breathtaking waterfall at a height of 30 meters very close to the main road. Owing to its scenic beauty with tea gardens in the area, Kanthanpara is a popular picnic spot. Kanthanpara Falls is surrounded by tea gardens.
The word 'suchi' means needle in the local language. One of the most popular waterfalls in Wayanad, Soochipara Falls is 22 kilometers from Kalpetta. Situated next to Mappadi, Soochipara falls from a height of up to 300 feet against the backdrop of the lush green forests. A popular tourist spot for rafting, you can also check out the treetop huts in the neighboring forest area. The quaint town of Meppadi is an ideal base to visit Chembra Peak (8 kilometers), Meenmutty Falls (12 kilometers), and Kanthanpara Falls (6 kilometers) and is also home to several tea estates.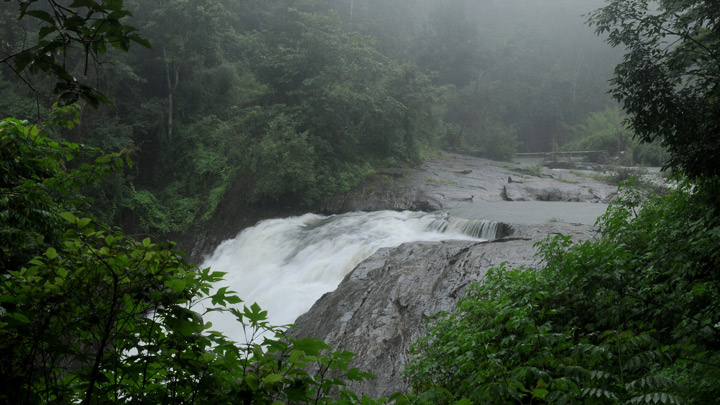 8. Muthanga Wildlife Sanctuary
En route to Sulthan Bathery from Mysore, you can stop over at Muthanga Wildlife Sanctuary which is spread across 345 square kilometers that is home to panthers, tigers, elephants, sambar, bear, deer, and rare species of birds. Mainly formed by deciduous trees, the management of Muthanga Wildlife Sanctuary is working in close tandem with Nagarhole National Park and the Bandipur Tiger Reserve for wildlife protection in this dense corridor. It is best visited from June to October.
9. Pazhassi Raja tomb
Known as the Lion of Kerala, the Pazahassi Raja's tomb is of prime historical importance in Wayanad. He was the first king to start guerilla warfare to keep the British at bay and this tomb was built in his honor in 1805 the year he died. Kerala Varma Pazhassi Raja stood up against the British against the unfair tax rule forced by the British.
10. Kuruvadweep
This picturesque 950-acre group of uninhabited islets is bound by the river Kabini. There are three prominent islets that are of particular interest to naturalists for their variety of rare orchids and wildflowers. One of these islets contains a couple of small freshwater lakes. They are also a haven for migratory birds. Easy to spot birds include hornbills, parrots, and a host of butterfly species. Another interesting sight is that of massive trees with boughs stooping down to caress the river water.
Related Article – BEKAL
Frequently Asked Questions About Wayanad In Summer
Q. What is the temperature in Wayanad in Summer?
A. The weather in Wayanad in Summer remains less humid, with less rainfall. The nights are somewhat cool, but the average temperature can rise up to 31 degrees. You should keep yourself hydrated on a sunny day. Otherwise, the climate will remain pleasant.
Q. What are some of the top things to do in Wayanad in Summer?
A. Well, there are many things to do when you are visiting Wayanad in Summer. Some of these include: exploring the beautiful green hills and fields, witnessing the beauty of wildlife, experiencing the village life, and go camping or trekking. You can also try out the local cuisines and spa facilities available in the region.
Q. What is the best time to visit Wayanad?
A. Wayanad can be visited throughout the year. It is one of the best destinations to head during the peak summers as one can enjoy lovely weather a get relief here.
Q. What kind of amenities can one expect in hotels?
A. One will find hotels depending on your budget in Wayanad. For instance, one can either stay at luxury hotels, tree houses, or even budget-friendly hotels for that matter.
Q. What are the activities that one can indulge in Wayanad?
A. Head out for trekking, picnics, and boating in the lakes. One can also relax at the multiple therapeutic spas and massages that are offered here.
Q. Should one pre-book the campsite?
A. Yes, it is highly recommended that one books the campsites in advance to avoid the last-minute hustle.
Q. What are some luxury hotels in Wayanad?
A. Vythiri Village resort, Wayanad Silverwood resorts, Arayal Resorts, are the prominent luxury hotels in this region where you are bound to get scenic views of the surroundings and a comfortable stay.