Vietnam is an astonishing mix of cultural diversity and natural highlights. The scenery ranges from jagged peaks seen from winding mountain passes down to verdant paddy fields painted every shade of green in the palette, while the nation's long history and an amazing number of ethnic minorities mean that culture-vultures will find plenty to admire. 10 best places to visit in Vietnam.
The first words on everyone's lips when speaking of Vietnam are undoubtedly Halong Bay, a beautiful set of karst islands and formations off the northern coast. Hanoi is the bustling, motorbike filled capital. Plan your trip to this beautiful Southeast Asia travel destination with our list of the best places to visit in Thailand.
1. Ha Long Bay
Located about 130 km (80 miles) east of Hanoi in northern Vietnam, Halong Bay is celebrated for its gorgeous emerald-hued waters, thousands of spectacular limestone karsts, astonishing waterside cafes, and beautiful tree-topped islands. It's a popular location for adventure – scuba diving, kayaking, hiking, and rock climbing can all be enjoyed in and around Cat Ba National Park. For those who wish to simply relax and enjoy the views, there are numerous Halong Bay cruises to choose from, from basic to top-level luxury.
The thousands of islands scattered about the bay are a real mixture, ranging from isolated landmasses home to free-roaming monkeys and antelope to bigger inhabited islands with some fantastic beaches. Boat cruises are the best way to experience the natural wonder of Ha Long Bay. With hundreds of boats ranging from traditional Chinese junks to luxury cruisers, boat tours can vary from day trips to multiple-night journeys. These tours often provide meals, nightlife activities, and excursion stop where islands, caves, and lagoons can be explored. Most boat cruises are arranged either from Hanoi or from ports such as Haiphong, Halong City, and Cai Rong.
2. Ho Chi Minh City
For big-city fans, no visit to Vietnam is really complete without a visit to Ho Chi Minh City, the buzzing and crazy commercial hub of the country. The streets are an insane clog of motorbikes and cars, the restaurant and café scene is incredibly cosmopolitan, and the shopping is the best in the country.
At its center is Dong Khoi, a relatively small and easily navigable central district, which holds most of the city's sights. Here, you'll find the HCMC Museum, with a brilliant collection of artifacts that weaves together the story of the city, and the grand Notre Dame Cathedral, built in the late 19th century.
Check out the old district of Da Kao nearby for some of the best surviving examples of the city's French colonial architecture and also to visit the Jade Emperor Pagoda with its dazzling array of Buddhist and Taoist religious iconography. Afterward, the History Museum is a must-do for history fans with stacks of relics on display from various archaeological sites.
3. Hue
Hue – formerly known as the Panduranga of Cham Kingdom – was once the imperial capital of Vietnam. Located in the central region, Hue had a huge role to play in the Vietnam War. Captured by the Viet Cong for a total of 24 days, thousands of people were killed here if they were thought to be sympathizers of the south.
Today, the city is split in two by the Perfume River. The old city with its ancient ruined citadel lies to the north and the modern-day city to the south. The Demilitarized Zone, which marks the official former border, is one of the most popular day trips from Hue while the Thien Mu Pagoda is the city's official symbol.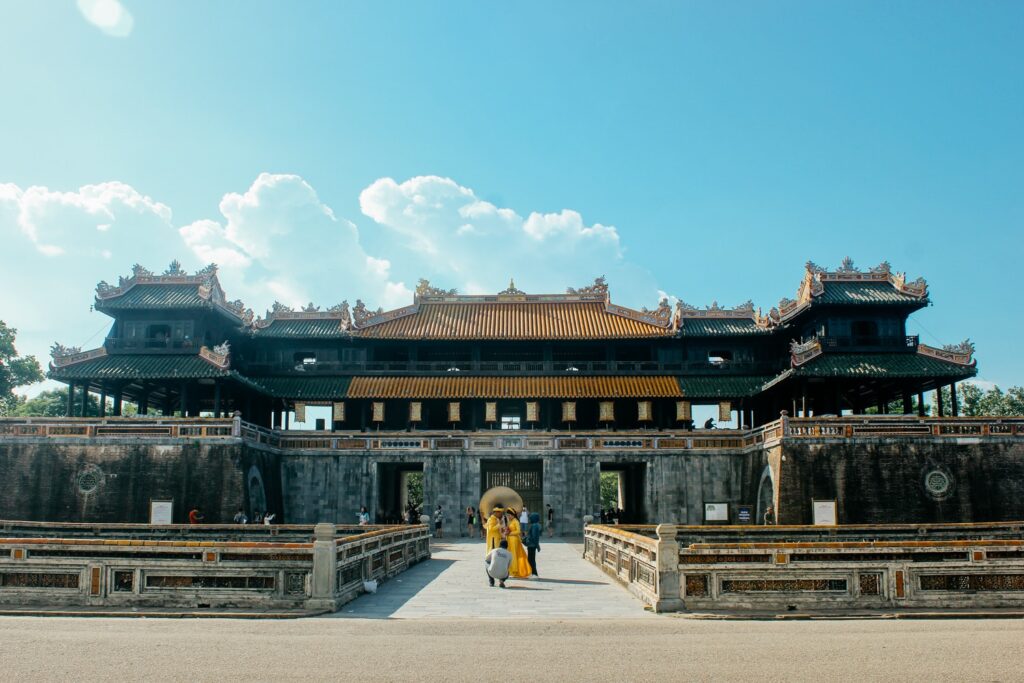 Of the city's monuments, the Citadel is the most famous. Once the seat of the Nguyen emperors, the Citadel is a sprawling complex of grand palaces, ornate temples, walls, and gates. Prime attractions within the Citadel are the Forbidden Purple City, Thai Hoa Palace, and the Ngo Mon Gate. Another important landmark on the river is the city's official symbol, the Thien Mu Pagoda.
4. Hoi An
One of the oldest cities in Asia, Hoi An is a town in central Vietnam that was declared as a World Heritage Site by UNESCO in 1999. Located south of Danang, Hoi An translates to 'a peaceful meeting place'. It is culturally and historically one of Vietnam's most important towns and also one of the richest. It is important to note that Hoi An does not have an airport or train station and can only be reached by road.
Being a trading port, the food of Hoi An is delightfully interesting and multi-cultural. The regional cuisine is served traditionally but also can be found to be served under the influence of Eastern Asia and other parts of South-Eastern Asia. A popular tourist activity here is cooking classes where tourists are taught about the local ingredients and can try their hand at preparing some traditional dishes
5. Hanoi
Vietnam's capital is the frenetic heartbeat of the nation and a place that befuddles travelers as much as it charms them. The motorbike frenzy, pollution, and constant clamor of street vendors can get too much for some travelers, but if you want to dive into Vietnamese city life, Hanoi is the place to do it.
The old town quarter has plenty of dilapidated charm on offer, while history fans should make a beeline here simply to see the bundle of excellent museums.
The Vietnam Museum of Ethnology and Vietnam Fine Art Museum are both brilliant introductions to the diverse artistry of the country, while the Ho Chi Minh Mausoleum is an important tribute to the founder of modern Vietnam.
6. Nha Trang
If it's beaching you're after, you've come to the right place. Nha Trang is the most famous seaside resort in Vietnam, with a laidback atmosphere and exceptional scuba diving. While it's certainly not on the same scale as many of Asia's other beautiful beaches, Nha Trang offers warm water and some picturesque offshore islets.
The promenade that encircles the beachfront is always a hive of activity, filled with parks and sculptures that make a stroll here interesting. As with most beach resorts, most of the activity gets going when the sun goes down, and Nha Trang is no different. You'll find a host of vibey bars and restaurants near the beachfront.
There's much more to Nha Trang than sunbathing and strolls, though. Go for a soak in the Thap Ba Mud Bath or take a ride on the longest cross-sea cable car in the world. The sacred Po Nagar Cham towers, dating back to the 7th to 12th centuries, offer a taste of the city's history – they're an active religious site for Cham, Chinese, and Buddhists even today.
7. Phong Nha Ke-Bang National Park
Phong Nha Ke Bang National Park is a UNESCO World Heritage site, known for its many cave systems, old karst mountains, thick green forests, and scintillating underground rivers. There are many spectacular caves in the region including the largest cave on the planet. Spread in the region of 10,000 hectares, mostly covered with dense forests, the national park is a thrilling destination to witness a myriad of flora and fauna conserved in an ecosystem of ancient limestone structures.
Phong Nha Ke Bang National Park is located in the center of Quang Binh province in North Central Vietnam. Huddled with a plethora of huge karst mountains, this park is a heaven for nature lovers, adventure seekers, and explorers. The name is derived from Phong Nha Cave which is touted to be the most beautiful one and Ke Bang forest. The wide spectrum of fascinating limestone mountains
hides hundreds of caves and grottoes, of which many are yet to be explored. It contains many activities to push up your adrenaline levels such as trekking, mountain climbing, kayaking, and canoeing.
8. Sapa
The verdant rice field countryside surrounding Sapa, bordered by the jagged peaks of the Hoang Lien Mountains (often still known by their French colonial era name of the Tonkinese Alps), is home to Vietnam's most beautiful rural vistas.
The deep valleys here are home to a diverse mix of the country's ethnic minorities, including the Hmong, Giay, and Red Dzao people, while the rippling hills are terraced with rice fields and overlooked by the country's tallest peak, Fansipan Mountain.
This is the top trekking destination in Vietnam, with oodles of options to trek or day hike between tiny villages and experience the staggering mountain views. Sapa itself is the main base here – an old French hill station and now a bustling and forever growing tourist center that is a stark contrast to the sumptuous tranquil countryside right on its doorstep.
9. Mekong Delta
The Mekong Delta, nicknamed the 'Rice Bowl of Vietnam,' is a lush network of waterways in Vietnam known for its excellent nutrient-rich soils and diverse ecosystems – the banks are a veritable patchwork of fruit, vegetables, rice plantations, and cattle farms that provide sustenance for more than a third of the country.
This impressive stretch of river frontage is the most biodiverse in the world if you don't count the Amazon. Taking up much of the south of Vietnam, the Mekong Delta is an extraordinary place filled with lily pad waterways, rice paddies, mangroves, and enchanting wildlife.
10. Da Nang
Da Nang sits prettily on the east coast of Vietnam, right between Hanoi and Ho Chi Minh City. Popularly known as the tourist capital of South-Central Vietnam, Da Nang is truly stunning – filled with beaches, museums, evolving nightlife, and world-class infrastructure.
On the coast of the South China Sea, with the Han River flowing through its midst, Da Nang is beautified by multiple bridges. The most striking among them is, of course, the Golden Bridge beautified by a sculpture of two giant hands holding it up.
Also known as Danang, its proximity to My Son, Hue, and Hoi An is another one of its many tourist draws. It is also popular for its own share of tourist attractions such as the Marble Mountains, Bach Ma National Park, and the Dragon Bridge.
Related Article – PATTAYA
Frequently Asked Questions About Vietnam In June
Q. Is the month of June a high season to visit Vietnam?
A. No, June is, in fact, is shoulder season for tourists in Vietnam.
Q. Is it rainy in June in Vietnam?
A. It may rain in Vietnam in the month of June as the country is under the Southwest Monsoon season.
Q. Are the tourist places crowded in June in Vietnam?
A. You may expect a good local crowd in the month of June as it is the period of school holidays in Vietnam.
Q. Is June cheapest to travel to Vietnam?
A. No, June will not be the cheapest month to travel. September is the cheapest month to fly and visit Vietnam.
Q. What type of clothes are preferred in the month of June in Vietnam?
A. As it can be hot and a bit humid in the month of June – ensure that you pack light summer clothes that can absorb sweat and can stay dry. Light-colored cotton, linen or summer athletic wear will be good.