The Balinese getaway, Where rice terraces meet the blue beaches meet the stunning waterfalls! Bali has become a hot favorite destination for the yoga fanatics, surfers, trekkers and basically just anyone who wants to experience the idyllic beaches, captivating sunsets, delicious Balinese food and the energetic nightlife! In Bali, there's something to suit every soul!
Romantic Island getaways
Does your idea of a romantic getaway include a tropical island, white sandy beaches with crystal clear turquoise blue waters? Ours too. Be sure to visit these Islands for a perfect romantic holiday with your soulmate-
Nusa Penida
The Island of Nusa Penida can be best described as a clear blue gem, with specks of white sand and lush green tropical forests. Along the west coast of the island, head over to the beautiful, dinosaur head shaped – Kelingking beach or if you wish to snorkel with Manta Rays – head over to the stunning Peguyangan Waterfall! Oh and before we forget, you would not want to miss one of the Island's best-kept secrets – a glistening blue, natural sweet water pool, nestled among jungle trees – Tembeling Natural Pool!
Gili Island
An archipelago of 3 small islands makes up this tropical paradise! If you're a couple that likes to party hard then Gili Trawangan is exactly where you should be. And for the lovebirds seeking a peaceful walk hand in hand on the beach – Gili Meno and Gili Air has the perfect romantic, relaxed and honeymoon vibe!
Adventure seekers
Mount Batur Trek
Anyone who feels that their trip would be incomplete without that adrenaline rush – Mt Batur trek is for you! Rise and shine in the early hours, and trek your way up a two hour trail to watch the sun rise from the active Batur volcano, gracing the sky with beautiful colors!
Waterfall hopping
For the adrenaline junkies who find bar hopping plain boring, Bali has a long list of beautiful waterfalls that you can visit! Pack your swimsuits and put on some good quality shoes to hike your way up to Nungnung waterfall in Ubud or Banyumala twin waterfall in Munduk or choose to head over to Leke Leke waterfall hidden in the Balinese Jungle!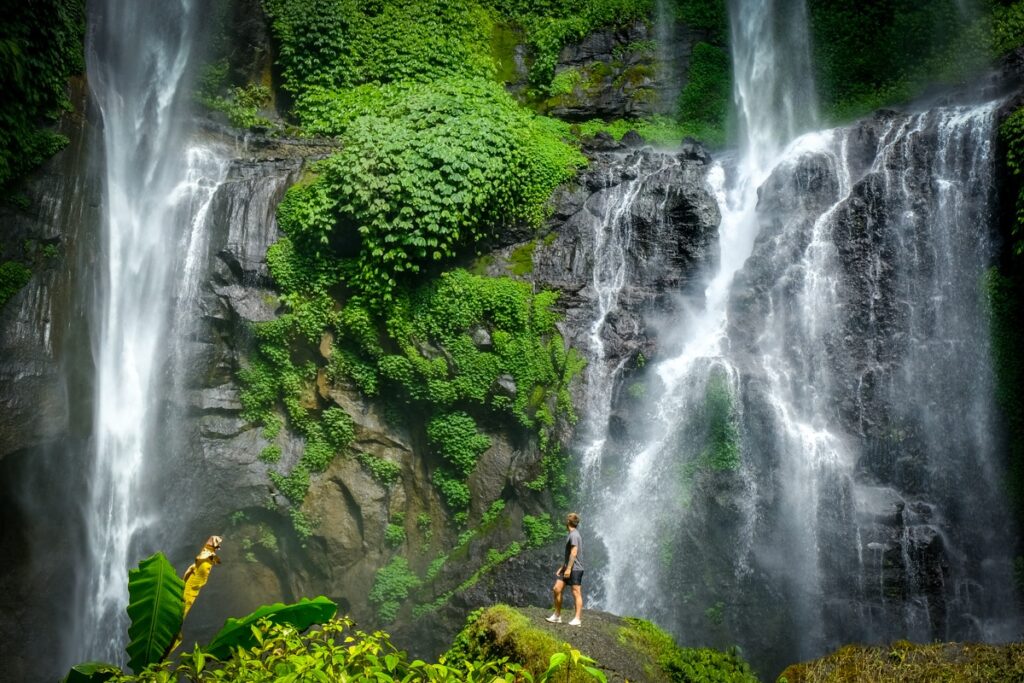 City geeks
Ubud
Ubud is a popular art village in the center of Bali. While in Ubud, do give a visit, preferably in the early morning hours, to the scenic Tegalalang Rice Terraces. Soak in the immense beauty of these fields and then head over to the infamous Bali swing in Tegalalang itself! Also, drop a visit to the Ubud Monkey forest, but be careful to keep your belongings securely stashed away from these little mischievous thieves!
Seminyak
The laid back town of Seminyak is best known for its long sandy beaches and stunning beach resorts. Seminyak = Relaxation. Visit the numerous clubs and restaurants along the beach and indulge in the authentic Balinese cuisine!
Canggu
Boho vibe, countless hippie cafes, surfer culture and a yoga mecca summarizes Canggu! Take a walk down the colorful streets of Canggu and shop eclectic handicrafts from Canggu's Sunday market, or head over to Echo or Batu Balong beach to surf the waves!
Beach bums
Diamond Beach
On the east coast of Nusa Penida Island is a postcard worthy, untouched, spectacular beauty – The Diamond Beach. True to its name, this beach has a crisp white sandy shore and silky blue water. Stunning to look at from atop the cliff and even prettier after the 5 minute walk down to the shore!
Broken beach
Take a dip in the crystal blue waters of Bali's natural infinity pool at the beautiful Broken beach on the west coast of Nusa Penida Island!
Gili Meno beach
A short 5 minute swim from the peaceful Gili Meno beach will get you to the place where you can see 48 beautiful life size underwater sculptures! Don't forget to carry your snorkeling gear.
Spiritual Souls
Pura Tanah Lot Temple
One of the island's most sacred temples and a popular tourist spot is the beautiful Pura Tanah Lot temple that is perched up on rocks along the sea side. A stunning temple with a spectacular view! Definitely worth visiting this temple in time to catch the sunset.
Uluwatu Temple
A beautiful scenic walkway with numerous beautiful view points leads you to the gates of this ancient temple set atop a sea cliff. A visit to this temple around the sunset time will surely take your breath away with the beautiful view of the sea, glistening in the golden light of the sun! Stay here for a while longer to see the Kecak dance performance. The Balinese Getaway
Pura Gunung Kawi Temple
Head over to Pura Gunung Kawi to explore this majestic archeological site where huge temples are carved out of massive rock formations!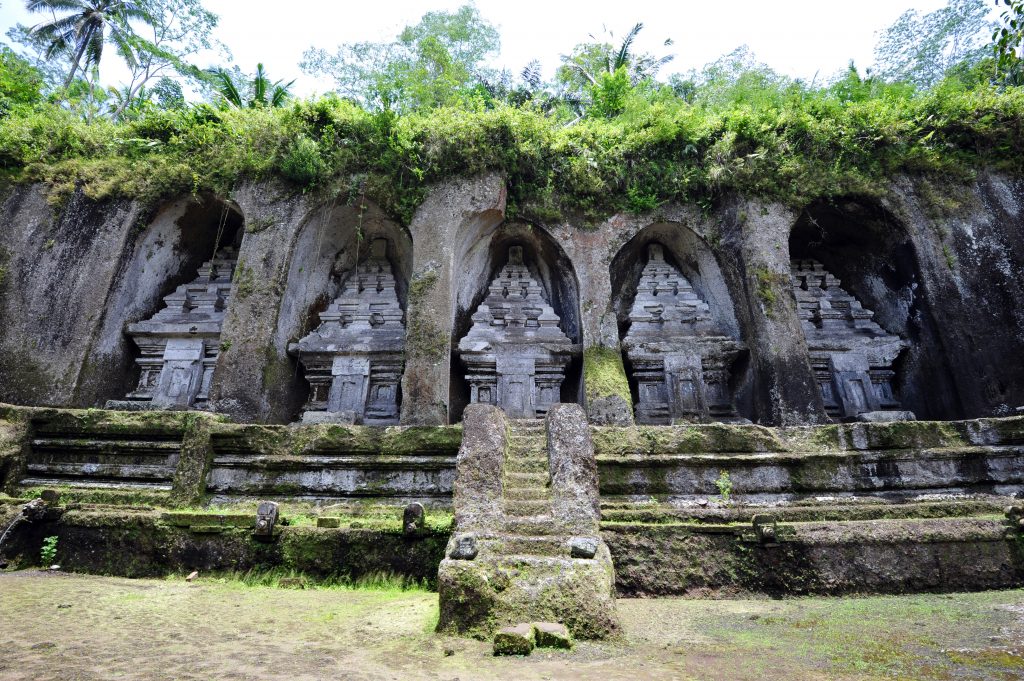 Read More About Bali –
Frequently Asked Questions About The Balinese Getaway
Q. Which is the best month to visit Bali?
A – Most visitors find that May, June and September are the best times to visit the island, when the conditions are hot and sunny, but less crowded at popular beach resorts such as Sanur and Seminyak.
Q. Is Bali dangerous for tourists?
A – Although Bali is a beautiful and popular holiday destination, petty crime is common and corruption and scams occur. We recommend some simple precautions to help keep yourself safe. There have been cases of snatching bags to keep your valuables away from you, close to you, and taken away.
Q. Is it expensive to go to Bali?
A – Bali is already the most expensive tourist destination in Indonesia and is slowly becoming more expensive as tourists get to know more about Bali, but cheap food and accommodation are still widely available if you Basic housing does not stick to its budget and bargains. Out of respect for prices.
Q. Do they speak english in bali?
A – English is the common "third" language and by far (after Indonesian and Balinese) the most popular foreign language. Due to tourism requirements, a lot of Balinese speak a level of English which allows them to communicate with tourists at a fundamental level.
Q. How much money do you need for a week in Bali?
A – So, a trip to Bali for two people for a week costs an average of Rp12,910,957 ($ 889). All these average travel prices have been collected from other travelers so that you can plan your own travel budget.
Q. Is it cheap to eat in Bali?
A – Whatever your preference for food, drink or nightlife entertainment in Bali, you will definitely get it. Whatever your budget food or beverage, prices will always be much cheaper than in Europe, Australia, Japan, Singapore, Malaysia etc.
Q. How do you say hello in Bali?
A – One – Saying "hello" in Bali. Say "Om Sastastu". To say "hello" at Bailini you should say "Om Suastastiyu". The Balinese language has a different alphabet of Western languages, so this transcription of the phrase for Hello is written as it is pronounced in Bali.
Q. Is Bali cheaper than Maldives?
A – Bali is clearly the cheaper option, as resorts offer rooms starting at USD 300, while resorts in the Maldives start from USD 550. Water villas are definitely more expensive. Facilities in Bali are also affordable, making it more affordable.
Q. Why do Indians go to Bali?
A – Bali offers spectacular scenic views from the white sand beach, Jatiluvih rice area, and unique local culture such as beautiful rice terraces. The weather in Bali is often hot and humid, with a stunning sunset view; Therefore, it is easy for Indians to adapt in Bali.
Q. How far is Bali from India by flight?
A – The distance between Delhi and Bali is 5,829 km and it takes about 9 hours and 5 minutes to reach Bali. There are 7 weekly flights from Delhi to Ballykinling Thai Airways, Singapore Airline, Malaysia Airlines etc.
Q. How many days are there in Bali?
A – If you want to visit the main island, then a week in Bali is perfect to see the most important things. However, if you also want to visit Gilli or Nusa Island, I would recommend you to spend 8 days in Bali.
Q. What is the cost of a flight ticket from India to Bali?
A – The lowest airfare from Delhi to Denpasar Bali is 21370 on 01 July '21.
Q. How can I stay longer in Bali?
A – There are three main ways to live in Bali for a long time. The first is to pay for a visa on arrival, even if you are from a country that is allowed visa-free entry, and then extend this visa to Bali for the next 30 days. You cannot extend this visa after the 60-day period is over.
Q. How can I go to Bali from India?
A – One of all the major international airports in India, Ngurah Rai International Airport is called Denpasar International Airport located in South Bali. The total distance between India and Bali is 5829 km and it takes about 9 hours to reach India from Bali.
Q. What is the best location to stay in Bali?
A – Best Areas to Stay in Bali
Kuta – for surfers & party lovers.
Canggu – for laid-back boho-chic beach lovers.
Uluwatu – upscale clifftop resorts and beach clubs.
Ubud – for serenity, stunning nature and peaceful getaways.
Must Read –