Kalimpong – A secret hill hideout, located on a ridge overlooking Teesta River, is a small hill station between Siliguri and Gangtok. With Darjeeling and Gangtok being the two most frequented hill stations in this region, many tourists bypass this small town. But it is a blessing in disguise for this scenic location in the Shivalik range of Himalayas (also known as the Lesser Himalayas). Kalimpong is verdant and peaceful throughout the year. Kalimpong is often referred to as the horticultural capital of the North East region. Many orchid nurseries thrive in the area. Kalimpong also has many educational institutions which were established during the British Raj in India. The temperate climate and quiet location are tailor-made for learning. This has also made it a haven for retired people.
A holiday in Kalimpong offers a wide of delights – relaxation, walking and trekking, forest and flora exploration, bird and butterfly watching, Buddhist tours and meditation, river rafting, mountain biking, nature and culture tours are just some of the activities and attractions awaiting visitors. Situated 1247 meters above sea level, Kalimpong offers excellent views of Kanchenjunga and other Himalayan peaks from points such as Durpin Dara and Deolo Hill. Kalimpong has several monasteries and a Kali temple. The Tibetan monastery and curio center and Dr Graham's home are some of the important tour stops in town.
Durpin Dara Hill is one of the two hills (the other being Deolo Hill) connected by a ridge on which the town of Kalimpong stands. The hill is 1,372 m (4,501 feet) above sea level and is located southwest of the town. This is the highest point in the region and is about 5 km away from the town.
On top of the hill is the Zong Dog Palri Fo-Brang Monastery. This was sanctified by the Dalai Lama in 1976. The monastery is home to many holy books and scrolls including the 108 volumes of the Kangyur. These scriptures were moved out of Tibet after the Chinese invasion.
St. Mary's Church
St. Mary's Church is a unique church as it doesn't have a traditional church structure with spires. This early 20th-century church resembles a Buddhist gompa. The church is approachable from the side street of the market going further down towards Relli and is about 2 km from the town center. One can take a taxi to reach or just enjoy a relaxing walk to the church.
Pedong Monastery
Pedong monastery at Pedong was built by a Bhutanese King in 1873. It is a very important place and attracts a lot of outsiders. The monastery is considered especially holy by the Bhutanese Buddhists who visit Pedong in large numbers. The special feature of the monastery is a very large number of very old paintings that it houses.
Tharpa Choeling Gompa
Amongst the three Buddhist monasteries in Kalimpong, the Tharpa Choeling Gompa is the first. It is a part of the Gelukpa (yellow hat) sect of Buddhism. It was founded in 1892, but rebuilt in the year 1937. It takes nearly half an hour to reach this Buddhist monastery which is situated on Tirpai Hill at the other end of the town. The present Dalai Lama belongs to this sect of Buddhism which was established in the 14th century. This is the newest monastery in the area of Kalimpong and a lot of young monks are trained in this monastery. One can learn a lot about Buddhism here.
Lower down the hill in the town, the Thongsa Gompa is a Bhutanese Monastery and is the oldest monastery in the area founded in 1692. The present building has been rebuilt after the original was destroyed by the Gurkhas in their rampage across Sikkim before the arrival of the British.
Read More about the North East Part of India
Flower Nurseries
Kalimpong enjoys the distinction of lying in the Eastern Himalayas, which is classified as an ecological hotspot. This is one of only three ecoregions of India. Three hundred species of orchid are found around Kalimpong, and poinsettia and sunflower are some of the wild species that line the roads of Kalimpong. The flowers are in full bloom all year long, but the best time to see most of these, especially the orchids in bloom is between mid-April and mid-May when the flower festival is usually held. Kalimpong also has over forty-six nurseries that mainly cultivate gladioli which accounts for 80% of India's production and also orchids, cacti, amaryllis, antirrhinums, roses, gerberas, and dahlias are grown in profusion in the nurseries here. The flowers are exported to many parts of the world and the business is a major source of revenue for this place.
Sericulture Research Institute
The Sericulture Research Institute is located on the road up to the town and is an institute for the research and breeding of silkworms. Expert knowledge and know-how are provided to interested farmers who would like to produce silkworms and cultivate mulberry trees and earn from it. The Institute purchases the silkworm cocoons from the farmers and provides the farmers a decent way of earning from sericulture.
Mangal Dham Temple
Mangal Dham Temple is dedicated to Lord Krishna. Spread over an area of two acres of wooded land, the temple is located at a very short distance downhill from Thongsa Gompa and is a marvelous piece of architecture. The temple has been built in the memory of the late Guru Shree 108 Mangal Dasji. The samadhi or the resting place of the Guruji is located within the temple. Devotees, especially of the Pranami Dharma, come from far away places to visit the temple.
Deolo Hill
Deolo Hill is one of the two hills that the town stands between. Kalimpong is situated on a ridge connecting the hills of Durpin and Deolo. The hill is 1,704 meters above sea level and Deolo View Point is the highest point of the town. A fantastic bird's-eye-view of Dr. Graham's Home, the town and Durpin hill can be had from here.
Kalimpong Bazaar
Kalimpong spreads along a curving ridge to either side of its main market area, known as Tenth Mile. Also known as Teesta Bazaar among local people, the area is a shopper's paradise and the main market area in the town. The town usually hosts weekly 'haat' (or market days) on Wednesdays and Saturdays. A lot of items are on display in the open air in these markets. Visitors can rub shoulders with locals in buying seasonal fresh vegetables, goats, chickens, village products of all types, clothes, shoes, and ethnic foodstuff among others.
Kali Bari Temple
In Kalimpong, there is a small temple of the goddess Kali which is known as Kalibari. This temple lies in the southern part of town 500 meters ahead of Roman Catholic Church and is quite close to the road to the Teesta River. The temple is situated at the 8th mile and is about 2 km away from the town. A huge statue of Goddess Kali is kept in the temple and is much visited by the Bengali community in particular and other Hindus (mostly from eastern parts of India). The temple gives the impression of being a place of meditation and the devotees are quite tempted to spend time here. The temple has a very peaceful atmosphere and the presence of goddess Kali is felt by everyone who is a follower of Ma Kali.
Dr. Graham's Home and other colonial buildings
Close by Mangal Dham is Dr. Graham's Homes, founded in 1880 by Rev. Dr. John A. Graham, a Scottish missionary. This institution was established as an orphanage-cum-school for destitute Anglo-Indian children. It is now a renowned regular co-educational school situated on a 500-acre campus. It stands testimony to Kalimpong's European influence. It is a fitting example of community life, an enthralling experience indeed.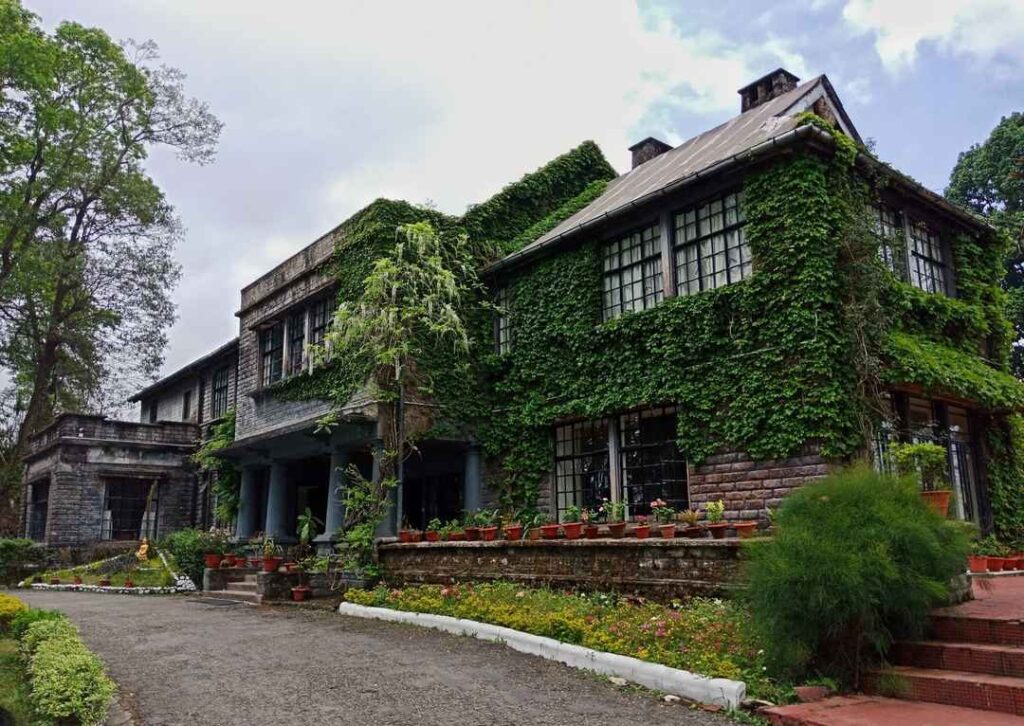 Related Article – Pelling Sikkim, attractions
Frequently Asked Questions About Kalimpong
Q. Why is Kalimpong famous?
A – Kalimpong is a famous hill station mainly in West Bengal as it used to be the gateway to trade between Britain and India during the British period. It is famous for its many avenues for adventure in the region.
Q. Which is better Darjeeling or Kalimpong?
A – Darjeeling is more developed, while Kalimpong is more serene. Darjeeling is known as the queen of the hills while Kalimpong has its own unique charm. And there is not much distance that you cannot cover between Darjeeling and Kalimpong and Kurseong.
Q. Which is better Mirik or Kalimpong?
A – Kalimpong is a holiday in itself. It is a beautiful city with some amazing places around. It is much hotter than Darjeeling so expect to see fans and even a few drops of sweat during rush hour. So I think you should give it two days while Mirik could be given an extra hour en route to NPP or Bagdogra.
Q. Which language is spoken in Kalimpong?
A – Languages ​​spoken include Nepali, which is the predominant language; Lepcha, Limbu, Rai, Tamang, Hindi, Bengali, and English.
Q. Is there snow in Kalimpong?
A – Kalimpong does not experience any snowfall. There is snowfall in Kalimpong and therefore in Darjeeling. The nearest place to rain from Darjeeling is sandakfu.
Q. What is the best time to visit Kalimpong?
A – Kalimpong can be visited at any time of the year, yet the best time to visit is between March to May and September to December. The weather is spectacular and bright most of the time. It is definitely a honeymoon destination during winter. It rains for an average of 100 days in a year.
Q. Kalimpong is a hill station?
A – Kalimpong is a small hill station located in the northern region of Darjeeling in the state of West Bengal. Surrounded by majestic mountains, lush tropical gardens and crystal-clear lakes – This place is a paradise for those who love nature.
Q. Can I go to Kalimpong now?
A – Darjeeling and Kalimpong, the popular hill stations of West Bengal, are now open to tourists after a gap of about six months due to the COVID epidemic. Although both regions attract visitors every year, this year suffered a setback due to the COVID-19 lockdown.
Q. How far is Kalimpong from Darjeeling?
A – 53 km is the distance between Kalimpong to Darjeeling.
Q. How can I reach Kalimpong?
A – The nearest airport to Kalimpong is Bagdogra in Siliguri. All the major domestic airlines of various Indian cities provide good connectivity between Bagdogra and the rest of India. Direct flights to Bagdogra are available from Delhi, Kolkata and Guwahati. Local taxis can be availed from outside the airport.
Q. What is the height of Kalimpong?
A – Kalimpong is located at an altitude of 1250 meters, which is slightly lower than its neighboring cities Darjeeling, Gangtok and Siliguri. The weather is pleasant throughout the year with moderate climate and is one of the most preferred tourist destinations in Western India.
Q. When was Kalimpong formed?
A – Kalimpong district is a district in the state of West Bengal, India. It was formed on 14 February 2017 after it was split from Darjeeling district as the 21st district of West Bengal. It consists of municipality and three community development blocks: Kalimpong I, Kalimpong II and Gorubthan.
Q. How far is Pelling from Kalimpong?
A – 93 km is the Distance between Pelling to Kalimpong.
Q. How can I travel from Darjeeling to Kalimpong?
A – The nearest railway junction is NJP (New Jalpaiguri) and the airport is Bagdogra. It takes about 2.5 hours (55kms) to reach via Darjeeling to Peshoke Road. It takes about 2.5 hours (65kms) from Siliguri via Teesta Bridge. It takes 2.5 to 3 hours by road from NJP and Bagdogra to Teesta.
Q. How far is Kalimpong from Siliguri?
A – 67 Kms is the Distance Between Kalimpong to Siliguri.
Q. What is the population density of Kalimpong?
A – According to the 2011 census, Kalimpong district (then considered a subdivision) has a population of 251,642. The population density is 239 persons per Sq. Km district has a single sub-division, Sadar.
A – 76 Kms is the Distance Between Bagdogra to Kalimpong.
Q. How do I plan a Kalimpong tour?
A – The easiest way to travel is to walk to the taxi stand in the main market area (Sage Road) and choose the taxi of your choice.
For The Love of Music – Best Travel Songs