It is a very popular festival in Nagaland. Often cited as a "festival of all festivals", the Hornbill Festival is a grand festival that is brought every year to Nagaland, North East India. The festival is a powerful representation of Naga culture in its essence and through traditional music, dance, and performance. The performances are probably very eye-catching and demanding attention. All the diverse tribes of Nagaland contribute heartily towards making the festival more lively and entertaining. All people come together, united under one celebration, making this festival an extraordinary possibility.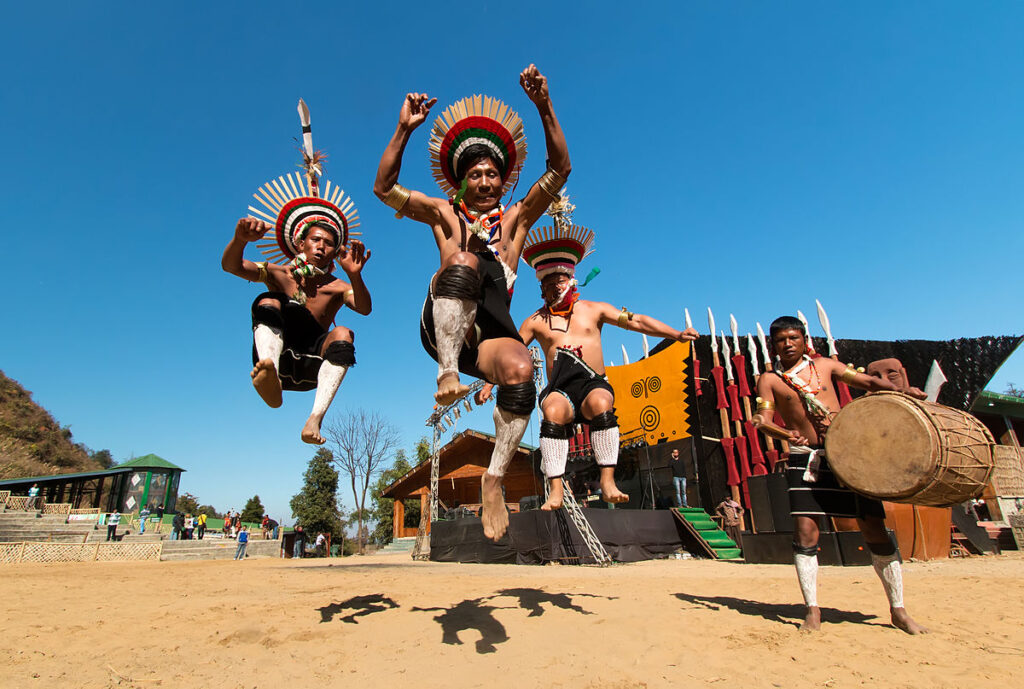 People from all over the world come to this promising occasion, either only to become witnesses or sometimes to participate in both. For visitors, the festival provides a clear glimpse into a better understanding of Naga culture. People are welcome to participate in various extravagant dance and musical performances as well as competitions. It is a very beautiful display of the cultural practices of Nagaland. The people of Nagaland are all kind with their helping hands and smiles. This fascinating festival is forcing tourists and travelers who visit the festival on holidays.
HISTORY OF THE FESTIVAL
The name of this festival is Indian Hornbill. Hornbill is a common bird in the folklore and tribes of Nagaland and can usually be seen roaming in the jungles of Nagaland. Various tribes of Nagaland address their culture with full respect and thus consider it necessary to complete the festival with their cultural presence. And so it is celebrated with such pride and enthusiasm. This festival is now being celebrated after 16 years. What started as a mere cultural performance in the year 2000 is still getting stronger every year. The purpose of this festival is to ensure that Naga culture is preserved and protected. This festival brings unity and better relations between various tribes in Nagaland. It is due to the hard work of the tourism department of Nagaland that this festival has got such a huge success.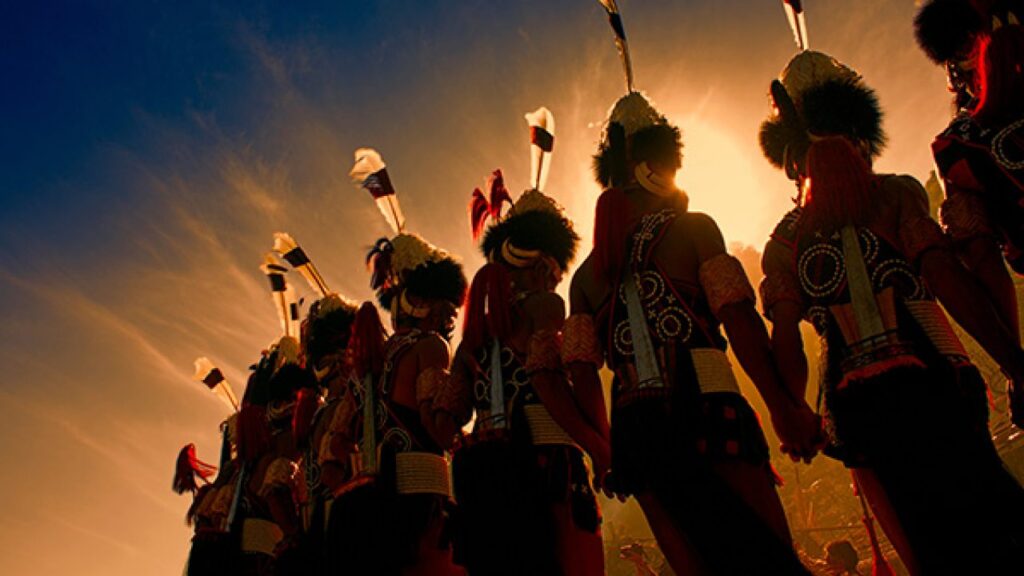 DURATION OF THE FESTIVAL
The Hornbill festival is celebrated annually. The festival opens in the first week of December each year. The government of Nagaland organizes cultural programs. The ceremony stretches from 1 December to 10 December. Kohima, the capital of Nagaland, is the starting place where the celebration takes place.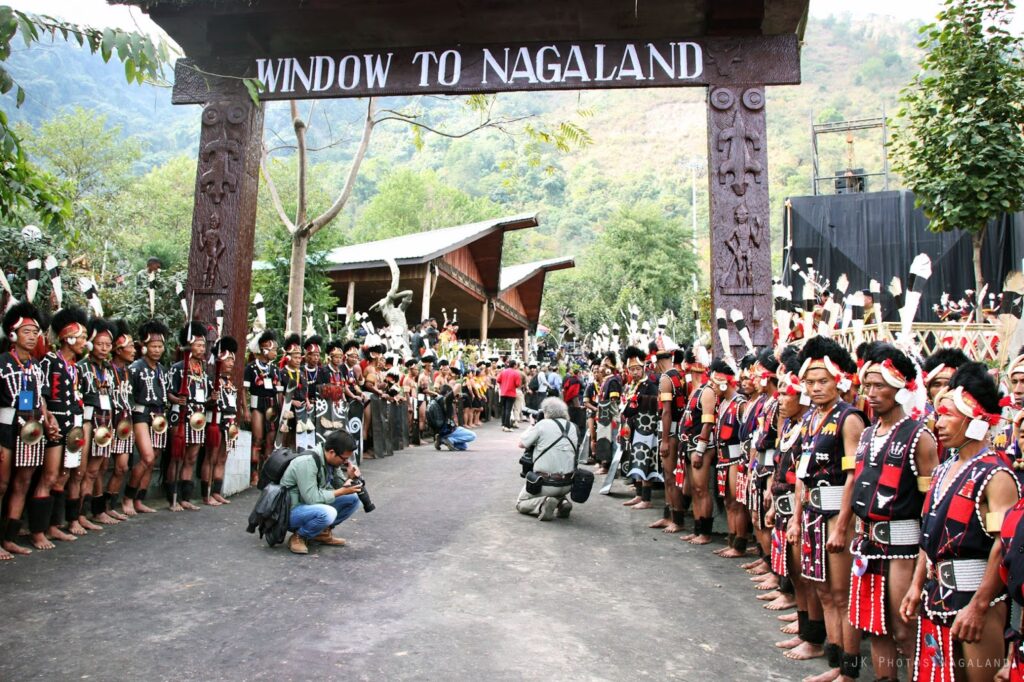 HIGHLIGHTS/ IMPORTANT RITUALS OF THE FESTIVAL
Religious and ceremonial ceremonies take place.
Each tribe has its own formal performance which is elegantly beautiful and is given in an eccentric manner.
The energetic traditional folk dances and musical performances that ensure the course of events is a closely woven representation of Nagaland's cultural heritage.
Various sports, crafts, dances, fashion shows, beauty contests are organized. Naga culture and ethnicity are showcased during the festival to bring out the spirit of competition among the people.
The celebration is lush with various food fairs, games, songs, concerts, and entertainment to keep the spirits of the festival alive.
Traditional artwork, wood crafts, easy crafts, sculptures, paintings, and wood carvings are displayed. Sales and exhibitions of these artifacts are held. There are also performances of herbal medicine stalls and flower shows.
There are different types of food that serve a variety of food, including traditional Naga food, which is deliciously indulgent.
People are involved in traditional archery, Naga wrestling, indigenous sports, other athletic sports, and other activities.
The Hornbill International Rock Festival is an important attraction of the Hornbill Festival. Various local and international rock bands perform at Indira Gandhi Stadium.
Festivities and concerts are performed overnight.
HOW TO REACH KOHIMA & KISAMA HERITAGE VILLAGE
By Air: The state has its own airport at Dimapur, which is regularly serviced by major airlines. The city is connected to Kolkata by air. Indian Airlines operates to Dimapur. Tourists then have to travel to Kohima by road after reaching Dimapur. It takes two and a half hours to reach Dimapur by road.
By Rail: The major railhead in the state is Dimapur, which is connected to Guwahati. Guwahati is connected to the rest of the country by important trains. To book train tickets online visit www.indianrail.gov.in and www.irctc.co.in.
By Road: A good road network covers the state. The state capital Kohima is connected to Shillong and Guwahati, which are important cities in North East India. First, proceed to Dimapur and then travel to Kohima.
ENTRY FORMALITIES – PERMITS
Before embarking on a journey to Nagaland, acquiring the entry permit is a must
Domestic tourists should obtain an Inner Line Permit issued by the following authorities: Deputy Resident Commissioner, Nagaland House, New Delhi, Deputy Resident Commissioner, Assistant Resident Commissioner at Nagaland House, Kolkata, Guwahati, and Deputy Commissioner of Shillong, Dimapur, Kohima, and Mokokchung.
Foreign tourists no longer need a restricted area permit (RAP) / protected area permit (PAP) to enter Nagaland. Previously, tourists were required to travel in a minimal group of four people. They were allowed to visit all 11 district headquarters and were valid for 10 days at designated locations with this permit, with an option of up to one month. Under the new rules, only foreigners are required to register themselves with the local Foreigners Registration Officer (FRO) of the district within 24 hours of their arrival. This is a temporary change in effect for one year.
Similar Articles –
Frequently Asked Questions About Hornbill Festival Nagaland
Q. Why is Hornbill Festival celebrated in Nagaland?
A – Hornbill Festival was started by the Government of Nagaland in the year 2000 to showcase and promote the culture and intercultural harmony of the state among various tribes.
Q. When and where is the Hornbill Festival celebrated?
A – Dubbed as the "Festival of Festivals", the Hornbill Festival is celebrated every year from 1 to 10 December, showcasing the rich cultural heritage and tradition of the Nagas on a podium at the Naga heritage village Kisama in Kohima district .
Q. Which version of Hornbill Festival started in Nagaland?
A – For the first time, amidst the global coronavirus epidemic, Nagaland will take its 21st edition of the Hornbill Festival to a virtual platform on three national and regional audio visual news channels from 1 to 5 December.
Q. Is Hornbill Festival happening this year?
A – Nagaland's popular Hornbill Festival, which is held annually from 1 to 10 December, will be held this year due to the COVID pandemic.
Q. What is Nagaland famous for?
A – The best thing about Nagaland is that it is also home to the hottest chili peppers in the world. Famous as Ghost Paper, Ghost Chili and Red Naga, it is considered 400 times more shocking than Tabasco sauce!
Q. What happens during the Hornbill festival?
A – Festival highlights include traditional Naga Morang exhibition and sale of arts and crafts, food stalls, herbal medicine stalls, flower shows and sales, cultural medley – songs and dances, fashion shows, Miss Nagaland beauty pageant, traditional archery, Naga. Wrestling, indigenous sports and music.
Q. How many festivals are there in Nagaland?
A – There are mainly 16 tribes in Nagaland. Nagaland is known as the 'Land of Festivals' and this is also true, as there are festivals throughout the year.
Q. Who started the Hornbill Festival?
A – To promote tourism and to further the conservation of nature and inter-tribal interaction, Arunachal Pradesh and Manipur also started organizing the late "Hornbill" festival, which is considered a "festival of festivals" in Nagaland.
Q. What is the staple food of Nagaland?
A – A typical Naga meal consists of rice, a meat dish, one or two boiled vegetable dishes and a chutney / pickle (tathu). Rice is the main carbohydrate source in the Naga diet and the region produces many prized varieties of rice, but rice is also imported from other states to the region.
Q. How does the Hornbill Festival begin?
A – Hornbill Festival started in 2000 as a main event to promote tourism in the state and to unite all tribes under one platform and one roof. Now in its 15th year, the festival attracts travelers and tourists from the region, mainland India and around the world.
Q. In which month is the Grand Hornbill Festival celebrated?
A – The annual hornbill festival celebrated from 1–10 December is a time when thousands of domestic and international tourists visit the state to explore the rich culture and heritage of the state, giving local businesses an opportunity to generate income.
Q. Is Nagaland safe for tourists?
A – "Although it is completely peaceful at the moment and local rebel groups have agreed to a ceasefire, Nagaland is safe for outsiders." For a tourist, Nagaland is safe. "
Q. How does the Hornbill represent the Naga warrior tradition?
A – The great Indian hornbill, a large and colorful bird is considered a symbol of valor in the folk culture of most Naga tribes. Its cry, which sounds like a roar, suggests strength and courage. For these reasons, the hornbill represents the Naga warrior tradition.
Q. Recently which state is known as Hornbill festival?
A – Nagaland Tourism Department has informed that the State Government has decided to celebrate Hornbill Festival 2020 in full virtual mode only through various audio visual media channels and social media platforms. The content of the virtual festival will be sourced from the government archives.
Q. Can I go to Nagaland?
A – To travel to Nagaland, an Indian tourist needs an Inner Line Permit (ILP). People residing in New Delhi, Kolkata, Shillong or Guwahati can also obtain the ILP application form at the Nagaland House office, where it can also be duly submitted.
Q. Are Naga people good?
A – I find Nagas very genius, humble and caring. The Naga society is very tolerant and welcomes people from other states who have come to earn livelihood especially in Dimapur. The nature of my job sometimes took me to remote corners. The hospitality of the Nagas is unique anywhere in India.
Q. What is Naga Day?
A – Nagas declared independence from India in 1947, a day before, demanding self-government. The 74th 'Naga Independence Day' was observed on Friday in parts of Nagaland and Manipur, which was renewed for the final resolution of the long-drawn Naga. Political issues associated with many extremist groups.
Q. How many languages ​​are spoken in Nagaland?
A – 14 languages, Based on the 2011 census data, Nagaland effectively has 14 languages ​​and 17 dialects with the largest language (Konyak) accounting for only 46%. At the other extreme, Kerala has only 1.06 effective languages, with 97% of the state's residents (in 2011) identifying Malayalam as their mother tongue.
Q. Do snakes eat snakes?
A – Meat is mostly pork, beef and chicken, but it is also snakes, snails, mice, squirrels, dogs, cats, Gemini, buffalo, deer, spider, birds, crabs, monkeys, bee larvae, shrimp, red ants. Can occur. , And almost everything that is wild.
Q. English is spoken in Nagaland?
A – Each tribe has one or more dialects which are unknown to others. In 1967, the Nagaland Legislative Assembly declared Indian English as the official language of Nagaland and it is the medium of instruction in Nagaland. Apart from English, Nagami, a Creole language based on Assamese, is widely spoken.
Q. Are there cannibals in Nagaland?
A – The culture of head hunting is often considered primitive and wild, but even against such culture, the Tangkhul-Naga tribe did not practice cannibalism (Mikhalatta Kashai), allowing many of them to be consumed by them. Felt excited at the thought of. White Soldier (Cora Raimi).
Q. Why is Nagaland a dry state?
A – Nagaland. The Nagaland Liquor Total Prohibition Act, 1989 (NLTP Act) banned the sale and consumption of alcohol in 1989. The ban is imposing and Indian-made foreign liquor is readily available. Liquor is also smuggled from the neighboring state of Assam.
Q. What is Nagaland people called?
The word A – Naga has its origins as a surname. Today, it consists of several ethnic groups that inhabit the states of Nagaland, Manipur, Assam and Arunachal Pradesh, India, and also Myanmar.
Q. Why are Nagas known as fierce warriors?
Upto 17–89, the Konyak people or Nagas were known as fiery warriors, often attacking nearby villages of other tribes and taking the head of opposing warriors as trophies to declare their victory.