Food guide to Tokyo: When you are in Japan for the first time, you immediately understand that there is a cult of food here. Locals love to eat well and do it everywhere: on the street, in parks, on subway trains and shinkansen's, at train stations, and in the workplace. And, of course, in thousands of cafes and restaurants.
Any person, especially a European who has just arrived in Tokyo, will find it difficult to understand all this. We are used to looking for the best cafes and restaurants closer to the center, but there is no center as such. The city consists of 23 districts, and each of them has its own gastronomic quarter. Therefore, for a delicious dinner in a Michelin-starred restaurant, it is not at all necessary to go to another part of the capital – it can also be found in a residential area. Well, tastier and best where the locals themselves go.
In order not to get confused when choosing an institution and food, you need to either carefully research the gastronomic map of Tokyo yourself, or find a reliable guide. Read, taste, and discover a taste of Japan with our travel guide.
Gyoza Bar Like in Paris
What happens when you mix Japanese and French cuisine? For the answer to this question, you need to go to the Gyoza Bar Comme a Paris restaurant in the second district of Tokyo. Here, classic Japanese fried gyoza dumplings are served without garlic, seasoned with French sauces and Provencal herbs. And as an accompaniment, instead of the usual pint of beer, they offer a glass of cold sparkling or white. Usually, already in the first minutes after the opening, there are not many free tables left. So it is better to book in advance by phone or arrive early. Average bill: from $ 60 for two.
Kitafuku Ginza
A restaurant for which you need to set aside at least 2-3 hours of your time: both because of the size of the portions, and because of the very presence of the dishes. In this place, food is served live. For example, you will have to eat a 4 kg crab, starting with raw phalanges, continuing with the grilled main part, and ending with a heart prepared by the chef himself. Yes, this pleasure is not cheap, but you will not experience such a gastronomic experience anywhere else. Average check: $ 400 for two. Advance booking is required at gnavi.co.jp.
Chikuyotei Ginza
Entering this institution as if you find yourself at the beginning of the XX century. Here they serve classic unadon – this is the Japanese name for eel on a soft rice pillow. It's simple, but sometimes this is the key to unconditional success. Locals put Chikuyotei at the top of the gastronomic rankings. You can estimate the popularity of the place yourself by looking at the queue gathered at the entrance. Unfortunately, it will not be possible to book a place here, so the guests stand patiently and wait for a free table. But you can come a little earlier than lunch or dinner – to slightly reduce the waiting time.
Sushizanmai
A chain of quality sushi bars, although of course "quality" is a matter of course when applied to sushi in Japan. And don't be intimidated by the fact that this is a chain establishment. The freshest and most delicious sushi is always served here. Affordable prices, strict quality control of products, and even open 24/7. When in the Sushizanmai area of ​​Tokyo, be sure to check out this restaurant. It will not be possible to book a table in advance, but there have never been any problems with accommodation. Yes, it will be noisy and fun inside (around – students, officials, office clerks, tourists, and just locals). But it is guaranteed to be tasty and, by Japanese standards, quite cheap. Average bill: from $ 40 for two.
Ginza kyubey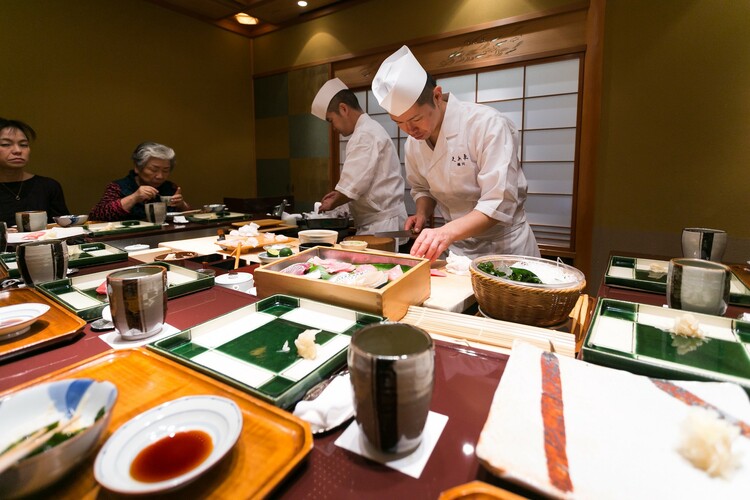 It is a more relaxed alternative to the online Sushizanmai, justifying the trust of local residents since 1935. It has been recognized as one of the best restaurants in the world on several occasions and is definitely at the top of the gastronomic ratings in Tokyo. If you want to arrange a date or just spend the evening in a quieter environment, then feel free to book a place for two at the Ginza Kyubey restaurant. It is better to do this at least 2-3 days before the planned visit. There are few guests, and each of them can watch the cooking process – all the sacred rite takes place right in front of you in the open kitchen. Average bill: from $ 130 for two.
Yakitori Imai
Do not miss this place under any circumstances. Some of the best Japanese yakitori kebabs are prepared here, which Chef Imai spices for you personally, depending on your mood. So be prepared to first answer a few questions: about the weather, about yourself, and about your chosen drink. The chef will analyze the information received and prepare your individual yakitori. Usually, the Japanese prefer to wash down such kebabs with cold craft beer, but I still advise you to choose a wine – with such an elegant presentation, it will be very useful. You are unlikely to enter Yakitori Imai without pre-booking, and the restaurant is generally closed on Sundays and Mondays. Average bill: from $ 100 for two.
Kiki Harajuku
A small cafe is located in the most fashionable district of Tokyo – Harajuku, where all the main shops of the world and local brands are concentrated. And, accordingly, the cuisine is also "fashionable" – another successful attempt to erase culinary boundaries and reveal Japanese products in a French style. The chef worked in Michelin-starred restaurants in France, in order to open his own establishment in his homeland 10 years later. Daring to experiment with gastronomy, here he skillfully combines, for example, fresh fruit with bacon and mustard. The cafe is so small that if you were unable to occupy one of the two tables, you may be sitting opposite a stranger. However, there is no need to book a place in advance. Average bill: from $ 60 for two.
Shinjuku kappo nakajima
A Michelin-starred restaurant that offers some of the most affordable lunches in Tokyo (yes, it does happen). I recommend that you look here twice – in the evening to try a kaiseki dinner (a traditional serving of a large number of dishes in small portions) and at lunch. Take sardines for lunch – this is the main product of the establishment. They can be eaten deep-fried like sashimi, marinated in ginger and sesame seeds, or a casserole with broth, egg, and onions. Believe me, it's very tasty, which is why here you will find the usual queue at the entrance for good restaurants in Tokyo. Come early for lunch, preferably around 11: 30-12: 00, since at 14:00 the restaurant closes its doors until 17:30. For dinner, it is highly recommended to book a table by telephone. The average check for lunch: from $ 25 for two, for dinner – from $ 200
Japanese Soba Noodles Tsuta
Despite the fact that there are over 1000 ramen establishments in Tokyo, this one can rightfully be considered the best. Chef Yuki Onishi received a Michelin star for his dishes. The restaurant has only 9 seats, so it is difficult to get here. Guessing that there are clearly more people who want to than the restaurant can accommodate, the owners came up with a special booking system that opens at 7 am and works until 11:00. From 14:00 a lively and rather patient line begins. Sometimes it seems to me that the Japanese love queuing more than the food itself in a particular restaurant. Yes, only a few seats and a long wait, yes, a plate of ramen costs $ 10 and yes it is worth it. It is worth waking up at 6 in the morning to be at the entrance to the cafe by 7, book a table, make a deposit and arrive at the appointed time. Of course, it is possible, try your luck in a live queue, but if you do not want to miss out on the best ramen in your life, it is better to take care of it in advance. Average bill: from $ 20 for two.
Read More About Japan