Amritsar, the spiritual capital of Sikhism, is known for its historic Golden Temple (officially called Harmandir Sahib or Darbar Sahib). The name of the city comes from the water body surrounding the temple and means "holy tank of immortality". As one of the top places to visit in North India, Amritsar is also famous for its local cuisine and heritage related to the Partition of India. This travel guide will help you plan your trip.
History
The fourth Guru of the Sikhs, Guru Ram Das, founded Amritsar after being appointed in 1574. It is believed that this land was donated by Emperor Akbar. To establish his new base, the Guru invited merchants and artisans from the surrounding areas to settle there with him. In 1977, Guru Ram Das inaugurated the excavation of the sacred pond, which became the focal point of the city. His youngest son and successor, Guru Arjan Dev, later designed and built the temple complex. Its foundation was laid in 1588 by the popular Muslim Sufi saint Mian Mir (in keeping with the belief that people of all religions are welcome) and construction was completed in 1604.
The Golden Temple complex was developed by the sixth Sikh Guru, Guru Hargobind, who added the Akal Takht in 1606. This throne of spiritual authority is one of the five seats of power for Sikhs. Unfortunately, the original temple suffered extensive damage during the fighting between the Sikhs and the Muslims. In 1762, the Afghan invaders led by Ahmed Shah Abdali blew up the temple, but fortunately, it was quickly rebuilt. Originally for more than 200 years of construction, the temple did not get its magnificent golden glow.
In 1830, Maharaja Ranjit Singh, the founder of the 19th century Sikh Empire, sponsored gold plating and other marble work. It was the golden years of Amritsar during the fair and courageous reign of Maharaja Ranjit Singh.
British rule followed, and in 1919 Amritsar was the site of a terrible but defining event in India's struggle for independence – the massacre at Jallianwala Bagh, where British troops executed more than 10,000 in an act that inspired Gandhi's independence movement. Opened fire on unarmed protesters.
In order to elevate Amritsar and promote its image, the government completed a series of beautification projects of the city in 2016. Part of this included rebuilding the heritage road running between the town hall, Jallianwala Bagh, and the Golden Temple. A huge statue of Maharaja Ranjit Singh was installed in the plaza near the temple, and a partition museum was set up in the renovated town hall.
Location
Amritsar is located in the state of Punjab in northwestern India. The city is about 25 kilometers (15 mi) from the Pakistani border.
How to Get There
Amritsar airport has direct flights from various cities of India including Delhi, Srinagar, Chandigarh, and Mumbai. However, northern India (including Delhi and Amritsar) suffers from a fog in winter, so frequent flights may be delayed during that time. An alternative option is to take a train. Frequent services are available from major Indian cities. From Delhi, 12013 / New Delhi-Amritsar Shatabdi Express will get you there in six hours. It departs from the New Delhi railway station at 4.30 pm. And reaches Amritsar at 10.30 pm.
You can also travel to Amritsar by road. North Indian has regular bus services from Delhi and other destinations. The journey time by bus from Delhi is around 10 hours. See Redbus. in for options (if you are a foreigner, you will have to use Amazon Pay to book as international cards are not accepted).
Many companies offer tours from Delhi to Amritsar. A cheaper option is the one-night Indian Railways Amritsar Rail Tour Package which includes train travel, all meals, accommodation, transport, and sightseeing on the Swarna Shatabdi Express. The itinerary includes the Golden Temple, Wagah border, and Jallianwala Bagh. It departs from New Delhi railway station on Friday and Saturday morning.
When to Go
Amritsar has extremely hot summers and very cold winters. The best months to visit are October and November and February and March. December and January are also good times to visit if you do not feel a little cold. Temperatures rise in April and monsoon rains occur in July.
Most of the festivals in Amritsar are religious in nature. Diwali, Holi, Lohri (bonfire harvest festival in January), and Baisakhi (Punjab New Year and commemoration of the founding of the brotherhood of Sikhism in April) are all celebrated on a large scale. Baisakhi is especially celebrated with much fanfare with a lot of Bhangra dance, folk music, and fairs. On this occasion, major ceremonies are held in the Golden Temple and it becomes a carnival on the outside. There is also a road procession. Other festivals in Amritsar include the Guru Nanak Jayanti in November and the Ram Tirath Mela in November, a fortnight after Diwali.
How to Visit
Amritsar is divided into old and new parts of the city. The Golden Temple is located in the old part, filled with markets, only 15 minutes from the railway station. The management committee of the temple runs free shuttle buses from the railway station to the temple round the clock. However, these buses are very basic and are very congested at peak times.
For tourists, a special hop-on-hop-off sightseeing bus connects 11 of the city's top attractions. Note that the museum and Jallianwala Bagh are closed on Mondays.
If you're feeling energetic, City on Pedals organizes city-themed bicycle trips.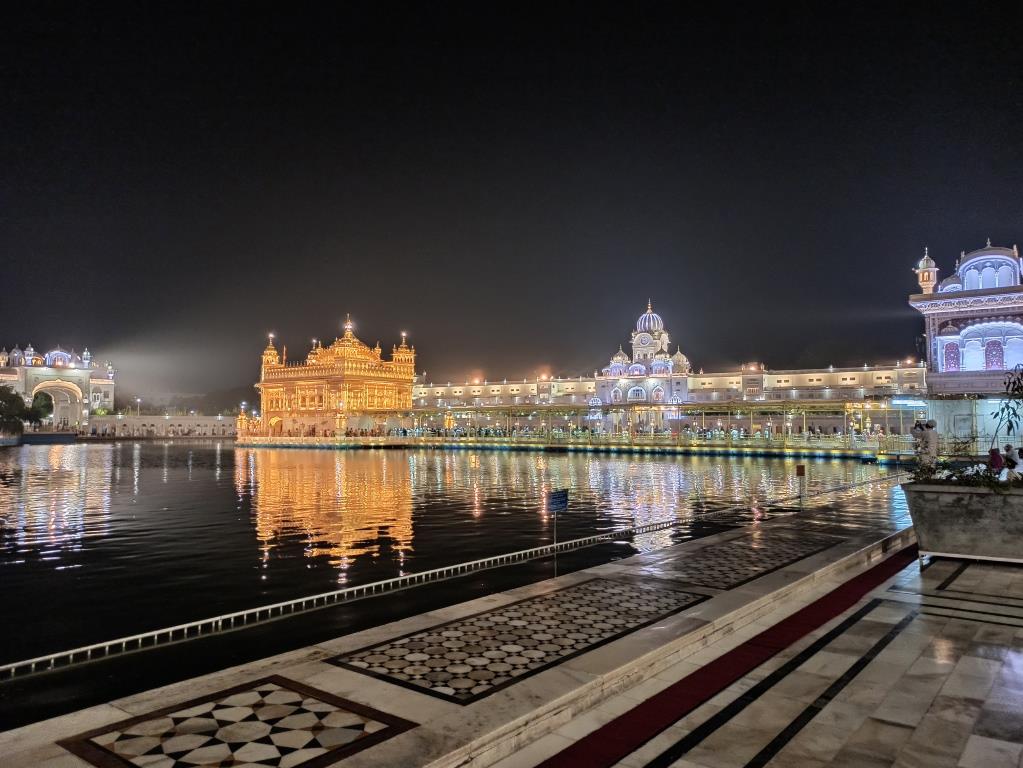 What to See and Do
The Golden Temple is the main attraction of Amritsar, and this is what makes it so special to the ordinary Punjabi city. The temple — so exquisite, formally named Sri Harmandir Sahib, "the abode of God," —is the central place of worship for all Sikhs. It attracts pilgrims from all over the world who pay their respects and perform voluntary service that rivals the annual visitors of the Taj Mahal in Agra. The temple also provides a place of worship and shelter for all, irrespective of their faith.
The temple seems particularly attractive at night when its grand pure gold dome is illuminated. Apart from the dome, one of the most incredible features of the temple is the free food from the langar, or community kitchen, which is offered to pilgrims or any other person. The temple is said to have the largest free community kitchen in the world and serves up to 100,000 people per day. It is possible to visit the kitchen – an opportunity you should not miss – and even volunteer there.
If you have the time, the Golden Temple is worth two visits – one in the day and one in the night. Special rituals are performed at dawn, when the Guru Granth Sahib (Sikh Holy Book) is taken out and closed when it is returned to bed. The scripture is respectfully regarded as a living person, or guru. Sikh weapons are displayed around 8 pm. After the evening scripture. The temple remains open for about 24 hours. Details of its program are available here. Visitors should note: Heads must be covered and shoes removed when you enter the temple premises.
Other Things to Do in Amritsar
The old city of Amritsar is indeed worth visiting. This heritage walking tour of Amritsar will guide you through its narrow streets. On foot, you will see panoramic architecture with historic mansions, traditional trade and crafts, and intricately carved wooden façades.
Amritsar is known for its hearty street food. There are several options for guided walking tours including this Amritsar Food Trail offered by Amritsar Magic and Amritsar Food Walk offered by Amritsar Heritage Walk.
There is a memorial at the Jallianwala Bagh massacre site which has the eternal flame of freedom. There are still bullet marks on the garden walls and the place where the firing was ordered can also be seen. A gallery with pictures and historical memories of Indian freedom fighters is another attraction there.
The new Partition Museum of Amritsar is dedicated to recording and preserving the experiences of those affected by the 1947 Partition of India, which was enacted as part of the deal to provide independence to India. It is one of the top museums in India and exhibits an important event in the history of India which has had a wide influence on world politics.
Gobindgarh Fort, at Old Cantt. The road in Amritsar is also worth seeing. This fort was the heart of the empire of Maharaja Ranjit Singh. It had an armory and mint and has a fascinating history of nearly 300 years. The government opened the renovated fort in 2017 to the public. It has been developed as a cultural center with a museum dedicated to the history of Punjab.
Where to Eat and Drink
The centuries-old Kesar Da Dhaba is an iconic restaurant near the Golden Temple in the Old City. You have to take a cycle rickshaw or walk there because it is tied in a narrow street. Note that it only serves vegetarian food.
For lunch, try the Amritsari Kulcha (with potato, cauliflower, or paneer stuffing) at Bhai Kulwant Singh Kulchani Wale located on a side street between Jallianwala Bagh and the Golden Temple.
Near the town hall, the stuffed da Dhaba has been in business since 1912 and is known for its winter specialty of mustard da saag (mustard greens) with maize bread (cornmeal flatbread). One of the owners opened the equally popular Bare Bhai Ka Brothers Dhaba next door.
If you are a hardcore non-vegetarian, then visit Makhan Fish and Chicken Corner or Beera Chicken House (known for its roasted chicken).
Adventure enthusiasts should not miss sampling hot and hot Keema (goat curry) and keema paratha (spicy minced flatbread stuffed with minced goat meat) at Pal Dhaba at Hathi Gate.
Where to Stay
Some reasonably priced budget options are Hotel City Park, Hotel City Heart, Hotel Durbar View, and Hotel Le Golden. These are best for those who like to stay close to the Golden Temple, but this area will not suit everyone as the roads are congested. The contemporary new Taj Swarna Amritsar is the best luxury hotel in the city. The Golden Tulip is a good mid-range option close to Amritsar railway station.
Head to Swayasa of Welcome Heritage Ranjith, for a typical heritage hotel. This boutique Ayurvedic Spa Retreat is located in a 200-year-old mansion, near Mall Road (about a 10-minute drive from the Golden Temple). Expect to pay upwards of Rs 6,000 for a double.
Alternatively, Amritsar has some luxurious boutique properties on the outskirts of the city, such as the Kisan Villa Farmstay.
If you prefer to stay in a guesthouse, Mrs. Bhandari's guesthouse gets good reviews. It is situated in a peaceful area surrounded by a garden and has a swimming pool. Double rooms are available from Rs 2,600 per night. Jagdus Hostel is the most popular backpacker hostel in Amritsar and arranges local tours.
What Else to Do Nearby
Most people who come to Amritsar also take a day trip to the Wagah border between India and Pakistan. The biggest attraction there is the flag hoisting ceremony, which takes place every evening at the outpost at sunset. It has been running with great fanfare since 1959. You can get there by taxi (around Rs 1,000 return), auto-rickshaw, shared jeep (Rs 150 per person), or join one of the many trips.
Boutique tour companies take day trips to birding and nature walks in local villages, farms, and wetlands.
Frequently Asked Questions About Amritsar and the Golden Temple
Q. What is Amritsar famous for?
A – Amritsar is the largest and most important city of Punjab and a major commercial, cultural, and transport hub. It is also the center of Sikhism and the site of Harmandir Sahib, or Golden Temple, the principal place of worship of the Sikhs.
Q. What is the best time to visit Amritsar?
A – November to March – The best time to visit Amritsar is between November and March when the weather is comparatively pleasant and ideal for sightseeing and visiting the sightseeing places.
Q. What is good to buy in Amritsar?
A – Specialty: shawls, carpets, dress materials, electronics, Phulkari embroidery workwear, Pakistani shoes, sarees, Chinese lamps, dry fruits, fake jewelery, food items, handicrafts, woolen garments, sweaters and Pashmina shawls among the best Are from Buy from here in Amritsar.Golden Temple. However, sometimes the temperature can touch cold – 4 ° C.
Q. Amritsar is expensive?
A – Summary about the cost of living in Amritsar, India: The estimated monthly cost of a person is 333 $ (24,460 ₹) without rent. Amritsar is 75.32 percent cheaper than New York (without rent). The fare in Amritsar is 95.64% less than the average in New York.
Q. What is good to buy in Amritsar?
A – Specialty: shawls, carpets, dress materials, electronics, Phulkari embroidery workwear, Pakistani shoes, sarees, Chinese lamps, dry fruits, fake jewelery, food items, handicrafts, woolen garments, sweaters and Pashmina shawls among the best Are from Buy from here in Amritsar.
Q. What is the famous food of Amritsar?
A – Mustard da Saag and Makki Di Roti, one of the most famous vegetarian food and traditional dishes of the region, is the best food in Amritsar. This meal is an evergreen nutritious food consisting of spinach and many types of spices. Makki di roti looks even more delicious when soaked in desi ghee.
Q. Is jeans allowed in Golden Temple Amritsar?
A – Yes, you can wear jeans inside the Golden Temple. Considering the sanctity of this place, it is not appropriate to wear shorts.
Q. How far is Wagah border from Amritsar?
A – The distance between Amritsar and Wagah border is 28 KM / 17.4 mi.
Q. How safe is Amritsar for tourists?
A – Yes it is safe, there are police checkpoints everywhere, even without them it is safe .. And in all other parts of the city where there is not much congestion at night, you will not want to risk walking at night, it is safe. , But why do something different from the locals, because they don't walk much
Q. Is Ola or Uber available in Amritsar?
A – Yes, Ola and Uber cab services are available in Amritsar and also Rapido but they provide bike services and it is much cheaper than Ola and Uber bikes.
Q. Is there any ticket for Wagah border?
A – No, there are no tickets for the Wagah Seema and you do not need a pass to watch the Wagah Seema function as it is free and open to all. But, one should arrive at least one hour in advance to get a proper seat as there is usually a crowd of tourists.
Q. How many days do you need in Amritsar?
A – Plan to spend at least three days in Amritsar. The best time to visit Amritsar is the winter months. It gets extremely hot during the summer months.
Q. What is the best time to visit Golden Temple Amritsar?
A. Amritsar is a city of extremes in terms of weather. In the scorching heat of India, the temperature of Amritsar passes through the roof and cools you down considerably in winter – so the best months to travel would be between October and March.
Q. What is the best time to visit Wagah border?
A – The ceremony lasts for 45 minutes. However, the Wagah attic border entrance is open from 10:00 am to 4:00 pm, so it is best to visit that place at least 1 hour before the parade as everyone has a chance to easily attend the ceremony. Not available.