Over the past two years, many companies have had to abandon offices and move to remote work. Someone liked this innovation, but there are those who find it difficult to work from home: there is not enough equipment, a lot of distractions, a complete lack of a working atmosphere. The ideal option that will help you tune in the right mood and not go crazy in the endless home trips from the refrigerator and sofa to the computer is coworking. This week we looked for convenient places for a remote location in Minsk. We did not include coffee shops and cafes in the list but found 6 specialized places for every taste. 6 coworking spaces in Minsk.
HUB # 1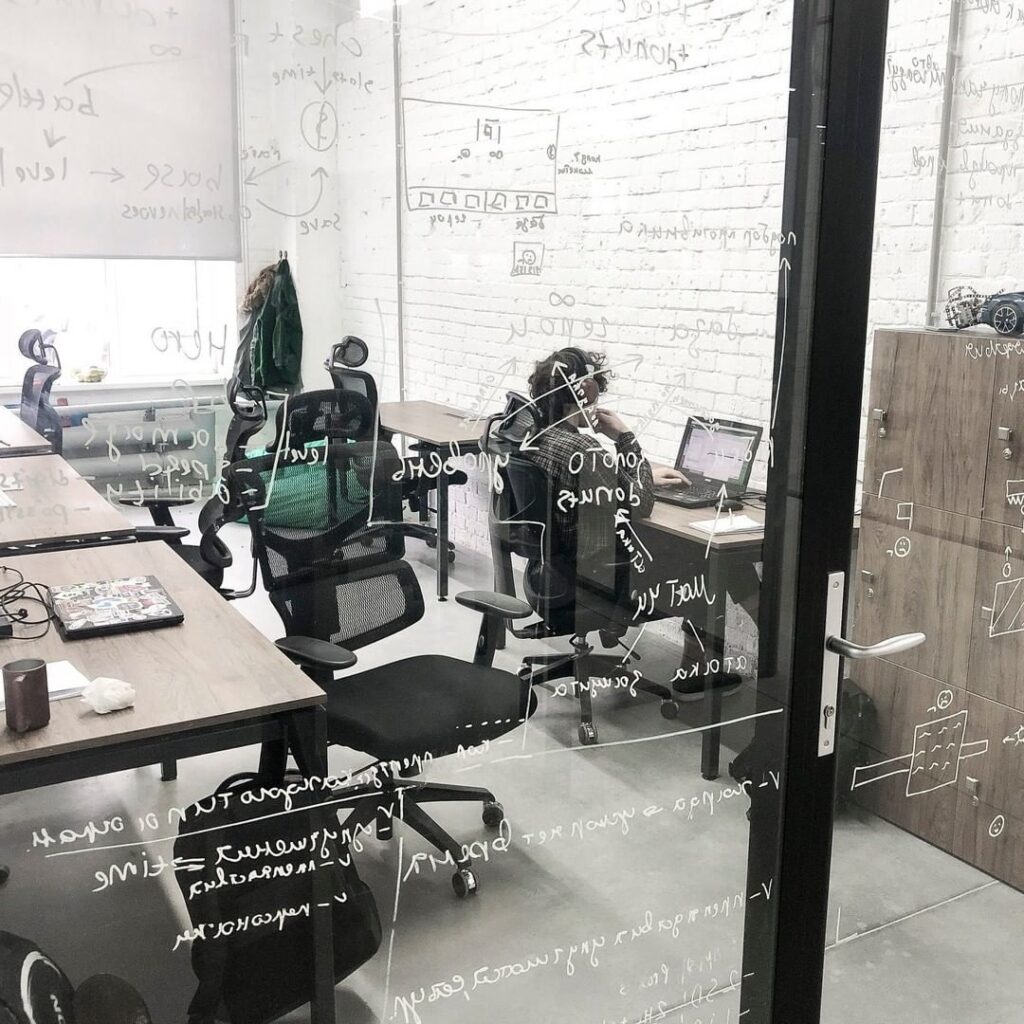 This coworking space is located a little far from the center but within walking distance from the Molodezhnaya metro station at 28 Pinskaya Street. The hub occupies one of the buildings of the old factory and boasts a loft-style design, spaciousness, and well-developed infrastructure. It provides a standard set of services for a good coworking: a workplace, WI-FI, tea, coffee, and cookies, and there is also a quiet zone if you want maximum concentration, a thematic library, a personal box for things, and even a meeting room in case of important meetings. For the latter, however, you will have to pay extra separately.
HUB №1 offers three tariffs: for a day, for a month, and for a team. The daily rate assumes a non-fixed place in the open-space, round-the-clock access, the use of any office equipment, and treats from the kitchen. The monthly rate, in addition to the positions above, allows you to use the meeting room, and the workplace is assigned to you. The tariff for the team is formed based on the needs of the latter, here the coworking administration asks to clarify personally.
We are working!
"We are working!" combines two coworking spaces and event space. All of them are also located in the old factory premises, only on the familiar Kuibyshev street.
The first site, K-35, is open 24 hours a day, making it ideal for those who want to work at night. 6 offices, one open space, 4 meeting rooms, and a lounge area are available for rent. Of course, there is also a kitchen with drinks and sweets. You won't be able to come here for a day or two if you suddenly have a desire to change your surroundings. The minimum rate is 5 days in the lounge area, a week in a large space. The latter has the option of renting a place for a month. Renting a seat in the open space presupposes assigning a table to you, a certain number of hours in the call room, and discounts on visits to the meeting room. By the way, you can come to the coworking space for a trial day by appointment.
And the second site, K-22, is open from 7 am to 1 am. On two loft floors, there are 7 offices, one large open space for work, 4 meeting rooms, and a kitchen. Here you can work for one day, while your place will be fixed from 9 to 20. The tariff includes an hour of using the skype room and a discount on the meeting room. In the "week" and "month" tariffs, the access time is limited only by the working hours. A trial day is also valid by agreement.
"KB-16"
This coworking space in Minsk differs from typical private spaces, at least in that it was created with the support of a private company on the basis of the BNTU University library, operates on library cards, and does not charge visitors. In KB-16 there is no kitchen and cookies, and you will have to pay a symbolic amount for copying or scanning. But you do not need to pay for using a desktop and high-speed WI-FI, the place is close to the metro and it is decorated quite austerely so that nothing will distract from important tasks.
The space has three zones: A, B, and C. A can be used for events and presentations but must be booked in advance. There will be competition with the residents of the university since they have a priority for such benefits. Room B is a classic open space with tables, sockets, and bean bags. Seats are not fixed and there are only 53 of them. And it is suggested to book room C for teamwork, so that you can sit comfortably and not interfere with other visitors.
To get into the coworking space, come directly to the address with your passport, get a library card for 1.5 BYN – and take an empty seat in zone B.
"Who is John Gault?"
This is the most famous and democratic space in our selection. At the base "Who is John Gault?" periodically holds events, master classes, lectures, and games. However, a hub within walking distance of Nemiga also provides workspaces. "John Gault" works on the principle of anti-cafe: you pay for the time spent in space, and you can choose an activity to your liking. The price includes WI-FI, any free seat, tea, coffee, books, a set-top box, and board games.
In total, John Gault has 6 zones: an open space for work or events, a classroom with desks and a blackboard, a coffee shop where you can also stick with a laptop, a playroom with a console, and also a small store with designer trivia and a corridor. gallery. An interesting detail: the owners made repairs in a large and bright space themselves, even tables, lamps, and desks, adding authenticity and comfort to the place.
Office 13
Office 13 consists of two premises within the very center of Minsk on Revolutionary Street and on Svoboda Square. Rather, this is an option for a master class, teamwork or presentation, since the space can only be rented in its entirety. In addition to isolated, bright, and clean rooms for work, you will receive WI-FI, office equipment, a coffee machine, and sweets. They offer options for both hourly and daily rentals. In addition, Office 13 has a well-thought-out meeting room. Great for a brainstorming session or work meeting.
CIDR
CIDR is a coworking space made by designers for designers. Its main advantages: small, minimalistically decorated rooms with a minimum number of people, as well as the location on the very bar street in Minsk. You can come to work either with your laptop or rent an iMac and a graphics tablet. Flip charts and overhead projectors are available for teamwork.
CIDR offers 3 types of subscriptions: minimum for 5 days, medium for 10, and maximum for 20 days. You can rent a place for one or for a team of three to 5 people. By the way, you won't be able to come just like that: you need to pre-register on the site.
Similar Articles