What comes to your mind when you think of Wales? If you pictured daffodils, leeks, castles, and lush countryside full of sheep, you're not entirely wrong. Salute if you also think about its stunning beach. And if you didn't, you're in for a real treat. Wales is home to some of the UK's most beautiful beaches, from vast and rugged stretches of sand to secluded coves that rival those in the Caribbean (we're not even kidding). Here are the 10 most beautiful beaches in Wales.
The most famous beaches in Pembrokeshire are in the south, but North Wales has loads of hidden gems if you prefer to venture away from the crowds. If you're wondering where to go on your next coastal adventure, Wells is calling.
Barafundle Bay
Where: Stackpole, Pembrokeshire
Best for swimming, relaxing, walking
Wheelchair accessible: No
Facilities: No – closest facilities are located at Stackpole Quay
Lifeguards: No
Sandwiched between broad sand dunes and a grove of pine trees, Barafundal Bay is nothing short of gorgeous. It is perfect for sea swimming. The water is crystal clear, calm, and brilliant blue due to its secluded location. One of the best things about Barafandal Bay is the excursions there. As you approach the beach, you'll see a showy castle wall (the wall that looks like the entrance to an impressive medieval fortress), making you feel like you're walking into some kind of story.
On a hot summer day, you could easily imagine that you were on some beach on the French Riviera (really). However, you will soon remember that you are in Wales when you dip your toes in the water! Barafandal is ideal for hanging out on blankets, enjoying a picnic, and embracing that beach life.
Three Cliffs Bay
Where: Swansea
Best for: walking, relaxing
Wheelchair accessible: Partial – the minor road from Southgate to Pwll Du Bay and a small section of the access road from Southgate to Three Cliffs Bay are accessible
Facilities: No – nearest facilities are in Holiday Park, Parkmill, or Pennard
Lifeguard service: Limited – weekends and public holidays in May and June; full-time in May half term and June to September
With a name like Sea Cliffs Bay, you can imagine that there are some pretty epic clifftops here. The beach is surrounded by three rugged limestone bluffs, windmills, and lush salt marshes. Unfortunately, you cannot swim in Three Cliffs Bay due to the powerful tides and currents. But, if you're feeling up to it, you can explore the bay to the romantic 12th-century ruins of Pennard Castle. It offers sweeping views of the coast. And if you can make it here for the sunset, is it special.
North Tenby Beach
Where: Tenby, Pembrokeshire
Best for relaxing, swimming, paddleboarding
Wheelchair accessible: Yes – concrete ramp to the beach and beach wheelchair available to hire
Facilities: Yes – above the beach
Lifeguard service: Limited – June to September only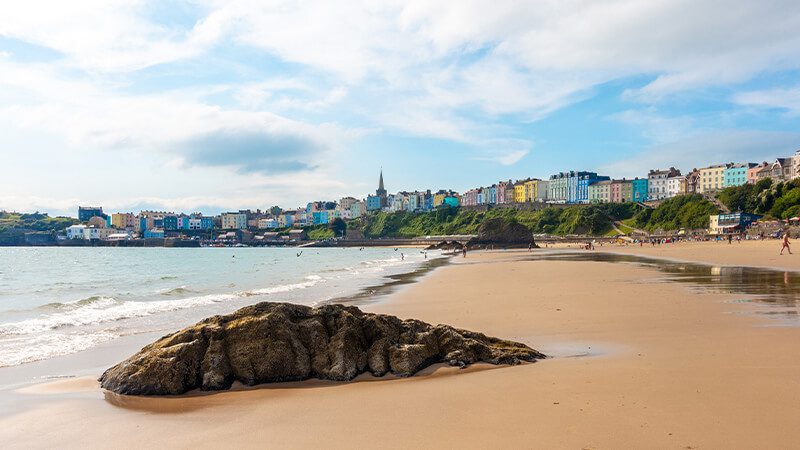 There's a reason the charming town of Tenby is featured on so many postcards. Between the steep headlands on the right, the colorful harbor of Tenby on the left, and the striking summit of Gouker Rock in the middle, this is easily one of the most picturesque beaches in Wales. The water is calm and great for swimming, but the calm atmosphere here is everything. Pick your own sandy spot, throw down your beach blanket and unwind with a good book. When you're all beached out, head to one of Tenby's excellent restaurants or pick up some fish n chips for dinner on the beach.
Porth Wen
Where: Cemaes Bay, Anglesey
Best for: historic ruins, swimming, walking, fishing
Wheelchair accessible: No
Facilities: No
Lifeguard service: No
Porth Wayne is a bit of a hidden gem in North Wales. This is not your typical beach. For a start, it is secluded and you have to walk quite a bit to get there. If you don't like walking, you can admire the glistening shingle shoreline and turquoise waters from the Coastal Path. However, it is worth going down … especially if you are interested in history. The cove is home to old Victorian brickwork that was closed when World War I broke out.
You can walk around abandoned factory buildings, beehives, tall fireplaces, and rusty machinery. The ambiance is a bit eerie, but it makes for some very Instaworthy photo opportunities. When you're finished exploring, head down to the rock pool where you can watch crabs and starfish or go for a swim under the natural rock arch.
Marloes Sands
Where: Near Milford Haven, Pembrokeshire
Best for: walking, wildlife, surfing
Wheelchair accessible: No
Facilities: Toilets only – closest facilities are in Milford Haven
Lifeguard service: No
Rated as one of the top beaches in Britain, Marlos Sands is filled with untouched beauty. In fact, you might recognize it from blockbusters including Snow White and the Huntsman and The Lion in Winter. The vast golden sand gets an extra mile at low tide and turns into several isolated small creeks filled with rock pools and marine life.
Keep your eyes peeled for the seals that often hang around the rocks on the west side of the bay. It is also home to Britain's largest breeding colony of puffins and has plenty of walking trails with wonderful wildlife opportunities. Strong swells and big waves make it a great place for surfing but beware of rip currents if you go swimming.
Penbryn
Where: Ceredigion
Best for swimming, relaxing, walking, rock pooling
Wheelchair accessible: No
Facilities: Yes – above the beach
Lifeguard services: No
Looking for a traditional day by the sea without the crowds? Get down to Penbryn on the Ceredigion Coast. To get to the beach, you can walk down the wooded alleyway from Llanborth or stroll through the lush green sloping woodlands filled with colorful wildflowers. You will then be greeted with bright blue waters and a mile of soft sand. When the tide goes out you can explore the rock pool and smuggler's cave at the far end of the beach. Or, continue around the headland to discover the secret beach (always be aware of tide times so you don't get caught).
Whitesands Bay
Where: St. Davids, Pembrokeshire
Best for: surfing, windsurfing, walking, swimming
Wheelchair accessible: Yes – there is a concrete ramp down to the beach and beach wheelchairs available to hire
Facilities: Yes – toilets and cafe
Lifeguard services: Limited – between May to September only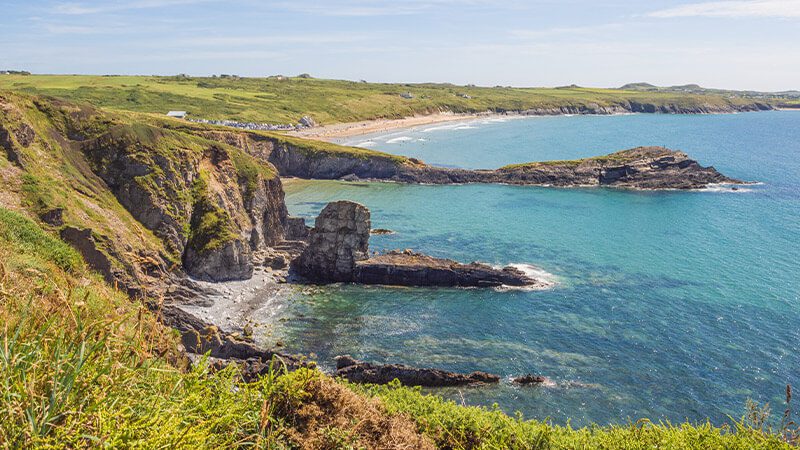 Whitesands Bay is one of the top surfing destinations in Wales. Nestled with a golden beach at the bottom of a green patchwork hill of corn lilies that surround St. David's Head, Whitesand is rugged and jaw-droppingly beautiful.
Wander around the rocky headland for some fresh sea air and epic views of Ramsey Island and other smaller islands, or head to the beach with a deckchair for surfers to (hopefully) catch some decent waves. If it's too busy for your liking, take a 10-minute stroll north on the secluded Porthmelgan waterfront path: a gorgeous cove beach where you'll find soft white sand, caves, and shelter from the wind.
Porthdinllaen Beach
Where: Pembrokeshire
Best for: walking, swimming, relaxing
Wheelchair accessible: No – but the National Trust has recommended some accessible routes
Facilities: Yes
Lifeguard services: No
Porthdinlion Beach exudes the charm of that picture-perfect fishing village. Nestled in the Leylin Peninsula and sheltered by the surrounding harbor, the calm and crystal clear waters are a great little place to splash around or swim. The quaint village of Perthdinlen is right behind the beach, so you can walk to the shop to get ice cream or a cold drink. When the sun goes down, head to T Coach Inn, one of Wales' most famous pubs, for some hearty pub food – perhaps some of the freshly caught seafood you brought to the fishermen earlier in the day.
Rhosilli Bay
Where: Gower Peninsula, Swansea
Best for: surfing, walking
Wheelchair accessible: No
Facilities: Yes – toilets, cafe, and pub are at the top of the access path
Lifeguard services: No
You know a beach deserves a place on this list when it was voted the 9th best beach in the world. Situated on the westernmost part of the Gower Peninsula with three miles of golden sand, Roslie Bay is the wild Welsh coast at its best. Powerful Atlantic waves hit the shore, making it a prime spot for surfers. Don't feel like getting into the water?
There are loads of headlands to explore with panoramic views stretching across the ocean. At low tide, you can walk to Llangenith Beach or Worm Head. If you're lucky, you might even see dolphins trying to catch a wave in the surf. The only downside to Rosili Bay is that you can only access it through a steep cliff walk, which is not ideal for pushchairs or wheelchairs.
Porth Neigwl (Hell's Mouth Beach)
Where: Llanengan, Abersoch
Best for: surfing, walking, relaxing
Wheelchair accessible:
Facilities: No – nearest facilities are at Llangenan
Lifeguard services: No
Porth Negval is a sprawling beach surrounded by sand dunes, wispy beach grass, and rural Welsh countryside. You're probably wondering why it's called "Hell's Mouth." Well, this is one of the most infamous places for ships in Wales. Even in the 17th century, it was a hot spot for pirates and seafarers feared this area of ​​the coast.
But when you visit on a sunny day and see a vast expanse of golden sand and dramatic sea views, you can't guess its dark history. It's easy to imagine that things can get a little rough when hilarious. Swimming is not recommended here, but it is a great place for surfing, kayaking, coastal walking, and a good old-fashioned day at the beach in the summer. You'll also beat the big crowds flocking to Ebersoch's more popular beaches. Oh, and keep your eye out for bottlenose dolphins and porpoises at high tide!
Similar Articles