The glass rim of the bottle with a squeak and a clunk snaps off, corks and all, and blows into the air in a froth of champagne. I'm in the wine cellar of Barefoot Bistro in Whistler, having just learned the ancient and noble art of Sabrage—basically cutting the cork of a champagne bottle with a sword—from owner André Saint-Jacques. The evening began with a spectacular scientific display of mixology, as the bartender used liquid nitrogen to make an ice-cold martini.
In between were courses of truffle carbonara, foie gras with brioche, and black cod with caviar. In a minute, I'll don a full-length Canada Goose Parka to step inside the restaurant's Ice Room, a -32C ice block-lined freezer for a vodka tasting.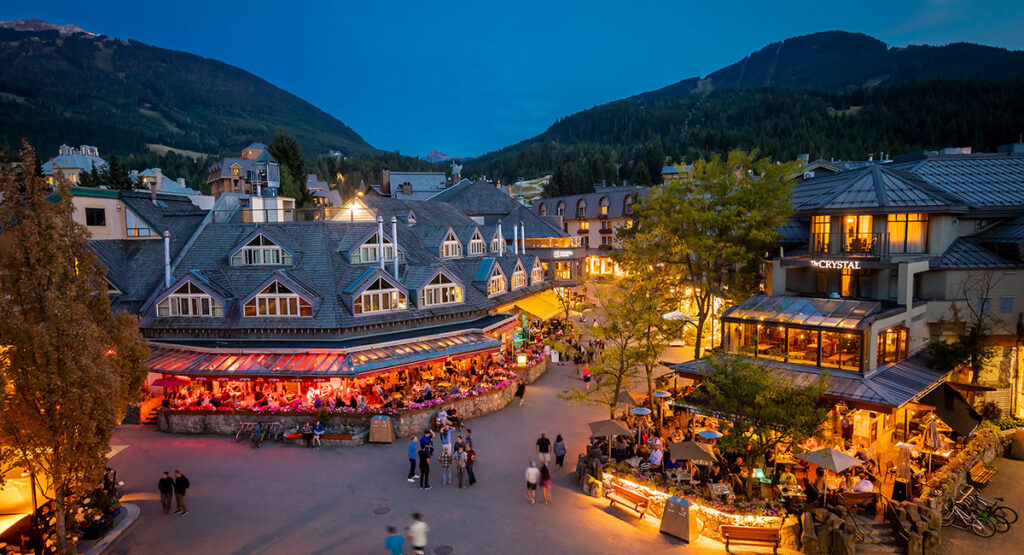 If this all sounds a little over the top, that's because it is. With pride. If Cirque de Soleil was a restaurant it would be Bearfoot Bistro.
As one of the world's great ski resorts, Whistler has no shortage of exceptional high-end restaurants, but it also has its share of humble, affordable spaces that make all those luxury ingredients a little easier to swallow.
For example, at Ingrid's Village Cafe, you can buy 43 chicken schnitzel sandwiches for the price of one of Barefoot Bistro's "Above the Clouds" – Remy Martin Louis XIII Cognac, Dom Pérignon and Bitter Sugar Cube – Champagne cocktails. Ingrid's maybe a humble deli, but its home-style cooking quality: breakfast sandwiches, subs, burgers, and that quintessential schnitzel sandwich have made it a village staple since it opened in 1986.
This makes it a year younger than another Whistler budget favorite: Village Sushi. When rumors began to spread last year that the beloved Japanese restaurant might be closing, locals were perplexed. Where else can they go for spicy aged tofu, tender takoyaki, and tender sashimi?
Well, many places, actually. Nagomi and Sachi are both great sushi restaurants; many towns east of Coast Mountain would be happy to find such places, but there is something special about Village Sushi. The place looks like a well-lit open plan office, but the fish is fresh, the menu is expansive and it always seems like a party could break out at any time.
The village's biggest, most extravagant dinner party, however, is thrown around the corner at Araxie Restaurant & Oyster Bar. Araxi Big Guns Dinner, held each year during the Cornucopia culinary festival, is a no-holds-barred celebration featuring some of the world's best wines, curated by the restaurant's wine director, Jason Kawaguchi, Which is combined with the meticulous cooking of the chef. James Walt. Krugs and Caviar, Barbaresco and Black Truffles, Petits Four, and Vintage Port all make the scene.
Arxi is a special treat any time of year, however, with an emphasis on carefully prepared, locally sourced ingredients, as well as an award-winning wine list that runs on more than 11,000 labels, apart from a large meal. Turns out, it looks like the money is well spent.
Opportunities to break the bank abound on the mountain, too. On top of the Blackcomb Gondola, Christine's Restaurant offers full-service, fancy pants dining and offers alpine views that are regularly described as delectable, breathtaking, and charming. OK, rarely does that last, but it fits. Elaborately Decorated Plates: BBQ Duck Salad with Crispy Taro, charred short rib with marinated kale and chocolate Nutella truffles, almost compete for sheer beauty.
For all Christine's charm, it must be said that it's a challenge to appreciate the subtleties of fine dining when you're wearing ski boots. For that reason, I'll soon be eating at one of the more affordable – the term being relative on a ski hill, of course – quick service mountain restaurants. Rendezvous Cafeteria, in the same building as Christine's, offers a good rice bowl, generous burritos, and solid hamburgers for a reasonable price. A short walk to the top of the Crystal Chair is home to the Crystal Hut, a cozy log cabin where famous ski bums can throw loaded Belgian waffles or bowls of Buffalo stew for less than $20.
However, going with the cheaper option is not always the best route to take in Whistler. While breakfast bowls, Chinese waffles, and breakfast sandwiches are perfectly fine at Portobello Market in the Fairmont Whistler, they can't compete with the lavish buffet spread at the same hotel, outside for their Alpine breakfast buffet. is kept.
Sure, there are cereals and sausages, pancakes and pastries, but, what about carved ham stations, platters of smoked fish, and made-to-order omelets? Check, check and check. I'm not encouraging gluttony here, but there's enough food on that buffet for $38 that a hungry diner could easily get more for their money.
A ski vacation is never going to be cheap, but some things, like learning how to open a champagne bottle with a saber, you just can't put the price on.
Similar Articles