Coorg has been one of the most sought after destinations in India for a hill station holiday. Steep mountains, dense forests, breathtaking landscapes, delicious local cuisine, and some of the most beautiful homestay properties make Coorg one of the most beautiful places to holiday in. In this blog, we will explore popular places to visit in Coorg.
The main town of Coorg hills is Madikeri city. The city of Madikeri was very famous for the Raja's seat, which is a monument overlooking forests and rice trees. The fort of Madikeri which is decorated with 2 stone figures stands majestic in the city. It was an important fort during the royal days.
Coorg is a place where you can either go for a 2-day weekend vacation or if you plan on it you can go on a week-long vacation covering all the important places. This is one of the best road trips from Bangalore. It comes down to how one can strategically plan it.
Coffee Plantations
Coorg is famous for its coffee plantations, which contribute about 60% to India's coffee production. It also has rich teak, rosewood, and sandalwood forests. The best way to experience coffee plantations is to stay at one of the many homes and resorts located on the coffee estates. Alternatively, join the tour of this coffee plantation. You will be able to walk through the gardens, as well as sample fresh coffee, and learn about the coffee-making process. It is interesting!
Waterfalls
Abbey Falls and Irupu Falls are the two largest waterfalls in the Coorg region. They are best seen after the monsoon season, but cascading water throughout the year. Abbey Falls is the most accessible, located about 15 minutes north of Madikeri. In the other direction, Irupu Falls is about two hours south of Madikeri and one hour from Nagarhole National Park. Many people prefer Irupu Falls to Abbey Falls, and this can be followed along a scenic drive from Nagarhole to Bangalore. After the monsoon, the area around Irupu Falls is full of butterflies during the peak season.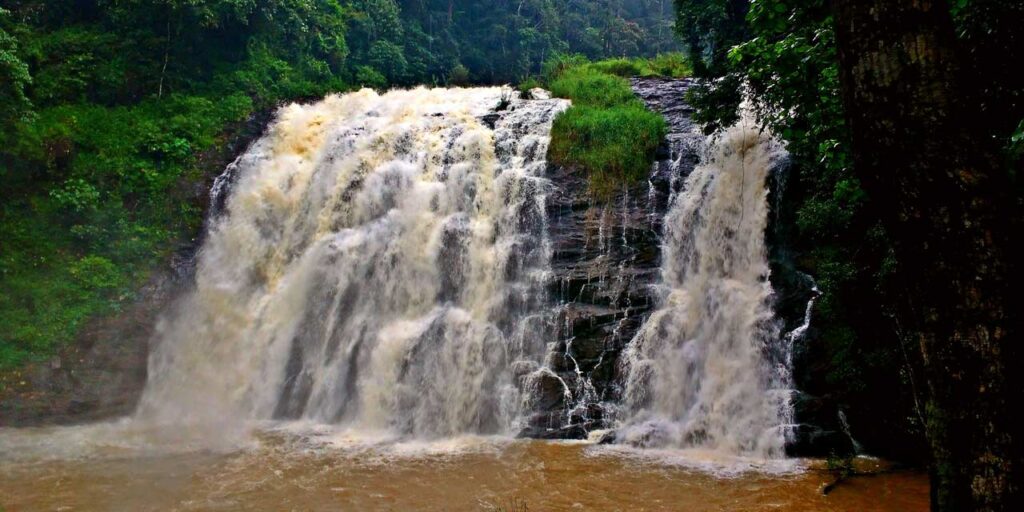 Mountains and Hiking
Perfect for hiking, the Coorg region has some enticing peaks and valleys. One of the most popular routes is Kakabe to Thadiadamol, the highest peak in the state. Allow at least five hours for this hike. Many people also enjoy trekking from the Brahmagiri Range, which starts from Virajpet to Irupu Falls. It is a difficult hike through dense forest. Most Coorg homestays and resorts offer hiking and trekking activities. Thrillophilia also offers a day mandalpatti trek and two days Thadiyadamol trek.
Dubare Elephant Camp
The Dubare Elephant Camp is an elephant training camp run by the Government of Karnataka. You will be able to learn about all elephants, ride them, and even clear them while you bathe in the river. The camp is open daily from 9 am to 11 am and 4.30 pm. 5.30 pm Elephants are located on an island within the camp and it is necessary to take a boat to get there.
So, if you want to experience a bath then try to arrive as early as possible, preferably by 9 am. However, keep in mind that this is a government establishment, so do not expect good infrastructure or be well organized for it. In addition, Dabare is a training camp, not a sanctuary or rehabilitation center. Those who are concerned about the treatment of elephants are advised to avoid seeing it, as elephants remain chained and disciplined. It is possible to stay in a cottage in the camp. The camp is located about an hour before Madikeri, near Kushalnagar, off State Highway 91.
Namdroling Nyingmapa Tibetan Monastery and Golden Temple
Do visit Buddhist monasteries in India, this monastery is one of the largest Tibetan settlements in India. The amount of gold in the prayer hall and temple is quite high, as there are also huge gold statues of Buddha. It is located at Bylakuppe near Kushalnagar. Please note that visitors need a protected area permit to stay within the monastery as the area is restricted. However, day trips are permitted. Bring your passport or other appropriate identification. This guided tour is recommended for detailed guidance.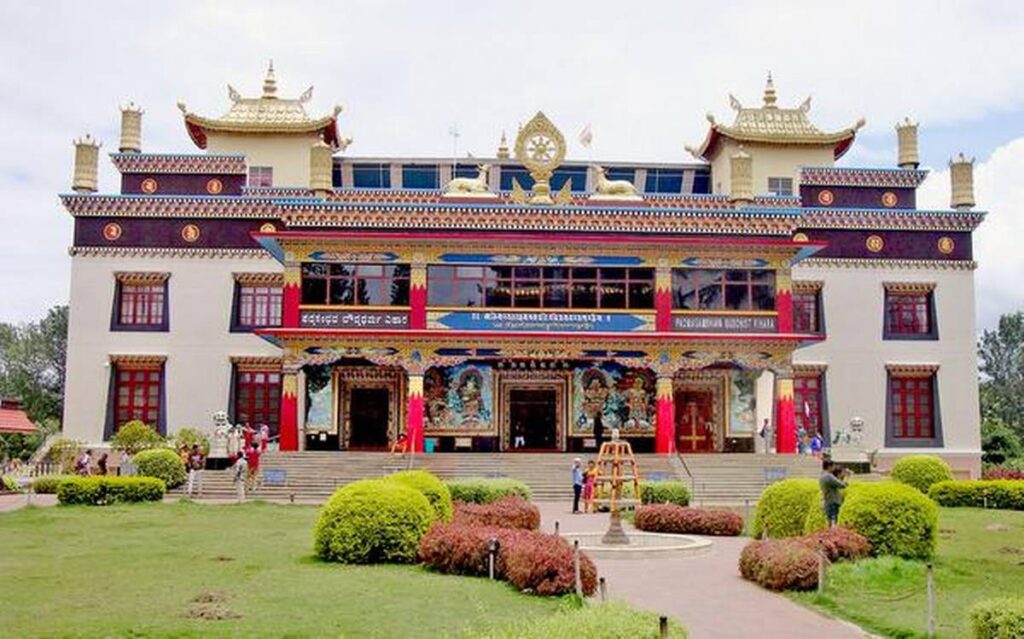 Madikeri Town
If you are doing some sightseeing around Madikeri city, Raja's seat is the most popular tourist attraction there. This park site was apparently a favorite of the kings of Kodagu. The best thing about Raja's seat is that it offers spectacular sunsets and panoramic views all over Kerala. However, if you want peace and quiet, it is best to go in the morning. People come there in the evening. Madikeri also has an old fort and palace. Most of the palaces however have been converted into government offices. A small part has been opened as a rather unusable museum. Gully Tours hosts an informative Madikeri walking tour focused on the city's heritage.
Related Posts –
Frequently Asked Questions About Coorg
Q. Which are the best resorts in Coorg?
A – Below are the best Coorg Resorts
Q. What is the average Coorg Temperature?
A – Temperature: Avg. of 40 degrees high to 22 degrees low
Q. How much time it takes to go from Bangalore to Coorg?
A – Distance between Bengaluru to Coorg by Road is 242 Kms, Travel Time from Bengaluru to Coorg by Road is 5:49 hrs.
Q. How is Coorg weather?
A – Weather Conditions in coorg
April to June – 20oC
July to October – 15oC
November to March – 6oC
Q. What is the distance between Mysore to Coorg?
A – Distance between Mysore to Coorg by Road is 112 Kms, Travel Time from Mysore to Coorg by Road is 3:36 hrs
Q. Which are the best homestays in coorg?
A – Below are the best homestays in coorg
Leafy and Green: Gowri Nivas
Ideal for Families: Sai Sadan
Great for Groups: Notting Hill Homestay
Luxury Cottages: Serene Woods
A Tree House: Honey Pot Homes
Ancestral Home: BB Estate Homestay
Colonial Aristocracy: Victorian Verandaz
Eco-Friendly: Silver Brook Estate Homestay
With a Swimming Pool: Kedakal Estate
Q. What is the best time to visit coorg?
With temperatures between 15°C and 20°C throughout the year, Coorg is a year-round destination. That said, October to March is the best time for adventure activities especially trekking. March and April are the favorite months to experience the valley drenched in white flowers.